Vocal – Classical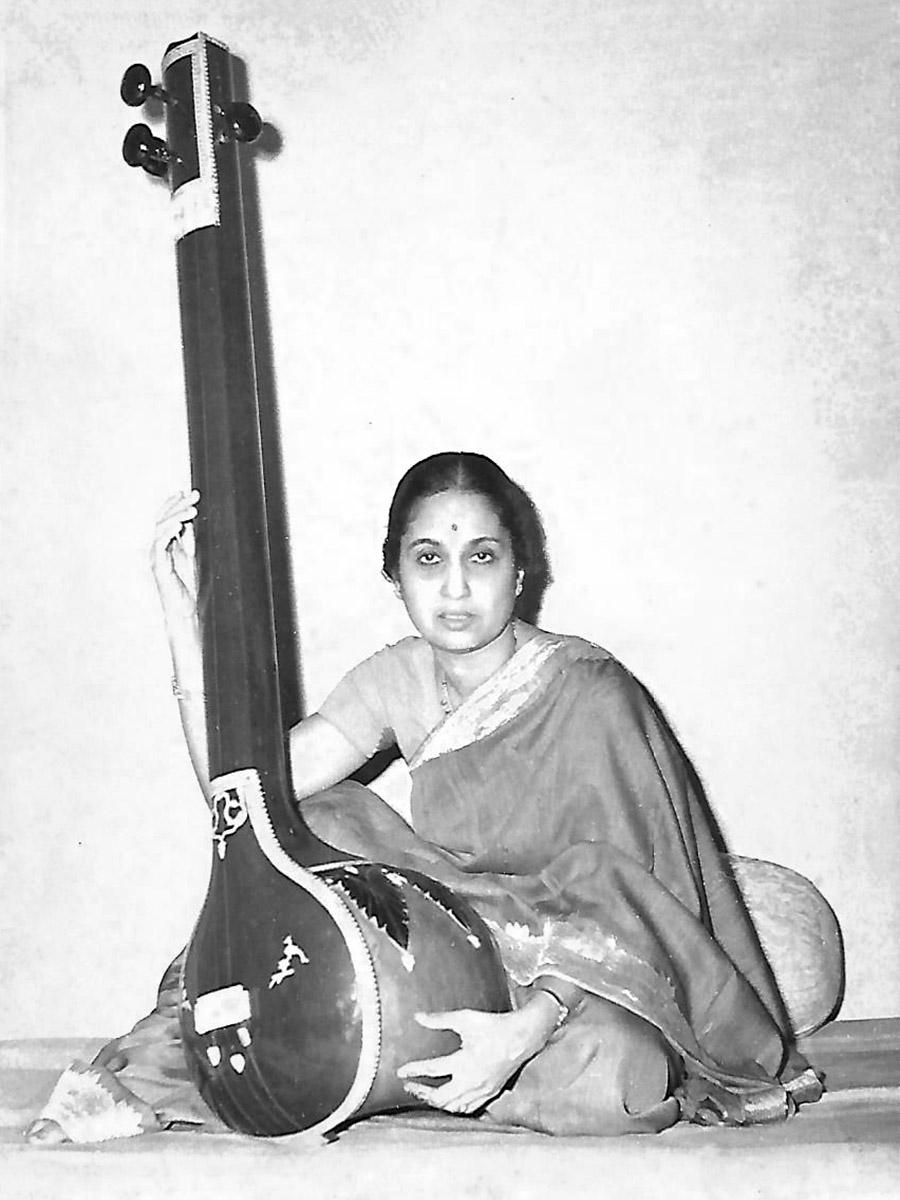 Vidus͟hī Saguṇā Kalyāṇpur looked upon her music not as a mere vocation but as the blossoming of her intense desire to express herself. Born into a family of music-lovers in Maṅgal̄ūru, she initially took up Carnāṭic music. The soft-spoken girl was soon drawn to Hindustānī classical music after coming across gramophone records of various masters of that era. She soon started taking lessons from Ratnākar Ugrāṇ, a local teacher.
After her marriage in 1937, Saguṇā moved to Mumbaī, where she was trained by Ustād Khādim Hussain Khān of the Āgrā Gharānā. A faithful disciple of the Ustād, she continued to learn under him for more than four decades! She also had the good fortune to receive guidance from the Ustād's younger brother Ustād Anwar Hussain Khān and Paṇḍit Chidānand Nagarkar.
Saguṇā started giving programs on All India Radio (AIR) in the early 1940s and was soon classified as an A-grade artiste. She was even invited to sing in the national program of AIR Delhī on several occasions. At her peak, she performed at some of the most prestigious sammelana-s across the country.
An incident worth mentioning occurred in 1957, when Saguṇā was performing in Mumbaī – the legendary Vidus͟hī Kesarbāi Kerkar happened to be there and expressed a desire to hear more of the singer. The veteran made it a point to visit the Kalyāṇpur residence the very next weekend! After Saguṇā sang for her, Kesarbāī exclaimed, "Mujhe bahut Khushī hogī tumko sikhāne mein!" ("I would be very glad to teach you!"). To everyone's surprise, however, Saguṇā politely declined, explaining that she felt bound to the Āgrā Gharānā and to her guru. Although slightly miffed at the time, Kesarbāī later expressed admiration for the youngster's courage and loyalty to her chosen tradition.
The sudden and untimely demise of her husband in 1968 forced Saguṇā to abruptly pause her musical career. Two of her three children were still studying, and she threw herself into their upbringing. However, the following year, Ustād Khādim Hussain Khān urged her, "Yeh saṅgīt aur kalā Saraswatī ki deyn hain...Tālīm aur riyāz ko roko matt, beṭī!" ("Music and the arts are gifts from Goddess Saraswatī...). Do not stop your training and practice, my child!") Complying with her guru's advice, Saguṇā rekindled her musical sādhanā, notwithstanding her household responsibilities. Although she declined invitations thereafter to sing at most public concerts, she continued to perform for All India Radio and at our own Sāraswat sammelana-s.
Even with advancing age, the timbre of Vidus͟hī Saguṇā Kalyāṇpur's continued to mature. As an octogenarian, she received a standing ovation at her last concert, held in Beṅgal̄ūru circa 1999-2000. She was bestowed with the Distinguished Achievement Award for Music that year by Parama Pūjya Shrīmat Sadyojāt Shaṅkarāshram Swāmījī.