Introduction
A perennial spring of creativity and commitment; a bubbling stream of novel ideas and inspiration; a gushing river of positive energy and enthusiasm – this is what the Chitrāpur Yuvadhārā symbolises… A growing family of caring, fun-loving, but responsible young adults between age group of 15 and 35 with immense talent in varied fields, Yuvadhārā members may have the ambition to reach for the sky, but this intent is rooted firmly in the stability and the spiritual strength drawn from more than 300-year-old Guru Parampara.
Born in the cultured and sensitive Chitrāpur Saraswat community; blessed with a Guru who tries His best to be accessible and who has made them aware of the importance of total fitness of body, mind and spirit and nurtured by a dedicated band of qualified guides who devise innumerable programmes to channel their boundless potential, all members of the Yuvadhārā have begun to bond effortlessly, become knowledgeable and proud about their roots and priceless heritage and turned eager to contribute, in whatever manner they can -- to brighten the lives of those around them and lighten the loads of the less privileged. Can there be a better way to flow towards the future?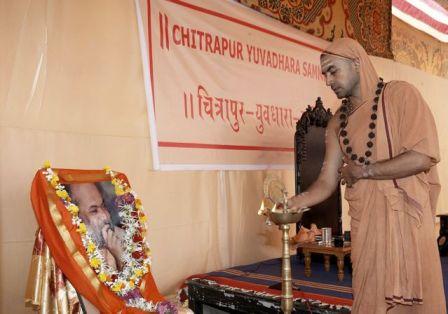 Chitrāpur Yuvadhārā foundation Day ~ 20th August,2008
During Bengaluru Chaturmas on the Punyatithi of Parama Pujya Parijnanashram Swamiji III
Objectives
To deepen the connection of youngsters with the Math, the Guru Parampara and the Chitrāpur Samaj.
The objectives of Chitrāpur Yuvadhārā are -
• Provide a Forum to Chitrāpur Saraswat youngsters to come / bond together
• To create awareness of existing activities connected to Shrī Chitrāpur Math and to participate in them
• Provide opportunities to youngsters to expand learning, develop new skills while providing a valuable platform for self expression
• To make youngsters aware of social, cultural and spiritual responsibilities through manifold activities