Ten years ago, Chitrāpur, located near Shirali in Uttar Kannada, was like any other Indian village battling poverty, unemployment and a rising insecurity about an uncertain future. There was neither a high school nor a hospital. Women had no opportunities of earning an independent income. Young men were forced to migrate to cities in search of a livelihood.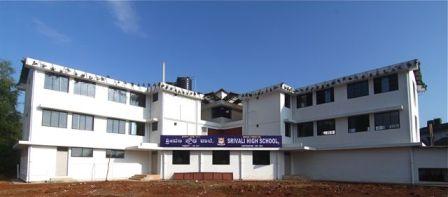 Fortunately, Chitrāpur also housed the Shrī Chitrāpur Math – the spiritual nucleus of the Chitrāpur Saraswat community. Under the able guidance of its dynamic and far-sighted 11th Mentor ( Mathadhipati ) Shrīmat Sadyojāt Shaṅkarāshram Swamiji many committed and capable volunteers from the community came forward, from the world over, to transform the lives of the locals, irrespective of their caste, creed or religion.
The first seed of change was sown in 1997, when the Srivali Trust was formed to promote projects promising sustainable development in the vital areas of health, education and self-employment. For the first time, every villager in Chitrāpur felt that timely medical aid, a regular income and a life of dignity were not far-fetched dreams !
SRIVALI HIGH SCHOOL
Chitrāpur never had a high school. Every child who wanted to study beyond the seventh standard was forced to commute by bus to a nearby town. While the hunger for higher education was acute, dropping out became inevitable class="table" because few could afford the bus fare. The inauguration of Srivali High School in April 2004 transformed this dismal scenario forever.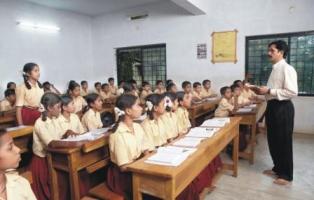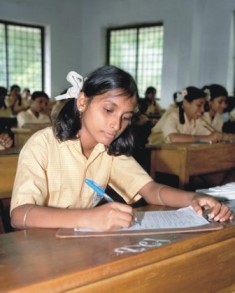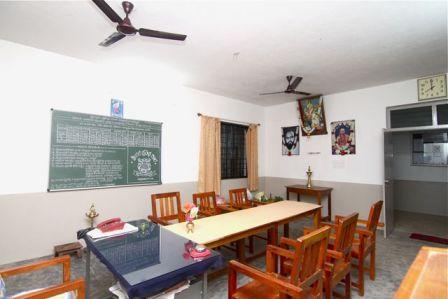 While the land was donated by Shrī Chitrāpur Math, valuable funding to cover construction costs came from the US-based Kulkarni Foundation. Many willing individuals also came forward to provide furniture, equipment and to contribute towards the running expenditure. Today, all 350 children of the school enjoy free education , books, mid-day meals and uniforms (Stiched, of course, at Samvit Sudha).
On their part, these bright children are doing their best to do their institution proud. They have brought home several prizes from inter-school sports competitions held at the Taluka, District and even State level; all the 104 students who appeared for the first SSLC Board examinations in April, 2007 passed, eight with distinction and 57 with first class and this record is getting better and better each successive year. The Academic year 2022-23 saw a total of 99 students passing out of the school, of which 24 scored distinction and another 66 scored First class.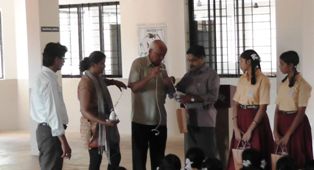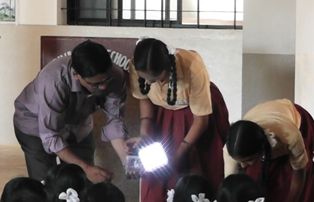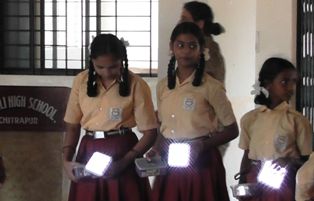 A large number of these passed out students have sought admissions into junior colleges, some of whom were assisted financially by the Trust. The wide world outside has just begun to open it's arms to receive these deserving children of Chitrāpur.
Sponsor a Student
The Trust has a "Sponsor a Student" Scheme wherein a donor can sponsor a student for all the three years of his/her higher secondary school education.
The Goal of this Student Sponsorship Programme is to provide funds to sustain the school operating expenses which include the midday meal, student uniforms, school supplies, teacher and staff salaries and utilities and maintenance costs of the school.
Cost of educating a student for one academic year is US$ 250/- or Rs.20,000/- per year and for 3 years for the entire high school period i.e. Standards 8th, 9th and 10th is US$ 750/- or Rs. 60,000/-. One may sponsor as many students as one desires and remit the cost of sponsorship - by multiplying the cost per student per year with the number of students and number of years, one wishes to sponsor.
Donations may be made by way of Demand Draft / Check in favor of "Srivali Trust", payable at Shirali and mailed to:
Srivali Trust,
c/o Shri Chitrāpur Math,
Shirali, Uttar Kanada District,
Karnataka, 581354
INDIA.
This is just the beginning....
Under the leadership of its tireless Founder, the Srivali Trust has managed to successfully initiate all the projects listed above and thereby, brought about a silent revolution in the quality of life and thought process of every resident of Chitrāpur and its neighbouring hamlets. Today, the confidence and self-esteem instilled in the heart of every villager has kindled new hope and inspired him or her to work harder towards a better tomorrow.
Srivali Trust is also extending management and financial support to Guruprasad Education Society, which runs a school in a small hamlet of Mallapur located in rural area near Kumatha, Uttar Kannada Dist of Karnataka.
Parama Pujya Swamiji is the President of the Board of Trustees and the trust is being run and administered under the guidance of Swamiji.
While a good beginning has been made, the Srivali Trust still has a long and challenging journey ahead to create a totally self-sustaining society-
• To offer the locals many more kinds of professional training and opportunities to get jobs, or the support to launch a small-scale enterprise.
• To have a steadily growing infrastructure to back up all the projects already afloat.
• To ensure there are enough financial reserves and specialized manpower offering voluntary assistance to the existing and forthcoming projects.
By doing all this, the Trust intends to put Chitrāpur on the world map. For, when a dedicated organization like the Srivali Trust empowers villagers and helps them to prosper without migrating from their native land, it shows the rest of the world how to strengthen a nation's very backbone and usher in progress which is far more tangible and lasting.
The continued success of such a multi-channeled, humanitarian venture depends upon a growing resource bank of feasible ideas, finance and willing hands.
The Srivali Trust, therefore needs many more committed and public service oriented individuals and institutions/ organizations eager to contribute their bit to light up the lives of under-privileged inhabitants of the real India.
We hope you will soon be one of them,
Donations to Srivali Trust are exempt from Income tax under Section 80G of the Income Tax Act 1961 for Indian residents/ institutions / organizations.
Srivali Trust is also approved to receive donations from overseas residents under the Foreign Contributions Regulation Act (FCRA).
'Beyond Academics, enriching the lives of young minds in Shirālī'. - Harin Hattangady maam – a profile.
Harin Hattangady maam is a Mechanical Engineer, has vast experience having worked in Oilfield industry for 26 years. During his initial professional career, Harin maam worked for 3 years with the Indian Oil and Gas major - ONGC and later 23 years at Schlumberger - a company providing end-to-end oil field services. Of the 26 years, Harin maam has spent 20 years working on oil rigs and during the last 6 years of service, he was associated in the field of Training, Human Resources and Management.
However, Harin maam had an innate yearning to take to teaching with a salutary objective to share his vast knowledge of multi-disciplinary skills which he had astutely developed over the years during his distinguished professional service. So, after retirement from active service, Harin maam duly enrolled with the Azim Premji University for an MA in Education. Soon after obtaining his Masters in 2013, he and his wife Jyoti pachi, moved from Bengaluru to Hattangady, where Harin maam served as a Consultant with an NGO based in that village. But a firm determination to impart education to the lesser privileged students of Shirālī and with a view to positively impact the young impressionable minds and equip them with different vocational skills, motivated Harin mam and Jyoti pachi to re-locate their home to Shirali in 2015.
In 2017, Harin maam Received Blessings of our Beloved PARAMA PŪJYA SWĀMĪJĪ to introduce different kinds of vocational training at Srīvalī High School, Chitrāpur managed by SRĪVALĪ TRUST under the aegis of Shrī Chitrāpur Mat̲h̲ in Shirālī. Harin maam's wide range of experience across technical and managerial areas, along with his desire to share the skills with young minds, thus converged in this wonderful project at Srīvalī High School.
It is commendable to note that within a few months of inception of this project, almost a hundred eager students are enthusiastically imbibing the knowledge of various vocational skills at the Centre spearheaded by Harin maam. His eagerness to teach is equally harmonized by the students' willingness to learn and together they make a vibrant and an energetic team!
The Annual Report of the Vocation Centre for the year 2017-18, which appears below will give an insight into the multi-dimensional skills imparted by Harin maam and demonstrates the speed with which the first batch has inculcated the finer points. It is heartening to note that the students of Srīvalī High School have imbibed the nuances of designing and implementing various products while paying attention to planning, precision in alignment, safety and team work!
2017-2018 YEARLY REPORT OF VOCATIONAL TRAINING ACTIVITY - by Shrī Harin Haṭṭaṅgaḍy
Srīvalī High School, Chitrāpur is in Shirālī Grāma Pañchāyata which is in Bhaṭkal Tāluka of Uttara Kannaḍa district in Karnāṭaka. It is on the west coast of India about 150km North of Maṅgalore and about 2km east of NH66 (old NH17). It is a privately run school run by a religious trust called SRĪVALĪ TRUST under the aegis of Shrī Chitrāpur Mat̲h̲. It is a school which is completely free and provides free mid-day meals, books and uniforms. The children are from the nearby hamlets and generally are belonging to the economically backward group.
I was very keen to give children some vocational skills and when I approached the Mat̲h̲ādhipati of Shrī Chitrāpur Mat̲h̲, PARAMA PŪJYA SHRĪMAT SADYOJĀT SHAṄKARĀSHRAM SWĀMĪJĪ, with this idea, HE immediately gave the go ahead and asked me to start the skills training as soon as possible.The students who would be enrolled in this skills training would be from grades 8 and 9 as the 10th grade students needed to concentrate on academics without any distractions.We started off with 96 students out of which 90 were boys and 6, girls. The children were divided into six batches of 16 each and were named M1 (Morning 1), E1 (Evening 1) M2, E2, M3 and E3. M1 would come on Monday morning and Thursday morning. E1 would come on Monday and Thursday evening. Similarly M2 Tuesday and Friday morning, E2 Tuesday and Friday evenings. M3 and E3 Wednesday and Saturday morning and evening respectively. Therefore each child would get 2 hours per week and the morning batch would be held before school started (08:00 to 09:00 hrs) and the evening batch after school (16:00 to 17:00hrs).
A soft opening for the training centre was held on June 22, 2017and the training room was inaugurated.
| | |
| --- | --- |
| | |
| LIGHTING THE LAMP BY HM | INVOCATION BY STUDENTS |
| | |
| CHIEF GUEST TRIES HIS HAND AT DRILLING | ARRANGEMENTS AT THE ROOM |
On July 01, 2017, there was a formal opening and PARAMA PŪJYA SWĀMĪJĪ graced the occasion and was shown around the workshop. Later HE lit the lamp and gave an āshīrvachana and explained how this training would be of help to students.
| | |
| --- | --- |
| | |
| HH SWĀMĪJĪ SHOWN AROUND THE SHOP | HH SWĀMĪJĪ LIGHTS THE LAMP |
| | |
| ĀSHĪRVACHANA | A CROSS SECTION OF THE VISITORS |
The first session for each batch was dedicated to safety and safe working practices. Simple rules were to be enforced. Horse-play was banned and wearing of safety glass was a must. To manage the classroom, each group had a specific housekeeping activity to do before leaving the classroom. One group would have to check that all the tools were back in their place, another would be responsible for cleaning the classroom, yet another to ensure that safety glasses were cleaned and kept back whilst the last one would make sure the library books were in place. The responsibilities of the group would change every month so that all groups got to do all the jobs. These high quality industrial grade safety glasses were presented by Dr. Basrūr Girīsh Rāo who works in SHELL in Baṅgalore. Thank you.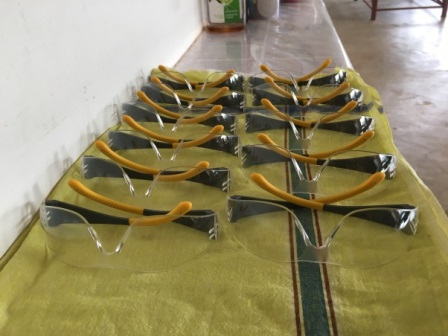 The batches of 16 were further broken up into 4 groups of 4. Each group has a set of basic tools in a tray and if any more tools were required they could take it from the tool board. The names and use of each tool was explained to the children.
| | |
| --- | --- |
| | |
| THE TOOL TRAY | THE TOOL BOARD |
Though I had not really structured a course, over a period of a year, the children did a few projects. The very first one was a simple one but was new to many of the kids. The children just wired up a bulb with a bed-switch in between, but seeing it work, many of the kids were excited.
The project, an extension board, was a complicated one which required a lot of patience. In retrospect, maybe not the best one at this early stage. It required a lot of work as there were as there were a lot of things to do. They had to make a box without any nails or screws. Finger joints were used to make the box and it was like a jig-saw puzzle.
| | |
| --- | --- |
| | |
| MARKING | CUTTING |
| | |
| CHISELLING | FINGER JOINTS |
| | |
| 'JIG-SAW PUZZLE' | THE BASIC BOX |
The wood for this and all of our later carpentry projects was donated by Jai Bhārat Fertilizers Company in Maṅgalore SEZ. Arrangements and all formalities of 'exporting' the wood out of SEZ were facilitated by Shrī Ravishaṅker Mūrthy of TECHNIP in Maṅgalore and we are very grateful for their kind gesture.
While the box was being made other members of the group were working on the plastic laminate board cutting it so that sockets and switches could be fixed.
| | |
| --- | --- |
| | |
| MARKING THE LAMINATE SHEET | CUTTING |
| | | |
| --- | --- | --- |
| | | |
| USING HAND DRILL | FILING | FINISHING |
During this activity a lot of the thin hack saw and coping saw blades were broken and my initial assessment of the number of blades that would be used was completely wrong. So I had to buy new blades. Luckily there was a supplier for blades in nearby Bhaṭkal. However I must comment that after the initial breakages the children got a hang of using the blades and then there were very few breakages.
Another person who helped was a hardware shop owner in Baṅgalore. When I had told him that I was starting this vocational training in a school he was so happy and offered any help that he could give. When I was running out of blades I gave him a call and he immediately rushed a new consignment of blades and refused to take any payment for the same saying that is his way of supporting this initiative. We expressed our gratitude by gifting him an extension board that the children had made.
Now that both the box and laminate sheet was ready it was time for finishing the box and wiring up the laminate sheet.
For the box it meant sanding, polishing, and fitting. Since it was the first attempt the joints were not cut perfectly and there were a lot of gaps. We hit upon an idea of making the filler using the saw dust from the sanding process and mixing it with Fevicol. This paste was used to fill the gaps.
For the wiring it meant fixing the switches and sockets in place and wiring up as per the diagram.
| | |
| --- | --- |
| | |
| SANDING USING THE RANDOM ORBIT SANDER | SANDING USING THE RANDOM ORBIT SANDER |
| | |
| THE POLISHED BOX | WIRING DIAGRAM |
| | |
| WIRING DONE | EXTENSION BOX READY TO USE |
In all 24 extension boxes were made and we offered one to Parama Pūjya Swāmījī,and then to all the staff of the school, and some of the people who had helped in setting up the class and we kept some in the classroom for further use.
Next we began with electrical circuits. I explained to the children the two basic types of circuits, series and parallel. Each group was given a strip of wood, wire, bulb holders and bulbs. They were then asked to wire up the bulbs as per the circuit diagram.
| | |
| --- | --- |
| | |
| THE BASIC CIRCUIT DIAGRAM | WORKING ON THE PROJECT |
| | |
| SERIES (BULBS GLOWING DIMLY) | PARALLEL (BULBS GLOWING BRIGHTLY) |
As a demonstration, the completed project is fixed on the wall so that visitors can be shown the actual working of the two types of connections.
To further reinforce the series connection we went ahead and planned to do a 'garland of lights'. In this project the children were exposed to a new skill, soldering. This had the children all excited and it still excites the children as they keep coming with components from home which requires soldering. In fact they even bring items needing soldering from friends and relatives!
Only one of this was made and first the frame was built after taking measurements of where this garland would be fixed, i.e. around the photos of God and Guru. Then the actual fixing of bulbs and the soldering process started.
| | |
| --- | --- |
| | |
| THE FRAME | SOLDERING |
| | |
| SOLDERING | USING MULTI-METER |
The children also learnt to check for continuity of the circuits using the multi-meter. This was particularly important for this project because for series connections a break in continuity means that none of the lights will glow. In fact this project was so exciting that all the children as well as the facilitators got involved in doing the job and this project is still one that attracts visitors the most.
By this time we were coming to the end of term 1 of the academic calendar and it was time to have some fun and let the children come up with their own ideas.
must thank Shrī Oṁ Gaṇesh, a local lighting contractor who donated the bulbs and the holders for use in our workshop.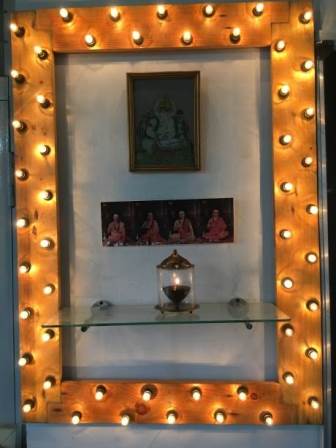 Inspiration for doing an independent project was from Arvind Guptā's website, Toys from Trash. I had downloaded some of the videos from the Arvind Guptā's website as well as some others and showed about 6 or 7 movies to the children. They were very excited and had many grandiose plans on what they would do. The children were supposed to come together and discuss what they were planning to do, come up with a list of things they would need and give the list to me. I was then supposed to see what I had in stock and what the children had to bring. I thought that this would give them some project management and team building experience. But I guess, I was expecting too much as the children never got together and when they turned up for their respective classes, they were clueless. So again I asked them to discuss in their group what they wanted to do and most of them came up with the simplest of the projects, the air-boat. However few groups had actually some other ideas and wanted to implement it.
| | |
| --- | --- |
| | |
| WATCHING THE VIDEO | PREPARING THE AIR-BOAT |
| | |
| READY TO LAUNCH | A REMOTE CONTROLLED CAR |
Only a few of the projects really worked and the more complicated ones did not perform at all. But it was a great experience because we had a review session where we wanted to discuss what might have gone wrong and how these can be rectified. But somehow the children were not opening up to discuss mistakes, maybe because they did not want to talk about this with their peers. Something to keep in mind that next time maybe individual group discussion would work better. But definitely they learnt that it is not easy to design and implement a product without paying proper importance to planning, precision in alignment and genuine discussions.
This was also a good opportunity for me to explain so many of the concepts of Physics and Mathematics using the work the children had done. But due to lack of knowledge of technical Kannaḍa, I missed out. Something for me to rectify next year.
We had received some very nice books about do-it-yourselves projects, carpentry projects and many other reference books too. With the help of some of the students who were willing to stay back after vocational classes, we set up a library by making shelves and stacking the books in the proper order to create a small library for ourselves. We also had National Geographic magazines, as well as sports magazines in our library. I can say that the National Geographic magazines were the most popular followed by the automobile magazines. Whatever free time they get, the children are browsing through these magazines and having some healthy discussions.
STUDENTS USING THE WORKSHOP LIBRARY
During the school vacations I asked a local contractor to build a wall which could be used for actual plumbing and electrical wiring activities. The wall was 20 feet wide, 8 feet tall and about 1 foot thick.
Power lines were drawn and two distribution points were fixed on either side of the wall. Water lines were also drawn and now the wall had both power and water as the case would be with any building. The wall was divided into four parts each measuring 10 feet by 8 feet so that 4 groups could work simultaneously on it. The students were supposed to make a 'bathroom' in each of these 4 spaces and a diagram was given to them to plan their work.
| | |
| --- | --- |
| | |
| THE WALL WITH POWER AND WATER INPUT | THE PLAN |
The children would be required to take measurements for the pipes to be cut, use the proper fittings to join the pipes, and use clamps to fix them on the wall for the plumbing part. For the electrical part they would have to cut the casings to size, drill holes and fix them to the wall. Then the wiring would have to be done so that the bulbs would light up when switched on. A dummy water heater would also have to be fixed and powered up for them to learn.
The plumbing went off quite well once the children got hang of it, but the electrical wiring took a lot more time than was expected.
CLAMPING THE PIPES TO THE WALL
WATER FLOWING THROUGH THE PIPES
PREPARING TO WIRE UP

The children had a great time doing this as it was outdoor as well as other students of the school were the curious onlookers shouting comments on what should be done and what not. Once the water got flowing the children enjoyed themselves getting wet, especially the evening batches who were on their way home any way.

I am not too sure that they will have learnt the capability to replicate this job on their own, but they had to work in teams and that was important.

MISSION ACCOMPLISHED – LIGHTS ON
Once the two batches had completed the work all the pipes, fittings, bulbs, etc. were removed and the other batches were given a slightly different design but could reuse the same material to make another 'bathroom' when their time came.
Whilst some batches were working on the wall the other children were learning joinery in the class room. They learn to make boxes and shelves. We have used most of the boxes and shelves to keep stuff in our class room itself although some of the teachers gave specific orders to the kids to make shelves for them so that the use it to keep their items in the classrooms and staff rooms.
Till this time the children had been using hand saws to cut wood and for this work I introduced them to the use of power tools, the jig saw. I had to take special care of safety because in their enthusiasm the children could hurt themselves. Hand positions, stance, saw positions had to be explained and reinforced before I got them do the cutting by themselves. At first there was a bit of reluctance to use the machine, probably fear of failure and no volunteer would come forward to be the first one. But once one of them did it all were eager to try. However the children got the hang of it quite quickly and now have become quite proficient in the use of this machine.
We managed to manufacture a variant of shelves and boxes for storage and they are now being used extensively in the class room.
| | | |
| --- | --- | --- |
| | | |
| MARKING | CUTTING | TAKING MEASUREMENTS |
| | | |
| CUTTING USING JIG SAW | BOX TO STORE WALL CLAMPS | BOX TO STORE FITTINGS |
| | |
| --- | --- |
| | |
| A SIMPLE SHELF | SHELF WITH WOODEN BRACKET |
| | |
| TWO LEVEL SHELF | SHELF FOR CONSUMABLES |
| | |
| SHELF WITH STORE BOUGHT STEEL BRACKETS | SPECIFIC DESIGN SHELVES FOR POWER TOOLS |
The children also helped me in making a few display items and these too are placed on the shelves made by the children.
| | |
| --- | --- |
| | |
| TYPES OF UNDERGROUND CABLES | DOMESTIC ELECTRICAL WIRE TYPES |
| | |
| DISPLAY ITEMS ON SHELVES | DISPLAY OF PLUMBING FITTINGS |
| | |
| DISPLAY OF GALVANIZED IRON (GI) FITTINGS | DISPLAY OF VARIOUS TYPES OF WOOD |
It was now coming to the end of the academic year. The school management had requested me earlier to stop vocational training classes by end of February so that the children could concentrate on their upcoming final exams in mid-March. This being the case I decided that it's time for doing something really more complicated as a sort of grand finale for the year. Furniture!
For this the children had to be taught the most common of carpentry joints, the mortise and tenon. So again a new set of tools were needed, the mortise chisel and the tenon saw.
| | |
| --- | --- |
| | |
| MORTISE AND TENON ILLUSTRATION | PREPARING THE TENON WITH TENON SAW |
| | |
| PREPARING THE MORTISE WITH MORTISE CHISEL | MORTISE AND TENON JOINT |
All the children made the mortise and tenon joint and once that was learnt, making of furniture began with real earnest. Each group decided what they wanted to do. table class="table"s, chairs, stools, coffee table class="table" stand for bench drilling machine, etc. I had to guide them through the first marking process and they soon got the hang of it and it was a busy (sometimes too hectic!!) two weeks as the children got into the stride of making furniture. The objective was to finish the furniture by 24th February morning so as to have it ready by 25th February for the exhibition that we had planned.
Most groups managed to finish the work on time and some groups had almost finished by 24th. The unfinished furniture will have to be completed sometime before we end the class for this year
TABLE AND CHAIR
STOOLS
COFFEE TABLE WITH GLASS TOP
THE TABLE MAKERS

One more stool and the stand for the bench press drilling machine is yet to be completed and I hope that the groups involved can complete the project by the end of February when classes will stop. Even if it is not, the children doing it are in the 8th grade and will attend classes next year and they can finish it then.

'MANAI' WITH STOOL
This the first time that we have attempted such a 'major' project and the children's enthusiasm was very high. They wanted to work and complete quickly and in some cases the joints were loose and when finished the product was wobbly. So we discussed together how to make the product more rigid. Children came up with various solutions like adding another cross beam or fixing a wooden triangle in make the perpendicular joint stronger or in some cases re-did the whole joint. So the original mistake was in some way a 'blessing in disguise' as the students were able to rectify them and at the same time understand that without their initial haste the job could have been done better. But, they are all 13-14 year olds and this could be expected from them.
It is so fulfilling to see how they are understood an engineering subject, TOS as we called it in college which stands for Theory of Structures, which is giving the extra strength or rigidity to any object, be it a building or a machine or just about anything. I don't think they really comprehended this and when I told them this is what engineering design is all about, they were a bit sceptical!
We had the exhibition on Sunday 25th February. Few parents, teachers, Chitrāpur citizens and our community people attended. The students were given the responsibility of showing the visitors around the classroom and explain the processes we had used in class starting form safety, types of tools, methods and finally the way they had worked on each project, starting right from the first work they had done (bulb holder) till the furniture that was on display. A TV screen was also set up and the photographs of the work the children had done over the last 7 months was on a slide show.
At first the children we not too keen to explain all this to the visitors because they seemed shy and not sure of themselves. But soon they lost their inhibitions and really did a great job explaining and i nterrupting each other to explain a point that one of them might have missed. If there was a lull between the visitors they would stand near the window looking out and as soon as they saw someone coming they would rush to their assigned positions and wait for the person to come near them so that they could explain the work done.
On this day I think they gained a lot in confidence as it looked like they had not had the opportunity before to speak to visitors and you could see how eager and proud they were to explain what they had done in the class over the las few months.
The visitors were very impressed with the work done and many were asking if the items were for sale!
| | |
| --- | --- |
| | |
| A STUDENT LIGHTS THE LAMP | EXPLAINING THE WORKINGS TO SCIENCE TEACHER |
| | |
| VISITORS AT THE EXHIBITION | VISITORS AT THE EXHIBITION |
| | |
| TESTING THE CHAIR AND TABLE | TESTING THE CHAIR AND TABLE |
| | |
| A VERY YOUNG VISITOR!!! | SOME MORE YOUNG VISITORS |
Earlier as a part of the course ending process I had asked the students to write their impressions of the course on 'post it ' pads and stick them a KG cardboard sheets after the initial hesitation the children went 'full steam' ahead and filled up 2 KG cardboard sheets which was then kept on display during the exhibition. They have written many wonderful things about the course and since I am not too proficient in reading Kannaḍa, I will need to ask for someone to decode this for me. But that will be later.
STUDENTS WRITE THEIR MESSAGES
THE MESSAGE BOARD
As a 'warming down session' the kids made key chains for themselves using transparent plastic sheet. The sheet had to be cut into 2 inch square pieces and any shape etched onto it using an etching machine. This process had been demonstrated earlier when my son and daughter-in-law had visited the school. The children did lot different shapes and figures and some of them even cut out the shapes.
| | |
| --- | --- |
| | |
| THE SHEET CUT INTO 2" SQ PIECES | THE TRANSPARENT SHEET |
| | |
| ETCHING ON THE SHEET | ETCHING ON THE SHEET |
| | |
| SOME EXAMPLES OF THE KEY CHAINS PRODUCED | SOME EXAMPLES OF THE KEY CHAINS PRODUCED |
MY REFLECTIONS: We have now come to the end of the training for this academic year as the children's exam will start soon. It's been a hectic but really enjoyable time. The kids have been so enthusiastic and have been forcing me to keep the class open on Sundays and other school holidays. I have obliged on few occasions and the kids have come and spent some extra time all throughout the year.
When we started at the end of June there were 96 students and over time the less interested started dropping off gradually. At the end there were about 45 students left, but all of them highly motivated. We had started with 6 girl students and although one left somehow another managed to slip into her place, and so at the end we still have the 6 girls! It's amazing to see grade 8 and 9 kids doing all the things that they have done. Each of them might have worked about an average 35 hours during the last 7 months, given the fact that there were school holidays, vacations and the many times that I was away, with the class closed at this time. But in this short time they have learnt to navigate the complexities of product manufacture. In most cases I had to show them once how the measurement and marking is done and off they were and in many cases improvising, innovating and finding easier ways to do the same thing. In some cases it would not be the right way to do the work in which case I would have to stop them, but in many cases I learnt from them and used the method for other groups.
It is time to start thinking about the next year, especially for the students who will continue to attend next year as well. I think I will need to do some filtering and keep a maximum for 32 students of this batch for next year. This means the children who are moving from 8th to the 9th grade, as the school will not want any distractions for the children who will move from 9th to 10th.
I am planning also to buy a few more machines for the next year especially for the use of the students who will continue in the class next year :
A lathe for wood turning
A scroll saw to make designs
A chop saw for making more accurate cuts as well as angled cuts
A table class="table" saw for cutting the planks accurately
I already have a router machine and am getting the hang of using it. So next year, for the senior batch, I hope to be able to make more products. Product based learning, I believe really adds to the significance of learning as I have seen in the last few months, as most of the things we have done in the class has been product based.
There is however scope for improvements which I hope will be put in effect next year.
Synergy between vocational activity and academics: There are so many concepts that the children learn while working which are closely related to what is taught in classrooms. But I haven't really been able to relate them due to my absent Kannaḍa technical vocabulary. Things like shapes (triangles, drawing parallel lines, angles, etc.), physical concepts like measurements, volumes, areas, density, force, torque, specific gravity and a host of other things. Before we start next year I need to sit with the science and maths teachers and make a list of the basic technical vocabulary and use them effectively in the vocational training class.
Team Work: Most of the time, at least in the beginning a natural leader has emerged in each group and she/he tends to do all the work, in fact, does not allow the other members of the group to do anything. However in the latter part of the year, as the work got more complex, work had to be shared. I must be more conscious of this right from the beginning and make sure all the group members work together. After all this was one of the objectives I was hoping to achieve and I cannot really say I am satisfied
Product finish: At a glance the products look very nice, but, the children are always in a hurry to finish the job at hand and move on to the next. In the process the finished product has some defects. Correct measurements, straightness of cuts, alignment and assembly can be improved. No doubt that the students are 13-14 year olds, but I think that with a little better supervision by me will ensure better quality product. They will also be more conscious of the need for accuracy.
Aesthetics: The children need to be better instructed about aesthetics. Proportions, the relations between height, length and breadth of the product are very important in any product design. Although the products made this year have been nice, the dimensions have been specified by me. I will need to give the students more freedom in choosing dimensions and then correct them if necessary.
Punctuality and Attendance: I have been a bit lax about it. Although in the beginning of the course the children were coming on time and attending every class. Over a period of time few of the children started to come late and would not come to every class. This was unfair to the groups whose members were missing or late and their work was suffering. So mid-way I sat with the HM and made some basic rules to counter this issue. Went on well for some time but again the 'bad habits' of lateness and missing classes emerged. By then it was coming to the end of the course and I took no action on the basic rules we had worked out. I should be more consistent next year.
As I have said before it was a great year and I am sure the children learnt a lot, the significance of which may or may not have sunk in their minds. But most importantly I have learnt a lot from the children. Although I used to potter around with tools and do odd bits of work at home, I was never a 'handyman' of any great significance. But now over this year my skills have improved considerably.
I must thank Parama Pūjya Swāmījī for His blessings, love and support, without which any of this would not have happened. The students of the course were a great inspiration for me as were my co-resource persons, Gaṇesh Baṅkeshwar mām, Dilīp Paḍukoṇe mām and Jyoti Haṭṭaṅgaḍy. The school staff was always there to support me as well. People in the Shrī Chitrāpur Mat̲h̲ helped in many ways from professional advice to raw materials and logistic support. Many working professionals in Chitrāpur and Shirālī were always glad to give me advice whenever I went to them and that helped in making the course successful.
I now look forward to the next academic year to resume the skills training.
IN THE SEVĀ OF THE MAT͟H AND THE GURUPARAMPARĀ