Ten years ago, Chitrāpur, located near Shirali in Uttar Kannada, was like any other Indian village battling poverty, unemployment and a rising insecurity about an uncertain future. There was neither a high school nor a hospital. Women had no opportunities of earning an independent income. Young men were forced to migrate to cities in search of a livelihood.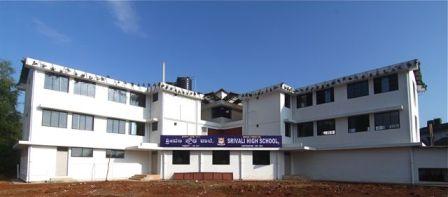 Fortunately, Chitrāpur also housed the Shrī Chitrāpur Math – the spiritual nucleus of the Chitrāpur Saraswat community. Under the able guidance of its dynamic and far-sighted 11th Mentor ( Mathadhipati ) Shrīmat Sadyojāt Shaṅkarāshram Swamiji many committed and capable volunteers from the community came forward, from the world over, to transform the lives of the locals, irrespective of their caste, creed or religion.
The first seed of change was sown in 1997, when the Srivali Trust was formed to promote projects promising sustainable development in the vital areas of health, education and self-employment. For the first time, every villager in Chitrāpur felt that timely medical aid, a regular income and a life of dignity were not far-fetched dreams !
SRIVALI HIGH SCHOOL
Chitrāpur never had a high school. Every child who wanted to study beyond the seventh standard was forced to commute by bus to a nearby town. While the hunger for higher education was acute, dropping out became inevitable because few could afford the bus fare. The inauguration of Srivali High School in April 2004 transformed this dismal scenario forever.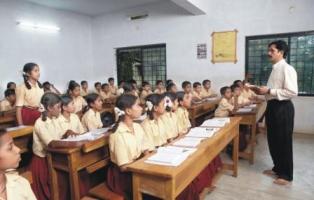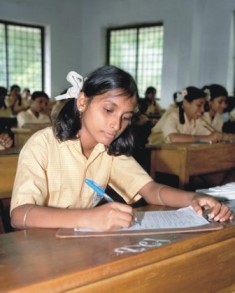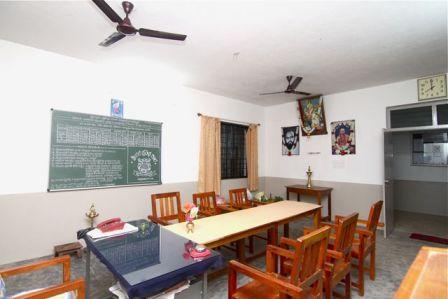 While the land was donated by Shrī Chitrāpur Math, valuable funding to cover construction costs came from the US-based Kulkarni Foundation. Many willing individuals also came forward to provide furniture, equipment and to contribute towards the running expenditure. Today, all 350 children of the school enjoy free education , books, mid-day meals and uniforms (Stiched, of course, at Samvit Sudha).
On their part, these bright children are doing their best to do their institution proud. They have brought home several prizes from inter-school sports competitions held at the Taluka, District and even State level; all the 104 students who appeared for the first SSLC Board examinations in April, 2007 passed, eight with distinction and 57 with first class and this record is getting better and better each successive year. The Academic year 2009-10 saw a total of 103 students passed out of the school, of which 9 scored distinction and another 50 scored First class.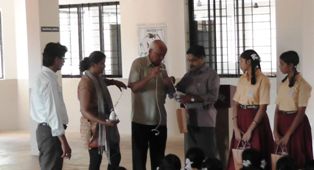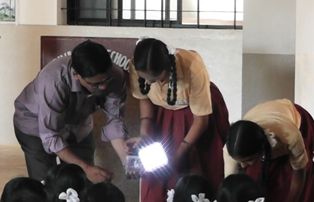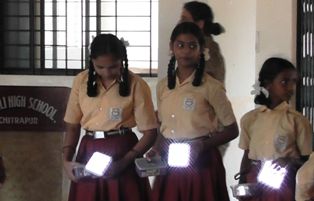 A large number of these passed out students have sought admissions into junior colleges, some of whom were assisted financially by the Trust. The wide world outside has just begun to open it's arms to receive these deserving children of Chitrāpur.
Sponsor a Student
The Trust has a "Sponsor a Student" Scheme wherein a donor can sponsor a student for all the three years of his/her higher secondary school education.
The Goal of this Student Sponsorship Programme is to provide funds to sustain the school operating expenses which include the midday meal, student uniforms, school supplies, teacher and staff salaries and utilities and maintenance costs of the school.
Cost of educating a student for one academic year is US$ 250/- or Rs.15,000/- per year and for 3 years for the entire higher high school period i.e. Standards 8th, 9th and 10th is US$ 750/- or Rs. 45,000/-. One may sponsor as many students as one desires and remit the cost of sponsorship - by multiplying the cost per student per year with the number of students and number of years, one wishes to sponsor.
Donations may be made by way of Demand Draft / Check in favor of "Srivali Trust", payable at Shirali and mailed to:
Srivali Trust,
c/o Shri Chitrāpur Math,
Shirali, Uttar Kanada District,
Karnataka, 581354
INDIA.
This is just the beginning....
Under the leadership of its tireless Founder, the Srivali Trust has managed to successfully initiate all the projects listed above and thereby, brought about a silent revolution in the quality of life and thought process of every resident of Chitrāpur and its neighbouring hamlets. Today, the confidence and self-esteem instilled in the heart of every villager has kindled new hope and inspired him or her to work harder towards a better tomorrow.
Srivali Trust is also extending management and financial support to Guruprasad Education Society, which runs a school in a small hamlet of Mallapur located in rural area near Kumatha, Uttar Kannada Dist of Karnataka.
Parama Pujya Swamiji is the President of the Board of Trustees and the trust is being run and administered under the guidance of Swamiji.
While a good beginning has been made, the Srivali Trust still has a long and challenging journey ahead to create a totally self-sustaining society-
• To offer the locals many more kinds of professional training and opportunities to get jobs, or the support to launch a small-scale enterprise.
• To have a steadily growing infrastructure to back up all the projects already afloat.
• To ensure there are enough financial reserves and specialized manpower offering voluntary assistance to the existing and forthcoming projects.
By doing all this, the Trust intends to put Chitrāpur on the world map. For, when a dedicated organization like the Srivali Trust empowers villagers and helps them to prosper without migrating from their native land, it shows the rest of the world how to strengthen a nation's very backbone and usher in progress which is far more tangible and lasting.
The continued success of such a multi-channeled, humanitarian venture depends upon a growing resource bank of feasible ideas, finance and willing hands.
The Srivali Trust, therefore needs many more committed and public service oriented individuals and institutions/ organizations eager to contribute their bit to light up the lives of under-privileged inhabitants of the real India.
We hope you will soon be one of them,
Donations to Srivali Trust are exempt from Income tax under Section 80G of the Income Tax Act 1961 for Indian residents/ institutions / organizations.
Srivali Trust is also approved to receive donations from overseas residents under the Foreign Contributions Regulation Act (FCRA).