Food For Thought!
After any prolonged period of sincere, intense and disciplined spiritual activity, a small break spent with other sadhaka-s in the lap of Mother Nature and in the Divine Presence of the Gurumauli can be very rejuvenating indeed! Let us have a peep at the joyful scenario of a Vanabhojan organised after the fulfilling Mallapur Chaturmas by Praveen Kumar Basrurmam who is the Assistant Conservator of Forests, Kumta Sub-division and Joint- Secretary, Sagar Local Sabha of Shri Chitrapur Math (November 2019)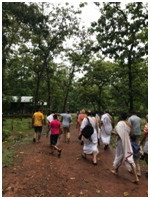 What a serene and enticing environment it was!!! Call of the lion - tailed macaque from one side; the sound of a stream flowing towards river Sharavati in the background; camouflaged tent houses; Rani Chennabhairadevi's picture at the backdrop of the amphitheater inviting all amchi s; the aroma of special delicacies prepared by the Sagar volunteers tempting our taste buds!!!
This was the wonderful scene at the Vanabhojan venue. It was the lion -tailed macaque Conservation area Eco park at Gersoppa, under the manage-ment of Honnavar Forest Division. This land of Rani Chennabhairadevi has some link with amchi- s, as she is the first queen who gave asylum to Gowda Saraswats who fled from Goa due to threat of Portugese invasion. When our ancestors ran away from Goa with the idols of our Kuladevata-s, the queen made all possible arrangements for our shelter, trade and worship. She even fought with the Portugese army on our behalf. We can see the traces of Saraswat families settled in villages ranging from Karwar to Bhatkal till date. So, it was, in a subtle way, like going back to our roots for all amchi-s. (Ref: Swapna Saraswath by Sri Gopalakrishna Pai).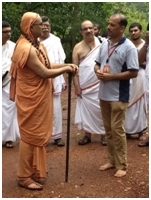 No need to say that it is a great combination to have batata wada, dal wada and hot tea when it is raining heavily outside. The day's plan included many activities, snack and lunch-time, games and Antakshari and of course, the icing on the cake being Pujya Swamiji's Upadesh and bhajan. All arrange-ments had been made for a slow cycle race, and tug-of-war but the rain did not permit this, alas! In spite of a strict warning from the forest staff, our youths were enjoying swimming in the chilling stream!!! Our Mams and Pachis were busy watching the video presentation about forest and wildlife of Honnavar division at the Interpretation center. I could hear the cheer 'Wow' from all the viewers, out of amazement, when we showed them the documentary on the life of the lion -tailed macaques. They were so thrilled to hear that this Conservation area has been now upgraded to a Sanctuary. Some youths got busy identifying the tree species in and around the campus. Some were busy roaming around the Chaturmukh Jain Temple which was the central place for trade and culture during ancient times. The little ones from Mallapur enjoyed the adventure games, zip line, rope nets and so on.
The serene atmosphere became divine all of a sudden when Parama Pujya Swamiji entered the campus. A gathering of 225 amchi-s welcomed His Holiness with jaijaikar-s. As all were waiting for Swamiji's Ashirvachan and bhajan, Swamiji, who \never disappoints His devotees, gave Upadesh and sang a bhajan, truly glorifying the ambience.
Now it was time for lunch. The hyper-charged volunteers from Sagar had prepared mouth-watering dishes which included roti, ennegayi (masala-filled baingan), madke kalu usli, pulav, curd rice, bisibele bhat, dal wada, jilebi, kayiholige, and to top it all - fruit salad.
Now, after a santrapt appetite, how can amchi-s sit quiet?? Antakshari was all that was needed there at the m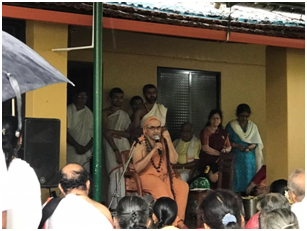 oment. It was a happy coincidence that when Parama Pujya Swamiji entered the place, the rain had just stopped. I was singing "Toofan ko aana hai, aakar chale jaana hai, baadal ye kuch pal ka, chhakar dhal jaana hai" from the song 'Ek pyar ka nagma hai.' Goutam Padukone Mam's romantic note, Kumble Kishore mam's two-voiced 'ek chatur naar', were added attractions of the day. Swamiji was so happy that he asked Kishore mam to sing once more. The day concluded with Swamiji's Nirop upadesh and bhajan.
It was a Vanabhojan in the true sense. Amchi-s of all age groups enjoyed the day in their own special way. I was little bit worried about the arrangements on the previous evening when I got a message late at night about more number of participants than expected. But all thanks to Durgesh Chandawarkar mam and Uday Gurkar mam, who were there to inspect the arrangements. As they said, when Swamiji is backing you with His Ashirvad, everything has to go off well. I realized My Guru was happy, my people were happy, even Mother Nature seemed very happy for She blessed us by showering us with heavy rains all through the day.

Om Namah Parvati Pataye Har Har Mahadev