"SO MUCH FUN! SO MUCH TO LEARN"
  Prarthana- a unique global platform for growing children, was initiated with the Blessings of our Beloved Mathadhipati Parama Pujya Sadyojat Shankarashram Swamiji. It aims at strengthening the root-identity of Chitrapur Saraswat children and subtly, through a variety of attractive creative packages, promotes positivity and knowledge about our precious cultural inheritance. Prarthana has 35 centres the world over, around 260 students and 79 dedicated and loving teachers.

   Nine-year-old SAYUJ KALYANPUR from the Prarthana Varg participated joyfully in a Seva Saptah at Karla recently. With a little help from mother Sangeeta, Sayuj shares his experiences in this interesting essay                                                                                                                                           Photo credits - Padmini Balsekar                                                                               (June 2019)
'Karla Durgaparmeshwari Temple' has always been my favourite temple and place too! During my munji in 2016, on 15th ,June 2017 as well as when I went for Sannikarsha thrice with the maam-s and pachi-s of Dadar Sabha, I had seen people who worked continuously at the Math. Often, I would give them a helping hand..I was very eager to participate in a Seva Saptah since then!
On the morning of 27th December, 2018, my grandparents, Amma and me went for my very first Seva Saptah! After eating the yummy breakfast-prasad, we were given our scarves so that we stand out as Seva Saptahi-s. It was to be worn all the time, except while eating food and during our free time.
My day would begin at 5.30am with Amma waking me up. It was tough as it was very cold and I felt like sleeping some more but I managed to wake up every day!! After a bath we went for Suprabhat in the Mandir at 6am , after which we recited Shri Parijnanashram Trayodashi, Gurupaduka Stotram and Gurubhajan Stotram. It felt nice to recite Shri Prijnanashram Trayodashi that I had learnt at home and in the Prarthana class. I was asked to collect and keep all the pink books back in their place after Suprabhat and after Ashtavadhan at night!
After some refreshing morning tea and biscuits we assembled in the Mandir to do exercises guided by Ashok Balsekar maam. I also saw elders do Ninaad. I was happy to perform Gayatri-Japa-Anushthan sitting in front of Swamiji's Samadhi along with Annu(my grandfather-Vivek Katre), Ashok maam and our team leader, Kiran Balwally maam. I did two mala-s every day.The pachi-s (Sulabha Sthalekar, Padmini Balsekar, Ammamma-Gayatri Katre and Amma-Sangeeta Kalyanpur) performed Devi Anushthan after breakfast in front of Durgaparmeshwari Devi. I would sneak peek into the Goshala during this time!!
I enjoyed serving food in the Bhojanshala. I learnt that food is to be served as per what others want and not what I want!! Serving without touching the plate and serving a little at a time is what I will remember. I enjoyed washing my own plate, wiping plates, vati-s, spoons and keeping them in the allotted places as part of my'kitchen duty'.
Apart from this, ringing the bell during aarti with proper rhythm and watering the plants was also exciting! Padmini pachi taught me to make garlands and I felt so happy when the garland that I had made with different flowers was put on Durgaparmeshwari Devi and Swamiji's photo during pujan!! 
I was amazed to see the beautiful sun rise and set from behind the hill.I hardly get to see this in Mumbai because of my school routine. In my free time I enjoyed looking at the dogs-Kalyani, Raja, Rani. Initially ,they would bark at me but after being with them for a long time each day, they stopped barking and would wag their tails!! I liked playing with Karan and also Veer Balsekar (whose munji was done in the temple at Karla on 28th December). Feeding the cows, peering into the well with Amma for turtles and crabs, drawing and playing badminton were part of my play- time activities.  I also attended meetings with all Seva Saptahi-s every night except once when I fell asleep!!
I enjoyed all the duties given to me but the duty that I liked the most was to take Bhiksha for Parijnanashram Swamiji in Jnananand and wait outside for about half an hour. I want to do this when I go back home too, just like it is done in my Ammamma's house. But one question still remains unanswered : what if Guru Swami likes a particular dish and wants a second helping?
I shall always remember and treasure in my mind the Seva Saptah days at Karla. where I learnt a lot from everyone, especially my friend-Padmini Balsekar pachi and the'ever helpful'-Mukta Dhareshwar pachi.
This year, we stepped into 2019 at Karla and in this new year I made new BFFs(Best Friends Forever).... the ever -smiling Devi Ma, Swamiji as well as the innocent cows at the Goshala. I really feel ParijnanashramSwamiji's photo is not just a photo, but a 'LIVE-PHOTO'!!
I am waiting to do my next Seva Saptah  because it is so much fun and there is also so much to learn!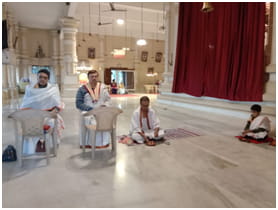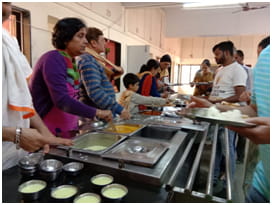 Gayatri Anushthaan in front of Guru's Samadhi                           Small hands, small helpings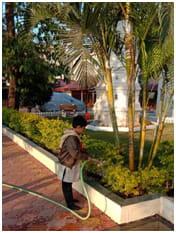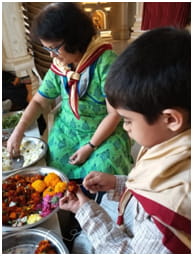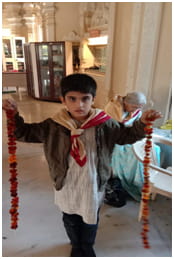 Time to "feed" plants                                           These are the Garlands I made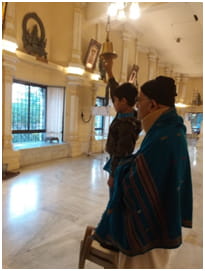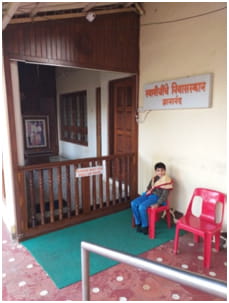 Where there is a bell.......                   Bhiksha for Guru Swami