An Ongoing Miracle!
With the Grace and Guidance of the Guru when your eyes open to receive the many blessings coming your way, the journey of life turns into   An Ongoing Miracle!

TANUJA NADKARNI's sensitive account traces the many welcome happenings that have convinced her that this move from Mumbai to Chitrapur was indeed a welcome gift from destiny!               (May 2019)
Miracles happen all the time.  We only have to be sensitive and receptive enough to recognise them! This abundance of our Guru's divine Grace that flows through our lives, enriching, strengthening, and giving us the  equanimity to experience joys and sorrows alike, is something that can only be termed as miraculous!
Our lives back in Mumbai were the typical 'caught in the 9 to 5' routine for several years, with an annual holiday during which we would drive south through coastal Karnataka. We would always have a brief halt at the Math to pay obeisance.  It was on one such trip in December '97 that we were blessed with our first Darshan of our beloved Parama Pujya Sadyojat Shankarashram Swamiji!  It was one of our most memorable trips and that overwhelming joy resonated in our hearts even after we returned. In the year 2002, during Swamiji's camp at Killa Pardi, we were initiated into mantra deeksha. In the years that followed, we were blessed to have Swamijis Darshan during the camps in Mumbai, we participated  in the Guru Jyoti Padayatra and attend the Shivratri programs in Hubli. 
All through, the longing to get away from the city and live in a rural set-up and try our hand at organic farming kept tugging at our heart-strings. We saw innumerable farms in our quest but this one just happened like a miracle and we moved to Chitrapur about eight years ago. Something deep inside tells me that this move was more than just a random cosmic aberration. Our wanting to move to a rural setting was probably a small spark of further initiation.
Parama Pujya Swamiji blessed us with a visit to our home in 2012. At the last minute I realised I did not have a new foot- mat for Swamiji to step onto after the Padaprakshalan.  With a twinge of remorse that I had overlooked this, I placed a clean, new bhairas.  As Parama Pujya Swamiji stepped onto the folded white bhairas and entered our home, the damp outline of His Feet was visible on the cloth. I reverently placed it aside.  The next two hours were spent in a state of euphoric bliss as Swamiji blessed us with some invaluable moments, visited our cow shed and walked around our farm. Later on in the evening I noticed that the outline of Parama Pujya Swamiji's Feet on the bhairas remained  even after it had dried – a treasure for us, that we hold close to our heart. 
Our lives have changed in innumerable ways after  we moved here.  Added to which there has been a change for the better in both of us too!
We seem to have done away with fear
With absolutely no background or experience of living in the wild, we were comfortable and at-home in the new setting from day one. The deafening silence, the total darkness during power outages which were very frequent in the early days, being totally cut-off from the mainland when the water gushed down the hillside during the monsoon, leaving or returning to the farm late in the night due to business demands, suddenly encountering wild boars and snakes that moved freely in our overgrown farm -  none of these had the power to unsettle us. It felt as if we had always belonged here!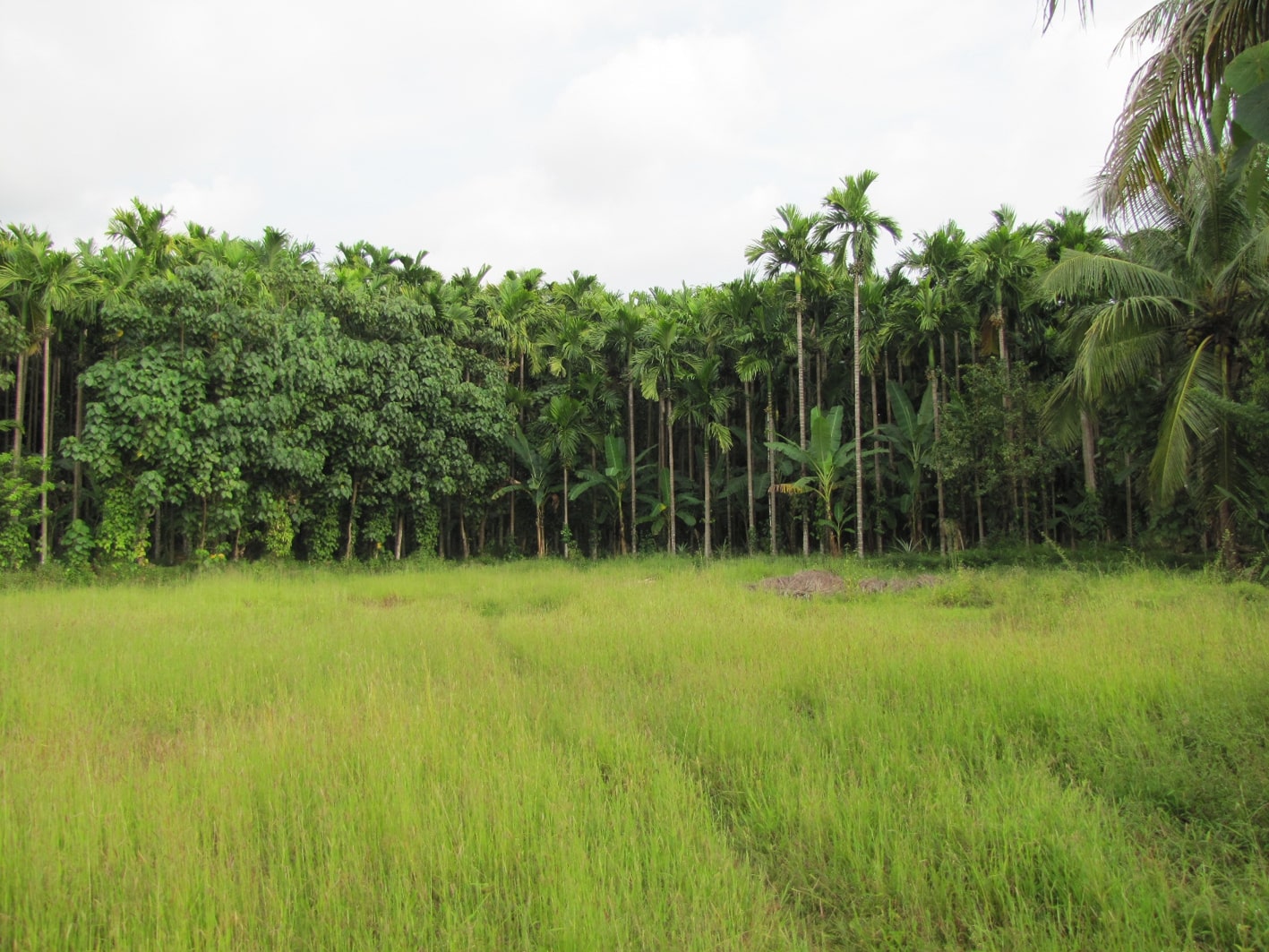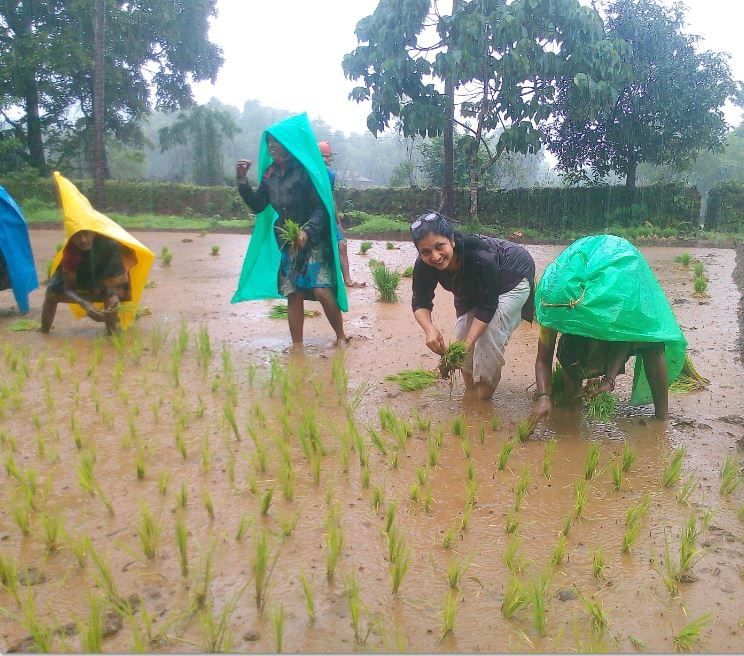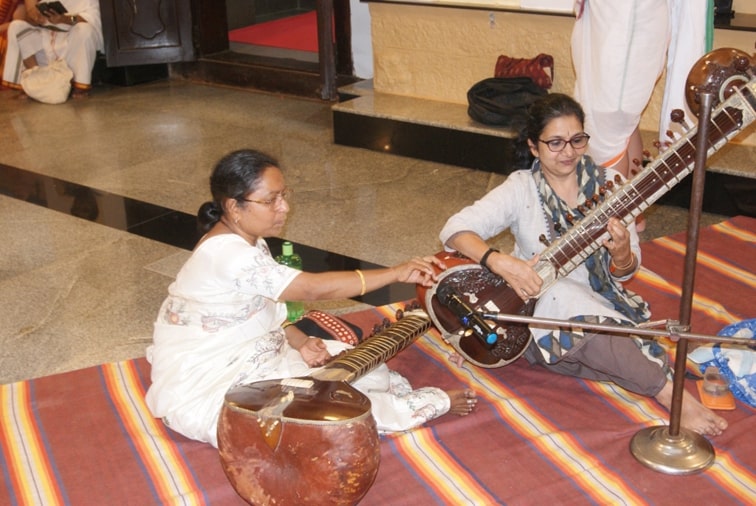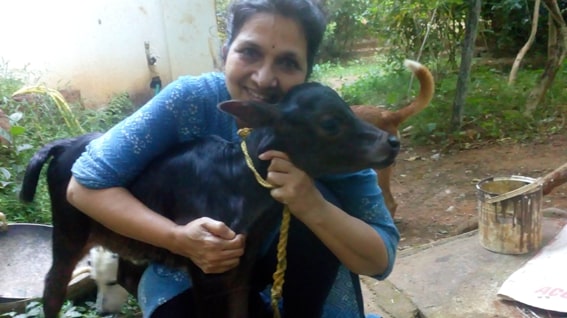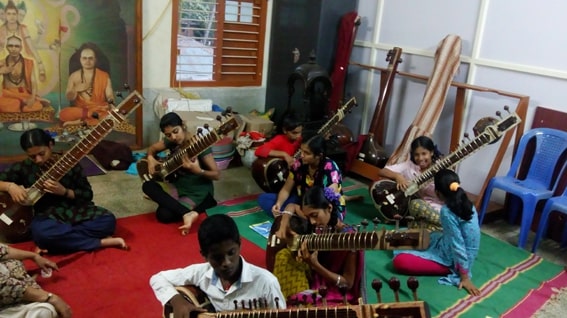 We are much more aware of the everyday miracles that take place all around us
Whether it is watching over the birth of a calf in a silent  cow shed in the wee hours of the morning,  or  tending to a sick calf through the night and watching it pull through and recover at dawn, or have the vet reach just in time to see a cow through a difficult delivery, or impulsively choosing a different path to walk through the forest and then hearing the resounding crash of a giant tree falling onto our usual path .....these are but a few of the innumerable moments when life's hitherto invisible blessings are revealed to us!
Our growing bond with the Math
 Our connection with the Math and the Guru Parampara was always there, but after we moved here, with the Blessings of our Beloved Swamiji, this connection has definitely deepened. Our involvement with the Math activities has been steadily rising. Vivek's Chaturmas convenership and my involvement with the IT activities was just the beginning.  Living in this kshetra we seem to be enveloped by this kavacha with our Math and our Guru protecting us all the time.
In all of this transformation, if there was any one thing that I missed after we moved here, it was my on-going sitar lessons which I used to take while in Mumbai. Sunday mornings would be devoted to sitar practice and my teacher would come home once a week to teach me. Here, somehow I was not able to strike a balance between the burgeoning farm work, our office work and my sitar practice.  Although my dexterity at milking the cows or transplanting rice saplings improved, I found it difficult to continue playing the sitar.  I harboured a little pocket of sadness in my heart, but here too there was a miracle waiting to happen. 
During the last Chaturmas, Anandmam and Vijupachi (Naimpally) were planning a skit on Krishna Sudama to be performed by the yuvas.  Anandmam asked  me whether I would play a small background piece on the sitar.  Both he and Vijupachi guided me and I was able to perform the little piece as the yuvas performed their skit in the Presence of Parama Pujya Swamiji. During the practice sessions, quite a few yuvas had expressed a keen interest on learning to play the sitar.  After the skit as we received Blessings from Pujya Swamiji, we mentioned about the yuvas' keenness, Swamiji gave His Blessings, and after that things just moved on like a breeze. There were two sitars lying in a state of disuse in the music room (Gandharva Raj). I had two sitars in Chitrapur and one in Mumbai.  Shilpa Mudurpachi  and Shamala Mavinkurvepachi brought their sitars from Mumbai.  We were able to make a car trip to Mumbai and brought my third sitar to Shirali.  A person from Miraj skilled in repairing sitars (doing zavaari) ,  who had a reputation for never arriving on a promised date actually turned up at Chitrapur and repaired all the unused sitars! And thus 'Srivalli Parijat'  - a small humble attempt at teaching sitar to the yuvas of Shirali began. I was wondering if the initial enthusiasm of the students would last, since sitar is a difficult instrument to master and the lessons cause a lot of pain when the strings cut into the finger tips, but it is quite a few months now and the students look forward to and  actually wait for the next class. I am truly grateful for this opportunity to offer sangeet seva to our Math.
The most rewarding part of our being in Chitrapur and  our involvement with the Math is our interactions with Parama Pujya Swamiji. Right from His visit to our farm and home in 2012 and through the interactions during work, we are constantly motivated to rise above the ordinary and give of our best.  It has brought about clarity in our thought and an ability to look at problems and day- to- day issues in a detached and unaffected way. The entire journey has been a continuous learning experience.  The Guru leads and we follow in all humility.