Devabhasha
Our revered Guru-Parama Pujya Sadyojat Shankarashram Swamiji has been very keen that all members of the Chitrapur Saraswat samaj should learn to converse in Sanskrit. This detailed report by SUJATA HALDIPUR, on behalf of Girvanapratishtha - the Department of Sanskrit Studies, Shri Chitrapur Math, will tell you in how many ways the growing band of devoted teachers is trying to acquaint us with the incomparable sweetness and the innumerable gems in the vast treasury of our January 2019
The love for and erudition in the Devabhasha - Sanskrit is ingrained in our Chitrapur Saraswat samaj since centuries. Our Math's prayers - Bhavani Shankar Suprabhatam, Shankar Narayan Geetam, Deepa Namaskar composed by our ancestors are a few examples which endorse this fact. A deep desire to share this treasure with all those who wish to be enthralled by it, has given birth to Girvanapratishtha- a department of Sanskrit Studies founded by our Beloved Guru Parama Pujya Sadyojat Shankarashram Swamiji.
In the year 2001, as per Pujya Swamiji's Adesh that people should learn and converse in Sanskrita (this was an unfulfilled wish of our Parama Guru- Pujya Parijnanashram Swamiji III), carefully compiled web lessons were uploaded on the internet. The lessons are very easy to follow and have an avid following both in India and abroad.
Around 2003, regular classes began. A proper syllabus was formulated. Girvanapratishtha has well- designed courses which gradually enable a student not only to decipher the meaning of the shloka-s, stotra-s recited by him/her, but also instill the confidence to converse in Sanskrit. The Sanskrit lessons have been divided into four courses. Till date, approximately 2,500 students have successfully completed the courses (Upasana, Aradhana, Sadhana and Dharana).
Girvanapratishtha is trying to promote Sanskrit - a holy Gurukarya- in the following manner. Here is a succint summary of the variety of activities conducted over 2017 and 2018 to inspire love for this Divine language –
1. Regular classes are conducted in many places within India and abroad.
· Mumbai – Dadar, Bandra, Khar, Vileparle, Andheri, Goregaon, Borivali, Mulund and Thane
· Pune
· Bengaluru -Shri Chitrapur Math at Malleswaram, Vijaynagar, Jayanagar, Indranagar and Whitefield.
· Chennai
· Shirali
· Australia
Examinations were held twice annually (June and November 2017 and 2018) for students who had completed the Aradhana/Sadhana/ Dharana courses.
2. Sambhashana Varga is going on regularly at Bengaluru, Shirali and Mumbai. Many people are taking keen interest and attending these classes.
In Karla, Suman Nagarkatti pachi conducts sambhashana classes twice a week for Seva Saptaha volunteers.
In Bengaluru, regular sambhashana classes for the laity are conducted every Thursday by Rashmi Chandragiri pachi. About 30 students attend the sambhashana class every week. At the end of each class a Ninaada session is conducted.
Every Tuesday sambhashana classes are conducted by Sadhana Kaikini pachi at Jayanagar.
Every Wednesday- Sunetra Nagarkatte pachi conducts sambhashana classes for her students at her residence at Vijayanagar. About six students attend this sambhashana varga. A Ninaada session is conducted by Sunetrapachi after the class.
Snaatakottar Varga for post - Dharana students -(meaning, students who have completed Dharana but want to continue with Sanskrit sambhashana) - is conducted by Udaya Mavinkurve pachi. About 7-10 students attend the class every Thursday.
In Pune- Vaishali Koppikar pachi and in Shirali- Aruna Bankeshwar pachi have been conducting sambhashana classes regularly.
3. Swadhyaya varga-s – In some sabha-s students are doing swadhyaya of shloka-s, stotra-s or any other material related to Vedanta. In Mumbai's Grant Road sabha, Suneela Mavinkurve pachi conducted classes on the Bhagwad Geeta and Tatwabodha. In the Andheri sabha, Sheetala Chandavarkar pachi conducted a swadhyaya class on Valmiki Ramayan.
Sangita Pawar pachi conducts swadhyaya classes in Karla every week.
4. Staravardhana -Stara vardhana classes for teachers are conducted on Wednesdays at Khar, Mumbai and in Bengaluru- twice a month on Fridays. On alternate Fridays, the teachers in Bengaluru share best teaching practices amongst themselves to discover different teaching methodologies for various topics.
5 Sambhashana shivirs were held in Bengaluru. Often, a shivir is conducted during Swamiji's visit to a sabha.
6. So far, almost 60-65 teachers have taught in various Sanskrit classes. Many times, as the students complete the curriculum, they join the teachers' group. Sometimes, Pujya Swamiji encourages the students to teach so that their own concepts become clear.
7. Girvanavaikhari - An online interactive class for students abroad (USA) has been started by Shilpa Mudurpachi with great success.
8. Sanskrit sessions comprising games, music and fun were conducted by Shilpa Mudur pachi during the Kara Seva shiviram, wherein there was enthusiastic participation by youths under the global umbrella called Yuvadhara!
9. During Chaturmas regular Sambhashana varga was conducted by the teachers who were present at the venue.
10. An audio recording of the Sanskrit book 'Prerana' in the voice of our beloved late Seetham Basrur pachi was uploaded on our website - as a befitting tribute to her seva.
All this joyful learning and sharing is offered at the Lotus Feet of our Beloved Guru who is constantly encouraging us.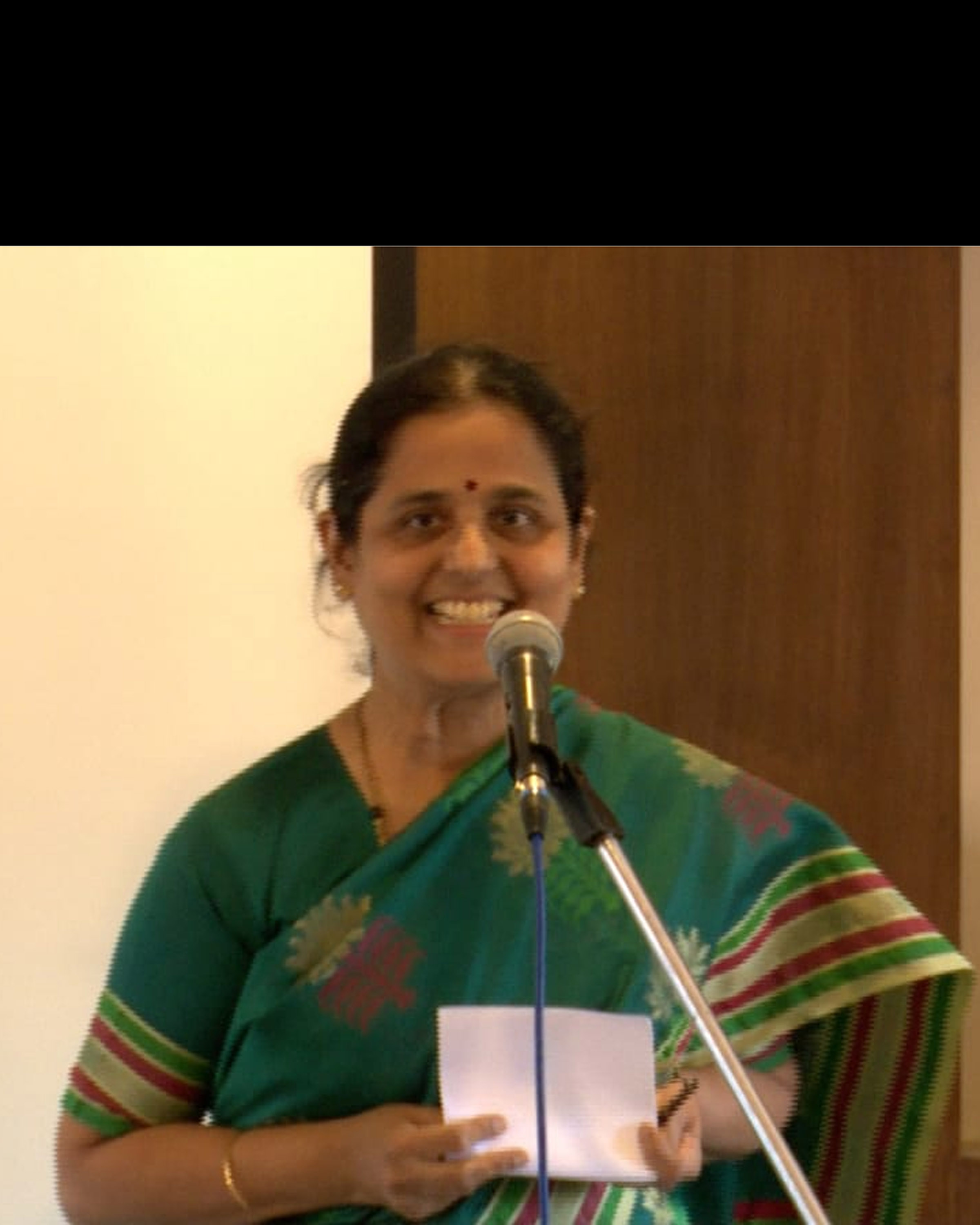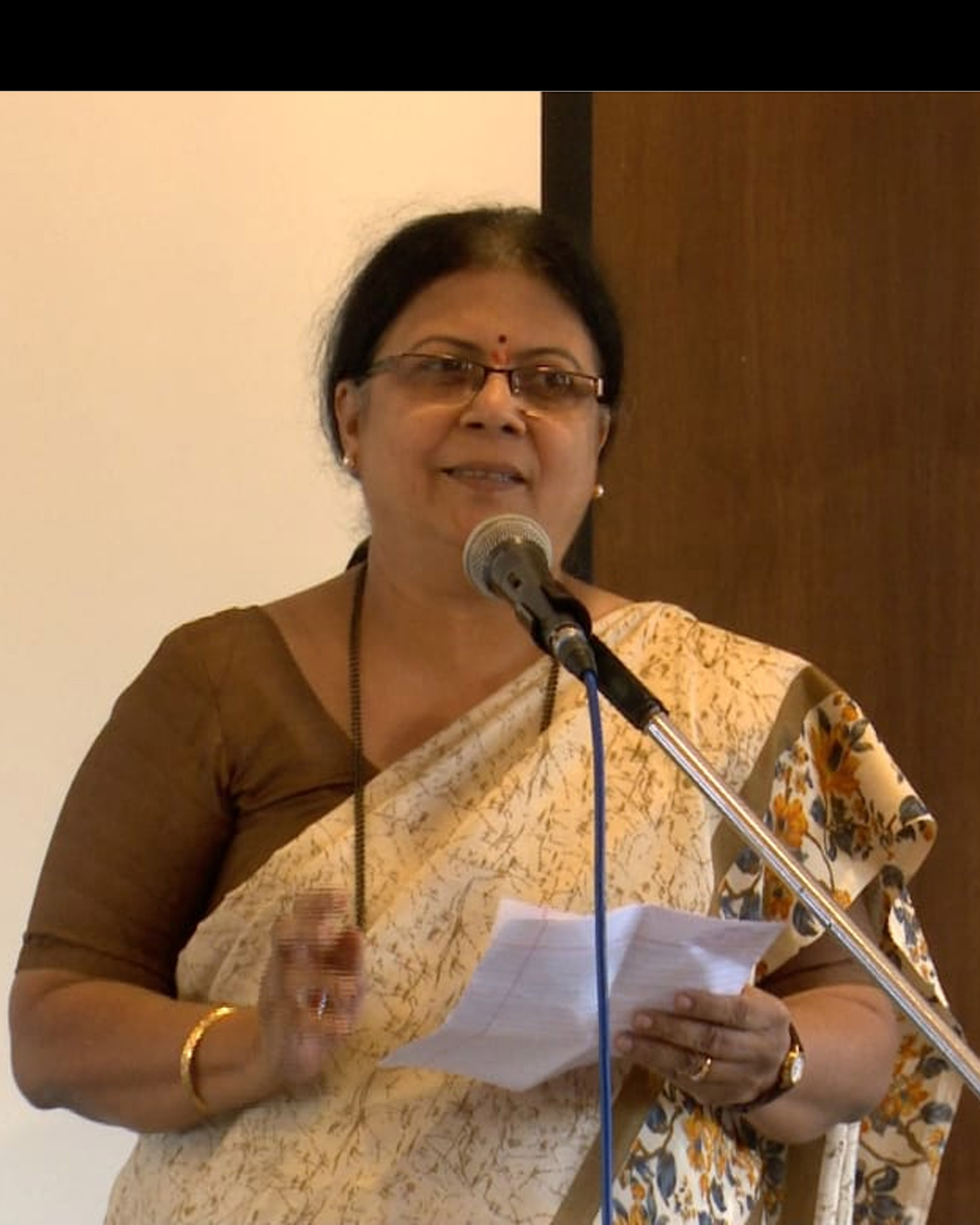 Abhivyakti about the Staravardhana Shiviram Sunetra Nagarkattepachi anchoring the
by Sabita Harite Shivir Samapan samaroha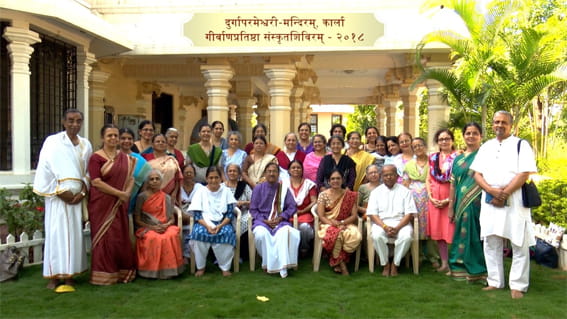 Staravardhana Shibiraarthi-s with Dr. Shantala and Dr. H. R. Vishwasa