Meditative Experience
Over two days this August, eight sadhaka-s were given the opportunity
to learn a spot of carpentry at the workshop started by Harin Hattangadymam in Srivali High School, Shirali.  Here is a report by
PRITI PANEMANGLOR and NIRANJAN NAGARKATTE on this               Photo credits - Harin Hattangady       (November 2018)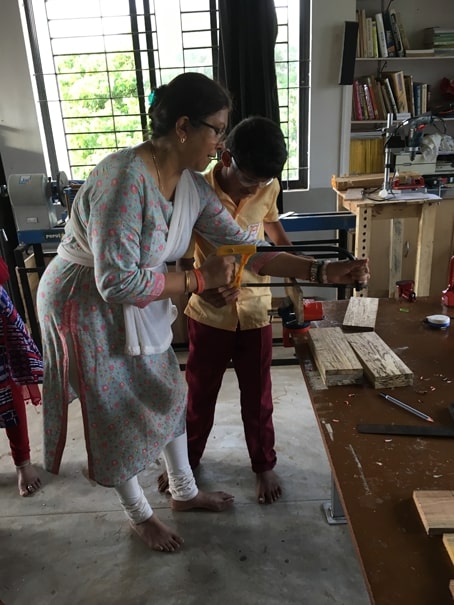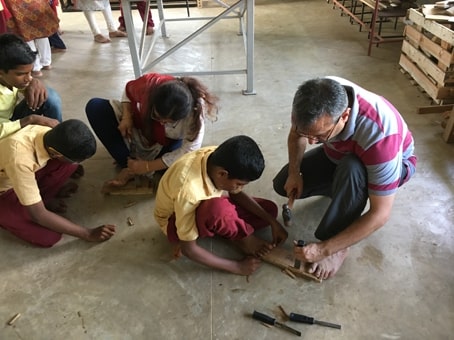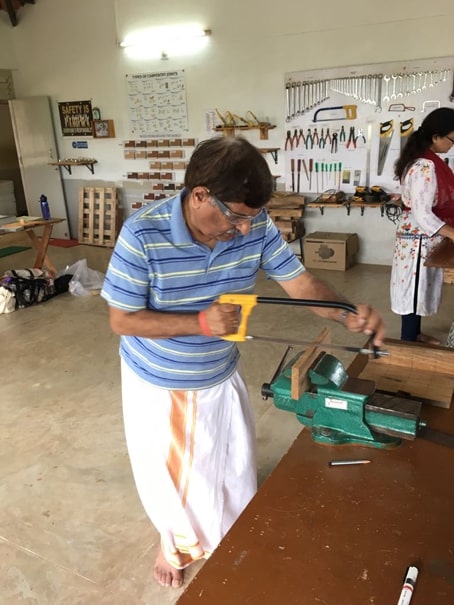 A 'role-reversal' workshop! The bright students of Srivali High School became excellent teachers of basic carpentry to eight urban adults!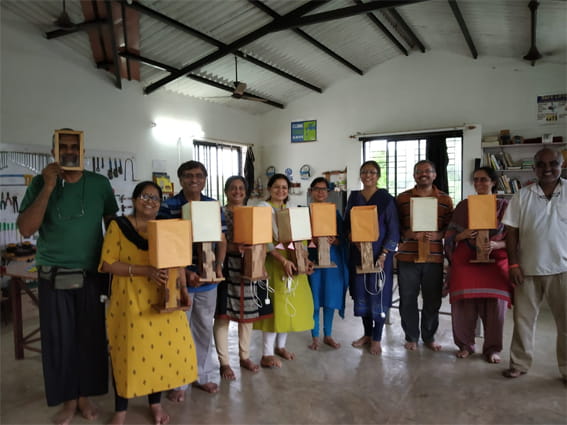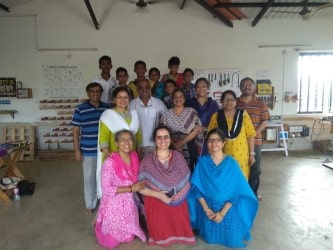 Six women and two men were deeply absorbed in the work they were doing in that workshop. One could hear the hum of the drill, the banging of a hammer, the scraping sound of the hacksaw. Here was someone calling out for help and there- someone shouting in excitement! Where do you think all this was happening? At the Vocational Training Centre of Srivali High School in Chitrapur, Shirali.
In 2017, Harin Hattangadymam, who has now settled in Shirali and who has multi-disciplinary skills, expressed a desire to start a vocational training centre in the School. With the Blessings of Pujya Swamiji, he set up a workshop, where the school children could be taught basic carpentry, electrical work and plumbing. This was to be an extra-curricular activity. About 90 boys and 6 girls expressed keen interest to join this workshop. You may be aware that the children of Srivali School come from the villages around Chitrapur. If you have visited the school you may also know that they are intelligent, hard working and enthusiastic. They can chant entire chapters from the Bhagawat Gita with great ease and confidence. But they feel a bit shy when they have to interact with us 'city folk'.
The group of Srivali students who joined the workshop were trained ably by Harinmam. They made shelves, tables, chairs, electrical boxes, extension boxes all with different types of boxing wood. He taught them how to make electrical connections - in series and parallel and basic plumbing. This new learning and understanding of skills brought about an amazing  change in their level of confidence. Very soon, they were able to mentor urban Yuvas who came to participate in a workshop. Can you imagine how self-assured they felt teaching the city youth how to use a hammer and chisel, or how to drill, a hole in wood? This magical metamorphosis is happening, thanks to Harinmam and his wife Jyotipachi, who often assists him. Many of them may specialize in one of these skills and make it their  profession in the future. What is more, the new batch of children this year includes a larger number of girls!!
It is time to tell what happened when it was our turn to be trained by Harinmam. As the first day of the 'Carpentry Workshop' came closer our apprehension about whether we would be able to use tools like a hacksaw, a chisel, or a drill, was mounting steadily….  Of course, there was a great deal of excitement too and we were happy to be a part of this new learning.
Harinmam was assisted by his wife Jyotipachi and Dilip Basrurmam from Pune. Our mentors were a group of 8-10 boys from Srivali School who willingly volunteered to come over that weekend. The Workshop started on 25thAugust afternoon, with the Math prayers and introductions. We were divided into two groups and both the groups were given different tasks. Our aim was to learn how to make a wooden lamp and a lampshade from handmade paper, which incidentally, is a product of the Parijnan Foundation's Hand -Made Paper Project (HMPP).
All workshops are held in a classroom in the school. Well lit and kept neatly, it is well equipped with all tools and machines required for this purpose. Every item is either neatly arranged on the wall or stowed away in boxes in sets. There are safety signs posted on all the walls and it is a must to use safety glasses while working in the workshop.
After giving us an idea of what we were going to do, Harinmam explained  how to use each instrument. Our eager- to- help junior mentors went about telling us what to do and how to do it. Watching them cut, saw and chisel the wood with such ease and confidence gave us the assurance that we could manage it too. We realised that this activity requires a great deal of single-minded attention. Since carpentry aims at perfection and is almost meditative, each activity needs to be done with a lot of patience and total concentration. An extra hard knock with the hammer can make the chisel cut off a wrong edge, you see!
An interesting aspect of the lamp that we made was that only waste- wood was used. Also, no nails or screws were used to assemble the lamp. We were taught a concept called "finger joint assembly" wherein the four vertical wooden parts were joined together with Fevicol. Subsequently, the wooden base plate too was joined with Fevicol. Almost all the sawing, cutting, chiselling was done with hand tools.
All of us discovered that learning something new is stimulating for the mind. In carpentry, just as in any other skill, precision and hard work must go hand in hand. We also learnt that this can become a great hobby. Harinmam, Dilipmam and Jyotipachi, were always around to help us while encouraging us to do everything on our own. We were never made to feel like novices and that added the special element which enhances self-reliance and faith in oneself. Of course we made mistakes and the lamps were not all-perfect, but there was immense satisfaction and a sense of accomplishment at the end of the two-day workshop. All of us felt really blessed to have been a part of such a novel project, which is going to benefit and gift an additional qualification to the deserving students of Srivali High School.