SEVA
Brought up in a strong-rooted home VINATI UDIYAVAR developed  deep love and reverence towards our hallowed Guruparampara from a very early age. In this heartfelt, first-person account she describes how this devotion acquired greater meaning and a sense of deep fulfilment when, with the loving Guidance of Parama Poojya Swamiji,  it learnt to  express itself  in many wonderful forms of      (July 2018)

Photo credits -  Maithili Padukone and Pankaj Kumta
"The Guru is a living God and whatever you are is because of His Grace and Blessings alone. Have firm faith in Him as He knows what is good for you and will be there for you through everything."  That was the thought ingrained in my mind by my parents, who were spiritually inclined and deeply devoted to our Guruparampara. I am convinced that I was blessed to have parents who brought me up with this firm belief.
When we were young, we used to volunteer at the camps of Parama Poojya Anandashram Swamiji  and Parama Poojya Parijnanashram Swamiji III, running small errands and taking pride in wearing the volunteer badges. Although we were too young to understand the importance of seva back then, in hindsight I can see that it initiated us into the concept of doing seva.
We would go to Khar Math whenever Guru Swami was in Mumbai to take His Blessings. However, after He took samadhi, there seemed to be some sort of an imperceptible void.  Around the same time, my sole focus was my home -taking care of my husband Kedar, and our young sons.  In 1998, we moved to Hyderabad and there began a new chapter in my life. The kids were growing up fast and I was left wondering how to utilize the increased free time I had on my hands.  The same year, in December, we had our first darshan of Parama Poojya Sadyojat Shankarashram Swamiji at Dadar. We were incredibly blessed to have Him grace our home in Bombay with His Presence. That was a momentous occasion for me as it felt as if the void, which I was experiencing because of the absence of a Guru in my life, had vanished.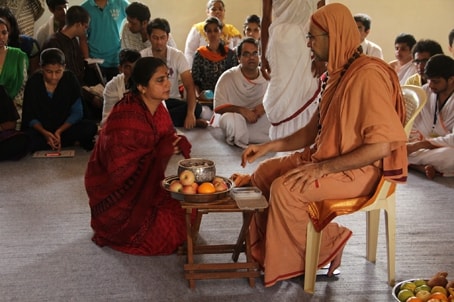 Tuzha Namo!
When Swamiji visited Hyderabad in 2000, Kedar and I were active volunteers at the programme and it truly felt like the beginning of something special.  The bond with the Guruparampara only grew stronger when Poojya Swamiji blessed me with Mantradeeksha during that visit.  Over the course of Swamiji's next few visits, the Math  became an integral part of our lives.  During one such interaction, I told Poojya Swamiji that I would like to contribute to the Math in some way while continuing to be in Hyderabad; to which our Swamiji responded by telling me that there would come a time, when I would be able to do my bit for the Math and the Guruparampara.
In 2008, at the Sadhana Shivir in Shirali, Swamiji told me that I should organize the Shivir with another volunteer.  This seemed like a daunting task as I had never done anything like this before but Swamiji reassured me that I would be able to do it. Thus began my association with the Shivir-s.  With Guidance from Poojya Swamiji and the senior sanchalak-s, it turned out to be a great learning experience. Each Shivir brought with it a new set of challenges to test our abilities and a new set of people to learn from. When the Guru gives us such enriching opportunities, it is up to us to make the most of it.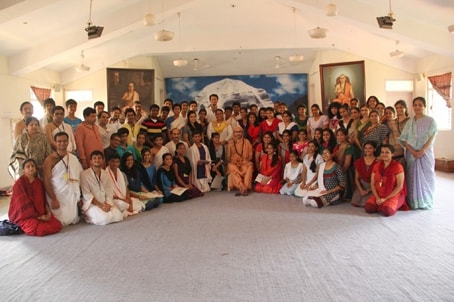 All is Well ........ Happy Shivirarthi-s and Sanchalak-s with their Beloved Swamiji
As the kids grew older and moved away, I could dedicate more time to the work that I did for the Math. At that point, it struck me that our community is truly blessed to have a Guru, who not only takes us forward on our spiritual journey, but also directs us to utilize our abilities to do our bit for society and the community around us. I felt doubly blessed when I got involved with Samvit Sudha as it was the vision of our Parama Guru Parijnanashram Swamiji III, to improve the quality of life of the local villagers.  As an ideal Shishya, who makes it His life's mission to carry forward and realize the vision of His Guru, our beloved Guru Parama Pujya Sadyojat Shankarashram Swamiji guided us in the setting up of the Samvit Sudha unit and I was given the opportunity to help in a small way. Around 2010, I was given a chance to sell Samvit Sudha products in Hyderabad and slowly, some innovative ideas started coming to my mind.  Earlier, I was doing voluntary work for a similar organization and had taken a liking for it. The things I learnt there came handy when I started volunteering for Samvit Sudha. I moved from managing the hub at Hyderabad to handling the sales and marketing of all the products across the country and at every step, Pujya Swamiji was always there to guide me. When one does seva for the Guru and the Math, one develops a new perspective of looking at things and there dawns the realization that one is slowly, but surely, evolving as a person.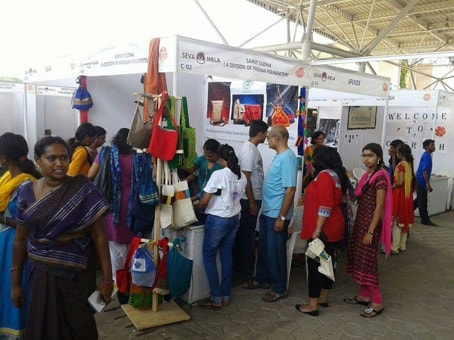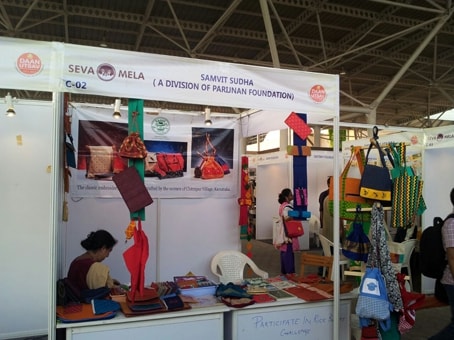 The colourful display of woman empowerment!                    At a Samvit Sudha stall...
On the personal front, we always feel that as mothers, we are indispensable to our children but I saw that, while I was away doing seva, my children had learnt to become independent and this helped them to become mature adults.  With Parama Poojya Swamiji's Blessings, I got the full support of my family to devote more time to volunteer for the Math.  The beauty of doing seva for the Math is that it lets you bring such a wide variety of skills to the table and put them all to wonderful use, while also giving you the immense satisfaction of knowing that you are giving back to society in a way that very few people are lucky enough to.  Be it teaching kids in the Prarthanavarga or singing bhajan-s at a satsang, offering seva at the Lotus Feet of the Guruparampara lets you grow and explore your own talents in an environment where the Gurushakti not only gives you wonderful opportunities, the Guru's Blessings also make everything possible!  No matter how small a talent you think you have, offer it forseva of the Math because the Guru accepts whatever you have given with devotion and reverence. The abundant Gurushakti showers genuine Love and Guidance on every sadhaka and this lets you take on life's ups and downs with equanimity and fortitude, while helping you move forward on the spiritual path.
I conclude by offering a grateful prayer at the Lotus Feet of Parama Pujya Swamiji --­

 Following the chitta of the Guru alone will make everything, or all our efforts, successful. O child, with this conviction enter into all work!