LEARNING CAN BE FUN!
Distance was no deterrent for US-based 16-year-old RHEA KALYANPUR who has created some amazing and useful kits to help the children of ParijnanashramVidyalaya in their exciting journey towards new concepts, more knowledge. Here is Rhea's touching account, in her own words, of how her brilliant efforts have reached halfway across the globe and proved                           (June 2018)
We are very happy to inform you that  this innovative project has earned
Rhea Kalyanpur the Gold Award, which is the highest honour conferred
by the Girl Scout  Council. Congratulations Rhea!
I have always felt blessed because I had the opportunity of getting a good education. From the time I was a little girl I have loved to learn and also to teach others whatever I can. I remember after school, I used to run home to tell my parents what I had learnt on that day. When I heard that the Srivali Trust of our Shri Chitrapur Math had opened a new school, I wanted to share my love for education with those students. At the same time, I also wondered how this would be possible, as I am just a 16-year- old who lives halfway across the globe.
In high school, I have been taking a child- development class where we work in a pre-school and learn how to teach children. Here, we are taught many techniques that help the children learn. I learnt that many children learn better when doing hands-on activities. By using these activities, children are able to grasp concepts faster and enjoy learning more! With this new knowledge, I knew exactly how I would be able to spread my love for learning to the Parijnanashram Vidyalaya students. I decided to create study aids to send to the school. The study aids would be able to help engage the students by reinforcing the topics they have learnt, or are learning now.
I created study aids that would not only act as study mechanisms but also as toys for the children to have fun alongside! I was so excited to create these study aids and contacted the Srivali Trust through the help of my family members. I talked to Shobhanapachi and she gave me many useful tips on what to include in the aids. I obtained advice from my child development teacher and finalized the study aids. I made four types of study aids: Book Discussion kits, Puzzles, Spinner Games, and a Learning Binder.
To fund my project, I presented my ideas during the NJ/PA PrarthanaVarg and everyone responded with great generosity. I have been going to Prarthana Varg for around a decade now and have learned from Swamiji's teachings that we should always help others. Lots of families donated to support my study aids project. I was also amazed when some of the 8-10 year old girls from this group organized a lemonade stand and collected money to support my project. I also raised money by drawing mehndi designs for my friends at school, as well as at birthday parties.
After the funds required for the project had come in, I got down to work. Here are the details of the study aids that I created:
¨     Puzzles - I created  puzzles with wooden bases to ensure they would last for a very long time. I chose colorful and interesting pictures for the puzzles so it would be enjoyable for the children. I printed questions on the  back of each puzzle piece and answers were written on the backboard of the puzzle. Students had  to match questions with the right answers and in the process, build the entire puzzle board.
¨     Spinner Games - I created a spinner with a variety of questions including topics from math, science, English, history and geography. The children had to play this game by spinning the spinner and answering the question that it points to. A child keeps the card if the question is answered correctly. The child with the most cards at the end wins!
¨     Book Discussion kits - I love to read so this was my favorite creation ! This includes many copies of books with worksheets and activities. The children can read the books in groups, or by themselves and complete the activities. Reading is a great pastime and can be a magical experience for every child.
¨     Learning Binder - I made laminated learning activities covering many topics, like the alphabet, numbers, addition and subtraction, multiplication and division and body parts. The children will have to complete the learning activity by matching or solving the question on the placemat to detachable smaller pieces. The small pieces can be attached to the activity sheet with velcro. For example, a child will have to match the word "nose" to the picture of the nose. I placed the activity sheets in pouches so that they can double as a carrier for any loose pieces. I printed each activity sheet onto hard cardstock paper and then laminated each one to make sure it became durable.
I also laminated all paper in the study aids to make sure they would have a long shelf-life. I really loved working on the study aids as I got to showcase some of my favorite subjects like math and reading. My family helped me a lot through this journey. I am very grateful and thankful for all their help.
After sending the study aids to India, I knew that I had been able to spread my love for education to the students there. Although I had been afraid that it would not be possible, with a strong team, many generous people and hard work it was all a success. I want to encourage everyone to help others in any way possible. Any action is not too small and can change someone's life. I hope that the students of the Parijnanashram Vidyalaya enjoy the study aids and develop a great love for education.
*****************************************************************************************************************************
Shobhana Bijoor from ParijnanashramVidyalaya reports on how the children are having fun as they learn, using Rhea Kalyanpur's
excellent set of teaching aids
Rhea Kalyanpur was in touch with me since last year, as she wanted to take up a project of Learning Aids for children in Primary school. Initially, she prepared one teaching aid and sent it to us for trial. I gave her some suggestions regarding the kind of content our  children are more familiar with.
After this, she prepared many Learning-aids with a lot of effort. The quality of these aids is absolutely professional and it is really creditable that a young girl thought so deeply  and designed kits which are very creative and thought provoking.  All the activities are not only made interesting but also very child-friendly. So the children enjoy using them.
There are different types of material, such as puzzles, spinners, story books and fun exercises based on the stories in the book.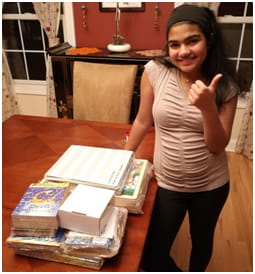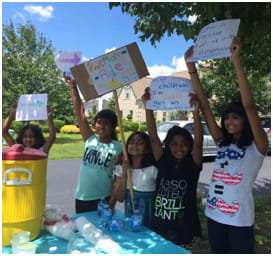 Rhea has a  lovely smile after days of  hard work!           The girls who helped raise money                                                                                                                                            for my project by selling lemonade
Rhea has made all the aids so thoughtfully that the simple puzzles need some mathematical operations, such as addition, multiplication etc. as a clue. The "Spinner" has five colours and a needle in the center. When the needle of the spinner stops, the child has to pick up a card of the colour the needle is pointing at and solve the question given on it. Orange cards are for Language and Arts, Yellow for Geography and History, Purple for Addition and Subtraction, Blue for Multiplication and Division and Red for Science. This game caters to all subjects and the children can answer the questions and learn almost playfully!
There are 2 books, "Jack and the beanstalk" and "We are in a book." The second book is for pre-primary children who have just started reading small words. Jack and the beanstalk is for Primary Children. In lower classes the teacher can read the story to them and then give the work-sheets based on the story. The questions are set so thoughtfully that they inculcate creative thinking in children. This actually guides the teachers as to what sort of exercises can be planned. It is amazing that a girl who has not had any experience in working in a school has put together such wonderful exercises.    
There is a "Learning Binder" in which there are pictures of parts of the body and the names of the parts,  different shapes and their names, plus addition and multiplication tables from 2 to 9.
All the aids are absolutely wonderful. We are very fortunate to get help from young enthusiastic people like Rhea. I wish her the very  best for what is going to be, undoubtedly, a bright future!
The Gold Award is the highest achievement within the Girl Scouts of the USA, earned by Senior and Ambassador Girl Scouts. Only 5.4% of eligible Girl Scouts successfully earn the Gold Award"- from the Girl Scouts Website.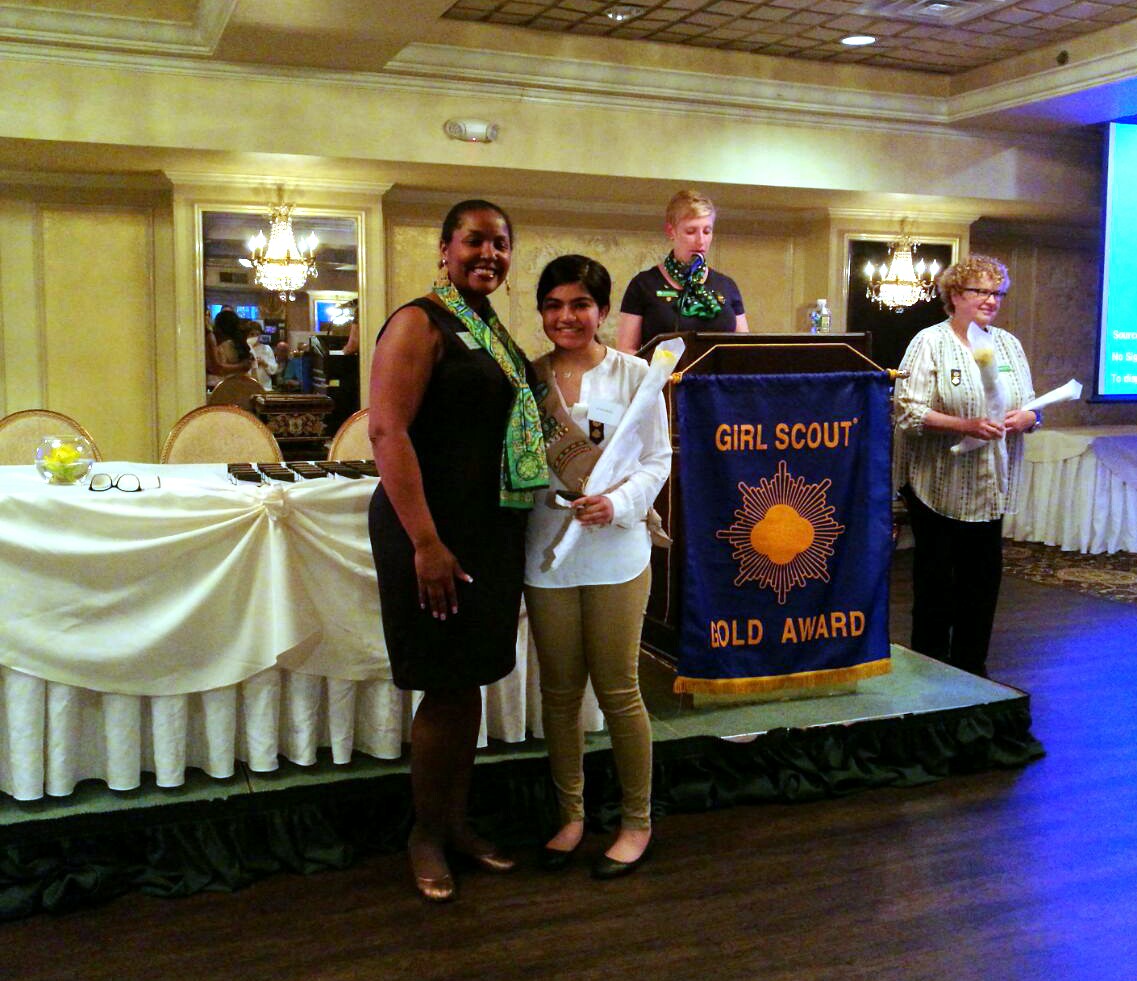 Rhea receiving the Girl Scout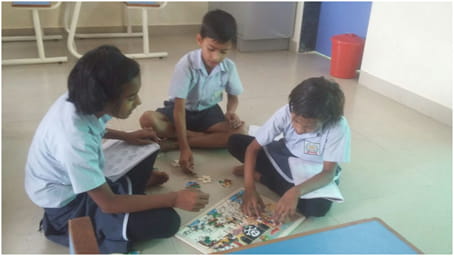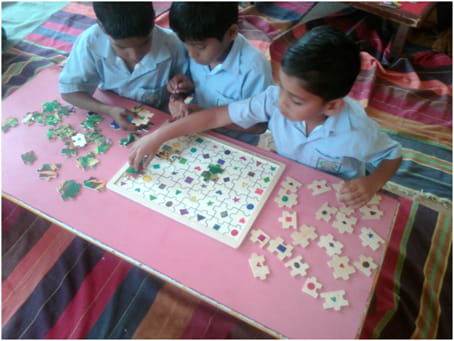 Children playing with some of the study aids at   Parijnanashram Vidyalaya, Karla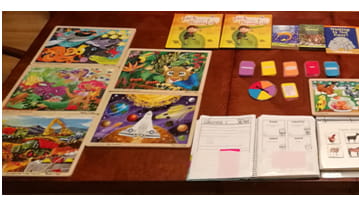 All the study-aids that Rhea has created: puzzles, spinner games,                                                                                       learning binder and book discussion