Sabha-wise Quarterly Activity Report - Period - January to March 2018
Chitrapur Yuvadhara Sabha-wise Quarterly Activity Report  - January to March 2018
Andheri
Gurupujana :
The Andheri Yuvadhara continued its Sankalpa for performing Gurupujan once every month. In January, February and March, Pujan was performed by Yuvas and Prarthana Varg. The nirmalya from the Gurupujana was composted and we continued with our 'Green Gurupujana ' initiative.
Samvit Sudha Volunteering:
Aditi Gokarn and Niyati Mavinkurve volunteered for Samvit Sudha corporate events.
Yugadi 2018:
Andheri Sabha Yugadi celebrations on 18th March,2018 had yuvas and prarthana varga presenting a cultural programme based on the theme " Love ".
13 yuvas – Vaishnavi Bhat, Ashwini Balsekar, Aditi Gokarn, Divya Hattangadi, Puja Gokarn, Abhishek Gokarn, Siddharth Adur, Varun Hosangadi, Omkar Dhareshwar, Soham Dhareshwar,Arnav Hoskote, Varun Gunavanthe, and 12 prarthana children enthralled the audience with their performances….dance, a rap performance, one man act, Konkani skit Manga's Task ( by prarthana varga ) and vocal and instrumental music.
Niyati Mavinkurve compered the programme.
New Entrants
We welcomed Vaishnavi Bhat and Shriya Koppikar to our Andheri Yuvadhara family.
Bandra-Khar
For the Yuvathon 2018 held in February, five yuvas (Shambhavi Bijoor, Amruta Ulman, Kartik Kaikini, Chirag Trasi and Anvay Kundapur), took part.Their feedback was that they had an amazing experience.
During the Rathotsav at Shirali this year, yuvati Amruta Ulman participated in the dance ballet and also offered bhajan seva during jagran after Mrigbete.
Dadar
Mahashivaratri was observed on 13th February, 2018 at Shri Durga Parameshwari Temple and Sanjeevani Samadhi of Shrimat Parijnanashram Swamiji III, Karla.
Niyati Puthli performed Char Yam Pooja on this auspicious occasion. Next came the much awaited Yuvathon 2018 organised on 18th February at Karla. Aditya Chandavarkar, Ankita Chandavarkar, Nirav Sthalekar and Sanika Balwally participated in the same and were also fortunate to be a part of an informal interaction with Parama Pujya Shrimat Sadyojat Shankarashram Swamiji, organised on the same day at Karla Math. On 1st March, 2018 Ankita Chandavarkar participated in the celebrations of Shishya Swikara divasa of HH Shrimat Parijnanashram Swamiji III, at Durga Parameshwari Temple, Karla. The quarter came to an end with participation of Divya Vinekar, Prathamesh Kini and Subodh Rao in Chitrapur Rathotsav at Shirali on Hanuman Jayanti I.e. on 31st March, 2018. Divya Vinekar offered bhajan Seva. Divya Vinekar also participated in the dance performance based on the Ardhanarishwara Stotram during Chitrapur Yuvadhara Bhajan Seva and Performance during Rathotsav at Shirali.
Goa
Jan 2018 :
Sushant Harite helped to compile Goa Yuvadhara database. He was in Shirali during Jan 24-31 & participated in Vardhanti of Shrines & session on demonstration of fire safety measures by Mangesh Chikramane of B'lore & by Adv. V. G. Ravichandran on legal provisions relating to Trusts. He also assisted the Internal Audit Team ;
Feb 2018 :
Sushant Harite participated in Vardhanti of Pattabhishek of HH on Feb 5 & Yuvathon at Karla on Feb 18;
Mar 2018:
i) Sushant Harite visited Samadhi Math, Mangalore & participated in Vardhanti celebration & Holika Kamadahana on Mar 1. He also participated in Sabha Satsang to mark Yugadi on March 18, comprising of Bhajans & Panak-Panvar and performed Mangal Arati;
ii) Soumya Karkal participated in Rathotsava at Shirali on Mar 31.
UK
Monthly bhajan at Dr Ranjan Maam Adur's residence 10th February 2018. SSUK Youth - Anushree Amembal, Chirag Amembal, Advait Amembal took part in the bhajans. This was also attended by Tejashree and her husband Vishal Bailoor. Following the bhajan, there was a vimarsh session conducted by Tejashree Bailoor on the following shloka from the Bhagavad Geeta.
गते शोको न कर्तव्यो भविष्यं नैव चिन्तयेत् ।
वर्तमानेन कालेन वर्तयन्ति विचक्षणाः ॥
Meaning: One must not lament about the past nor worry about the future. The wise men live in the present.
The youth present participated in the vimarsh and appreciated the discussion very much.
The Saraswat Samaj UK Yugadi event on 24 March 2018 – It was attended by 105 people with youth comprising 34 in number. This event was planned by the SSUK committee but a few yuvas who took a wholesome responsibility towards this, include Abhishek Mavinkurve (Social Secretary), Arjun Sajip (Secretary) and Anushree Amembal (Youth representative). Abhishek planned much of the entertainment programme and wrote a skit that illuminated many aspects of the Yugadi festival and its significance. Arjun Sajip and Chirag Amembal compered the programme. There were many childrens' programmes including face-painting which was beautifully done by Anushree Amembal. Prajna Mavinkurve, our talented youth member gave a vocal performance. She sang a devotional song 'Jayasharade Vageeshwari' and then a medley of old and new Bollywood songs. Tina Adur led a beautiful dance performance featuring the Yuvas; Prajna and Abhishek Mavinkurve, Anushree Shiroor, and Chirag and Advait Amembal.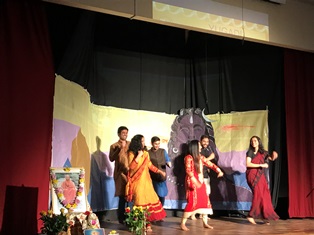 Many youth present helped with the organising the backdrop on the stage, registration, and setting up the food stall and serving food – Urvi Mankekar, Chirag Amembal, Advait Amembal, Mihir Manjeshwar, Karishma Hemmady, Vishal and Tejashree Bailoor.
One of our youth – Alpana Sajip specially baked two cakes for all the children who participated in the event, which was much enjoyed by the children.
The last session of the Yugadi event included a Vimarsh session conducted by Tejashree Bailur on the following shloka:
षड् गुणाः पुरुषेणेह त्यक्तव्या न कदाचन ।
सत्यम् दानम् अनालस्यम् अनसूया क्षमा धृतिः ॥
Meaning: These six qualities, a person should never give up
truth, charity, industriousness, not being jealous, forgiveness and fortitude
Tejashree pacchi introduced the concept of vimarsh and explained what it involves. Following this, she conducted the vimarsh session, which went on for a total of 45 minutes.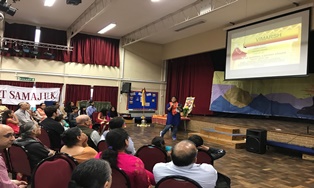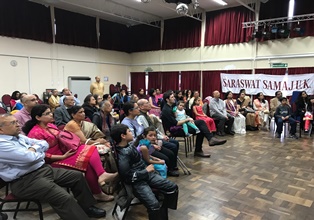 The following is a brief outline of the discussions by participants.
Truth: Why people lie? - They may be embarrassed, may do so to protect someone from the truth for their own good, to improve or better themselves, or to make themselves feel better. However, why one should not lie - honesty makes one feel better about oneself by telling the truth, gives one a clear conscience, and reassures that others will not be able to find out that you have lied, you don't have to remember what you have said to cover the truth.
The question was asked how do we know what is the truth? - A variety of answers such as - from facts, by trusting other people who you think would tell the truth. Truth was also considered to depend on perception. It was thought that being gullible would be detrimental to you, your family and friends because of the inability for you to judge what is truth.
Charity: It was voiced that by helping others, one would feel better, also by spreading happiness, money, time and serving someone who is not well, or even teaching someone. However, the group felt that daan (charity) should not be given indiscriminately. It should not be given to everyone but be given to someone who is willing to use it to improve and pass it on.
Industriousness: Laziness can occur when someone procrastinates, has nothing else to do, or is afraid of failure. It is important to establish a routine or habit and to prioritise tasks.
Jealousy: Can be caused by insecurity, negativity, or an inferiority complex. Envy is bad if it is hurtful but can be used positively if you can aspire and improve yourself.
Forgiveness: One needs to forgive but there have to be boundaries so that others don't hurt you. Need to learn from what people do but not to bear a grudge.
Fortitude: Integrity- to be firm when you are right, but stubbornness is when you may know you are wrong but still continue to argue your point. Being stubborn was considered to eventually hurt you when you come to realise the futility of being stubborn when you are wrong.
Finally, fortitude may be helped by having faith in your Guru, and this faith and belief will help you overcome hurdles in life.
The vimarsh was conducted for a total of 45 minutes. Almost 85% of the audience including youth and 2 children 8-12 years of age contributed to the vimarsh. Many had attended a vimarsh for the first time. Overall feedback received was very positive. One of the comments received from the yuvas - vimarsh was intellectually stimulating and interesting. The relatively large number of participants, with this being a first-time experience for many may have led to some feeling shy to voice their opinions. Some yuvas said that they were thinking about the discussion points from vimarsh on their way home which suggests that this vimarsh was well received.