Sabha-wise Quarterly Activity Report - October to December 2017
Chitrapur Yuvadhara Sabha-wise Quarterly Activity report -  Period : October - December 2017
Andheri
Janmadivas of Parama Pujya Sadyojat Shankarashram Swamiji was celebrated with enthusiasm by the Prarthana varga , Yuvadhara and Laity of Andheri Sabha on Sunday, 29th October, 2017 at Shriram School hall. Sabha Prarambha Prarthana was followed by a Ninaad session conducted by Sushma Gokarn pacchi. Everyone arranged their pujana samagri to the accompaniment of melodious bhajans sung by yuvas and pachis. Guru Paduka Stotram and Shri Parijnyanashram Trayodashi filled the air with a feeling of Divinity.
Gurupujana was performed by seventeen members including children from our Prarthana varga and Yuvadhara followed by Mangalaarti and Deepanamaskar. As members settled with some refreshments , the room was filled with melodious music by Utkarsh Hoskote , all of 14years, fingers moving deftly on his keyboard to play old classics as well as new songs which all enjoyed.
To mark this special occasion, we at Andheri Sabha undertook a novel and much needed initiative to show our love and bhakti to our Parama Pujya Swamiji, to make a difference to society. Donation boxes were kept for
Old Clothes - to be donated to NGO Goonj
Electronic Waste - to be recycled responsibly by Eco Rox
Old Shoes - to be donated to Greensole
The idea behind the drive was to reduce the waste going out to our landfills and benefit people in the process.
Electronic waste is poisonous and flammable and recycling ensures safer air.
Old shoes are reused by Greensole to make chappals for rural school children, thus putting our waste to a better use.
Goonj runs Cloth for Work programs where clothes donated are used as payment for rural projects.The project was handled and led by Yuva Niyati Mavinkurve.
The Andheri Sabha fully supported the initiative and the Sabha members donated very generously to the cause. The donations were given to the respective NGOs within a week of collection.
Andheri Sabha hopes to duplicate this drive during Yugadi and introduce more such drives to make a positive difference to the world around us.
Another initiative continued on the Janma Divas celebrations is composting of Nirmalya from Gurupujana. Since Kanakanjali Utsava, Andheri Prarthana varga and Yuvadhara meet up once every month and perform Gurupujan and have been composting nirmalya since July 2016.
Goonj can be checked out at https://www.goonj.org
Greensole can be checked out at https://www.greensole.in
Eco Rox can be found on Facebook
The beautiful evening ended with Sabha Samapti Prarthana and Jai-Jaikaars....
Yuvas from Andheri also participated in:
1. Aditi Gokarn volunteered with Samvit Sudha event at Citicorp.
2. Krupa Chandavarkar participated in the Bhagvad Gita Recitation of Chapter 12 and 15 by Yuvas during Gita Jayanti at Talmakiwadi
3. Ruhi and Nikhil Kumta volunteered during Parama Pujya Swamiji's camps at Talmakiwadi during Datta Jayanti and also at Pandurangwadi Goregaon.
4. Participated in the Vanabhojana at Borivili National Park.
5. Siddharth Adur, Abhishek Gokarn Offered Bhajan Seva at Talmakiwadi and Pandurangwadi.
6. Siddharth Adur, Abhishek Gokarn, Nirmit Kumta, Ruhi and Nikhil Kumta, volunteered at Karla on 26th December and participated in the interaction with Shri Shankar Mahadevan.
(2) Bandra-Khar
During Swamiji's recent visit to Grant Road Sabha at Talmakiwadi, 4 yuvas from our sabha namely Kartik Kaikini, Divya Bhat, Kanaka Shirali and Shambhavi Bijoor took part in the dance ballet "The Awakening" presentation by Chitrapur Yuvadhara, held on the eve of Datta Jayanti.
Shambhavi Bijoor also participated in the interaction of yuvas with Shankar Mahadevan at Karla Math on 26th December 2017.
(3) Bengaluru
12th Nov: Everyone was excited to celebrate the Janmadivas of our beloved P.P Swamiji. At 10:30AM, the yuvas and yuvatis gathered, to begin Devi Japa Anushthan. A few of the yuvatis had got together and prepared a Pineapple Upsidedown Cake and Gulab Jamuns for Naivedya. Devyani Padubidri who joined us from the US via Skype, had prepared Tea-infused Cake. We were all set to celebrate the special day.
After reciting the Sabha Prarambh Prarthana and Parijnan Trayodashi, we observed two minutes of Moun in memory of HH Bade Swamiji. Manju Jamalabad Pacchi then guided us as we did Ninaad. As the group, led by Shivani kallianpur, performed Devi Japa Anushthan, we felt transported to another world. We then concluded with the Sabha Samapti Prarthana.
It was soon time for the Shrama Seva which involved cleaning all the photo frames, fans, bells, divlis etc. in the Anandashram Sabhagraha. Time flies when one works hard and we were all surprised when lunch was announced. We put away the cleaning paraphernalia and queued up for a well-deserved Prasad Bhojan.
While we munched on the scrumptious Prasad Bhojan, we started planning for the upcoming Makalidurga trek. Naren Naimpally Maam then asked us for our feedback and suggestions on the various Yuvadhara activities.
As all of us left for the day, our smiles reflected the satisfaction we felt at having spent a memorable day in Seva!
Firefighting workshop:
Bengaluru Yuvadhara held a fire fighting workshop under the expert guidance of Shri Mangesh Chikermane mam. The object was to create awareness among sādhakas and the Yuvā varga regarding the various steps and measures to be taken in an event of a fire or any accident/ emergency in the Math premises.
The workshop began with sabha prarambha prarthana.
Participants : Sachin Kalthod, Akhil Golerkeri, Siddharth Savkur, Sanjana Hervatte, Shreyas Hervatte, Akshay Ullal, Shivani Kallianpur, Maitreyi Bellare, Varun Mallapur.
The workshop was divided into 2 phases
In the first phase of the workshop , Mangeshmaam took us through various types of fires and their causes along with the various techniques and equipment to fight the fires in a form of an interactive slide show. With suitable illustrations and subtle humour,Mangeshmaam made the workshop very entertaining and interesting for the us . The slide show also included a short video clip of a mock fire drill conducted by Google in its Hyderabad campus .
In the second phase of the workshop , a similar mock safety evacuation drill was also conducted in our Math compound. An emergency alarm was rung to alert those present and everyone was swiftly evacuated from the Math hall and made to assemble at the emergency assembly point near the yagnashālā. A headcount of all the sādhakas was conducted. This practice is followed in the event of any major emergency to ensure the mitigation of casualties.
After a quick break for refreshment, Mangeshmaam demonstrated the application of the various firefighting equipment as was shown in the slide show.
We got a first hand experience of using various types of fire extinguishers and dealing with varioustypes of fires .
The workshop concluded with Yuva volunteers Sanjana Hervatte , Shreyas Hervatte , Sachin Kaltod, demonstrating the right and wrong technique to escape and also evacuate others from a fire or any emergency situation.
The workshop ended with Sabha Samapti Prarthana.
Makali Durga Trek:
The Bengaluru Yuvdhara went on a trek to Makalidurga Betta (hill), 60km from Bengaluru, on 24th Dec'17. On the day, all the yuvas and yuvatis assembled at the Math by 6:30 AM. After prayers, the chattering group boarded the bus while a few volunteers loaded the food. A lively game of Dumb Charades served as an icebreaker and a fun beginning to the journey. By the time we stopped for refreshments at a hotel by the wayside, new games had been introduced and we were eager to restart our road trip after the brief halt.
We soon reached our destination and unloaded our food packets which we then distributed amongst ourselves. After a delicious breakfast of idlis and vadas we were all set to conquer the Makalidurga Betta. Just then a train passed on the railway tracks running through the base of the hill, as though signalling an eventful day ahead.
The hill stands at a height of 4430 feet surrounded by a lake that resembles South American continent. After meeting the forest department officials at the base, we were introduced to our guide for the day- Mr. Raju. We started our ascent by 9:15 AM. The trekking trail differs along the way - changing from a gentle rise to a steep climb and from a grassy terrain to a rocky surface- in a matter of minutes. Most of us were fascinated to note that our guide was climbing the rocky surfaces wearing only chappals while despite wearing trekking shoes, we had to climb carefully. Mr. Raju also gave us some insightful information on the different trees we came across.
The reason trekking is called a team event became evident as the first-timers and novice trekkers were helped and cheered on by the more experienced trekkers. The silence of the hills were frequently punctuated by our loud battle cries of "Bolo re vaanaron, Bhakti ki vaani, Hara hara Mahadev!"
We reached the summit by noon. The peak has the Makalidurga Fort and a Shiva temple. The mind blowing view and the intense silence made us forget all our tiredness. We found an idyllic spot in the shade of a tree to rest. We then started playing a much awaited game of strategy and survival, which took up a solid hour of putting our grey matter to good use. We only realized the time when Naren Naimpally Maam reminded us to have lunch and our stomachs growled in response!
The appetizing meal of Pulao and freshly-made Raita energized us for the descent. By the end of our meal we had some unexpected company in the form of monkeys! (They must have heard our battle cries earlier.) Luckily we had some leftover idlis and vadas which our vaanar-friends were happy to devour.
While climbing up, we had noticed an ideal place where we could perform the Ashtamurthy Upasana. The sheer rock surface looked over the serene lake and far off hills. We settled down and were soon lost in the magic of P.P Swamiji's voice as we meditated upon the eight elements. The Upasana having revitalised us, we continued our descent. We made it back to the base by 5:15 PM. We quenched our thirst with some cool tender coconut water.
On the bus ride back, we started yet another interesting game, with a small interruption of a halt for refreshments. We got so involved in the game that we were surprised when the bus finally came to a stop outside the Math.
Our memorable trek finally came to an end with prayers, feelings of exhaustion mixed with gratitude at having spent a wonderful day amidst nature and ideas for our next trek!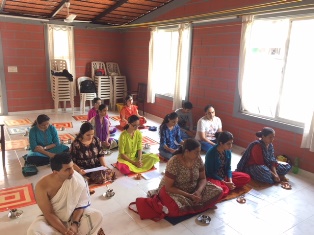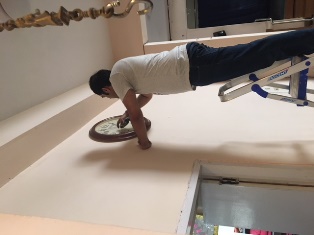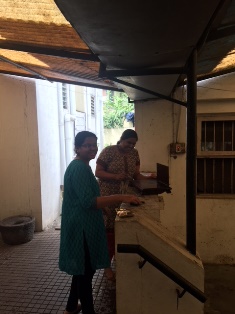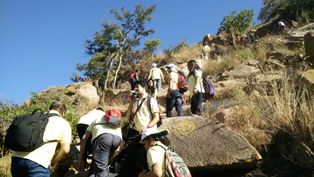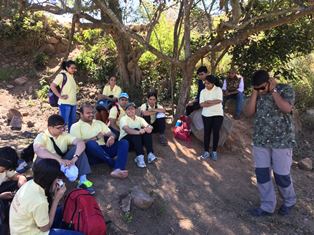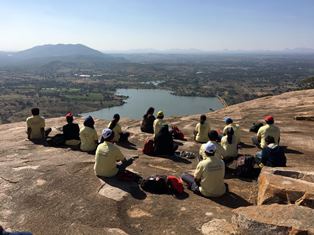 (4) Dadar-Matunga
The new quarter commenced with celebration of the Janma-Divas of H.H.Shrimat Sadyojat Shankarashram Swamiji on 29th October,2017. On 12th November,2017 five Yuvas participated at Shrimat Bhagwat Geeta Pathan and Abhivyakti which was organised at Talmaki wadi, Grant Rd. During Swamiji's camp at Talmaki wadi, Grant Rd for the Datta Jayanti Utsav, Mohit Karkal, Mitali Puthli and Sanika Balwally participated in recitation of the 12th and 15th Adhyaya during the Sampoorna Geeta Pathan for Geeta Jayanti on 30th November,2017 and Sanika Balwally participated in the dance performance after Palki procession on 6th December. On 10th December Samaradhana of H.H. Shrimath Keshavashram Swamiji and H.H. Shrimath Krishnashram Swamiji was observed at the Matunga Mitra Mandal Hall, Matunga Rd. On the same occasion participants were felicitated for their participation in Shrimat Bhagwat Geeta Pathan and Abhiyvakti. The quarter came to an end on a sweet note with nine yuvas getting an opportunity to interact with Shri Shankar Mahadevan and witness his live performance at Sangita Karyakrama on 26th December at Shri Durga Parameshwari Temple and Sanjeevani Samadhi of Parijnanashram Swamiji III, Karla.
(5) Goa
1. October 2017 :
i) The following Yuvas participated in Parama Pujya Swamiji's camp in Shantadurga Temple, Kavale, Ponda, during October 18-22, in unloading & loading of luggage of HH & Retinue / singing Bhajans during Abhisheka of Devi by Parama Pujya Swamiji, Paduka pujan, Lalki Utsava & Dharma Sabha / Interaction with Parama Pujya Swamiji :
Sushant Harite, Nivedita Gokarn, Shyam Ubhayakar, Dhanashree Ubhayakar, Soumya Karkal, Kartik Hattangadi & Krupa Kalyanpur;
ii) Nivedita Gokarn performed Guru Pujan on behalf of Goa Yuvadhara on October 29 to mark Janmadiwas of Parama Pujya Swamiji (Two pictures attached);
2. November 2017 :
i) Aishwarya Nazare participated in Sabha Satsang on November 12 to mark Mahasamadhi of Bade Swamiji, Ishwaranand Giri Maharaj. She sang Guru Bhajana-s at the Satsang;
ii) Sushant Harite participated in Talmakiwadi camp of Parama Pujya Swamiji during Nov 28 - Dec 5 as an active volunteer for unloading luggage, serving Prasad Bhojan to Retinue, assisting during Paduka Pujan etc. He also participated in Bhagavad Gita Pathan on Gita Jayanti day and in Vanabhojan & Volunteers' Meeting in the Presence of Parama Pujya Swamiji;
3. December 2017 :
Nivedita Gokarn performed Guru Pujan in Sabha's monthly Satsang on December 17 (picture attached).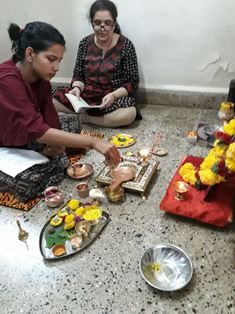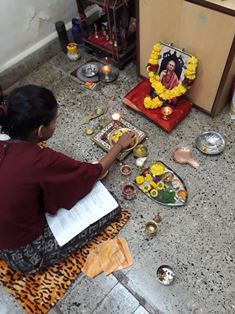 (5) Delhi
It is always an amazing feeling to meet all the fellow Amchis and what better day /occasion than to meet on Diwali – 20-Oct-2017. It is by far the most awaited event we all look forward to.
The Diwali get together on 20-Oct-2017 was yet another beautiful occasion, it started off on a vibrant and soulful note with invoking of God's Blessings. Roma Bhanot rendered a beautiful Bharatanatyam dance to a Ganesh Vandana. premises at Silver Oak was tastefully decorated with lovely flowers and rangoli made by Nirmala Bondal Pachi and Shobhana Ullal Rao Pachi. real meaning and essence of Diwali was seen as dusk set in , the small handmade Diwali lanterns from Samvit Sudha adorned the pathway and the stage , it was a beautiful sight. Everyone took extra efforts to get all the paraphernalia for all the gorgeous decorations on the stage, stairway, podium and portico. evening throbbed with soulful singing, dance, movie medleys, skit, divine renditions on the flute and the Guitar.
The emcees for the evening were Namrata Kilpady and Divya Kumta, who kept the audience enthralled with their narration and humor. The evening further progressed and Tiny Tots – Roma Bhanot, Ahaana Kilpady sang a beautiful medley of classical songs. The evening then continued into what we can call as a little snippet to show how talented the DELHI AMCHIS are…….. A few glimpses of the programmes that evening were are as follows:
Ahaana Kilpady stylistically choreographed Kathak , impressed the audience with rhythmic foot movements adorned with ghungroos.

Niyaara , Navya Tashika and Sakshi danced away to some Bollywood medley and had the crowd clapping their hands throughout.

A beautiful rendition on the flute by Sai Prasad Heranjal mam played the flute to medley of many Bollywood songs.

The highlight Point in the evening was the beautiful puppet show which the Rege Family put up on stage. The Magna opus Puppet show was a super hit as the family had made everything .
Ladies Dance – The women put up a beautiful dance to a Bollywood Song called Udi Udi Jaye dance kept everyone foot tapping and ultimately this led to many AMCHIS joining the kids on stage.
The Men were not too far behind and had everyone in splits with their Lazy Boys dance to a medley of old and new hindi songs. This was a complete laugh riot and had us in splits.
           WE are Happy when are together!!!
There was an impromptu Passing the Parcel game held for the audience so that everyone was engaged and the punishments given proved to be a display of some real good talent.
Ishanee Rajpal danced gracefully for Dola re Dola Re from the famous Bollywood movie Devdas.
We all made some New Friends for Life - It was even more memorable as the wonderful Reges introduced us to their gracious friend's family ( Raghu and Priya and their Kids Sakshi and Tashika)
Priya and her Kids Tashika and Sakshiduring the practice session at the Reges.
To sum it up together it was a fun filed evening with high energy and positivity. An evening without good food is never complete and this was possible by the delicious North Indian food that was served- Hot Puri, Bedmi Aloo, Paneer Curry, Rotis, Pulao, Dal Makhani and finally – Hot Gulab jamoons and Ice cream.
Keeping up with the Delhi Aamchi Yuvas!
New Friends are like new adventures! On a balmy winter morning of the 17th of December the young Aamchi Yuvas of the Delhi Sabha decided to meet and spend some quality time! It had been quite some time since we last met hence all of us were looking forward to this day.
We decided to meet at Delhi's famous Hauz Khas Village so the group could experience walking in the lovely lanes of Hauz Khas, while admiring the beautiful boutiques and colourful merchandise stores located in the area.
Hauz Khas is a perfect place for young groups to meet, since the place is a beautiful combination of an old fort area, beautiful gardens with simple & cosy restaurants that offer several dining options and a variety of cuisines.
Our day started with a delightful South Indian breakfast at a famous restaurant chain called "Naivedyam". Followed by a walk through the narrow lanes which led us to an old fort called the "Hauz Khas Fort." The fort remains to be one of the most elegant structures in the architectural history of Delhi. The complex nestles amidst beautiful landscapes, enclosed by lush green lawns and a beautiful lake. Also the place happens to be an all-time favourite hangout spot amongst youngsters. We spent some quality time exploring several areas of the fort while some of our Yuva friends who had visited the fort before, shared some significant details on the historical importance of the monument.
Later we visited the Deer Park located inside the village which remains a famous tourist attraction. The Park is one of the oldest structures in Delhi and serves as a favoured picnic spot for the locals. For every bird watcher, the park is an absolute delight!
A little later we stopped by a famous restaurants inside the Hauz Khas for lunch. By midday Hauz Khas is usually filled with youngsters who visit the area to experience the lovely food that the area has to offer!
As we sat down for a lovely meal, each one of us reconnected and talked about our daily routines at work while excitedly discussing our plans for the long weekend ahead. We had a wonderful time with our youngest Yuva – Toshani Nath who kept us all entertained throughout the day.
Every time the Aamchi Yuva group meets up, it's a beautiful reminder of how we continue to remain a part of such a close knit community like ours. And as we continue to reconnect, when a group like ours meets there is a lot of fun, laughter, light jokes and so much more adding to our memories for life!
We Love to meet and Smile!!!! Cheers To us!
(6) Pune
October:
29th October Guru Pujan at Shri Bedekar Ganpati Mandir
On the auspicious occasion of our dear HH Sadyojat Swamiji's Janmadivas, the Prarthana kids and Yuvas together offered Gurupoojan and Bhajanseva at the Shri Bedekar Ganpati Mandir Hall, Kothrud, Pune. The Guru Poojan was lead by Karn Ragde along with the other prarthana kids and yuvas present namely Aditi Nalkur, Ritika Pandit, Kartikeya Vasisht, Vaishali Heblekar. After the Puja, the prarthana kids sang bhajans while Sia Ragde played the flute. It was a lovely and enriching evening while performing the pujan and bhajan seva for our dear Swamiji. This was followed by yummy snacks for all.
December:
Datta Jayanti in Talmakiwadi (Dec 3rd 2017)
Two yuvas from Pune, Kartikeya Vasisht and Anandita Hemmady were present for the Datta Jayanti on December 3rd. The yuvas helped with the arrangements like seating arrangements, serving food etc. They also got the chance to serve teerth and prasad. They yuvas also discussed regarding the Vanabhojan preparations.
The Prarthana Varga theatrical play was also witnessed and enjoyed by all and were blessed to listen to Pujya Swamiji's Aashirvachan. Yuvas also danced and sang in unison for the Palki celebration and later were a part of the Yuva dance programme with Seven Chakras as the theme.
26th December 2017 Programme in Karla Math:
A very memorable day for all of us, started with the Bhajans sang by all devotees in the morning at the math. Many yuvas participated on this day from Pune namely Sanat Pandit, Ritika Pandit, Vaishali Heblekar, Sameer Heblekar, Anjali Rao, Mansi Kate, Anandita Hemmady, Siya Ragde, Aniket Benegal, Samvita Karkal.
Shri Shankar Mahadevan ji and his family were present with us during this and encouraged all the yuvas who sang the bhajans. Later all the yuvas including Shankar Mahadevan ji and his family performed the Paduka Pujan and it was a great experience for all of us to perform this seva to our dear Pujya Swamiji. This was followed by Tirth Vitaran, Bhikshaseva and then Prasad Bhojan. After a break in the afternoon, all the yuvas got an opportunity to meet Shri Shankar Mahadevan ji and his family in the Bhojanshala Premises. The yuvas showcased their talent and asked questions about music which our Pujya Swamiji also enjoyed and shared a few important points, also highlighting about Ninaad, with all the Yuvas. Siya Ragde from Pune also played the flute which was enjoyed by all. All yuvas together sang a compilation of all songs created by Shakar Mahadevan ji as a tribute to him. It was a truly memorable and cherishing experience. After the interaction Shankar Mahadevan ji and his team performed for all of us. We got to sit in front, close to the stage, with our beloved Swamiji for the entire programme.
(7) Santacruz
1. 2 Yuvas from Santacruz Sabha volunteered at the Gram Bhojan at Karla on 02 October 2016
2. 2 Yuvas participated in the Bhagwat Geeta Competition held on 12 November 2017. Anuradha Gangoli, won the 1st Prize in the Yuvadhara age group.
3. 5-7 Yuvas attended the Punyatithis and Gayatri Anushthan conducted during the period
4. Yuvas also actively participated in the interaction with Swamiji and Shankar Mahadevan at Karla on 26 December 2017.
(8) Thane
1. October 29 th Janma Divas of Parama Pujya Sadyojat Shankarashram Swamiji
(a) The Janma Divas of Parama Pujya Swamiji was celebrated by Thane Sabha members including 13 yuvas / yuvatis who took the responsibility to conduct the function at the residence of Smt. Nirmala Basrur pachi, Mulund (East).
(b) Yuva Mangesh Alekal and Yuvati Nivedita Nilekani, individually performed Guru Pujan while all other yuvas / yuvatis and elders did the chanting.
(c) 8 yuvas /yuvatis individually sang bhajans.
(d) The program ended with Deepanamaskar followed by refreshments.
2. Parama Pujya Swamiji's camp at Balaji Temple, Vashi: 11 th to 16 th Dec. 2017
This time around, a core group of 11 yuvas and 12 yuvatis were actively involved in supporting all aspects of the Utsav.
(a) 5 yuvas and 5 yuvatis made themselves available full time during the camp.
(b) Yuvas and yuvatis performed a skit (konkani sangeet natika) - "Vidhilikhita" adapted from the Mahabharat.
(c) 8 yuvas performed bhajan seva on Yuva Divas.
(d) Yuvas made flower garlands in advance and helped put up decorations, banners, etc.
(e) Compering on all days was done by Savni Haldipur and Vijayalakshmi Chandavarkar.
(f) Dhrutiman Padbidri played the tabla.
(g) Contract for photography was awarded to Yuva Shantanu Rao, for the first time.
(h) Yuva Sankalp Nadkarni was responsible for entire site operations at Balaji Temple, and single-handedly managed the operations on all 3 floors of the Balaji temple.
(i) Yuvati Aseema Nadkarni handled skit operations and co-ordination, and day-to-day practice sessions.
(j) Yuvati Shreya Mavinkurve handled bhajan co-ordination, and day-to-day practice.
(k) Yuvati Tejashree Bailur, who recently joined Thane Sabha (Dombivili) conducted Vimarsh.
(l) Aditya Bellare gave a flute recital with Dhrutiman Padbidri accompanying on the tabla.
Thus, Yuvas came to the forefront in a big way despite their hectic office schedules and took over critical responsibilities. With the grace and blessings of Parama Pujya Swamiji, Yuvas and Yuvatis, with their great efforts and devotion, helped make Swamiji's camp a divine experience.
3. Shankar Mahadevan's program at Karla on 26 t h December 2017.
8 Yuvas from Thane Sabha participated as volunteers as well as interacted with Shankar Mahadevan maam.
(9) Borivali
Yuvati Arya Dhareshwar performed Gurupoojan during the function held on November 1, 2017 on the occasion of Param Poojya Swamiji's Janmadivas celebrations.
Yuva Ritwik Murdeshwar volunteered on all days during the Datta Jayanti celebrations at Talmaki Wadi. He participated in the dance during the palki utsav. Ritwik also volunteered for one day at Goregaon during Anusmaranam.
(10) UK
Summer colours Holi plus hula-hoop event which was conducted on 02 July 2017 rather than in March because of the weather and school/college term times. We combined this Holi event with a physical activity session on training with hula-hoops in a dance format to music. One of our Saraswat Samaj members, Rohini Rathour nee Karpe, is a trained hula-hoop trainer and she conducted a class for the youth and others present for the session.
The summer colours events with traditional Indian festival food was much enjoyed by the youth, children and adults alike. The youth who participated in this activity were Anushree Amembal, Chirag Amembal, Advait Amembal, Tanya Haldipur, Trisha Kandlur, Tanya Kandlur, Kiran Kowshik, Frezy Kowshik and their son Ayaan Kowshik, Prajna Mavinkurve, Abhishek Mavinkurve, Keya Sajip, Ritwik and Sherene Samsi and their daughter Sanaya, Neha and Aditi Shirsalkar, Anoushka Sthalekar, Rushal Sthalekar, Abhinav Heble, Shivani Kundapur Pereira and Nigel Pereira and their son Aarin Pereira, Poulomi Nilawar and her daughter Gia Bhala.
Sanskriti Prachaar Shibir, Karla, August 2017. Two of our youth - Anoushka and Rushal Sthalekar attended the NRI Shibir in Karla in August 2017. They participated in all the activities of the Shibir and also attended the Yuvadhara Sammelan in Karla. Little Gia and her mother Poulomi Nilawar Bhalla also attended the Shibir along with other members of the SSUK. They actively participated in the cultural programme and Anoushka sang a beautiful song "My Sweet Lord" along with Rushal and Rohit Sthalekar. Anoushka Sthalekar sought the Blessings of Param Pujya Swamiji with 'mantra diksha'. Rushal had his thread ceremony performed in Karla. Anoushka participated in th