JUST ONE MINUTE!
KRISHNANAND MANKIKARMAM's in-depth article on how Gurushakti blessed Mangesh Chickermanemam and all the sadhaka-s who volunteered to create an exhaustive Document Management System for Shri Chitrapur Math. The successful completion of this mammoth task in record time has now made it possible to access any document within         (April 2018)

 

                                                                                                                      
It was during the Standing Committee Meeting at the Chaturmas at Karla that Mangesh Chickermanemam was asked by Pujya Swamiji if he would undertake the long-pending task of the Math's Document-management. Mangeshmam readily agreed and with his wife Sumangala proceeded to Shirali to have a first-hand knowledge of the quantum of work involved. When he saw the jam-packed cupboards, plus documents in gunny bags and boxes he did wonder for a moment if he had bitten off more than he could chew. But then he did that what any Chitrapur Saraswat would do when faced with a dilemma. He prayed at the Samadhi-s for the strength and ability to honour his promise to Pujya Swamiji, and set to work.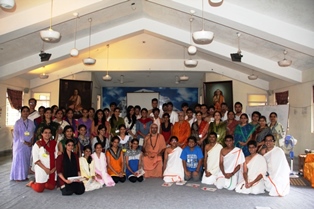 Faith conquers all!
This write-up is based on the presentation made by Mangesh Chickermanemam at Karla on March 1st this year:
There were around 4,000 files and the main issue was— which documents the files contained and how to locate a particular document. Moreover, there were registers containing vital information amongst piles of irrelevant pages, plus bundles of loose papers as well! All papers had to be studied and categorised in three groups : a)Needed to be preserved, b)Had to be checked further for the need and utility and c) Not needed as per the Documents Retention Policy of the Math.
This is how the gigantic task began -
The papers were checked, sorted and indexed for
LOCATION – cupboard no.; shelf no.; file no.; record no.
KEY WORDS -for a quick search
TYPE OF RECORD – like Land, Accounts, Seva, Project, HR, Management and so on.
STATUS OF RECORD - whether original or copy
ORIGINATOR OF THE RECORD –Math, Government, External
DATE OF RECORD – Attachments (PHOTO, CD etc.) and the number of sheets
Once these details are logged into the computer, you get a clear idea about the "Process Owners" and help in quick retrieval. We shall soon see how…
This was a colossal assignment, without doubt. Initially, the number of volunteers was also small. Moreover, some were not familiar with Kannada, or were 'computer-challenged', or worse still – allergic to dust!.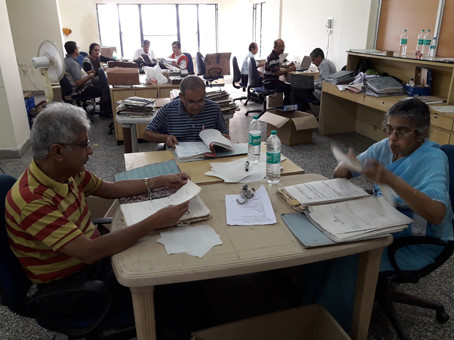 "S" for Seva  -  Bengaluru Volunteers at work
But our Beloved Guru's Grace ensured that soon, the number of volunteers swelled to 90. Together, they put in a total of 594 days (which comes to around 2 years on a five-day week basis).
Kannada too ceased to be a challenge. Protective equipment took care of the dust problem. Faith was indeed making the 'mountains' move and limitations vanish like mist in sunlight.
The work was undertaken by the devoted volunteers as seva. It was not done to help the General Manager or the Vahivatdar of our Math. It was done by each volunteer in a sincere attempt to move ahead in his/her spiritual quest. It was also done to ease the workload of the regular Math employees and make their task easier.
Eight locations -Shirali, Gokarna, Mallapur, Bengaluru, Vittala, Mangaluru, Karla and Virar (Shree Parijnanashrama School for the handicapped) were covered. All these locations were completed well within the targeted time. Mangaluru has five units – Samadhi Math, Uma Maheshwar temples at Mangalore and Mulki, Saraswat Seva Samiti and Saraswat Education Society which runs a number of academic institutions.
While checking the old records, the teams found rare documents no one knew anything about. Some of these are -
• The land record of 1849!
• Minutes of the Standing Committee Meeting of 1917 –over 100 years ago! (These minutes were carefully translated in English.)
• Stamp albums presented to Guru Swami
• Scheme of 1942 for Math Management given by the Karwar District Court
• Manapatra given to Parama Pujya Anandashram Swamiji at Mangaluru
Team DMS also did some more significant tasks like-
• Photographing and cataloguing family deities
• Translating old Kannada Viniyoga records into English
• Checking the condition of old books on Tadapatra and manuscripts received or sent by our Revered Gurus
• Establishing coordination meetings at Shirali for team- building (to ensure continuity is maintained of the work on hand)
• Set up an E-Waste Room at Shirali Math (Ours is perhaps the first and only Math to put such a concept in practice)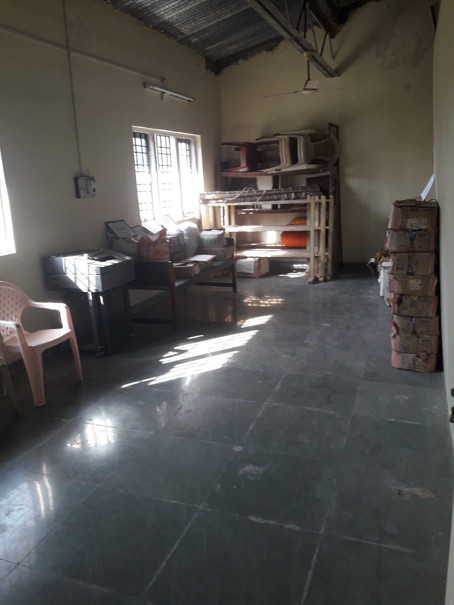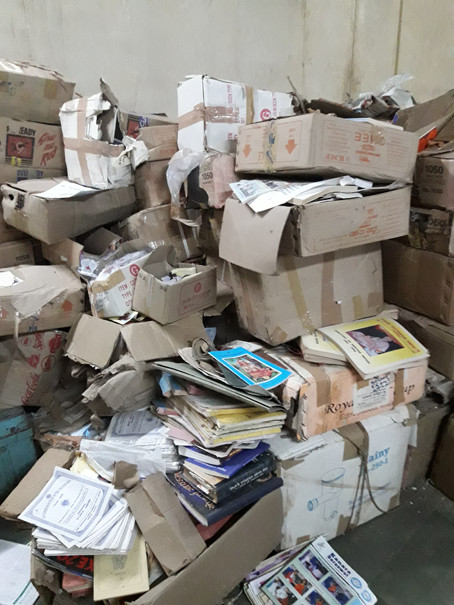 The Before ...........                                  .......... and after of the record room !
Undoubtedly, this mammoth assignment got done mainly because of the abundant Grace of Gurushakti and the dedicated teamwork by all the volunteers who worked diligently and in a spirit of joyful camaraderie. The support of the local staff too was exemplary.
Today, all eight locations listed earlier have all the records, duly indexed, filed, stored meticulously and logged into the computer for easy retrieval. Retrieval is the basic function of a good Document Management System and the target set by the team was any document within one minute.
Here is an example to show how this flawless system works -
The Gokarna team needed 4 records of Bhandikeri Math Survey No. 679
Govt certificate of conversion of Agricultural land into Non-Agricultural land

Govt certified map of the land

Land ownership record called RTC

Land transfer and division record called Mutation
The message came at 7.30 pm, when no one was in office, and the receiver of the message did not know Kannada, or anything about land records.
A normal response would have been – "Sorry, I don't know Kannada and I am not familiar with land records. I will inform the concerned persons tomorrow. You may get the papers in a week's time."
But now, thanks to DMS the keywords 'Gokarna' and '679' immediately displayed four files with their location (cupboard no., shelf no., file no.) and the required documents were taken to Gokarna on the very next morning! Isn' t that both amazing and applauseworthy?
As Parama Pujya Swamiji stated in the Ashirvachan on March 1st, 2018 at Karla, after the presentation on the DMS System - the gigantic task was such that it was impossible for the Math staff alone to attempt it, given the responsibilities they already handle. Thus, the specially formed teams helped a lot. Many such opportunities for seva, which gives a deep sense of fulfillment ,exist if you have the desire to offer your energy and skills in the service of Math. Let your initiative and enthusiasm be blessed by the all- pervasive Gurukripa.
Since many years, many sadhaka-s have been offering devoted seva like running Sanskrit classes, Prarthana Varga, Yuvadhara, to name a few. DMS is yet another invaluable link in the long chain of Guru Nishtha.
May our Guruparampara forever prod us to look for opportunities to devotedly offer our skills, energy and expertise in seva.