A Major Milestone For SAMVIT SUDHA
On December 13th this year, the most auspicious Datta Jayanti Utsav at Talmakiwadi, Mumbai became even more memorable because the first retail metro- outlet of Parijnan Foundation's most widely applauded initiative –
Samvit Sudha- was inaugurated at the Holy Hands of Parama Pujya Sadyojat Shankarashram Swamiji. VINATI UDIYAVAR who is one of the dedicated core-group of volunteers for this flourishing woman-empowerment project traces its success- graph       ( January 2017 )
The 14th of January, 1999 was a life-changing day for many women in and around the village of Shirali, North Kanara – where our Beloved Shri Chitrapur Math is situated. For it was on this day that Samvit Sudha was founded. Improving the quality of life of the local villagers had been a dear goal of our Parama Guru - Pujya Parijnanashram Swamiji III and as an ideal shishya, who makes it His life's mission to carry forward and realize the Vision of His Guru, our present Mathadhipati – Parama Pujya Sadyojat Shankarashram Swamiji initiated the formation of a tailoring and embroidery unit. The village women were thrilled to find a way to use their skills to supplement the household's meager income and with Pujya Swamiji's Guidance and Blessings a laudable project was born, that would soon make its presence felt not only nationwide, but on foreign shores too!
Today, at Samvit Sudha, which now comes under the umbrella of Parijnan Foundation, local women are trained to create a plethora of products combining beauty and utility. In rural India, where poverty and unemployment are often seen as an inescapable fate and professional skills and training are near-unattainable, Samvit Sudha became a messenger of hope, a best friend! At the outset, Samvit Sudha began with just a few women and created only five to six products. But sincere inputs both from the students and the dedicated band of volunteer-teachers yielded quick results and the organization grew from strength to strength. Today, on an average,75 girls are trained at the unit per month and over 80 products are created using fabric or handmade paper.
The uniqueness of Samvit Sudha is that our rural women are empowered without their having to neglect any of their family obligations. All trainees are taught various tailoring skills like embroidery, stitching, and fabric printing, depending upon individual aptitude and allowed to learn at their own pace as per each one's ability. A big incentive is that they start earning right from the first product they make, which is in keeping with the motto of 'earn while you learn'. Training is imparted to the girls by 8 training supervisors. As per the pattern of training, each girl is taught to make one simple product and once she perfects it, she is allowed to take the raw material home and bring back the product. Side by side she is also trained to make the next product, which is a bit more complex than the previous one.
So far, more than 500 girls have been trained. While some of these women prefer working from home after completing their training, many want to continue at Samvit Sudha. Many have rejoined after a sabbatical, once their children have grown up and started going to regular school. Few have even gained enough confidence to embark on an entrepreneurial path by setting up their own tailoring units in nearby villages.
The products made at Samvit Sudha at present cater not only to a wide age group but also to different segments of consumers. There is something for everyone; for homemakers - a variety of colourful totes and batwa-s, backpacks and pencil cases for tiny tots and for corporate personnel - smart, beautiful and functional laptop bags. Being situated away from the city has not limited the product range in any way. Samvit Sudha is constantly innovating and has also introduced attractive iPad/tablet covers. This is because a dedicated band of volunteers, qualified professionals in design, procurement and sales, constantly offers expertise and know-how to the organization as seva. This year 12 new products –designed from fabric and handmade paper– were introduced.
Over the years, Samvit Sudha has been delivering products of the highest quality to its esteemed customers and clients. Its roster of illustrious clientele includes institutions like the Manipal University, UNICEF, Government of Telangana, Government of Karnataka, Cummins India, Tata Capital, Sriyani Designers, Bangalore, Intellect Design Arena Ltd., Chennai.
Some of the more popular offerings include Vani – a stunning hand-embroidered mobile pouch, Avani – an attractive shopping bag, denim bags, beautiful hand -embroidered sling bags and the Manga back- pack for kids.
While initially Samvit Sudha created only products fashioned from fabric, over the last three years, a variety of attractive handmade paper products are also sold under its banner. The handmade paper is produced at the Shrimat Parijnanashram Handmade Paper unit (more widely known as HMPP). The raw material used is cotton hosiery, which is eco-friendly and the paper is converted into a variety of products like attractive bags, envelopes, notebooks,wire- bound diaries, invitation cards or gift boxes. In addition, Samvit Sudha also offers customised products to suit different customers' specifications including corporate companies like Tata Capital, Mavin Mayfram, Hubli, Emuge, Pune , Cummins India, to name a few. While underscoring society's responsibility towards the protection of its environment, the project is also a woman-empowerment platform because all of its current employees are rural women finding a creative outlet for their potential while augmenting the family income.
Yet another milestone in the momentous journey of Samvit Sudha was the procurement of an export license and in May 2016, it bagged its first export order from the Konkani Sammelan, held in Atlanta, USA. It supplied fabric and paper products for over 1,500 participants who attended the Sammelan.
Samvit Sudha also holds stalls in various corporate companies and exhibitions. This year we displayed our wide range of products in over 50 stalls and corporates which include Deutsche Bank, Citi Corp, Bank of America, HDFC, Barclays Bank, Kotak Mahindra Bank and at prestigious colleges like Janakidevi College, Indraprastha College Delhi, Sophia's and St. Xavier's in Mumbai, Mt Carmel College, Bengaluru.
The distribution and sale of Samvit Sudha products happen via its hubs situated in 13 different locations all over India. Ahmedabad, Bangalore, Delhi, Hyderabad, Pune, Karla, Mumbai, Shirali are some such hubs where you can find Samvit Sudha's fabric and handmade paper range. These hubs as well as the production units in Shirali are fully managed by a band of dedicated and hard-working volunteers. Fourteen volunteers serve as hub coordinators and a band of 50- odd volunteers help in the sale of products at various locations. What is beautiful and remarkable is that all the volunteers of Samvit Sudha right from procurement team to the sales force carry on their duties diligently and they offer it purely as seva to the Shri Chitrapur Math and Parama Pujya Swamiji.
With the ever-growing demand seen for the awesome quality and range of Samvit Sudha products, a need was felt to establish a physical Samvit Sudha store. With the blessings of Parama Pujya Swamiji, a store in the prime locality of Talmakiwadi in South Mumbai was identified. The store aims to create more awareness about Samvit Sudha and make its products readily available to the urban customer-base. The unique have-fun-as-you-learn Parijna series of children's books that have been carefully compiled for young readers are also available here. The store was inaugurated on a most auspicious day – Datta Jayanti, which fell on the 13th December this year at the Holy Hands of Pujya Swamiji.
For over 15 years, Samvit Sudha has been instrumental in transforming the lives of women and their families in and around Shirali. The store in Mumbai marks yet another major step forward in the organisation's glorious journey and every such success for Samvit Sudha translates into yet another wave of empowerment and self-reliance for the women of rural India!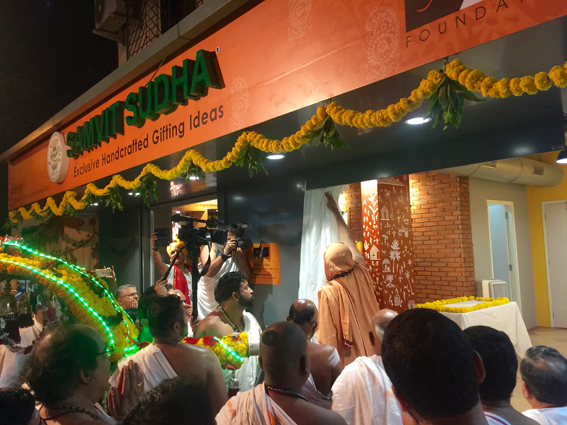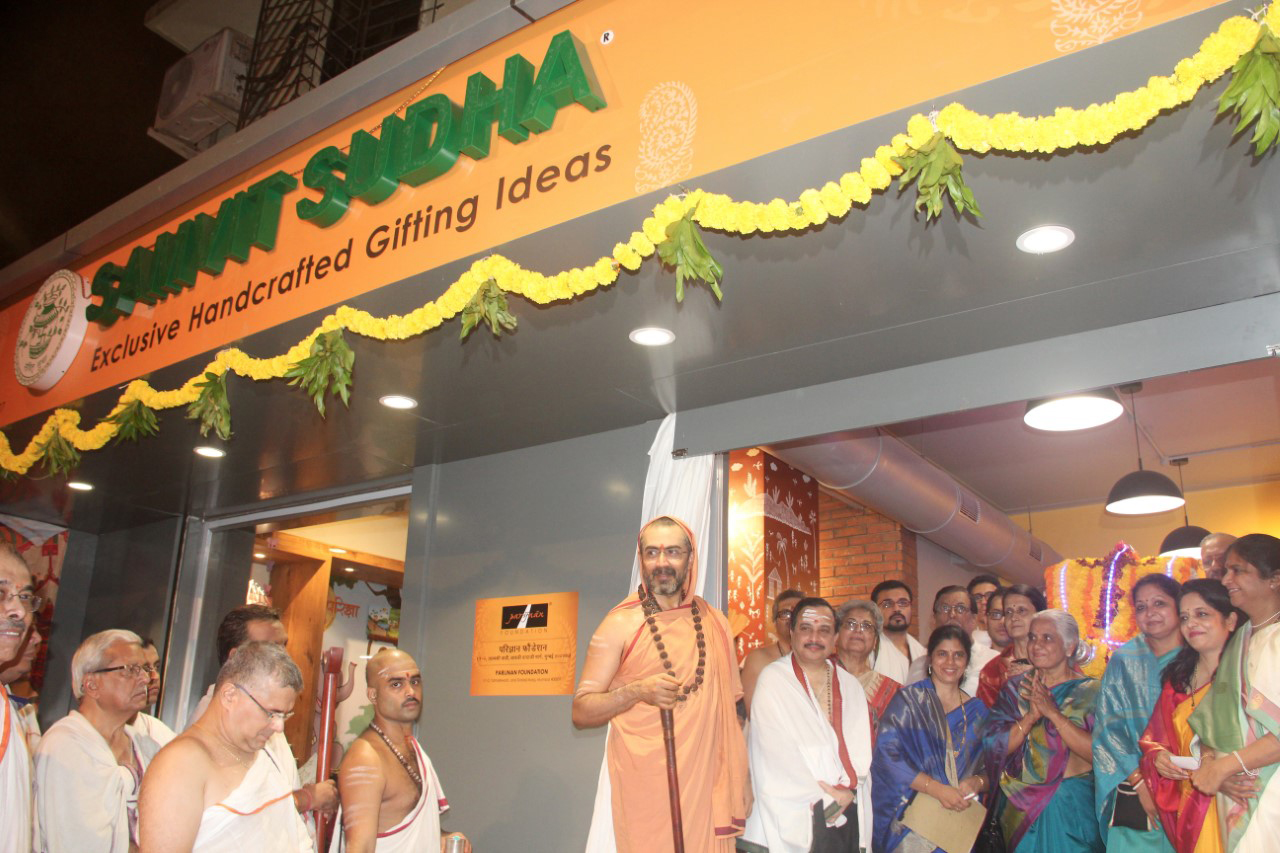 The First Retail Metro-Outlet of SamvitSudha  was  Inaugurated on the 13th of December-Datta Jayanti  just
outside Talmakiwadi, Mumbai, at the holy hands of Pujya Swamiji
( Photo credit : Maithili Padukone )