Sabha-wise Quarterly Activity Report - Apr to Jun 2017
Chitrapur Yuvadhara  Sabha-wise Quarterly Activity Report - April to June 2017
ANDHERI
GURUPUJANA:
The Andheri Yuvadhara continued its Sankalpa for performing Gurupujan once every month. The nirmalya from the Gurupujan was composted and we continued with our 'Green Gurupujan ' initiative.
Gurupujan was performed on:
2nd April, 2017
Participants : Aditi Gokarn, Krupa Chandavarkar, Kedar Chandavarkar,Niyati Mavinkurve, Siddharth Adur and Svaraa Adur (prarthana varg).
Chanting of Shlokas: Kanchan Mannige, Jayanti Nadkarni.
Venue : ShreeRam School
22nd May, 2017
Participants : Aditi Gokarn, Krupa Chandavarkar, Niyati Mavinkurve, Siddharth Adur.
Chanting of Shlokas: Kanchan Mannige, Jayanti Nadkarni, Vidya Aldangadi, Ranjana Hosangadi, Rupa Adur, Sandeep Adur.
Venue : Residence of Siddharth Adur
4th June, 2017
Participants : Aditi Gokarn, Krupa Chandavarkar, Kedar Chandavarkar, Siddharth Adur.
Chanting of Shlokas: Vidya Aldangadi, Jayanti Nadkarni, Sandeep Adur.
Venue : ShreeRam School.
BHAJAN SEVA
Practice sessions during weekends are on, to prepare for our Bhajan Seva During Chaturmas at Karla. Andheri Yuvadhara and Prarthana Varg will be offering Bhajan Seva on Sunday, 16th July, 2017 during Chaturmas at Karla.
BANDRA-KHAR
June 2017
During the Janmotsava celebrations held at Karla Math on 14th-15th June, 4 of our yuvas (Abhay Talmaki, Kartik Kaikini, Anvay Kundapur and Chirag Trasi) participated as volunteers and enthusiastically offered sevas wherever required.
BENGALURU
April 2017
The backdrop for the stage at Bengaluru Math was designed by a Yuva Aditi Basrur
1st and 2nd April 2017
Seven Bengaluru Yuvadhara members, reached Shirali to take stock of the fixed assets at our Shri Chitrapur Math, Shirali. A Bengaluru Yuvati, already at Shirali, assisted in whatever way she could.
The stock taking areas included the Math Office, Dhyaan Mandir, Math Publication Office, Seva Counter office, Main Math area, including Yagnyashaala, Family deities, Ugraan, Kitchen, Bhojanshaala, Vaidik Paathashala, Goshaala, Guest Rooms, and surrounding areas. Thereafter the other loations covered were Swami Parijnan Vastu Sangrahalay, Shrivalli Clinic, Samvit Sudha workshop, Shrivalli High School and HMPP plant at Kembre.
The Yuvas and Yuvatis got a rare opportunity to pull the Teru on 1st April, from within the premises of the Swami Parijnan Vastu Sangrahalay, onto the field where the Teru was to be decorated for the upcoming Rathotsav. This was in the august presence of Param Pujya Swamiji.
At 5:00 am on 2nd April 2017 Nalinipacchi Manjeshwar taught the Yuva and Yuvatis how to use the rebounder. After the exercise, she conducted Praanayam and Ninaad sessions.
All the members conducted Paduka pujan and got an opportunity to meet Parama Pujya Swamiji and offer the seva at His Lotus Feet. Parama Pujya Swamiji
5th April 2017
A few Yuva and Yuvatis gathered at Shri Chitrapur Math, Bengaluru to discuss and plan a Yuvadhara activity during Param Pujya Swamiji's upcoming visit to Bengaluru on the occasion of Shankar Jayanti. It was decided to approach Indu pacchi Gersappa to write a script for a short skit based on the teachings of Param Pujya Swamiji.
11th April 2017
On occasion of Shri Chitrapur Math Rathotsav, quite a few Yuvas and Yuvatis participated in the activities at Shri Chitrapur Math, Shirali.
15th and 16th April 2017
The second batch of Yuvas and Yuvatis reached Shirali to affix the asset lables with QR code on the assets which were identified by the first batch, earlier in the month.
24th April 2017 – 30th April 2017 – Parama Pujya Swamiji's camp at Shri Chitrapur Math, Bengaluru.
Yuvas assisted with various duties including unloading retinue bags, drawing rangoli's, kitchen and serving duties, crowd control and the Yuvas performed other seva as needed.
Yuvadhara Bengaluru had a cultural program in the august presence of Parama Pujya Swamiji, which started with Bhaashya pathan. Bhaashya Pathan was rendered by five Yuvatis namely – Sharmila Kumble, Devyani Padbidri, Ankita Karnad, Sanjana Hervatte, Tejashree Bailur and Kushal Bailur.
The Skit named Jagruti was enacted very well by Aishwarya Bijur, Asmita Kallianpur, Ankita Karnad, Siddhart Baindur, Prithvish Kumble, Sharat Taggerse, Sachin K Rao, Sharmila Kumble, Rishab Padukone, Deepika Sorab, Shweta Taggerse, Soumya Hattiangdi, Devyani Padbidri and Sanjana Hervette. Kushal Bailur, Tejashree Bailur, Prakash Tonse and Akhil Golikere assisted on stage, while Unnati Chandragiri and Hervatte pacchi assisted with makeup.
The Yuvadhara programme culminated with the bhajan "वन्देहं गुरु शंकर चरणम" The bhajan seva was rendered by all the artistes of the skit along with Gautami Hattangadi, Smita Taggerse, Ananya Kallianpur Akshat Bailur, Kushal Bailur, Tejashree Bailur, Satchidanand Manikere, Prakash Tonse and Akhil Golikere. The saath on table and harmonium was provided by Prithvish Kumble and Radhakrishna bhat-mam
After the programme the participants were blessed by Parama Pujya Swamiji.
May 2017
20th May and 21st May 2017
Based on Parama Pujya Swamiji's guidance and instruction a two day Vimarsh session was organised on the 20th & 21st May 2017, at Shri Chitrapur Math, Bengaluru. The Vimarsh was conducted by Tejashree Bailur.
As per Swamiji's instruction, the participants listened to the recording of the Swadhyaya on the Guru Paduka stotra. Tejashree got the members present to share their understanding and clarified points that were not clear.
Attendees: Ankita Karnad, Rishabh Padukone, Devyani Padbidri, Vishaal Bailur, Satchidanand Manikere
June 2017
18th June 2017
The programme planned on 18th June 2017 was to commemorate the Janma Divas of Parama Pujya Parijnanashram Swamiji III, instead of 15th June 2017, a working day
Three Yuvatis participated and successfully completed the Devi Anushthan and the Shrama Seva of cleaning the plastic chairs at Sri Chitrapur Math, Bengaluru, was attended by the three participating Yuvatis accompanied with one Yuva.
BORIVALI
27 May 2017
A Vimarsha session was organised by Borivali Yuvadhara at CSA room, Vamanashram on 27th May 2017 at 5 pm. It was conducted by Smt.Shilpa Mudur Pacchi which was attended by Arya Dhareshwar, Ananya Dhareshwar, Akash Aldangdy, Ritwik Murdeshwar, Omkar Yederi, Srikala Nalkoor and Deepa Katre Pacchi (Cordinator). The session was an inspiring delight and an eye opener towards adhyatmic life.
The following shloka was taken for the session,
Shri Mangalat prabhavati, pragalbhyat sampravardhate
Dakshyat tu kurute mulam, Sanyamat pratitistati
The session started with Sabha praramba prarthana. The shloka was introduced, first with its pronunciation and later the meaning of each word was explained. "Shree" could be our material possessions or our strengths or something that we seek. It could be seen as a goal or a desire, idea or thought to do good. It starts with positive intentions, a sankalpa, and moves forward with positive deeds going towards that goal. Beginning with examples from our daily lives, Shilpa pacchi moved to the spirit within us. We were thus enlightened towards the adhyatmic sense. Desire, determination and dedication would lead us to the realization of our goals.
Following is the summary of the session:
To achieve or to attain a qualification, one must first make a firm resolution to complete the task come what may. Later, one has to put in efforts to enrich and become better day by day tackling the obstacles that come in our way. We must put the sankalpa into practice – this was pragalbya.

There are bound to be obstacles which hinder pragalbya. We have to ensure that pragalbya does not desert us by keeping good company or satsang. We must become daksha by understanding the tendency of the mind and disciplining it with the help of japa and get atmabala. This will make us efficient. We have to take care that our dakshata does not make us egoistic, otherwise the mangalata of the sankalpa will be lost. We need sayyam or restraint to help us be focussed on the shree.

In the adhyatmic sense, Shree is everlasting happiness and to achieve that, one has make a sankalpa which is achieved by doing japa regularly without fail, putting aside the daily tantrums and reasoning. Constant anusmaran of the Shree will guide us. Also one must not leave aside the regular chores to keep doing japa for hours long. One can achieve this stage slowly and gradually doing it with dedication and devotion. Then, though we do it with a short span in the start, it becomes effortless later on as you develop a liking for it.
Later on the session was concluded with sabha samapti prarthana after yuvas summarized the points discussed the summary of the session.
DADAR
April 2017
On 1st of April Yuvadhara Vimarsh was conducted by Dr. Chiaitanya Gulvady at Shri Arun Chandavarkar's residence. 7 yuvas (Mitali Puthli, Divya Vinekar, Sanika Balwally, Medhaa Karkal, Mohit Karkal, Aditya Chandavarkar and Nikhil Kadle) had an insightful session on how prosperity can be achieved by taking a Sankalpa and further how the prosperity can be sustained with the exercise of discipline and practice. On 25 th April, Samaradhana of H.H. Parijnanashram Swamiji was observed in the Matunga Mitra Mandal hall and 3 yuvas (Aditya Chandavarkar, Sanika Balwally and Janhavi Honnavar) took the opportunity to perform Shri Gurupujan. 3 yuvas(Mitali Puthli, Aditya Chandavarkar and Ankita Chandavarkar) visited Shirali to be a part of the Rathotsav when our Aradhyadevata Bhavani Shankar is worshiped in the magnificently crafted Ratha.
May 2017
The month of May started off with a practice session on recitation of Shrimat Bhagwat Geeta conducted by Yuvati Mitali Puthli at her residence. Yuvati Divya
Pawar had a fruitful week at the Karaseva Shibir, Shirali where she offered seva by being a part of the daily Viniyogas and routine activities conducted in the holy precincts of our Shri Chitrapur Math in Shirali.
June 2017
The month of June brought with it the seventieth Janma-Divas of H.H. Parijnanashram Swamiji III celebrated as Janmotsav in the sanctum sanctorum of Shri Durga Parameshwari Math and Sanjeevani Samadhi of Parijnanashram Swamij III. Yuvati Sanika Balwally offered bhajan seva for the Yuvadhara bhajan seva prahar on 14 th June and 5 other yuvas (Aditya Chandavarkar,Mitali Puthli, Divya Pawar, Divya Vinekar and Chinmayee Pawar) were also a part of the Janmotsav celebrations.
DELHI
16th April 2017
Yugadi Celeberations.
The AGM of the Sabha was held together with Yugadi celebrations on the 16th April 2017 , at Shri Kavle Math. . The function was also attended by 10 yuvas ---Akshay and Pallavi Rao, Shambhavi Padukone Rana, Chaitanya Betrebet, Ishani Rajpal, Ashutosh Gokarn, Ananya and Abhiraj Majumdar, Divya Kumta and Suparna and Tamal Nath, who , enlivened the occasion with their presence and helped in the conduct of the function, serving Prasad bhojan, and later in winding and cleaning up of the Math.
Yuvatis Aparajita Balsavar and Tanvi Betrebet were felicitated by the Sabha , in absentia, for having completed schooling and graduation respectively.
A meeting of the Yuvadhara was also held to elect representatives and the following yuvas volunteered and were elected unanimously, as representatives for the year 2017-18.
) Yuvati Divya Kumta -- continuing from last year

Yuvati Ananya Majumder

--continuing from last year
3) Yuva Akshay Ullal Rao—
Delhi Yuvadhara congratulates them for volunteering and assuming the responsibility and wishes them all the best. At the meeting it was decided that the yuvas would soon meet at Divya Kumta's place over lunch to chalk out activities for the year.
A photo of the yuvas at the meeting is attached
22nd April 2017
Lunch Get-together Yuvati Divya Kumta's Place
To enable the yuvadhara members to bond informally with each other and to brainstorm ideas for the year's activities, a meeting, over lunch, was held at Yuvati Divya Kumta's place, on the 22nd April 2017. This was the first time that the yuvas were meeting at a members place and the yuvas were quite excited at the idea . Yuvas Prathamesh and Divya Kumta who hosted the potluck lunch despite a very busy life, deserve appreciation. It was fun time and the yuvas had a good time getting to know each other better.
A short note on the event by Yuvati Divya Kumta is attached
30th April 2017
Shankara Jayanti celebrations
The Delhi Local Sabha commemorated Shri Shankara Jayanti on 30th April 2017 at Shri Kavle Math which saw 8 Yuvas and other Prarthana varga children participating enthusiastically.
The program was essentially a Yuva and Prarthana varga driven one and the program line up which saw Yuva participation was as follows.
Sabha commencement prayers followed by the Parijyanashrama Triodashi were led exclusively by 8 members of the Delhi Yuvadhara .

At the meeting of the 16th April, it had been decided that for the Shankara Jayanti celebrations this year the yuvas would do some research on the philosophy of Adi Shankara and write out one page of what they had understood and read it out to the audience. It had been made clear that the paper was to be on the Advaita philosophy of Shri Adi Shanakara and not on His life events. The Yuvas had bravely accepted the assignment and had done their homework and each one of them read out a paper( one or 2 pages) on Shri Adi Shankara's philosophy.. Many of them were coming across certain words and concepts for the first time, but did a creditable job which was highly appreciated by the seniors. . Every reading/presentation was followed by a small open discussion with all Sabha members with the seniors adding to it. In the words of one of the participating yuvatis "The presentations helped initiate the Yuvas into reading and thinking about the philosophy in a broad sense". It was a difficult assignment and kudos to the yuvas who accepted it and rose to the occasion! It was quite an impressive performance! All the yuvas present namely Akshay and Pallavi Rao, Shambhavi Padukone Rana, Ananya Majumdar, Ishani Rajpal, Divya Kumta, Chaitanya and Tanvi Betrebet read out a paper.

Mementos ,which were richly deserved., were presented to all the yuva participants for their enthusiastic participation

Yuvadhara members also sang the Bhajan—"Vishva Mool se Spandit Hokar"

Sabha concluding prayers were again led by Yuvadhara members
27th May , 2017
Samaradhana of P.P Shrimad Pandurangashram Swamiji
The Samaradhana of Shrimad Pandurangashram Swamiji was celeberated at the residence of Yuvas Pratemesh and Divya Kumta at Gurgaon. This was the first time the yuvas were hosting a Math function at their residence and all credit to them for first offering to hold the function and then despite their inexperience, celeberating it in a grand way. . On this auspicious day the couple also celebrated their 5th wedding anniversary. Elabarate arrangements were made for the pooja which commenced around 11:30am with the usual Math prayers, followed by soulful Bhajans, and Shlokas,and Mangalaarati, followed by a sumptuous Prasad Bhojan.The Yuvas at a very short notice presented a slide show on the life of P.P Shrimad. Pandurangashram Swamiji, based on the book" Pandurang, Pandurang"
Contributors to the presentation were
Katre Tejal and Sushant (Ch 1,2) ands Yuvas Ishani Rajpal ( Ch 3,4), Jayati Nayel (Ch 5), Akshay Ullal ( Ch 6) and Krishni Kaikini ( Ch 7). Yuva Vaibhav Nayel put the slides in sequence to create a consolidated presentation. Yuvati Divya Kumta co-ordinated the entire project in just a couple of days. Yuva Akshay Ullal Rao presented the power point presentation to the attendees and the entire presentation was highly appreciated by all present.
This was followed by a quiz on the Math and it's activities conducted by Sandhya Nayel pachi in which the yuvas too participated.
15th June , 2017
Janma Divas of P.P. Shrimad Parijnanashram Swamiji
Monday the 15th of June 2017, saw the enthusiastic participation of 10 families in the Janma Divas celebration of HH Parijnanashram Swami III, which was held at the residence of Udyavar Arvind and Lakshmi Rao .The yuva members present on the occasion included yuvati Vidya Rao Nippani and Yuvati Ishani Rajpal..
The Sabha commenced with opening prayers followed by Parijnana Trayodashi and Kalabhi Kalpita. The group of sadhaks including the yuvatis then recited the Lalita Sahasranama with gusto.! Bhajans were then sung by the whole group with Yuvati Vidya Rao leading the Bhajan Lago Tujhe.
Mangalarati was followed by Deep Namaskar, after which the Sabha event ended with Closing Prayers. Later, a sumptuous Prasad Bhojan was served to the sadhaks.
Yuvati Jayati Nayel who could not be present had especially baked a Mango Cheese cake for the occasion, with great Shraddha and had sent it over. After the Aarti the cake was cut by the senior most member present and was greatly relished by one and all.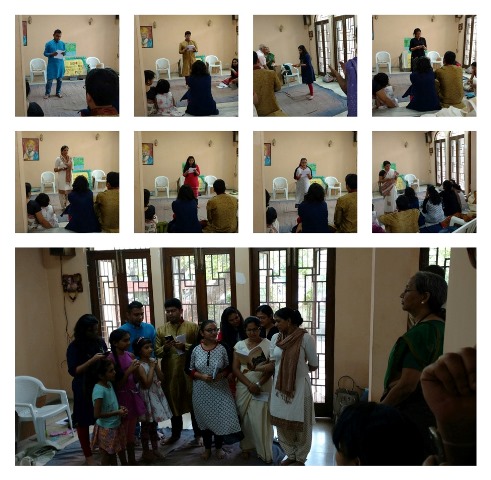 Yuvas presenting their papers and leading with Parijyanashrama Tryodasi during Shankara jayanti celebrations on 30th April ,2017.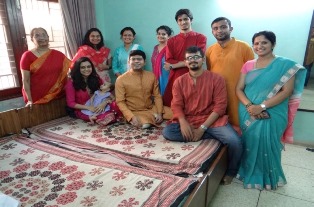 Yuvadhara meeting on 16th April 2017 at Shri Kavle Math.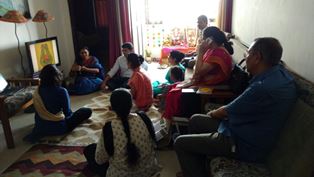 Yuva Presentation on P.P.Pandurangashram Swamiji on 27th May 2017 at Yuvati Divya Kumta's place.
GRANT ROAD
May 2017
Yuvas participated in the annual Karseva Shibir organised at the Shri Chitrapur math, Shirali. Yuvas that participated - Sanjana Kalyanpur, Dhanashri Mallapur, Aishwarya rao
June 2017
Janmotsava of H.H. Shrimat Paridnyanashram Swamiji- III at Karla
Yuvas took part in Bhajan seva, during the the Grant Road Sabha Prahar and also took part in the Palkhi Utsav.
Yuvas that participated- Sanjana Kalyanpur, Aishwarya Rao, Dhanashree Mallapur, Navin Bijur, Padukone, Anushree Amladi, Kaivalya Nadkarni, Riddhima Savkur, Devika Kulkarni, Neha Hoskote, Tanvi Gangavali
PUNE
June 2017
Few of the yuvas volunteered in the Janmotsav celebrations on 14th. Yuvas present were Siya Ragade, Sanat Pandit, Ritika Pandit, Kartikeya Vasisht & Sanat. Sarita Ragde pachi accompanied the yuvas to the Janmotsav.
Sanat and Kartikeya helped in carrying the Palki and them, along with the others escorted Param Pujya Swamiji, in turns, for every prahar and for aashirvachan.
Many yuvas were a part of bhajan seva with our new member Siya Ragade playing the flute. They also helped filling packets with almonds grapes cashews as the prasadam for the paduka pujan.
The yuvas also helped in gathering the fruits and flowers in the phaleru.
All the yuvas also volunteered for the bhojan seva by serving all the guests and helped in cleaning up later on.
On behalf of Pune sabha I would like to thank the CYO for this opportunity and all the people are Karla math for their immense support. I would also like to thank our sanchalaks for their constant guidance and love throughout.
SANTACRUZ
Santacruz Yuvadhara participated in the Gayatri Anushthan held in the Saraswat Club. Many Yuvas regularly attend the Gayatri Anushthan which is held twice a month on Sunday mornings.
UK
May 2017
Youth hike on 21st May 2017 - Ashridge woods - bluebells hike - 16 youth took part - Anushree Amembal, Chirag Amembal, Arjun Sajip, Anshul Sajip, Aditi Karnad, Tina Adur, Anjaneya Shiroor, Sana Shiroor, Ritwik Samsi, Sherene Samsi and their daughter Sanaya Samsi, Rushal Sthalekar, Snehal Hattikudur, Prajna Mavinkurve, Abhishek Mavinkurve, Shivani Kundapur Pereira and Nigel Pereira and their son Aarin Pereira . Along with them were Vinay Sajip, Rohit Sthalekar and Aparna Hoskote. It was a full day hike - 15 km long. It was an energetic, fun filled event that was very much enjoyed by the youth. After the hike, the youth sat together and shared a picnic.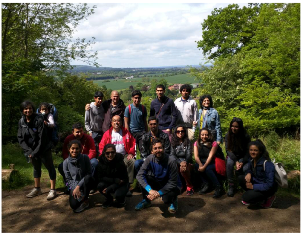 June 2017
Annual Satsang - 17 June 2017. This is the annual Satsang where Math prayers and bhajans are conducted by the Saraswat Samaj UK. The youth were involved in the organisation of this event. Four youth took part in singing bhajans at the Satsang - Anjaneya Shiroor, Anushree Amembal, Chirag Amembal and Abhinav Ullal. The youth participation in the bhajan seva was very much appreciated.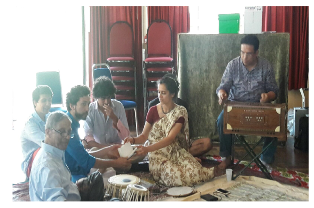 3. Summer colours Holi plus hula hoop event which was conducted in 02 July rather than March because of the weather and school/college term times. We combined this with a physical activity session on training with hula hoops in a dance format to music. One of our Saraswat Samaj members Rohini Rathour nee Karpe is a trained hula hoop trainer and she conducted a class for the youth and others present for the session. The summer colours events with traditional Indian festival food was much enjoyed by the youth, children and adults alike. The youth who participated in this activity were Anushree Amembal, Chirag Amembal, Advait Amembal, Tanya Haldipur, Trisha Kandlur, Tanya Kandlur, Kiran Kowshik, Frezy Kowshik and their son Ayaan Kowshik, Prajna Mavinkurve, Abhishek Mavinkurve, Keya Sajip, Ritwik and Sherene Samsi and their daughter Sanaya, Neha and Aditi Shirsalkar, Anoushka Sthalekar, Rushal Sthalekar, Abhinav Heble, Shivani Kundapur Pereira and Nigel Pereira and their son Aarin Pereira, Poulomi Nilawar and her daughter Gia Bhala.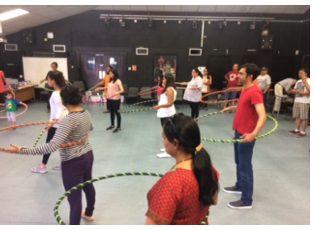 The hula hoop session was very well received by the youth. We are hoping to engage youth in similar such physical fitness activities.