Nava Nava Rasa Natana Karii (Part 1)
Here is a reflective and in-depth pictorial account by Asha Awasthi of the Uttara Bharat Yatra in the divine Saanidhya of Pujya Swamiji (May 2023)
Seven destinations across 6,000 kms. in 40 days! Sounded daunting…nevertheless, I brushed aside all the excuses my mind raised and registered for the Uttar Bharat Yatra…
On February 13, well past midnight, I waited with bated breath at Trimandir at Ahmedabad for H.H.Swamiji's entourage. Not too far was the first halt- Shankaralok- the serene ashram nestling in a green nest just outside of bustling Ahmedabad. Managed by Samvit Sadhanayana, it has a temple dedicated to Shiva and Shakti and a Navagraha garden with the nine vigraha-s consecrated among their respective vanaspati.
All through this momentous pilgrimage, yatri-s were kept busy through participation in programmes organised by local bodies at the various destinations, with our personal upasana done in the intervening slots.
Our erudite Dharmapracharaka – Dr. Chaitanya Gulvadymam's kirtana on Sant Namdev was a pleasant surprise to most of us who were unaware of this wonderful aspect of his affable personality. He came dressed for the part and left us spellbound with his skilful, soulful narration. Yet another presentation by him, in his very engaging style was on the Kailash Manasarovar Yatra undertaken by H.H. Swamiji along with 96 yatri-s! Chaitanyamam gave a first- hand perspective of the crises, challenges, progress and finally, success, of the entire journey made in a span of 20 days!
The immensely talented Shilpa Mudurpachi's very creative Sanskrit Sambhashana sessions left everyone asking for more! The Matru-varga's Nityapatha and Devi Anushthana and the Purusha varga's Gayatri Anushthana – happened impromptu throughout this yatra. Over the next 30 -plus days, both morning and evening were infused with informal interactions, Swadhyaya, Ashirvachana-s, soulful bhajana-s and more, all in the divine Saanidhya of our beloved Guru. Innumerable local institutions also felicitated H.H.Swamiji on completing 25 years of His Pattabhisheka as the Mathadhipati of Shri Chitrapur Math.
These precious moments pervaded through the entire yatra, regardless of the destination and the pre-planned programmes by local sadhaka-s. Every day was a surprise - a new place, a different climate, a fresh flavour, the breathtaking diversity of different cultures and traditions – Mother Nature presenting Herself in ever-new ever-changing forms – नव नव रस नटन करी !
The long and short journeys took us through the arid lands of Shri Dungargarh, Rajasthan, to the cool waters of the Aghanashini Ganga serenely flowing at Haridwar and Rishikesh, amidst the pristine mountains and lush greenery of Uttaranchal at Vyasashram, then back again into Rajasthan to the one and only Brahma Temple at Pushkar, from there to the resplendent Samvit Dham at Jodhpur and finally, to the absolutely calm and quiet Sant Sarovar at Mount Abu !
Whether it was the scorching sun, or the sudden cool showers that immediately induced cool temperatures, at every single stop in this awesome yatra, we got introduced not only to our new Saraswat brethren, but also to their different cultures, life-styles, traditions and food habits! Frequent varied exposure to unfamiliar terrains could have proved rather difficult to deal with but for the one strong sutra of Love and Care from our Beloved Guru that bound one and all, motivating, guarding, guiding constantly and eliciting an equally loving response everywhere...
The Shobha Yatra with all its traditional grandeur, the solemn Char-Yama-Mahashivaratri Pujana, the magnificent sand dunes, the thorny bushes, the dressing up in local costumes, dancing and singing together with joyous enthusiasm, the tasty food served with so much loving hospitality and above all, the impromptu interactions with H.H. Swamiji inspiring equally spontaneous questions and answers from young and old at Shri Dungargarh, left an indelible mark on the mind. The simplicity in devotion laced with the desire to learn, which was the hallmark of the new sadhaka-s, prompted by their pride and sheer joy of finding 'हमारे सारस्वत गुरुजी', touched all our hearts; and of course, the Guru responded with boundless love and guidance.
The beautiful Vyasashram belonging to Shri Kashi Math Saunsthan is on the banks of the sacred Ganga with the Vrindavan Samadhi of Pujya Sudheendra Teerth Swamiji, the Purvacharya. Surrounded by a colourful flower garden, it has its own private Ganga Ghat with steps coming up to the temples dedicated to Shri Ganga Mata, the Navagraha-s and an Ashvattha gudi under a huge Ashvattha tree nearby and all this, amidst acres of green crops, vegetables and fruits trees. Two fully grown Rudraksha trees laden with raw rudraksha fruit stand guard to the main temple. The entire scenic, serene complex resounding every now and then with clanging bells and devoted chanting of mantra-s or lyrical bhajana-s is an ideal location for upasana !
The Kashi Math Mathadhipati, Shrimat Samyamindra Teerth Swamiji, brimming with joy, love and respect, was an exemplary host to our Swamiji, taking him around the ashram, the sprawling fields, the vast goshala. It was indeed a blessing to see both Mathadhipati-s jointly performing the abhisheka-s, the puja-s and the arati-s. Witnessing the Ganga pujan in reality, was a spiritual bonus for all. The many informal interactions in Their powerful presence added to the bonhomie between sadhaka-s of both Math-s.
The two- day Vishwa Saraswat Confluence, attended by about 400 delegates across India, was a study in Saraswat History, Heritage, Culture and the way forward with many erudite eminent speakers, including our Shri Nitin Gokarn, Shri Praveen Kadle, Shri Durgesh Chandavarkar and Shri Uday Gurkar and many others, while Smt. Shefali Vaidya ran us through the history of Saraswat temples in and around Goa.
There were many lessons to learn individually and collectively – to be mindful of all regional differences and yet come together joyfully as a single Saraswat force, to tackle challenges small and big together and ultimately to grow through each and every experience because the Source is the One and the Same Gurushakti!
( To be continued....)
IMMORTAL CAPTURES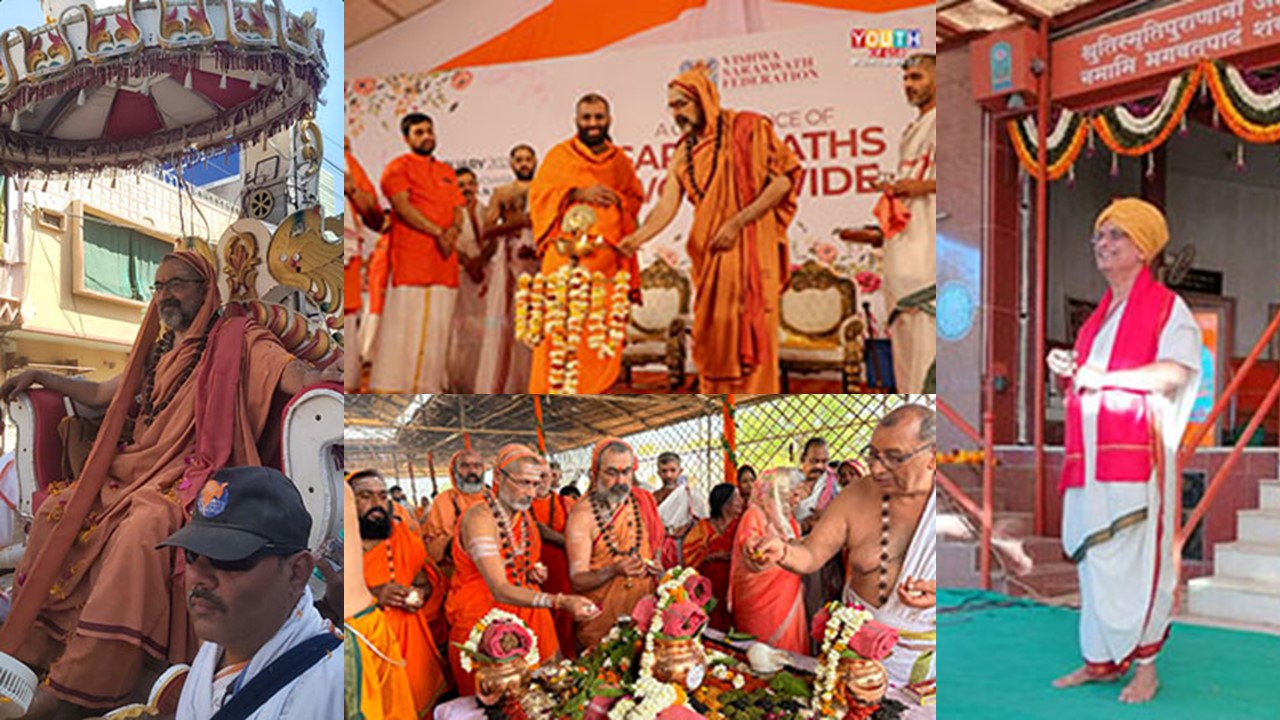 Clockwise from Left:1.Shobha Yatra, Shri Dungargarh, 2. Deepa Prajwalan by Kashi Mathadhipati HHSamyamindrateerth Swamiji and HH Sadyojat Shankarashram Swamiji, Mathadhipati Dhri Chitrapur Math, 3.Kirtan by Dharmapracharak Dr. Chaitanya Gulvadymaam, 4.Poornahuti at the Atirudra by Samvit Narayan Giri Swamiji and Pujya Swamiji