Ānand Melā 2022 - An Offering of Joy!
By Prithvish KumbῙe and Aṅkitā Kārṇāḍ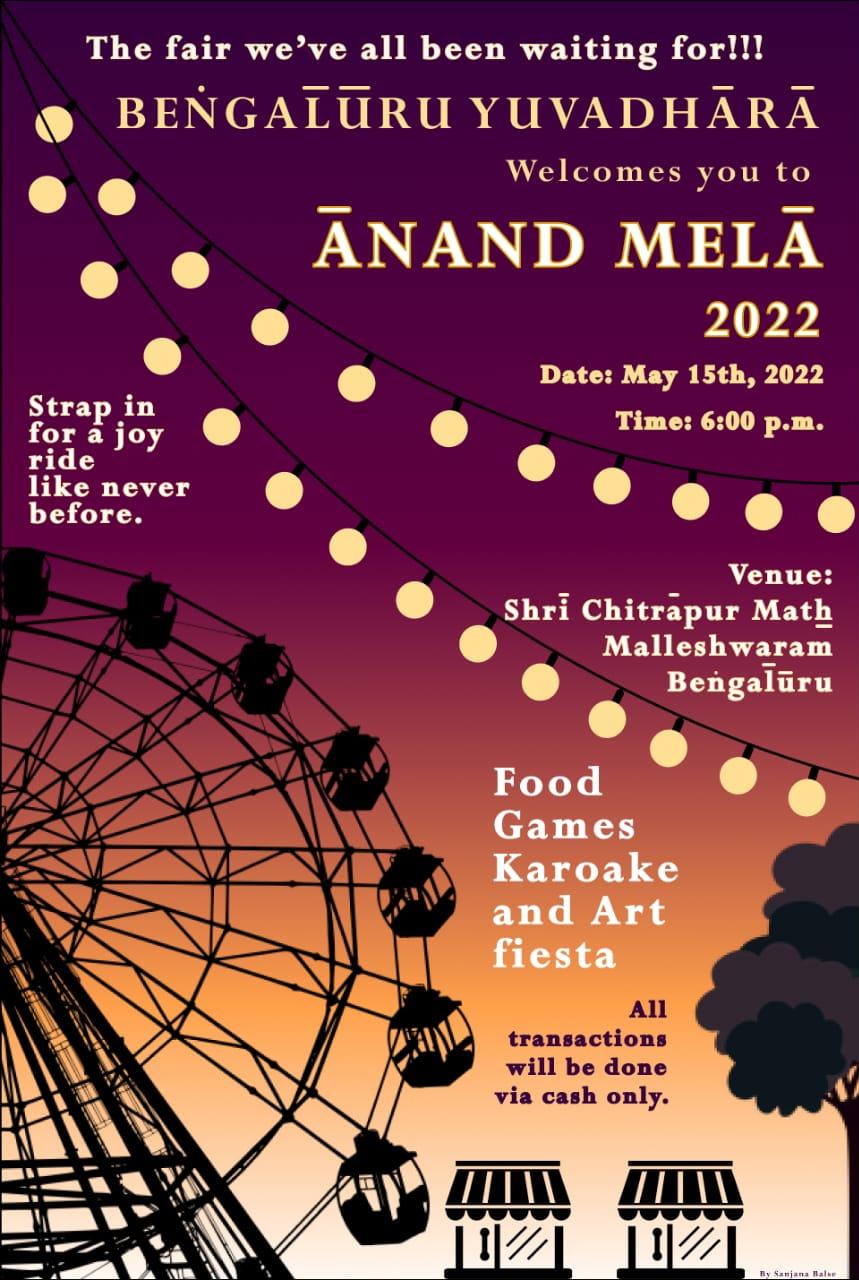 It had been over 2 years since H.H. Swāmījī had visited BeṅgaῙūru, so when the official announcement came, the BeṅgaῙūru Mat͟h quickly became a beehive of activity, with all kinds of plans and preparations. BeṅgaῙūru Yuvadhārā proposed the idea of an evening of fun, food, art, music and games in the Mat͟h precincts. What better way to celebrate our joy than an Ānand Melā!
As 15th May approached, yuvā-s started working towards getting their stalls ready. We had a little less than a month. So much to do and such little time! Every weekend was filled with planning the types and names of stalls, food menus, poster designing all of which involved teamwork -
After all, this was the 3rd edition of Ānand Melā at BeṅgaῙūru and we wanted it to be special! New bonds of friendship were forged as yuvā-s of different ages came together learning from each other, and also taking care that no one should be left out. We even had a few yuvā-s from other sabhā-s like Chennaī,
Shirālī and the US who joined us. We picked up new skills by learning from each other like paper quilling to make refrigerator magnets and digital art to make posters. As the day of the Melā approached, every detail pertaining the lighting, technical setup for the karaoke, space management etc. were ironed out with prompt help and support from the BeṅgaῙūru Local Sabhā and Satyendra Sorāb mām.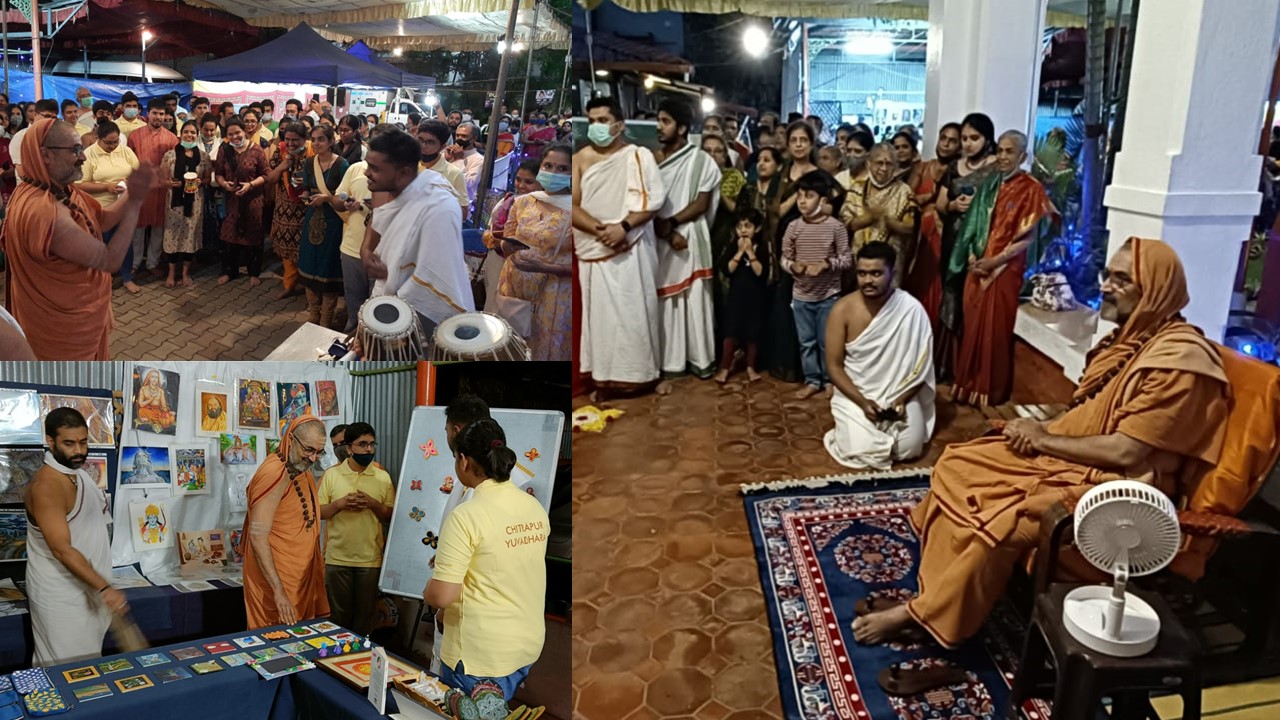 Clockwise from top left: 1 Invocation song by the Yuvadhārā; 2. Karaoke k iosk -
H.H. Swāmījī listening to songs;3. Art display and sale - H.H. Swamiji appreciating the art work.
Finally, the day arrived with a lot of excitement - and a little trepidation. Cyclonic rains had been pelting BeṅgaῙūru daily that whole week. All the yuvā-s who had taken responsibility for the food stalls were ready, but 15th May saw a cloud burst early that morning. Our ardent prayers to the Gurushakti bore fruit and all our anxiety melted away after Tīrtha Vitaraṇa when we presented the invite to H.H. Swāmījī and received His Reassuring Smile! Lo and behold, as evening approached, Guru Anugraha ensured that the skies cleared and we had perfect weather for rest of the evening.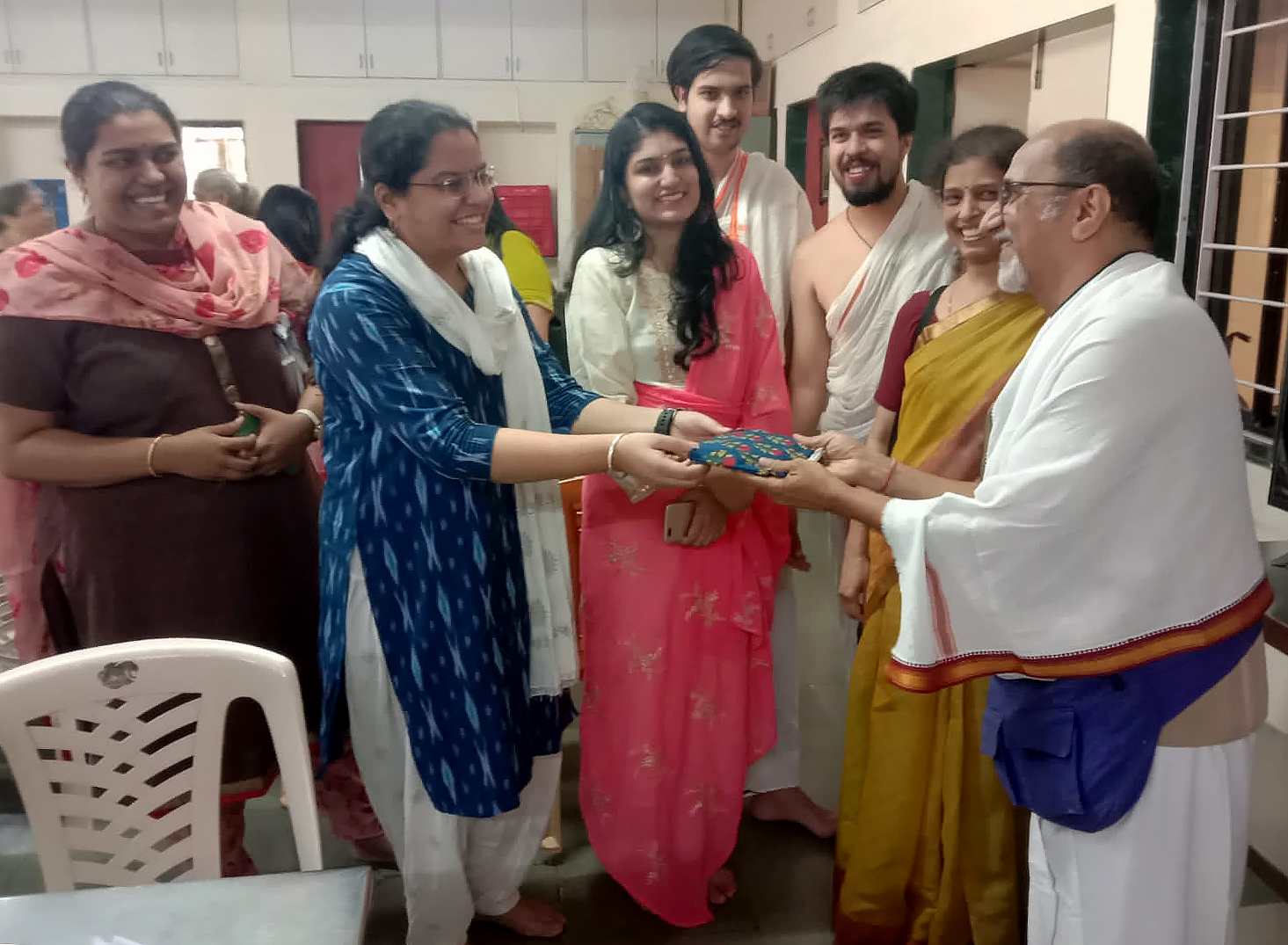 An offering of Joy: Yuvā-s offering the amount to Vinayānand Kalliāṇpur mām of Swāmī Parijñānāshram Education and Vocational Center for the Handicapped (SPEVC)
Anand Melā started off with H.H. Swāmījī unveiling the poster, lighting the lamp, and an invocation song sung by the yuvā-s. H.H. Swāmījī then visited each stall, played all the games in the gaming stalls and even enjoyed a few songs at the karaoke kiosk. For the next few hours, the environs of the Mat͟h were filled with music, sounds of laughter, chatter and bells. Every stall had a bell which satisfied customers could ring to let others know their feedback - a signature at BeṅgaῙūru Ānand Melā! And as you can imagine – we had a lot of clanging bells and satisfied customers! The exciting night finally came to an end with the loud cries of "Oṁ Namaḥ Pārvatī pataye Hara Hara Mahādev!!".
The following weekend, during the Volunteer Meeting at BeṅgaῙūru, the yuvā-s had the opportunity to offer the amount collected from Ānand Melā at the Lotus Feet of H.H. Swāmījī. During the Amṛtotsava celebrations at Kārlā (11th – 15th June 2022), at Pūjya Swāmījī's direction, this amount was handed over to Vinayānand Kalliāṇpur mām of Swāmī Parijñānāshram Education and Vocational Center for the Handicapped (SPEVC) to procure computers for the school! We are ever grateful to Parama Pūjya Swāmījī for giving us this opportunity for Sevā.
BeṅgaῙūru Yuvadhārā is grateful to all those who participated, enthusiastically supported, visited the stalls, and contributed towards making this event a huge success.

We are ever grateful to Parama Pūjya Swāmījī for giving us this opportunity for Sevā. We pray that the Gurushakti gives us many such opportunities to express our gratitude and "Ānanda" to Our Mat͟h and Guruparamaparā!
Koṭi Koṭi Shata Praṇāma Tumako, Guruvara Muda Maṅgala Dātā!

Left: Group picture with the stall posters; Right: Group picture with H.H. Swāmījī during
volunteers Meeting on 22nd May 2022