HH Swamiji's visit to Delhi
– A Report By Preeti Majumder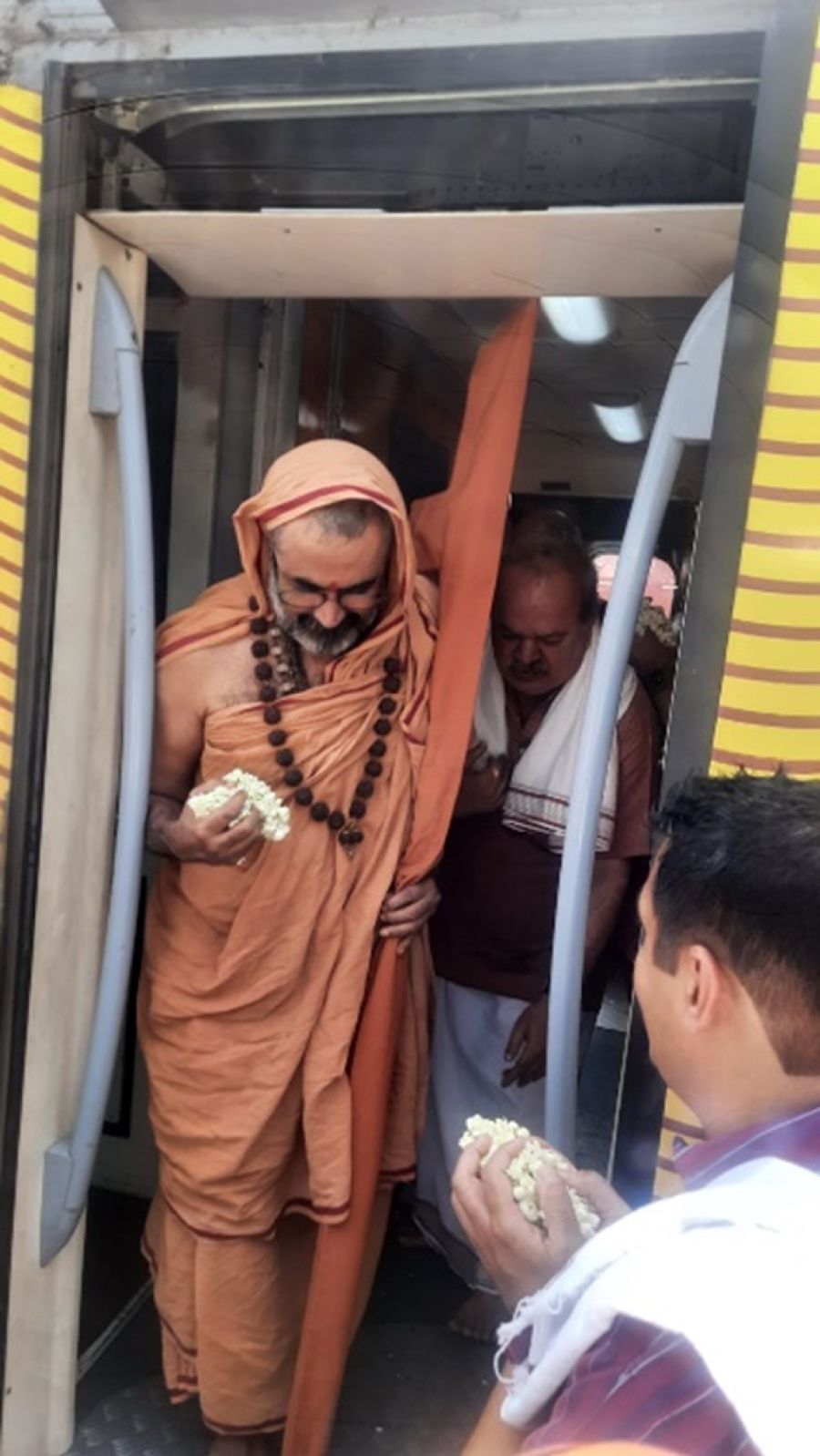 There was a great sense of excitement amongst the laity in the Ḍelhī Sabhā when we heard in April 2022 that H.H. Sadyojāt Shaṅkarāshram Swāmījī was to stopover in Ḍelhī enroute to Haridwār for the inauguration of the Sāraswat Dhām organized by our Sāraswat brethren of Rājasthān… and also bless us with a couple of days on HIS way back. We were to be blessed with HIS visit after 9 long parched years!!!! Oh, the joy!!!!
Swāmījī reached Ḍelhī on the 1st of June, bright and early in the morning by August Krāntī Express. Representatives from our Ḍelhī Sabhā and the Gowḍ Sāraswat Samāja received H.H. Swāmījī at the New Ḍelhī Railway Station with immense joy in the heart.
Our dear bāndhava-s from the Gowḍ Sāraswat Samāja hosted H.H. Swāmījī at the Sāraswat Sanskṛti Bhavan which is the flagship of the Gowḍ Sāraswat Samāja in Rājinder Nagar in Ḍelhī.
Here Swāmījī was welcomed amidst resounding Jaijaikāra-s with a tulasī hāra, the traditional Pūrṇa Kumbha, and chanting of traditional mantra-s, Kalasha Kānaḍī and Pāda Praks̲h̲ālana.
Swāmījī then proceeded for Deva Darshana of the presiding deity on the premises, Lord Murlīdhara Gopāla Kṛs̲h̲ṇa. Swāmījī sat and spoke with the laity present for a couple of minutes and agreed to meet everyone in the early evening, and then heading up the stairs to rest for a while.
At about 5.30 in the evening everyone present was Blessed with an opportunity to spend time with our Beloved Swāmījī. It was a divine couple of hours of interaction wherein everyone was lovingly encouraged to sing bhajana-s. There was a sense of immense awe at being in HIS Presence, an absolute delight and sense of disbelief to see H.H. Swāmījī in our midst after nearly a decade. The evening's interaction ended with Dīpanamaskāra and Prasāda Bhojana.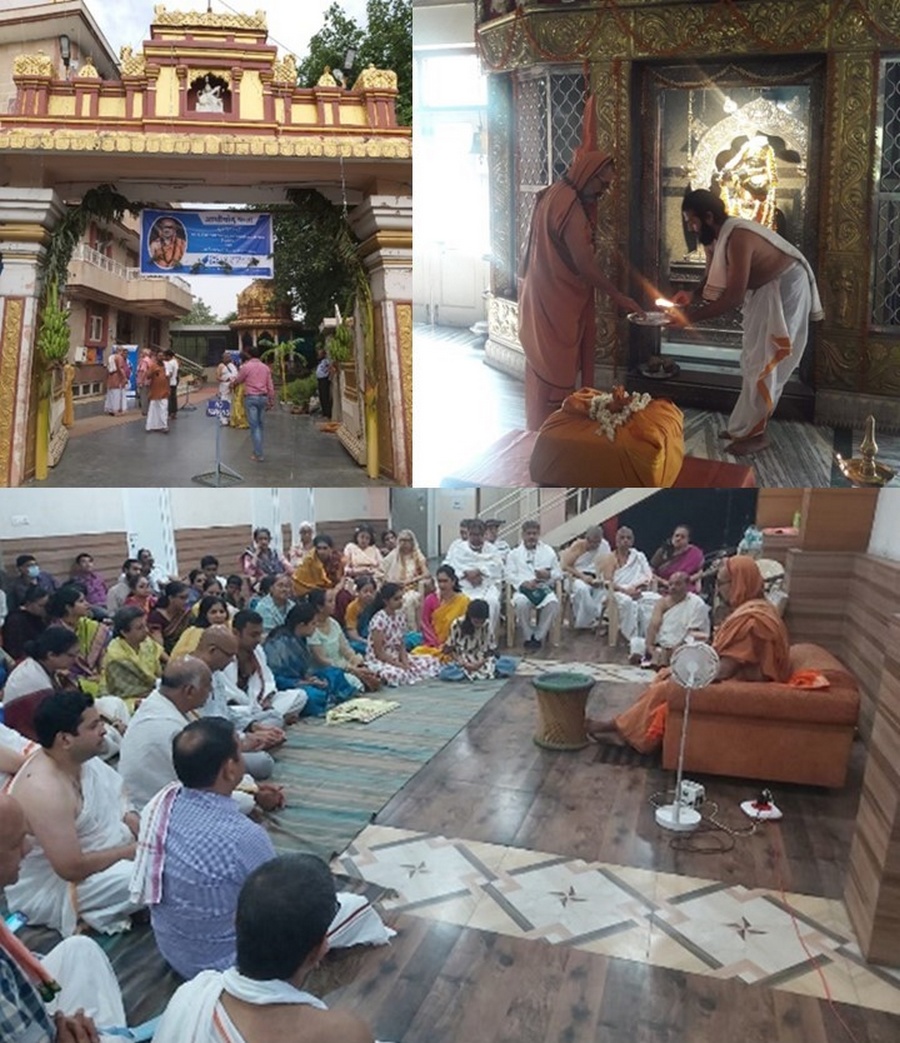 The next day, on 2nd June, after a brief interaction with laity present, H.H. Swāmījī departed for Haridwār around 1pm. Everyone waited happily in anticipation of His return on the 7th and the opportunity to be in His Presence once again.
H.H. Swāmījī returned to Ḍelhī on 7th after a stopover at Ghāziābād for a function organized by the Sāraswat Brāhmaṇ Samāja Kalyāṇa Samiti. We were delighted to welcome H.H. Swāmījī back once again at the Sāraswat Sanskṛti Bhavan in Rājinder Nagar at around 4.30 pm. After Deva Darshana of the presiding deity, Swāmījī retired to His room for a brief rest. The long journey in the harsh summer of Northern India with temperatures at 44 deg C could not have been a pleasant one.
Once again, we were Blessed with HIS Presence in the evening at around 7pm. It started with the Dīpanamaskāra. It was an evening filled with bhajana-s, tablā beats and enthusiastic singing…. a perfect recipe for an electric and charged atmosphere, almost euphoric. Swāmījī shared with us a little bit about His visit to Haridwār and spoke of the different ways of paying obeisance to the same Lord in different parts of the country while referring to the 'Nānī Bāī Kā Māyara' kathā of Rājasthān that He had witnessed in Haridwār.
The next day, 8th of June was a day filled with fervour and devotion.
It started early at 9 am with Gāyatrī Anus̲h̲t̲h̲āna performed by the men folk, followed by Sādhanā Pañchakam by the women. Just as the last few shloka-s of the Sādhanā Pañchakam were being recited, Swāmījī blessed us with His Divine Presence.

In this afternoon session, we were introduced to Kashmīrī Shaivism philosophy by Shrī Virendra Quāzī who had been invited by our bāndhava-s from the GSB. Swāmījī in His Āshīrvachana further regaled us with the story of devout sādhikā Lalleshwarī of the Kashmīrī Shaivism tradition. Swāmījī sang the beautiful bhajan "Bhāsurā" and also explained the significance of the words of the bhajana. Shrī Girīsh Sāraswat who was also present with his family and other Sāraswat brethren from northern India, shared with us his experiences of being introduced to our community and how we could enrich each other's cultural traditions. The afternoon sabhā concluded with Tīrtha Vitaraṇa and Prasāda Bhojana.
After a brief rest in the heat of the afternoon, we were back thirsting for more at the evening program which started at 5.30 pm. It was a gathering of about 150 people, much larger than anyone had anticipated. The evening began with Stotra pat̲h̲ana and Bhajana sevā by the laity of the Ḍelhī Sabhā. After the Dīpanamaskāra at 6.30pm, we were all enraptured and immersed in the Divine as H.H. Swāmījī performed the Devī Pūjana. This was followed by Pāduka Pūjana performed first by the Presidents of the Standing Committee, Ḍelhī Sabhā, the GSB Samāja, and Ghāziābād Sāraswat Brahmin Samāja followed by all the laity present.
The Prārthanā Varga assisted by the Yuvadhārā of the Ḍelhī Sabhā presented a short cultural program of classical music and dance, and short anecdotal stories of Parijñānāshram Swāmī III. The highlight was a presentation of an audio-visual puppet show set in the future, with a meeting between earthlings and aliens from a different galaxy. Both species were delighted to learn about and understand each other. Their curiosity and need for knowing about each other leads the narrator to conclude that though their forms were different, the Underlying Principle, the Ātman was the same. Even across galaxies, across the universe, across all of Creation.
The Dharma Sabhā then started with opening prayers followed by an address by the President of the Ḍelhī Sabhā, Shrī Pradeep UῙῙāl. Shrī Praveeṇ KaḍῙe, President of the Standing Committee spoke next and emphasized the need to increase Vantigā collections to be able to pay better wages to Math staff to keep up with soaring prices. The Laity were encouraged to regularly visit Kārlā and Shirālī. Shrī Prakāsh Pai, President of the GSB Samāja informed every one of the various activities and charitable work undertaken by the GSB Samāja. Shrī Girīsh Sāraswat the President of the Sāraswat Brahmin Samāja of Ghāziābād spoke of the efforts to bring together Sāraswat Brahmins from all over Northern India.
H.H. Swāmījī then Blessed and handed out certificates to two members who had completed the Gīrvāṇa Pratis̲h̲t̲h̲ā Ārādhanā course online during the last year.
The highlight of the evening was of course H.H. Swāmījī's Āshīrvachana.
While the evening ended quite late at 11.30 pm with Phala Mantrāks̲h̲ata for all and Prasada Bhojana, everyone was so completely immersed in the Divinity and Love showered on one and all by H.H. Swāmījī, that I am quite sure we could have carried on forever. The fervor, devotion and high energy of the evening was palpable.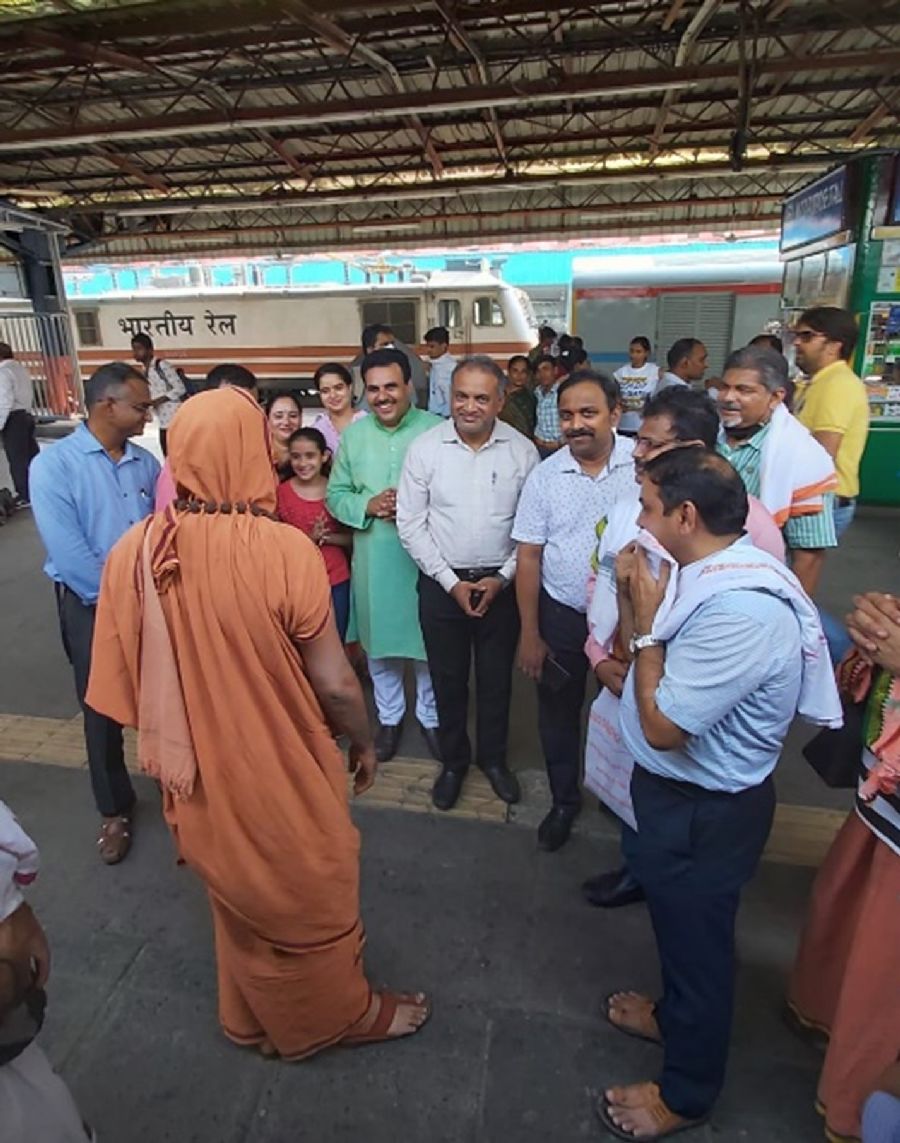 The morning of the 9th dawned with a slightly heavy heart. H.H. Swāmījī was leaving for Mumbaī that afternoon. We were once again Blessed with a short informal interaction just before Swāmījī was to leave wherein a tentative Sāraswat Sammelana in February 2023 was talked about. After Deva Darshana and one last beautiful Bhajana, with a hevy heart and yet a heart filled with Bliss at having received so much Love, oblivious to all else, we bid farewell to H.H. Swāmījī.
The Ḍelhī Sabhā proceedings drew to a close after an amazing and divine few days, and we are all extremely grateful for having had the privilege of having Swāmījī amidst us for this short but blissful time period. I am sure that I voice the feelings of the Ḍelhī Sabhā when I say that we only wish that Swāmījī could have spent more time with us. While we thirst for more time together, Swāmījī's Love and Presence in our hearts will continue to light up our lives and lead us through all our trials and tribulations. We look forward to many more such wonderful visits to Ḍelhī.