Moments in the divine Saanidhya of Pujya Parijnanashram Swamiji
(As narrated by Srī Vidyānand Mullerpaṭaṇ to Umesh Honnāvar, BeṅgaῙūru)
It was very soon after the Shis̲h̲ya Swīkāra ceremony that was held on 1st March 1959 in Mumbaī. I could not participate in the celebrations and while I was ruing about having missed a lifetime opportunity, news of arrival of H.H. Ānandāshram Swāmījī, Shis̲h̲ya Swāmī H.H. Parijñānāshram Swāmījī with retinue at Baṅgalore reached us.
They arrived at Baṅgalore in June 1959 and perhaps stayed for few months. We, the laity of Baṅgalore, were very happy and elated to be a part of evening Dīpanamaskāra, As̲h̲ṭāvadhāna pūjā, and Āshīrvachana by the Guruvarya-s at the Mat̲h̲ during their sojourn.
Very soon, I got a call from H.H. Ānandāshram Swāmījī when I was told that services of five young lads were needed to give company to Shis̲h̲ya Swāmījī. Shis̲h̲ya Swāmī was only 12 years old. Our job was to give HIM company during the evening recess. Five boys were identified for this and the lucky guys were Bolaṅgaḍī Uday, Philar Suresh, Philar Ravi, Aldaṅgaḍī Gaṇesh and myself. We all were of the same age group as Shis̲h̲ya Swāmījī. Our sports were playing indigenous games and also climbing trees inside the Mat̲h̲ garden. We all loved playing the games and had the best of times.
I also remember that H.H. Ānandāshram Swāmījī had arranged for tuitions in Sanskrit by Panḍit Shyām Bhaṭ, Saṁskṛt grammar by Vedamūrthy Phaḍke Shāstry and English by Shrī Kelkar Bhāskar Mām for Shis̲h̲ya Swāmījī during Their stay in Baṅgalore. Shrī Vit̲h̲al Vijay Bhaṭ was also the Sahapāt̲h̲i of Shis̲h̲ya Swāmījī during this period. Both of them studied Kannaḍa on their own besides going through the Kannaḍa newspaper that was being subscribed to by Ānandāshram Swāmījī. Only after study hours, we all indulged in playing games. When I recall those days now, I feel how blessed I was to have spent joyous moments of younger days with Swāmījī, and memories still linger on in my mind.
Formation of CYMA - Chitrāpur Young Men's Association:
The Baṅgalore Chapter of the CYMA was started on the auspicious day of Makara Saṅkrānti (14th January) 1976. This initiative was close to H.H. Swāmījī's heart and was started at Shirālī, Baṅgalore and later in Mumbaī. The objective was to mobilise the youth of the city by instilling in them the Sevā pravṛttī, and offering services to the elders and needy ones of our community. The services also included serving lunch during community get-togethers and social functions like marriages/thread ceremony etc. Training was given to the youth volunteers in offering Sevā whenever revered Swāmījī visited Baṅgalore, and this included purchase of groceries, and serving Prasāda bhojana to the laity. Many enthusiastic youths became members of the newly formed organisation and gave their whole hearted support to the cause. They participated regularly in the periodic cleaning of the surroundings of the Mat̲h̲, besides offering Sevā at the chappal stand which was commenced and made operational then.
In January 1977, a three days Music festival was organised by CYMA at Ravindra Kalāks̲h̲etra, Baṅgalore. Eminent artists viz., Srīyuths Panḍit Shivakumār Sharmā, Panḍit Hariprasād Chaurasiā, Panḍit Brij Bhūs̲h̲an Kābrā, Smt. Āshā Bhonsle and Ustād Zākir Hussain and others performed. A souvenir was brought out and funds were raised through advertisements and donations sought from music lovers. The programme was a grand success and was attended by all āmchī-s besides music lovers of Baṅgalore. The organisers of this memorable event were Durgānand Mullerpaṭeṇ, Gaurāṅg Koḍical and Mohan Hemmāḍy, besides the large volunteer force of CYMA. All the artists offered their musical services with love and accepted a nominal remuneration. However, H.H. Swāmījī was unable to be amidst us during the programme. A sum of ₹11,000/- left after meeting all expenses connected with the festival was remitted to Shirālī for the year's Rathotsava Fund.
During the same year, a visit to Mysore City was organised by CYMA. A bus load of volunteers and elderly laity members joined the one-day trip. The main places of visit were Srī Raṅganātha Swāmy temple at Srīraṅgapaṭṇa town on the way to Mysore which was famous for the presiding deity in reclining posture and is considered to be one of the most venerated gods worshipped by the erstwhile rulers of Mysore Kingdom. The other places visited, was the world renowned Brindāvan Gardens, known for its musical fountains with Kṛs̲h̲ṇa Rāja Sāgar Dam, built across the sacred river Cāuvery. This place is known for its natural beauty and is a must-visit tourist destination in Karnāṭaka. Our revered Swāmījī accompanied us and blessed all with His divine presence. Evening was spent in the garden with singing of bhajans and light music by the CYMA members present with H.H. Swāmījī playing the d̲h̲olaka as an accompaniment. It was a memorable trip for one and all.
H.H. Swāmījī initiated the Abhinava Sammelana for three consecutive years from 1974 during the Annual Rathotsava celebrations at Shirālī. During these evening sessions, eminent Litterateurs and writers like Shrīyuth Shivarām Kāranth, Chandrashekhar Kambhar, B.V. Karanth were invited to preside over the function. Cine artist Anant Nāgarakaṭṭī, Sports personalities like Arvind Savoor and Prakāsh Paḍukoṇe were also invited. All the esteemed personalities were felicitated at the divine hands of H.H. Swāmījī.
A Drama troupe from Baṅgalore consisting of 20 plus members enacted a social drama in Koṅkaṇī - "Chickalāntule KamaῙa" during the Rathotsava festival and it was a resounding success.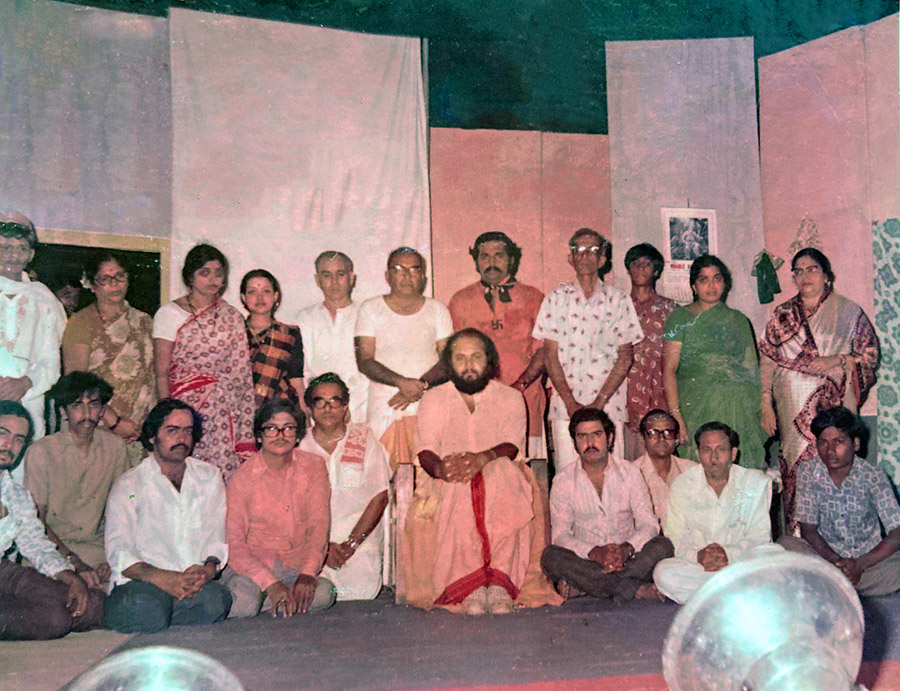 <
/p>