Pushpanjali from Prarthana Varga
Sadhana Kaikini reports on the 25 multi-coloured activities initiated for delighted children by the dedicated team of teachers of Prarthana Varga, as part of their offering for Sayujyam (May 2022)
Our Mathadhipati H.H. Shrimat Sadyojat Shankarashram Swâmîjî was completing 25 years of Mathâdhipatya and the 75th birthday of our Beloved Guru Swami -Shrîmat Parijñânâshram Swâmîjî was happening a few months later.
Prârthanâ Varga decided to offer a 'pushpâñjalî' on this special occasion with 25 activities supervised by 60+ teachers!
Talents were tapped and duties were divided so that every teacher was involved and gave his/her contribution to this commemoration. Small teams met and worked at the 25 activities, giving them a shape that our Prârthanâ families would love!
दक्षिणास्यसमारम्भा शङ्कराचार्यमध्यमा ।
अस्मदाचार्यपर्यन्ता स्मर्या गरुुपरम्परा
The first among the 25 activities was based on the Guru Tatva, exactly in the order mentioned in the beautiful shloka with we begin our Sabhâ Prârambha Prârthanâ. The first team brought out interesting activities that began with Lord Dakshinâmûrti and concluded with our Beloved Guruparamparâ.
Sanskrit was the next priority and we enjoyed the beautiful process of how it was brought to the children in the form of Pârijâtam - the Shivir-s that reached out to introduce 182 children from across the world to the Devabhâshâ!
Teachers were kept busy with the other activities and each team said 'Abracadabra' as they pulled out magical ideas for the Prârthanâ children. Varieties of craft work have been cleverly created, paints have splashed across eagerly waiting paper, festivals have been celebrated with artistic creations by our teachers, who then passed it along to the children! Delicious easy-to-make recipes for naivedya had parents and children working together - an ideal bonding activity!
Stories from our Guruparamparâ Charitra were chosen and written in simple but chaste Konkanî by one team. Another team monitored the children chosen to narrate them. Shloka-pathana had the children reciting chosen shloka-s with the help of recordings sent by the shloka team!
With the obvious Ashîrvâda of Devî Saraswatî upon our community, music and dance were naturally two of the 25 activities. Melodious bhajana-s were sung by children from different Varga-s and skilfully woven together by technical experts in the field of music. Dances that depicted merriment and yet reflected devotion were choreographed and taught online. One watched amazed at the children who moved with grace to the rhythm of the stotra-s and bhajana-s chosen just for them.
Yoga exercises were introduced to bring in the element of physical discipline and well-being. They have now been inculcated into the regular weekly Prârthanâ Varga. Food for the body is essential…..But what about the mind? Thus, there was a team dedicated to creating a quiz and games to also promote values in children. The expertise with which they have worked is going to benefit our children far into the future.
Lastly, a tech-savvy team dedicated itself to knitting all what had been done for a fitting presentation. Colourful, concise and creative, it was showcased in Kârlâ during the nine-day Rajatotsava celebration and brought a loud round of appreciative applause from H.H.Swâmîjî and the enraptured audience in Kârlâ, as well as from those watching the online live relay.
A labour of love, this Pushapâñjalî is a humble offering from Prârthanâ Varga at the Lotus Feet of our Revered Guru.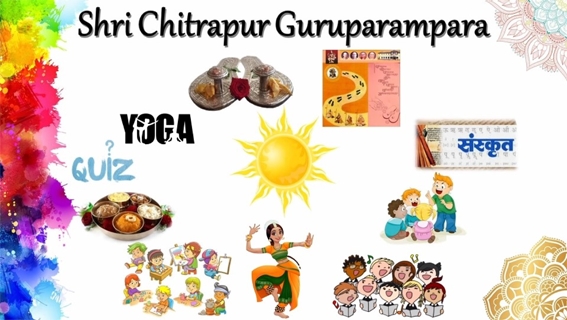 Guru Parampara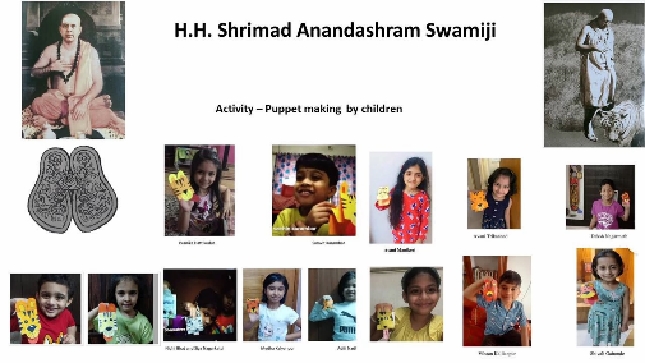 H.H. ShrimadAnandashram Swamiji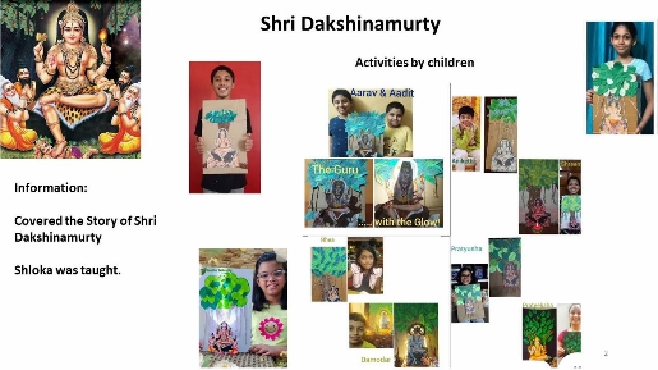 Shri Dakshinamurty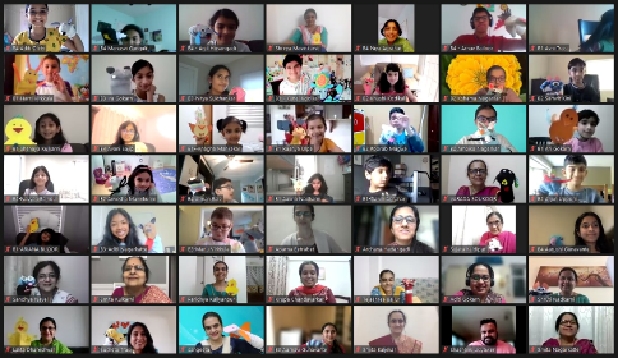 Students-Teachers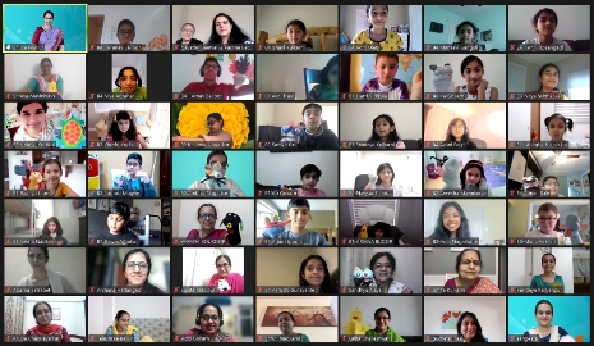 Teachers-Students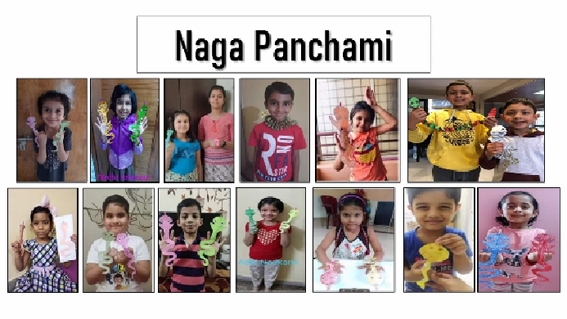 Naga Panchami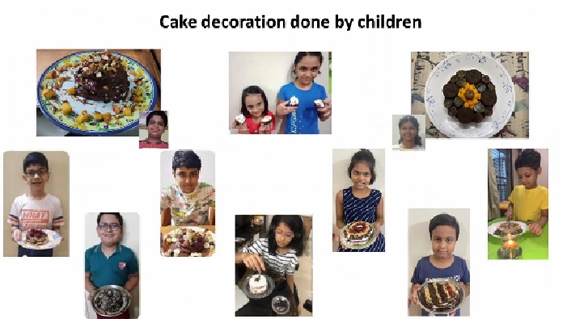 Cake Decorations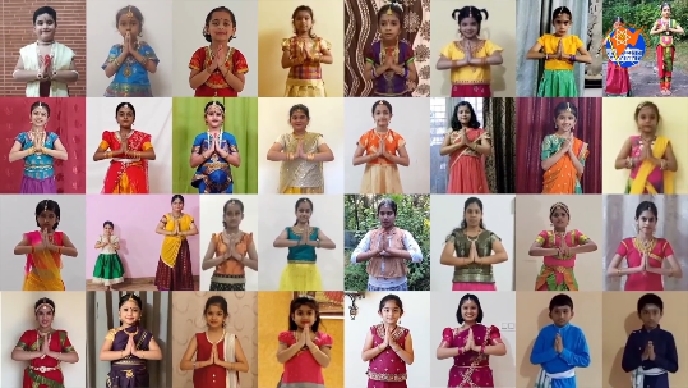 Namaste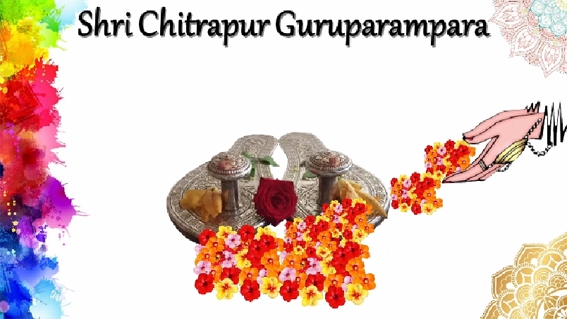 Padukas