My journey from Samparka to Sayujyam
In this edition of YUVASPEAK find out how MOHIT KARKAL feels that the Gurushakti empowers him to be an efficient professional and a devout sadhaka too (January 2022)
Pujya Swamiji often says that once the Gurushakti takes a Sankalpa for our betterment, we are blessed with Its protection, no matter how unaware we may be of it. So, in 1997 when H.H.Swami Sadyojat Shankarashram became the Mathadhipati of our Shri Chitrapur Math, I was like any other child, oblivious to how the all- pervasive Gurushakti was making its presence felt in my life. This continued until Kara Seva 2006 when, as a Yuva, I got a deeper insight into the vyakti harnessing the Shakti. This Shakti soon became such a vital source of inspiration for me. Occasional visits to Swamiji's camps in Mumbai, and to Shirali aside, my first proper interaction with Parama Pujya Swamiji was at the Kara Seva Shibir 2006. I was just over-awed by the Perfection and Grace in His every movement, in every single thing that He did. His wit and ability to have an audience hanging on to every word were a lesson in public speaking for me.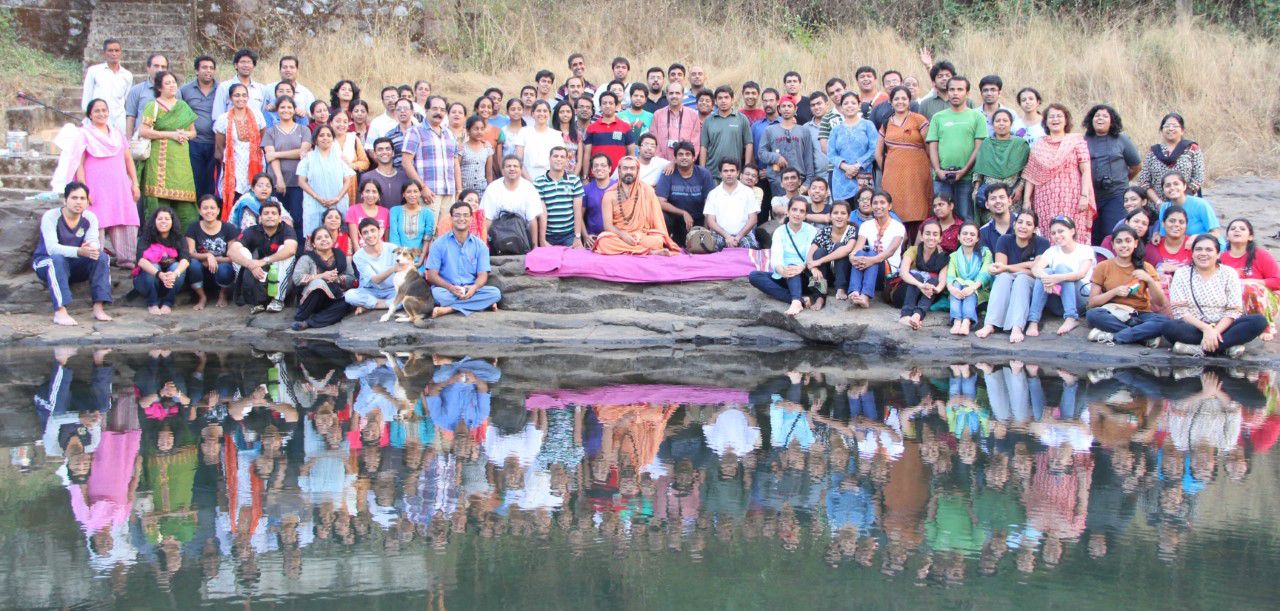 Fun time!.....Vanabhojan with Pujya Swamiji
My spiritual connection deepened further, when I took mantra-deeksha from Parama Pujya Swamiji in 2008. Since then, it has been like a constant support system. As a person, I have become a much calmer and stronger individual. Whatever the situation, my mantrajapa has helped me deal with it in a much more balanced and intelligent way. This perspective has also developed over the years, thanks to my involvement in seva, as a part of Chitrapur Yuvadhara. Techniques like Ninada, Pranayama, or even simple visualization which Swamiji often mentions in His Ashirvachan-s, have proven invaluable in terms of helping me do my japa better. In turn, I have learned to deal with challenging situations better. Being appointed Yuvadhara representative was the first step in learning to take on more responsibility and becoming a good leader.
Being a part of Chitrapur Yuvadhara, and being a sadhaka first and foremost, has not only helped me grow spiritually, but also taught me how to face the world more intelligently. The Yuvadhara presentations were an opportunity for me to grow out my fear of public speaking. Be it while doing seva, or training candidates at work, or doing embryology cases paying utmost attention to detail, my spiritual connection has been the foundation, which has allowed me to put my best foot forward. The spiritual and the worldly have both become enmeshed into one interconnected entity. Every task, no matter how difficult, becomes possible through Guru Anusmaran.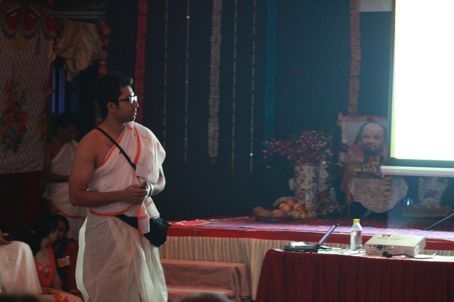 Stronger, Better!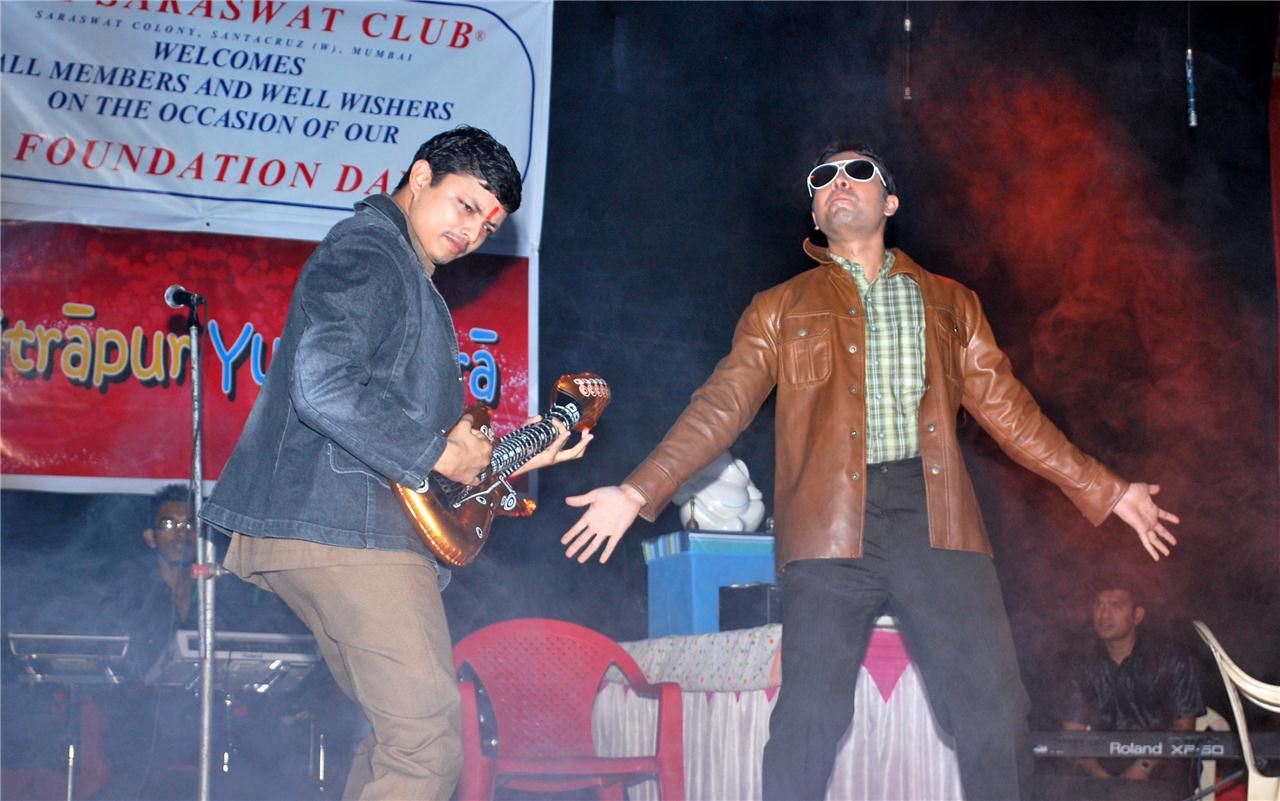 Stage-fright? What's that?
For those who are not yet a part of Yuvadhara, I would just like to say that while the end-point is to adhere to the motto "Yuvaiva Dharmasheelah Syaat," the kind of exposure we get in terms of activities helps teach us a lot of skills which we can use in our personal and professional lives. So often, while performing seva, we tend to surprise ourselves, and uncover hidden talents, which we did not think we had. All this, of course, depending upon how receptive we are to course corrections which we get along the way. This can be only possible if our thought process is rooted in our connection to the Gurushakti.
During the pandemic, when there was a lot of fear and uncertainty around, I realized how lucky we are as a samaja, to have such strong pillars of support, in the form of Parama Pujya Swamiji, our Math and our Guruparampara. I can never forget Swamiji's words during His first Samparka, where He said that we need not fear the Coronavirus, because we as a samaja are protected by the "Karuna virus," namely, the Gurushakti. The online activities which we started during the lockdown were an opportunity for us to look inward and find that sense of security in our Anahata- our 'heart-chakra', rather than worrying about the pandemonium outside. Manthan via Whatsapp, was one such activity which made all of us sadhaka-s delve deeper into Parama Pujya Swamiji's Ashirvachan-s which, infallibly, would provide answers to all our worries.
I progressed from performing Gurupujan-s, to leading them and then training other sadhaka-s once Sayujyam commenced. All this has been possible firstly, due to observing Parama Pujya Swamiji performing the pujan with such Grace and Perfection, and secondly, thanks to guidance from Sudhir Balwallymaam and Dr. Chaitanya Gulvadymaam. I personally find a lot of parallels between Gurupujan and embryology, where every step demands meticulous attention to detail.
So now that I look back, I realize that the Samparka with Swamiji in 2006, was the spark which set me off on this wonderful journey, and I hope that it continues. I hope I keep getting more and more opportunities to offer seva at the Lotus feet of Parama Pujya Swamiji, our Math and our illustrious Guruparampara.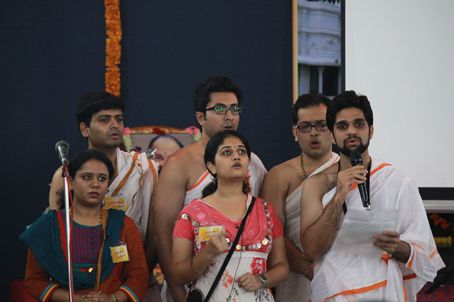 Gurudevon ki Amar-Shakti se nikle prema-pravaah ki Jai Ho!
Om Namah Parvati Pataye Hara Hara Mahadev!