A Legacy
By Guñjan V Hosaṅgaḍī
In this biographical tribute to his father, Guñjan Hosaṅgaḍī shares the life of a multi-faceted icon of our Chitrāpur Sāraswat community - Late Shrī Vasant Hosaṅgaḍī.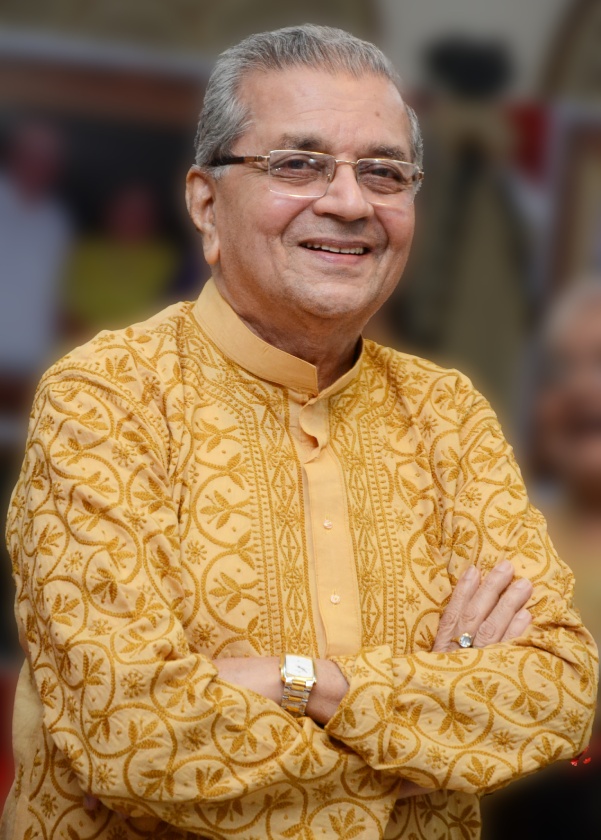 My father was born on 10th August 1934 at Kāsargoḍ, Kerelā to Hosaṅgaḍī Bhāskar and Saguṇā. He studied at Poddār High School, Sāntācruz and then completed his college education also in Mumbaī. Pāpā was always fascinated by music and his technical mind-set was quite evident from his early childhood.
A chequered career
Pāpā's career took him through unimaginable highs and lows, which was a reflection of his varied interests. His entrepreneurial career started with setting up a transport business in the early 60s and many-a-times he drove the truck himself across various cities. It was during this monotonous phase of hours and hours of driving that he did his Riyāz of classical music rāgā-s and overtures.

He got his first break in the film industry as a vocalist in the mid-60s and then later moved to orchestral arranging. His strong background in both Indian and Western classical music helped him emerge as a full-fledged Music Director, well-versed in both vocal and instrumental music. His focus on technical aspects such as sound recording, balancing, mixing-mastering as well as film-editing and projection technology helped establish himself as an independent studio recordist later.
In the late 1960s, Pāpā actively assisted Shrī Datta Dāvjekar, under whose able guidance Pāpā mastered the art of scripting music notation. He could provide the notations even as a song was being sung to him for the first time. He would then compose the musical/orchestral scores which were often a combination of the best from Indian and Western forms.
Between 1971 and 1973, Pāpā assembled Premier Padmini cars in Mumbaī and delivered them at Lucknow. The regular visits to Lucknow drew him to establish his musical talent there and in 1974 he made this city his कर्मभूमि.
Another feather in Pāpā's cap was his introduction of the concept of studio recording to Lucknow. In 1974, he started with a make-shift studio in his house on a trial basis. By 1986-1987 he had established his own professional studio in two rooms of his home. Over the years, the studio was upgraded with digital equipment and by September 1995 it was equipped with state-of-the-art facilities. In September 2020, this Recording Studio celebrated its Silver Jubilee. To commemorate this occasion, a website http://digitrax.in was launched.
As a singer, he had no parallel. He did not require any musical instrument while composing or orchestrating. He would mentally conceptualise the chords, intricate contra-melodies, interludes and rhythm arrangements and finally pen it down precisely on his musical score sheets. Though his voice showed signs of aging at 86, his गले की तैयारी was better than most youngsters!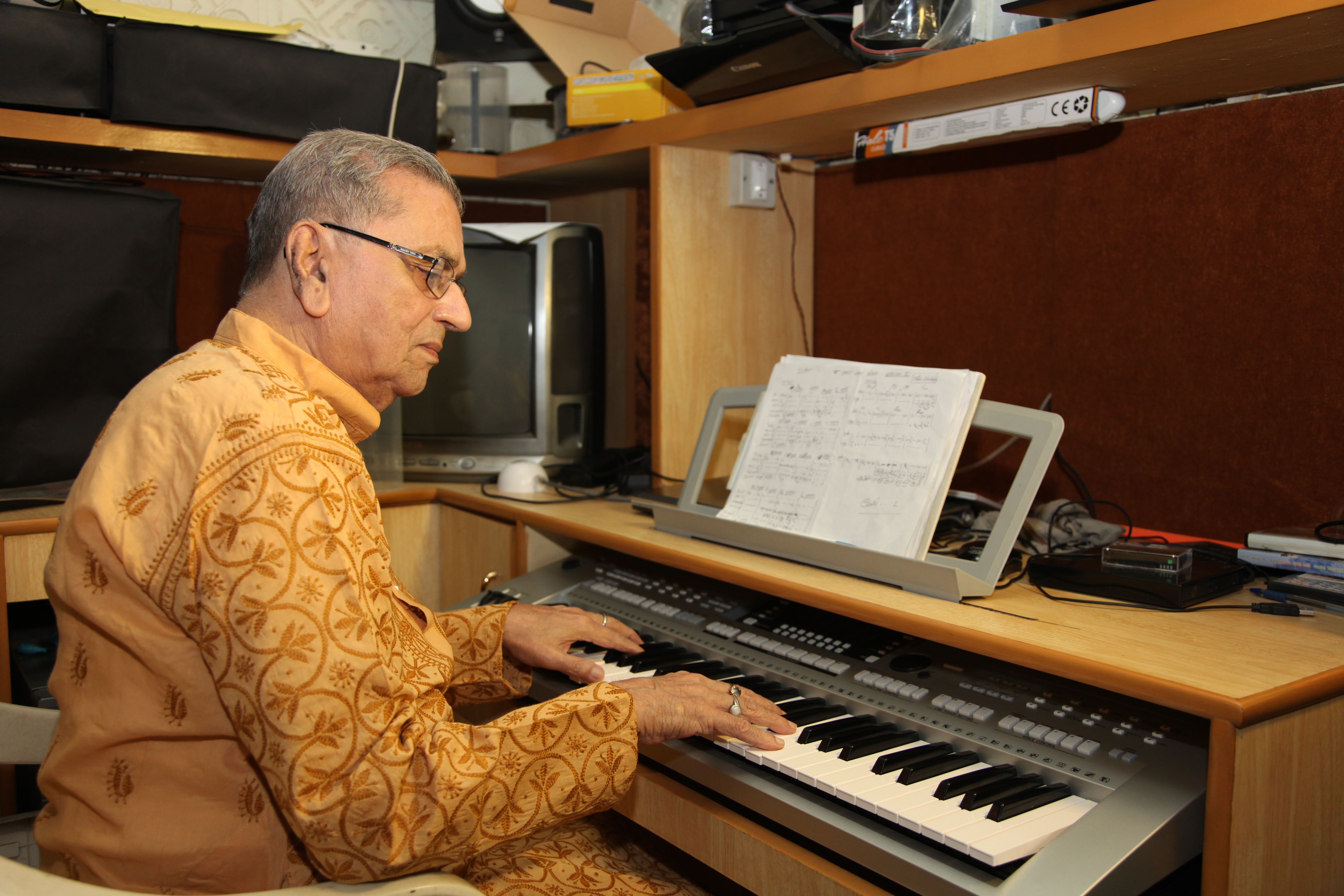 Engrossed in creating harmonies in his studio at Lucknow
Achievements in the music field
Though Pāpā was professionally a renowned Music composer, he freely shared his love for music with anyone who showed a keen interest to learn. He comprehensively trained saṅgīta sādhaka-s not only from Lucknow but also from all over the country. A true example of a large-hearted and magnanimous teacher, his commitment to teaching this art form superseded his desire for remuneration.
In 1976, the year I was born, Pāpā created history when he appeared for the auditions of AIR at Lucknow. He was directly awarded 'Grade 1 – Music Composer' for his meritorious performance. He was the first to introduce western instruments and music orchestration in this region. He founded the "Choral Group" at Ākāshwāṇī Lucknow with over 60 singers and a large orchestra comprising of brass, string and wind instruments. In the 80s, he created a number of choral compositions with different rāgā-s and tāla-s in his songs as he was proficient at almost all musical instruments.

Pāpā was a stickler for perfection and expected his students to take their music seriously. No allowances were made for being lackadaisical. To quote Pāpā, "एक तबला वादक बिना तबला मिलाए कभी अपनी प्रस्तुति आरम्भ नहीं करता. अगर बजते बजते तबला चढ़ या उतर जाए तो उसे हथौड़ी मारकर सुर में लाया जाता है. उसी तरह से मेरे वादक कलाकार, मेरे वाद्य हैं. अगर वो बेसुरे या बेताले हो रहे हैं तो मुझे भी उनपर हथौड़ी चलानी होगी, ताकि वो सुर-ताल में रहें."
From 1976 onwards, Pāpā worked as a freelance Music Composer for AIR, Doordarshan and private music producers in Lucknow. He created the music score for 'Bibi Nātiyon wālī' - the first ever Teleserial in the history of Indian Television. He was the Music Director for prestigious concerts arranged by The UP Saṅgeet Nāṭak Academy, Department of Culture, Ākāshwāṇī and Doordarshan.
Online Music
As the Covid 19 pandemic raged and all cultural activities came to a standstill, Nileshwar Mahesh mām of Toronto, Canada, came up with the idea of organizing online music concerts. Titled "Ghar-aana Online Music Series", Pāpā not only helped Mahesh mām to coordinate with the artists but also provided technical support and advice for the programme. It was always Pāpā's desire to reach out and give a platform to every budding artist from any age group in the Chitrāpur Sāraswat community. Today, Ghar-aana series lives on and has become an integral part of weekends in many Sāraswat households.
Other interests
Pāpā learnt the Morse code on his own, and could even dictate sentences by whistling the code! A born polyglot, he could speak fluently in Konkani, Hindi, Sanskrit, English, Marathi, Gujarati, Tamil, Kannada, Tulu, Punjabi, Nepali, Bengali and Sindhi. Pāpā was also known for his keen sense of humour, ready wit and stage presence. On many occasions, Pūjya Swāmījī had asked him to narrate some funny incidents from his past and he happily obliged.
Sevā
An ardent devotee of Shrī Chitrāpur Math and our Guruparamparā, Pāpā was associated with H.H. Shrīmat Swāmī Ānandāshram as a young child. Pūjya Ānandāshram Swāmījī was very fond of his musical talent and would ask him to perform on different occasions. Thereafter, during the Shishya Swīkāra ceremony in 1959, as an active volunteer he was assigned several responsibilities which he performed with diligence.
After a long gap, spanning almost three decades, with no contact with the Math, Pāpā was invited to Kārlā in 2006. H.H. Swāmījī had heard about his association with Pūjya Ānandāshram Swāmījī and subsequently with Pūjya Parijñanāshram Swāmījī. H.H. Swāmījī was keen to learn the Bhajana-s penned by His Guruswāmī which were set to music by Pāpā in the 1960s. The most popular ones were – Lāgo tujhe, KheĪ Tujhe jīva gheṇe, Maza de, Ichchita sukha zari. Pāpā was again blessed with an opportunity to offer his sevā to our Math and our revered Guruparamparā when H.H.Swāmījī asked him to compose bhajana-s in both Koṅkaṇī and Hindī. Ten of these Bhajana-s were compiled in an audio album, 'Samarpit', and released by H.H. Swāmījī on Pāpā's 75th birthday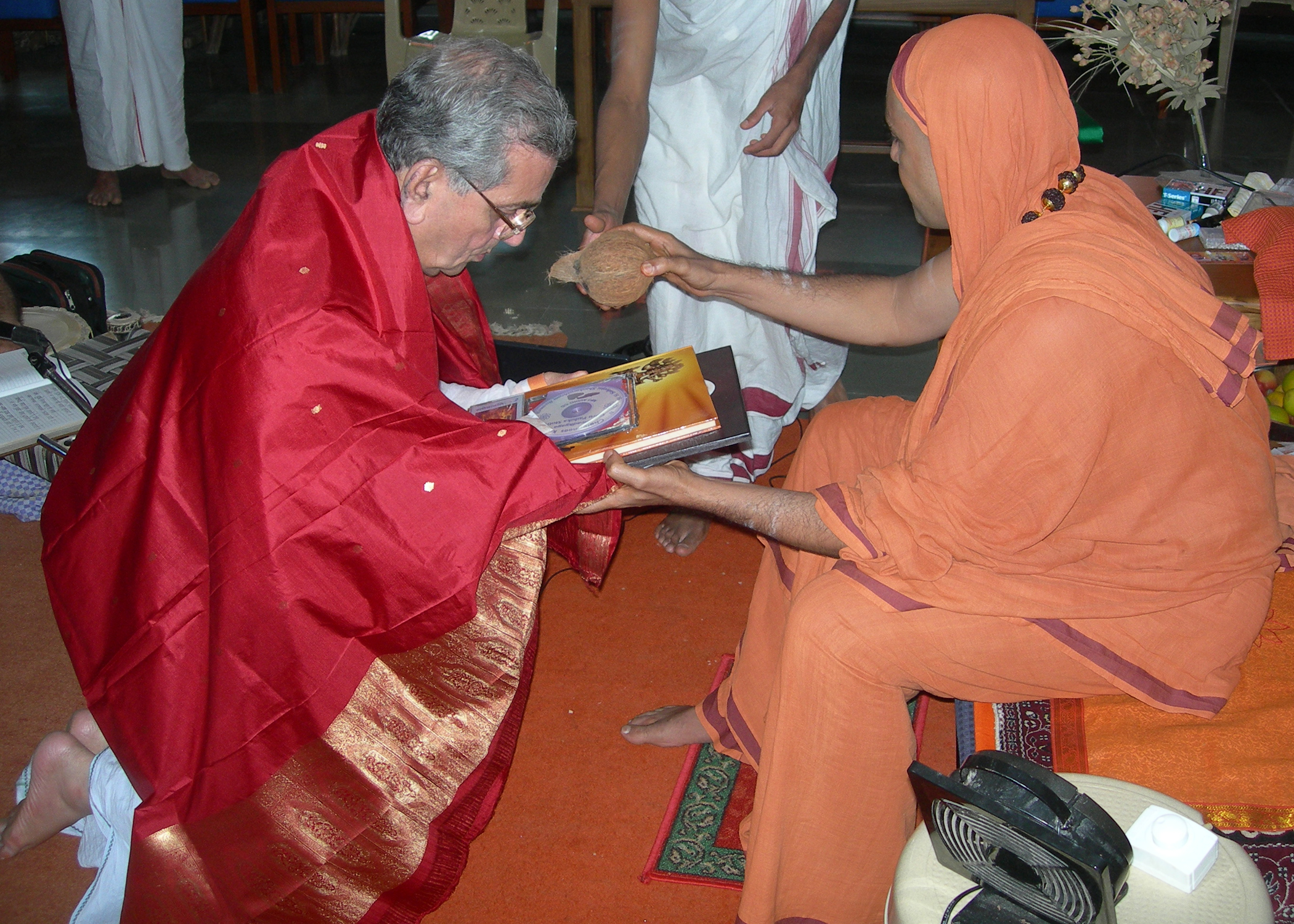 Felicitated by H.H. Swāmījī at Kārlā
During our visit to Shirali in March 2019, Pūjya Swāmījī asked Pāpā to conduct music classes for the different visiting Bhajana Maṇḍalī-s. Then, in June 2019, during Chāturmāsa at Mallāpur, besides teaching new bhajana-s he trained many in the nuances of music and singing. The lockdown did not "lock" Pāpā's creativity. From April 2020 to March 2021, he composed 13 songs devoted to the Math and our Guruparamparā which he shared through his YouTube channel.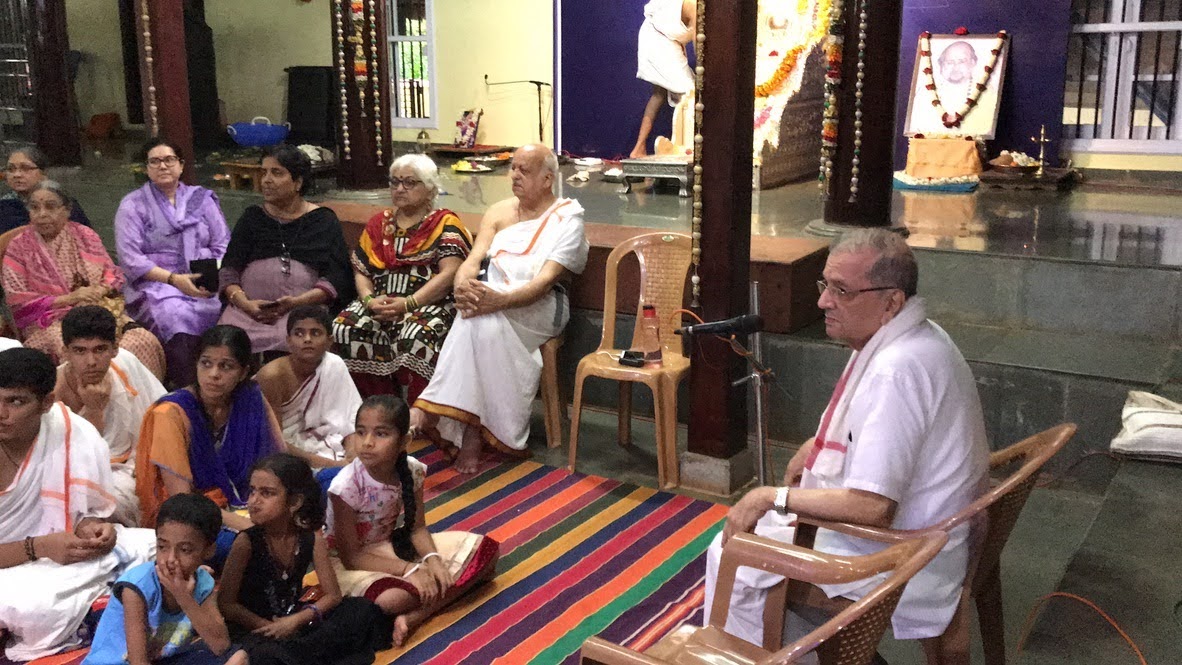 Singing sessions at Mallāpur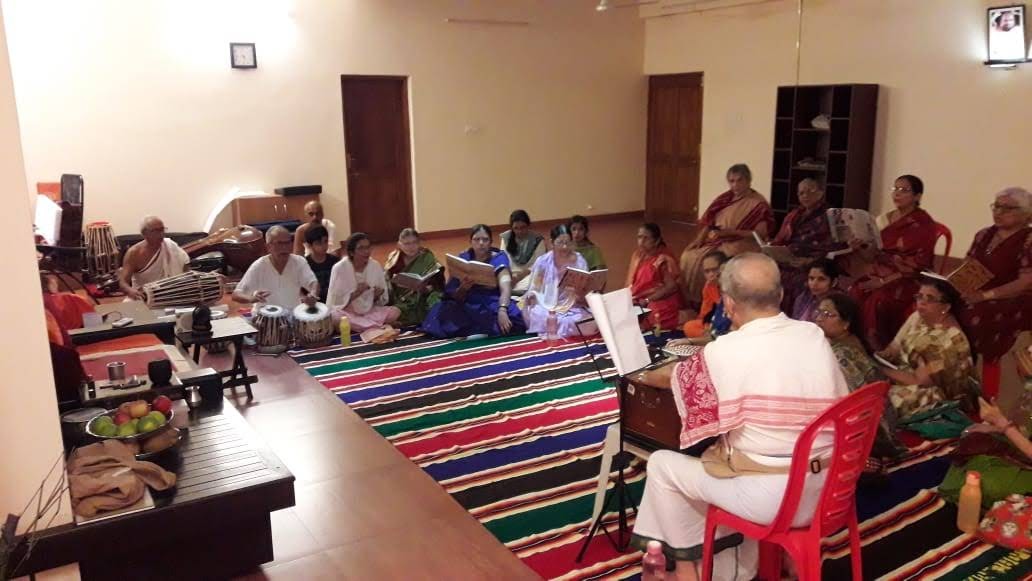 Bhajana Maṇḍali practice at Shirālī
A life well-lived
Pāpā passed away peacefully on the morning of 13th April 2021 – the first day of Chaitra Navrātrī – the Yugādi day. Later that evening, Pūjya Swāmījī commenced His Āshīrvachana with a special mention about Pāpā and his invaluable contribution not only in the field of Music but also to our Math, reassuring us of his सद्गति.
Pāpā's legacy will continue…
His memories will be cherished forever
His Music will be in our hearts till eternity
His dedication will always be a source of inspiration to one and all.
||Oṁ Namaḥ Pārvati Pataye Hara Hara Mahādeva||
||Oṁ Bhavānīshaṅkar Mahādeva Kī Jai ||