Yuvaspeak
With this issue we launch an occasional series called 'Yuvaspeak' to show the variety of ways in which our Beloved Mathadhipati - Parama Pujya Sadyojat Shankarashram Swamiji has inspired and guided our youth and made individual talent blossom.. Here is TEJASHREE BAILUR telling you what happened when she was still feeling "Young and Inexperienced" ( October 2021 )

My mother tells me that when I was an infant, I was placed at the feet of Parama Guru Shrimat Parijnanashram Swamiji III. This was perhaps my first interaction with my Guruparampara. As I grew up, listening to stories about our Gurus left me in awe, but they were just stories for me back then. I saw Parama Pujya Sadyojat Shankarashram Swamiji for the first time during teerth during our visit to Shirali when I was in school. My sister and parents were blessed with mantradeeksha that year but since I was hardly 11, I was hopeful I would be blessed with with it too, when I grew a little older. My first memory of interaction with Swamiji was when I asked Him for mantradeeksha when we visited Shirali in the following year. Though unsure since I was still quite young, I mustered all my courage and asked Swamiji during teerth and Swamiji agreed! I was elated, but anxious, as I walked towards Swamiji's room alone, early the next morning. However, Swamiji instantly put me at ease and I left the room feeling special. I was too young back then to realise the importance of the bond that was formed on that day but this is slowly being revealed to me as I grow.
Being an introvert, during my first few Sanskriti Parichay Shivir -s I had issues with interacting with new people. However, I continued to attend the Shivir- s because of the special interactions with Swamiji that we were blessed with. The blissful treks and the Ashtamurti Upasana sessions made it all worth returning to every year.
The innumerable things that Swamiji did to encourage me, that big smile from Swamiji when I sang my first bhajan in Karla, my birthdays which were made special by being in Guru-Sannidhi every year, the constant Guidance that I received , the many blessings that were showered on me, helped me to hold onto Swamiji's hand through my challenges and achievements as Swamiji led me towards the goals that had been set for me. My first major attempt at seva was when I joined the Prarthana family. Becoming a Prarthana teacher gave me the confidence to switch my profession to teaching. During my visits to Karla, the time spent alone in the Math with the Devi brought me closer to Her and my Parama Guru. Being a part of the awesome Guru Jyoti Pada Yatra strengthened that bond.
During an informal meeting with Swamiji at Karla, I was shocked when Swamiji suddenly pointed at me and asked Archana Savnalpachi who was also present there to train me to conduct a Vimarsh. Despite my few attempts at seva, I still had severe stage fear, but Swamiji assured me that it will not be too difficult. Since it was a Guru-Aadesh, silencing my thoughts of giving up, I began attending Archana pachi's Vimarsh sessions and began to absorb and learn from her. I got my first chance to conduct Vimarsh for Yuva-s during the Kara Seva Shivir that year. It was only the constant remembrance of the Guru-Vatsalya, japa, and my multiple prostrations at each Samadhi that helped me deal with my fears and worries before the Vimarsh. With Parama Pujya Swamiji's Blessings and with the loving guidance of Archana pachi, I could manage to conduct the Vimarsh for the Yuva-s without giving up. I was then given an opportunity to conduct a Vimarsh for some senior sadhaka-s in Karla. This too seemed a difficult prospect for me because being young and inexperienced I was tense about conducting a Vimarsh for seasoned sadhaka-s. But Swamiji's Presence and Encouragement during the Vimarsh gave me the strength I needed.
Being a member of Yuvadhara, continuing to attend the Shivir-s as a budding sanchalak while offering help and support to the younger Yuva-s, and continuing to conduct Vimarsh has given me great opportunities to work upon my ego, fears, and low self-esteem. Even though I am still learning to handle difficult situations the way Swamiji would want me to, I continue to learn and grow under His supervision and my bond with each of my Guru-s continues to grow stronger.
Shata Shata Koti Pranaams at Your Lotus Feet, Swamiji!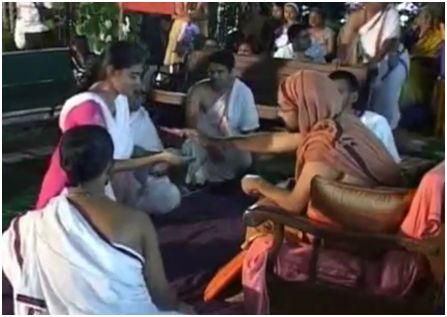 Guru Anugraha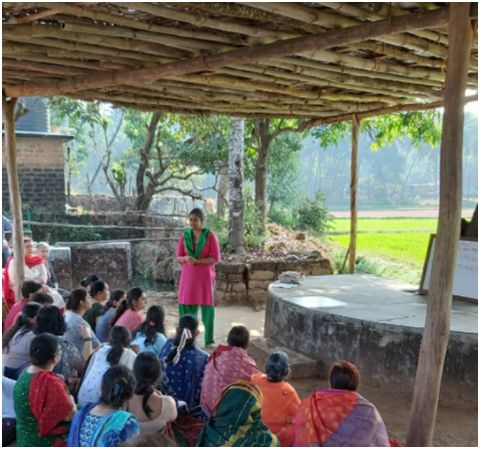 Conducting Vimarsh in Karla for senior sadhaka-s