" In seva the shishya is tested"
…but that is only to motivate the devotee to correct oneself and use this lesson to move towards one's True Self, feels Sandhya Nayel
(September 2021)
ll Om Shri Gurubhyo Namah ll Shri Bhavanishankaraya Namah ll Shri Matre Namah ll
We sisters were named Bhavani and Sandhya by our Parama Pujya Parijnanashram Swamiji III (Guru Swami) and all the samskara-s of devotion and deep reverence for the Guru came to us from our parents Hosangdi Uma and Rabindranath.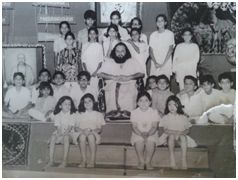 Guru Swami with children of
Chitrapur Society, Bandra in 1975
The hall on the third floor of Khar Math...hushed voices, me being lead into the hall, a charged atmosphere... and at the far end…. our luminous Guru Swami. My mother was here to seek a cure for my ailment. Guruswami could have cured me then and there, but advised to go to a homeopathic doctor in the vicinity .That is the most vivid memory I, just a six-year-old then, have of Guru Swami. In 1987, during Navaratri,our family was blessed once again to meet Guru Swami in Shirali, just before my sister Bhavani's alliance to Devesh Nayel (now my bhayya).
After my marriage to Shantish in 1993, I moved to Delhi. Shantish's parents late Wg.Cdr. Mohan and Kumud Nayel were devout Vaishno Devi devotees. My kulaar Devi Mahadevi Amma, Hosangadi and now Vaishno Devi Mata, the Devi Shakti continued to bless and bind us together.
In 1997, we saw a video recording of the Pattabhishek of Pujya Sadyojat Shankarashram Swamiji but did not have the opportunity to have Darshan being in far-away Delhi, and the children being young. My parents from Mumbai would regularly send us audio-cassettes and recordings of bhajan-s and Ashirvachan-s of Pujya Swamiji and the children grew up listening to "AnjaneyaSwami" and many more bhajan-s.
In 1999, Pujya Swamiji visited the Delhi Sabha for the first-time during Navaratri, and that was the first time we had Darshan of our Parama Pujya Swamiji. The Kavle Math Hall in Delhi was chockablock with sadhaka-s and the aura of Divinity wafting like a fragrance was unmistakable. We witnessed for the first time the Devi pujan, which Pujya Swamiji performed every evening, and it was a magical experience. During one of Swamiji's Ashirvachan-s, Swamiji sang the bhajan "Anjaneya Swami" and my four-year-old Vaibhav started singing along. I had a hard time trying to keep his voice down!! There were huge queues of sadhaka-s to receive mantradeeksha during the visit, so I took an appointment for December that year and finally received deeksha in Khar Math. What a coincidence it was ... maybe Guru Swami had ordained it so!
In the year 2000 Pujya Swamiji visited Delhi Sabha for the second time, this time en route to a shivir in Kurukshetra. The Sanskrit Upasana course was taught here by Archana Savnal pachi. Subsequently, Vivek Katre maam became the Secretary of Delhi Sabha and his daughter Sangeeta Katre moved to Delhi and taught some of us Delhiites the Sanskrit 'Aradhana' course. It was my first and most enjoyable experience learning the Devabhasha. I consider this as my stepping-stone to Guruseva. Just as my desire to get involved in more Math activities became greater, Shantish found a job in Mumbai, where I continued my Sanskrit learning.
My first visit to Karla happened during this phase and that too is a memorable one. During the same year-2005- HH Swamiji visited Bandra Sabha and I was given the responsibility of the children's cultural programme. Children seemed to appear out of nowhere and our group was formed as if by magic...they enacted episodes from the Guruparampara written and directed by Chandrama Bijurpachi. The children became extremely interested in the Guruparampara and had an endless list of questions. Swamiji graciously granted an interaction with the children. This sowed the seeds for Prarthana Varga. Archana Savnal pachi took this idea ahead by developing lesson plans for the children.
The Gurujyoti Yatra will be always etched in my memory…The 90 km- walk over two days from Gokarna to Shirali with the Akhandajyoti and kalasha-s with HH Swamiji leading the procession. It was the year the Prarthana curriculum was formalized and Prarthana Varga became global. I was asked to be the Secretary of the Chitrapur Prarthana Office.
As I had the support system of my parents while we were in Mumbai, I could participate actively in Math activities, even though my children were still young and in school. The annual Prarthana Janmadivasa shivir-s at Khar Math, where I got an opportunity to serve all the tiny shivirarthi-s lots of cakes is one of the happiest memories I have. Later, my daughter Jayati would help me make the cakes for the shivir and now she is a professional in baking and pattesserie. In fact, thanks to our PV chief coordinator -Smita Nagarkattepachi's invitation, Jayati conducted a cake decoration session for a recent Janmadivasa online shivir for Prarthana children. One more prasad from the Guru!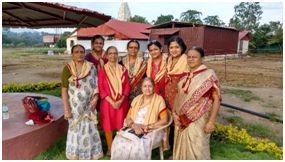 Seva saptaha with Guru Mata (Sudha pachi)
And Suniti Naimpalli pachi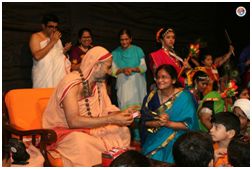 Prassanostu Guru sadaa
In Mumbai we looked forward to the annual plays during Dattajayanti which were scripted and directed by Sudhir Balwallymaam. Coordinating children from all Mumbai Sabha-s to rehearse for the play seemed like an impossible task but would magically happen during the final staging. We moved to Goregaon Sabha and there too I could participate in Sabha activities, Vantiga collection, Samvit Sudha sales, Sannikarsha-s and my very first Seva Saptaha. During one of our visits to Karla while partaking tirth-prasad, Swamiji asked Shantish if he would be interested in publishing. At the time Shantish was immersed in television news and did not have a clue about this. It was only after 8 years in Delhi when he started Chitrapur-ebooks with Jaishankar Bondalmaam and now, after publishing articles for the website and heading the Math publication commitee, that prophecy seems to have come true!
My akku Bhavani accompanied me for my next Seva Saptaha. It was a wonderful opportunity as Gurumata Sudha pachi and Sunita Naimpallypachi of Bengaluru were part of the Seva Dal. We would assemble after our duties in their room and listen to them narrating the Mahatmya of our Guru Swami and Swamiji. This is where I got to hear for the first time about Gurumata Sudha pachi's prayer to the Lord to beget a child (before Swamiji's birth) who would not only be bright, intelligent, healthy, good-looking and possess sadguna-s, but also be happy and make everyone else happy too. This was the most extraordinary prayer I could ever imagine coming from a would-be mother!
When we go through life's ups and downs, the Gurushakti is our sole anchor. Swamiji gives a lot of importance to keeping physically fit through exercise, asana-s, pranayama, Ninaad, guided meditation, Devi-Anusthan, pujana to gain strength of mind and mental equilibrium. Seva Saptaha at Karla, Shirali and our Samadhi Math-s helps us in so many ways to connect with the Guru Saanidhya and transform ourselves.
After performing my third Seva Saptaha with the Delhi volunteers, a lot of changes for the better took place suddenly in our lives. The children took up professional courses down south and Shantish decided to quit his media job. We decided to settle in Bengaluru where our extended family lived and because of the Math and proximity to Shirali. We drove over a period of four days and three nights across five states to reach Bengaluru by road with our two furry canine friends. It was an exciting adventure as we did not know where we would stop for the night and yet, by Gurukripa we would get good enough accommodation along with our doggo companions!
Once we settled in Bengaluru, Shantish and I were given the task of digitizing the Chitrapur Sunbeam archive for the Math. Along with Prarthana activities I also got involved in the Samvit Sudha hub along with Shobha Ulpe pachi and Trupti Bantwal pachi. I learnt a whole new set of skills in the process - from communicating with the corporate sales heads to organizing volunteers' teams for the corporate events and keeping track of monthly hub- sales to reporting sales after each event. I even learned to make soap. It was exciting! Swamiji creates opportunities for each one of us to not only utilize whatever skill we have, but also gives us avenues to learn new ones.
In the Gurukshetra things cannot always be deciphered or explained and thus, during the 2019 Chaturmas at Mallapur we received Adesh from HH Swamiji for Shantish and me to be part of the website team. We were summoned to Shirali to discuss the management of the website content. We were blessed to have received Saanidhya of Pujya Swamiji on multiple occasions in quick succession at Shirali, Vittla, Bengaluru and Karla.
"When the anugraha of Shiva begins to manifest, situations are created for you which compel you to grow and provide an occasion for you to express whatever you have received" – HH Shrimat Sadyojat Shankarashram Swamiji.
In Jan 2021, I received the Aadesh to become the Secretary of Bengaluru Sabha. I accepted it immediately, confident that this was yet another opportunity to grow.
I feel blessed to have been in seva and I owe my growth entirely to the Gurushakti.
In seva the shishya is tested through myriad circumstances to get the best out of him and make him understand his true nature in the process.
"Akhandamandalakaram vyaptam tena characharam, tatpadam darshitam yena tasmai Shree Gurave namaha" To that Mahaguru, my salutations!
In this special year of Sayujyam we are blessed to have our vibrant Mathadhipati and jwalanta Guruparampara to guide and bless us. Let us strive hard to ensure"Prasannostu Guruhsadaa …and make our janma sarthaka in every way!..