धॉनपारा वेळेरी चदृ खयी उदैलो?
By Shashikant Bailoor
The year 1979 was a memorable one for the UK Chitrāpur Sāraswat Community. It marked the historic visit by our beloved Parama Pūjya Shrīmat Parijñānāshram Swāmījī III to the UK and Europe on His return journey from Canada and USA.
It offered an opportunity for every individual to enjoy loving and blissful interactions with HH Swāmījī.
Having known Swāmījī's interest in Cacti, a visit to a Cacti museum in Cambridge was arranged. This was kindly hosted by Dr. Satīsh and Dr. (Mrs.) Geeta Mannige Rāo. HH Swāmījī found the museum very interesting. Post lunch served by the hosts and a short rest, the party visited the famous Ely Cathedral before returning. HH Swāmījī was seen to admire the Romanesque and Gothic architecture and exquisite arrays of stained-glass windows. The thing that impressed me here was that HH Swāmījī took notice of the Donation Box on the way out and dropped a note of some denomination. Most people would generally walk out ignoring the donation box.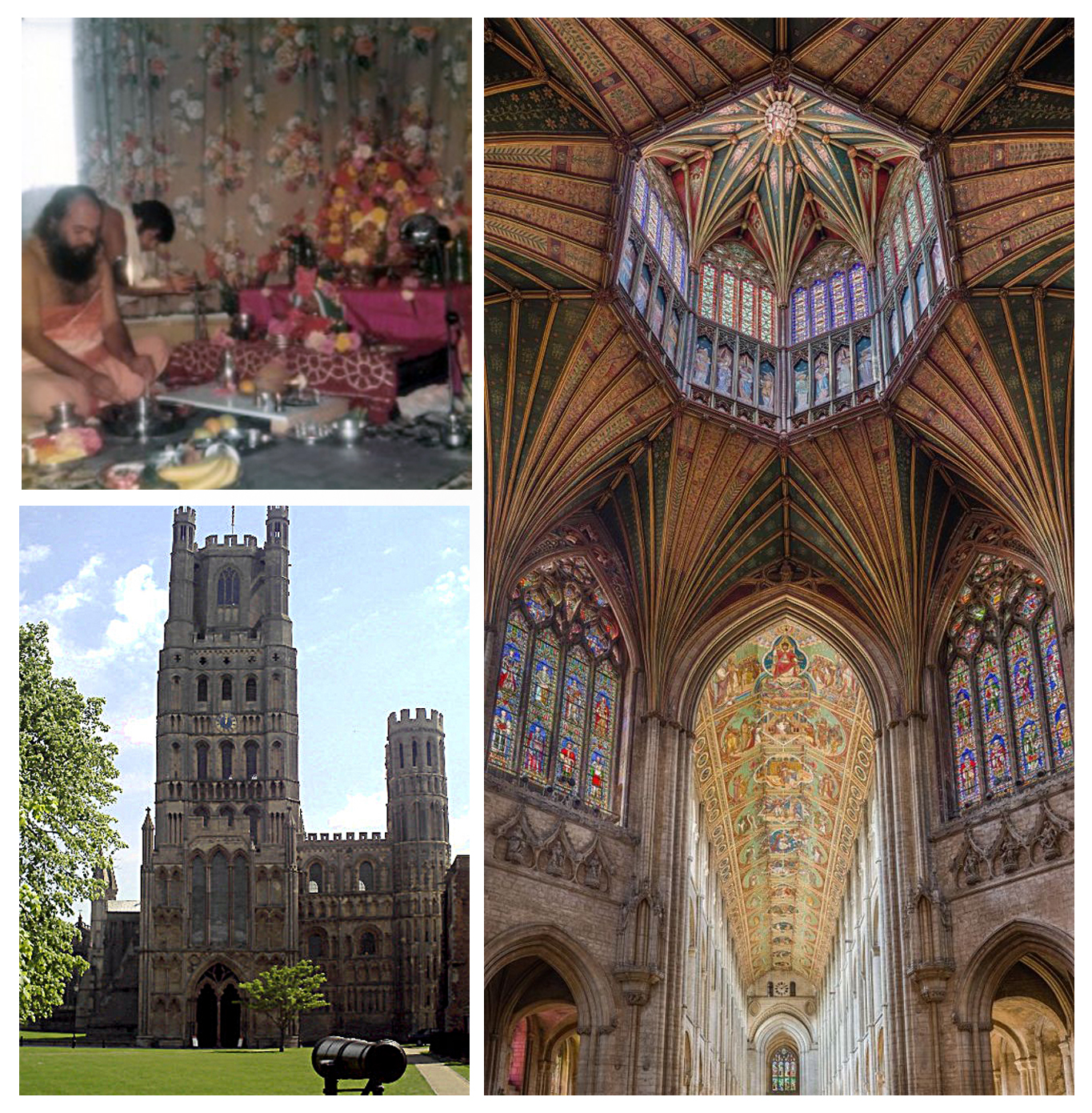 Clockwise from lower-left: Ely Cathedral; HH Swamiji performing Dīpanamaskāra,
As͟hṭāvadhāna pūjā; Inside Ely Cathedral
Another event that comes to my mind is the one when we were blessed to join HH Swāmījī on a visit to the famous Cheddar Caves. These are known to house wonderful crystalline formations of stalactites and stalagmites. Temperature within the caves is understood to remain at 11° C all year round. HH Swāmījī was wearing His normal light clothing. At one point when I was passing by HH Swāmījī's side I asked Him, ''स्वामीजी, तुम्का शीं खाय्ना वॅ?'' HH Swāmījī just smiled as if to say, ''How can one who has control over the elements be affected by them?''
We had developed such a loving and close connection with Swāmījī over the nine days visit that when the time came to see Him leave for India, it was indeed very painful. But we did keep in touch and sought His blessings especially on auspicious occasions. It was indeed a pleasant surprise when we received a Dīpāvalī Greeting Card signed by Him on the first Dīpāvalī upon His return. I am sure He had taken great trouble in doing the same for every one of the hundreds He had come in touch with on His Historic tour to the West.
Such was His Loving nature that our visit to India would never be complete without having His Darshana. On one such occasion, my brother Chandrakānt remembers his visit to Kārlā. It was just past noon, and HH Swāmījī was resting in His room after lunch. He heard His pet dog Julie barking and asked who had come. Upon being told that Chandru had come He joked, "असल्या धॉनपारा वेळेरी चन्द्रु खइंथानु उग्गेलो?'' (How did the moon rise in the afternoon?!) Another illustration of HH Swāmījī's sense of humour.
This indeed is only a fraction of recollections of experiences that we and other devotees may enumerate to illustrate how multifaceted our Parama Guru was.
Koṭi Koṭi Praṇāma-s to Him on His forthcoming 75th Birthday.
सब धरती कागज करू, लेखनी सब वनराज ।
सात समुद्र की मसि करूँ, गुरु गुण लिखा न जाए ।