The Summer of '79: A memorable Chāturmāsa in Canada
Experiences and Anecdotes from various community members during H.H. Parijñānāshram Swāmījī's Visit to Canada in 1979, compiled by Kishore Kulkarṇī.
During H.H. Parijñānāshram Swāmījī's visit to Toronto, Canada, many CSB and GSB community people from all over Ontario, such as Ottawa, London, Guelph, Mississauga, Milton and Thunder Bay, visited Smt. Anilā Māskerī and Late Shrī. Kṛis͟hṇānand Māskerī's house, who had sponsored H.H. Swāmījī's Canada visit and stay. HH Swamiji also spent some time at Sudhā NaimpaĪĪy and Late Prof. Dr. Somshekar NaimpaĪĪy's house and few days at Smt. Māyā Kulkarṇī and Late Shrī Vivek Kulkarṇī's house in Mississauga.
Contributed by Smt. Anilā Māskerī
Smt. Anilā Māskerī, on the telephone, expressed some of the thoughts and experiences they had during the visit in 1979. They were very humbled when Swāmījī accepted their invitation to visit Canada and stayed with them. She also said that those were the happiest days they spent with
Swāmījī.
Quote:
"While in their house, Swāmījī wanted to be one amongst others. Swāmījī was accompanied by Ved. Vijay Bhaṭ (Sudhātanay), Ved. Baindūr Shivānand Shāstrī and VaknaĪĪi Manohar mām (Soumitra mām). They used to have daily pūjā-s. VaknaĪĪi mām used to help us in cooking for H.H. Swāmījī. All the religious festivals were performed in our house and many people used to visit us. Māyā's mother Māsur Duggi pāchī as she was called popularly also was helping in the kitchen. Swāmījī used to give beautiful pravachana-s in the evenings when people gathered for the evening pūjā and prasāda.
Swāmījī visited NaimpaĪĪy Somshekar mām in Thunder bay for 8 days, Vivek and Māyā Kulkarṇī's place for a week during their son Abhay's muñjī. Swāmījī also went to Mr and Mrs. Nālkur's house in Ottawa. Sīmolaṅghana ceremony was performed at the Credit River in Erindale Park, Mississauga. H.H. Swāmījī was very much interested to know about the milk dairy farms and how people lived in Toronto. Shrī Ashok Kuchināḍ who lived in London, Ontario drove Swāmījī and the entourage to see Niagara Falls and while returning, Ashok drove them to various farms on the way in the Niagara Region. H.H. Swāmījī accompanied by few people also went to Ward Island in Toronto, for a picnic. I think Swāmījī also visited CNE Exhibition which is held every year in Toronto since 100 + years.
Lots of people visited our house but now I don't remember so much since it happened 40 years ago because of my age. These are the few highlights I remember".
Arrival at Toronto at the Maskeri's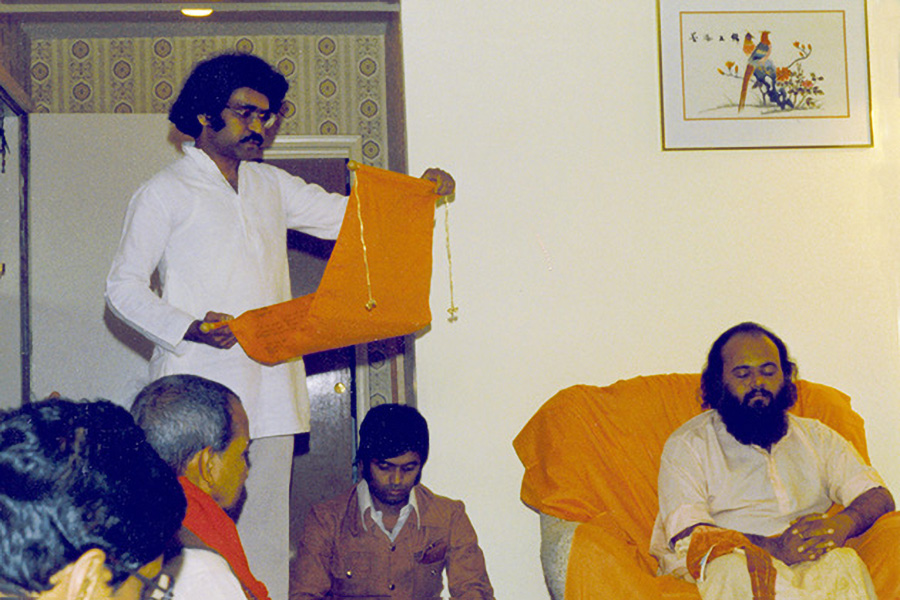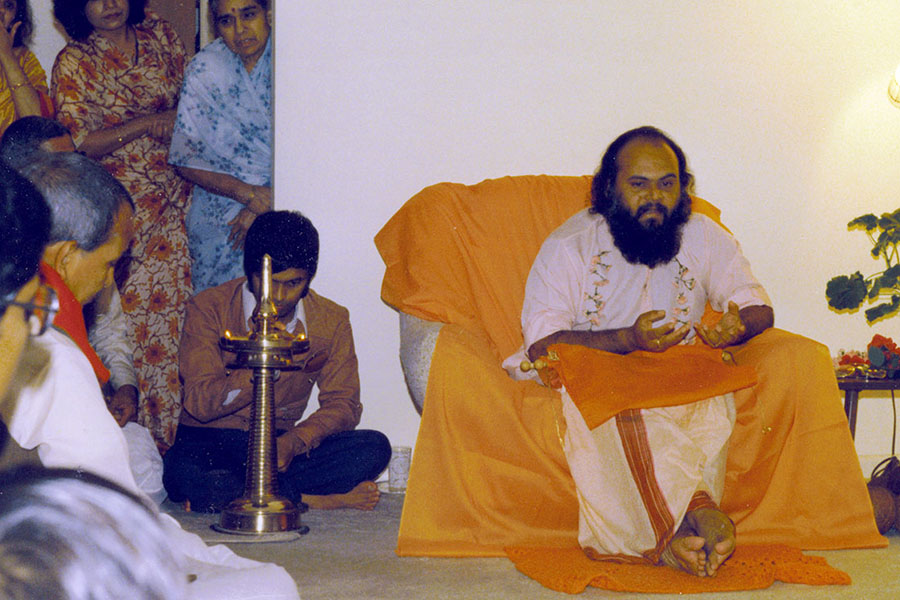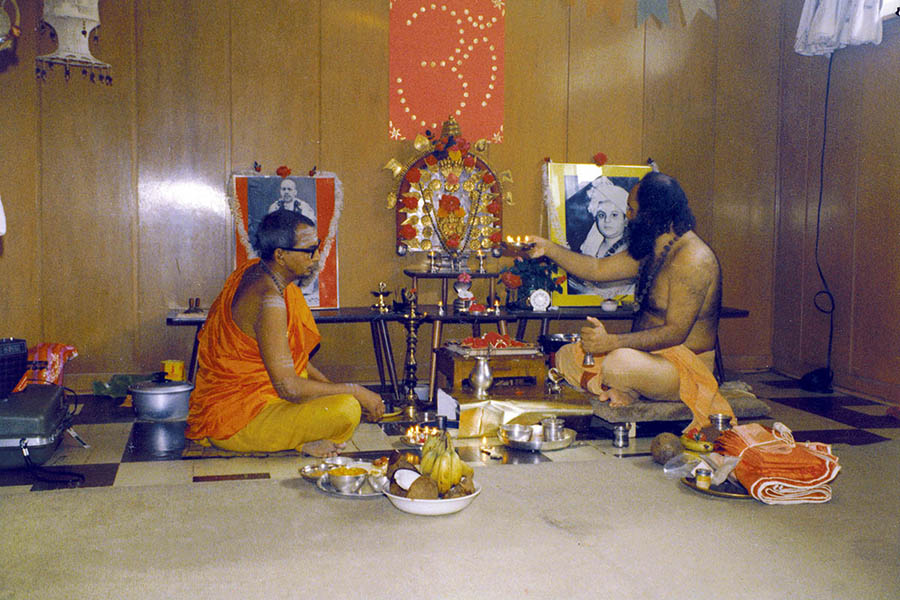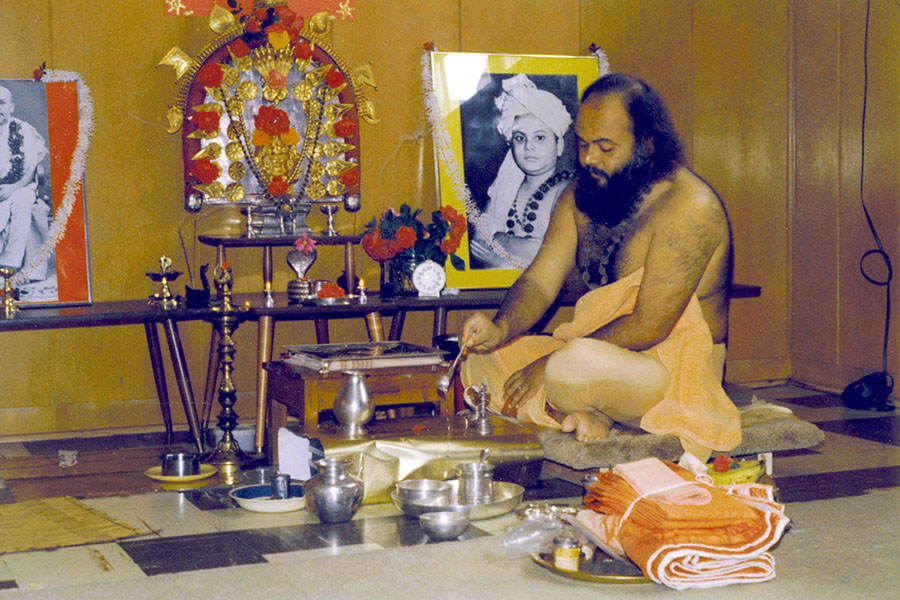 Contributed by Smt. Sudhā Bhaṇḍārkar
As quoted
"During Swāmījī's visit, as people were gathering at Mr. and Mrs. Māskerī's house, we all were looking forward to Saturdays and Sundays. We not only enjoyed Pūjā-s but also enjoyed the bhajana-s. We had a feeling as if we were in a Devasthāna. Smt. Māyā Kulkarṇī used to give Koṅkaṇī recipes for the Rāndap (for lunch and dinner) like, kāiras, upkari, dāĪi etc. We used to have 2 types of vegetable preparations (rāndai), rice, salad, rāitā and yogurt for prasāda bhojana. H.H. Swāmījī performed Chāturmāsa in Canada. Smt. Anilā Māskerī's mother was in-charge of the kitchen and she also prepared sweets for the day. There were 10-12 ladies who used to help everyday with the preparations. Friday was the shopping day in preparation for Saturday and Sunday. Separate food was prepared for Bhaṭjīs and Swāmījī.
Prior to Gaṇesha festival (chavati), Swāmījī asked if anybody could arrange for clay mūrti of Shrī Gaṇesha for the festival pūjā. Since nobody knew how to organize, all were silent. Seeing this H.H. suggested having a silver Gaṇesha Mūrti. I had a silver Gaṇesha mūrti which was kept for pūjā in the basement of Māskerī's house during Chavati.
H.H. accepted our invitation to come to our small house in Milton. There were snacks, tānneka and phaĪār. The silk cloth cover and the chair used by Swāmījī is still kept separately for use only during special pūjā-s. Koṭi Koṭi Praṇāma-s to all the four Mat͟hādhīshwara-s."
Contributed by Late Shrī. Ratnākar Bhaṇḍārkar
As quoted by Shrī. Bhaṇḍārkar just 1 month before his passing away on 8th October 2020.
"Dear Sudhā and I still cherish fond memories of the summer of 1979. That was the best summer in Canada for the Koṅkaṇī families in the presence and divine grace of our beloved Swāmījī. He truly uplifted our spirits when we needed it the most in our adopted new country. The Māskerī family hosted Swāmījī and His retinue for over two months. Koṅkaṇī families came from Toronto and far away and friendship with some of the families continues till today. We made it a point to go to the Māskerī's house every weekend to attend pūjā-s performed by Swāmījī which were so very graceful. The Bhajana-s sung by the young Ved. Paṇḍit Viṭṭal Vijayakumār Bhaṭ (also known as Sudhātanay) were very beautiful and melodious.
Sudhā and I had a great desire to invite Swāmījī on a weekend to our place in Milton but did not have the courage to do so but the Māskerī-s encouraged us to go ahead. We humbly asked Swāmījī and He immediately agreed. But I said, "Swāmījī you have to forgive us, our house is small." He immediately said, "No problem your hearts are big and generous, you will have a big house very soon".
Sure enough, after a few promotions at my job, we finally ended up in London, Ontario with a big House. This is the divine grace we will never forget in our lives.
With our humble Praṇāma-s to Beloved Gurudeva.
Milton visit to Bhandarkar residence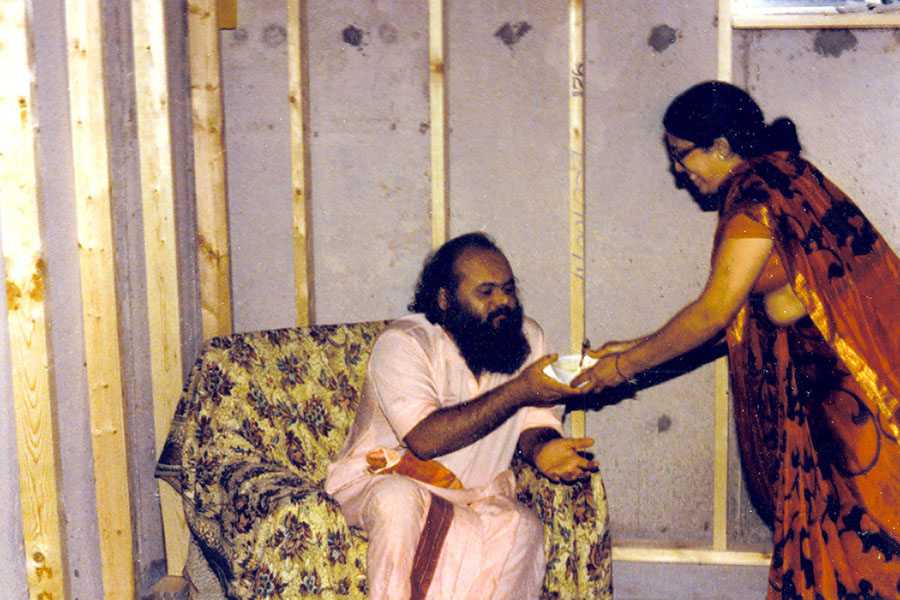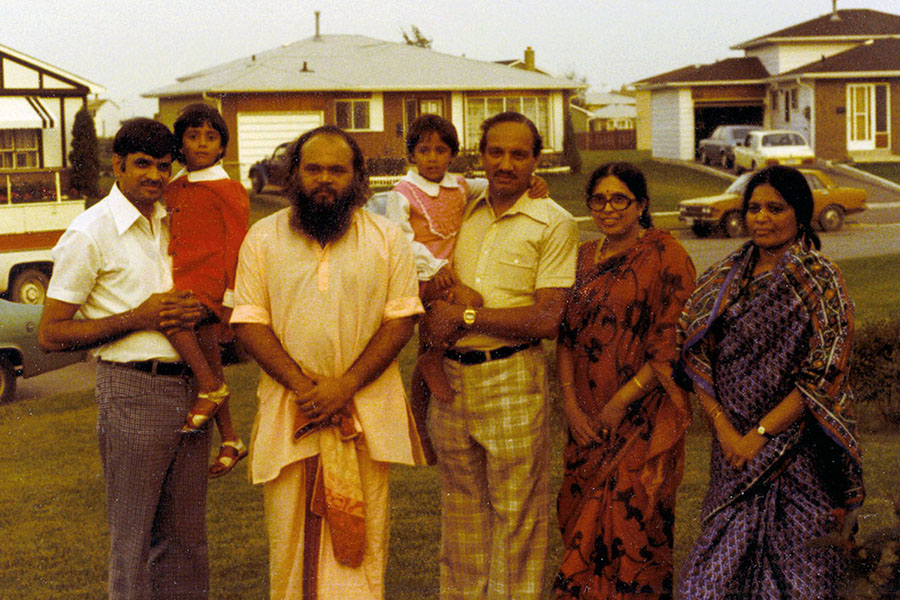 Contributed by Shrī. Kishore and Smt. Maṅgalā Hemmāḍī
"The Summer of 1979 was truly one of the most memorable summers of our lives. H.H. Parijñānāshram Swāmījī visited Ontario. During Swāmījī's visit to Toronto, different families took turns taking Swāmījī to visit various special attractions both in and around Toronto.
On one such occasion, we were at Canadian National Exhibition (CNE) with Swāmījī. As we were strolling, we passed by a particular booth where photos could be transferred onto various articles such as mugs, plates and buttons etc. A thought crossed my mind that it would be wonderful for us to have Swāmījī's photo on a button. Of course, I kept this thought to myself. I would never have requested Swāmījī to pose for a photo to transfer to a button! We cont inued exploring. To my great surprise, shortly thereafter, Swāmījī called me aside and handed me a button with his photo on it. I just could not believe it! It was a great miracle, although I hadn't mentioned my wish to Him, He
blessed me with this precious gift. To this day, we have cherished the button on our altar. We are truly blessed."
Contributed by Aruṇ Kāmat
"We all have personal stories. This is my story. This is what I remember and I want to share it with you all.
I was very fortunate growing up because of two other kids. We spent countless hours playing together, they were a major element of my childhood. But little did I know that these kids would have a profound impact on my life as an adult.
The place was Shāhapur, in the district of BeĪgāum. I was six years old. Maṅgesh Gāitoṇḍe was my neighbour and my best friend. Maṅgesh's older brother was Bhālchandra. Maṅgesh and I, were two puny little kids, abundant with mischief and tomfoolery. We picked fights with the older and bigger kids only when Bhālchandra was around. Bhālchandra was our hero, he was a good story teller, he sang and played with us.
One morning, Bhālchandra was escorted by a lot of people and was taken away by car from his house.
He waved at me from the car. He had been chosen as a Shis͟hya Swāmī. He became the 76th pontiff, H.H. Shrīmat Sachchidānand Saraswatī Swāmī of Shrī KavĪe Mat͟h and Shāntādurgā Devasthāna in Goā.
I saw thousands of people gathered at the bank of the river to witness this religious ceremony. I wasn't sure what was happening. But I knew that my hero was not coming back. Time went on, but I never forgot him and missed him a lot.
When I was 11 years old, we moved to Sāntācruz, Mumbaī. The Shukla family moved to our neighbourhood around the same time. They had two little boys, Ravi and Shashi and (later) a baby girl, Bhavānī. Being the eldest of these kids, I was obliged to take these two boys to school with me. I did this every day for a number of years. Our school was far. We had to cross six busy rail tracks twice, but to tell the truth that was the most fun part of going to school. Whenever the train passed, we waved and made faces to the people in the train and we laughed and laughed.
Back then, the teachers gave us lot of homework. Therefore, we never had enough play time when we got home from school. Ravi was my shadow. He followed me everywhere. Every day, we played cards, carrom, monopoly and countless games. We also did homework together. When I played with
the older kids, they wouldn't allow me to include Ravi, because he was just a little kid so he would just sit close by and watch our game. He always wanted to be with me. He was like a kid brother. One summer I made a kite for him and he flew it very high. I remember the expression on his face, bursting with happiness, excitement and joy.
One morning I was busy with my school project at home. Ravi came over and asked "Aruṇ do you like me?" My reply was "No Ravi, I don't like you at all because you always bother me and follow me Everywhere." Of course I was kidding, which he didn't know. At that moment he told me that he would be going far away from here. I said, "Fine then go away, go away right now. The sooner the better". Again, I was just kidding. Ravi went home and a few days later, Ravi became the topic of our neighbourhood. He too had been chosen as a Shis͟hya Swāmī. Soon after, He became H.H. Shrīmat Parijñānāshram Swāmī, and after few years, the Mat͟hādhipati of Shrī Chitrāpur Mat͟h whose ārādhya devatā is Shrī Bhavānīshaṅkar. There were lots of cars and lots of people at their house. He too was escorted from his house in a car.
And just like Bhālchandra, He too waved at me from the car. I was very emotional. I knew for sure He wasn't coming back and instantly I missed him a lot. Time went on, but I never forgot Him and I missed Him a lot.
In the summer of 1979 Swāmījī visited Toronto and I was very fortunate to have His private audience and I truly felt blessed."
Contributed by Shrī. Ashok and Smt. Sunilā Kuchināḍ
Shrī Ashok and Smt. Sunilā Kuchināḍ used to live in Ottawa in 1979. They both remembered and shared some of the experiences during H.H. Swāmījī's visit for a day to their house in Ottawa.
Quote:
"Whatever we are today it is because of HIS blessings and grace. Both the sons are doctors and Rāhul, has succeeded beyond my dreams because Swāmījī kept His hand on Rāhul's head and blessed him.
Once H.H. visited our house in Ottawa, there was no looking back, everything was going in a positive direction. We are not from a very religious family, but Swāmījī understood Ashok's inner mind and blessed Ashok."
Quote by Ashok:
"In those days I was working for Bell Canada (Telecommunication company in Canada). I remembered that Swāmījī discussed with me everything about Radios, Radio channels, transistors and transmitters. HE was very much interested in HAM radio and had lot of discussions. I had discussions about inter-city trunks and microwave sites, and how that technology worked in those days. He had a very sharp mind beyond my imagination. H.H. did not have any discrimination between our community and outside community. Swāmījī blessed everyone. Swāmījī was like a friend. When I asked questions, Swāmījī came to a level of an average individual and talked. Those
were His best qualities."
Again, we feel that H.H. Parijñānāshram Swāmījī's blessings are still with us. Whenever we have
difficulties, we pray to Him".
Contributed by Vṛindā Rāo
... I did not experience any miracles during H.H. Swāmījī's visit to Canada in 1979!
It was in later years when we were going through some very stressful time and when we did not have A Guru, that time, H.H. Parijñānāshram Swāmījī appeared (after His Samādhi). I mentioned this to our present Guru, H.H. Sadyojāt Shaṅkarāshram Swāmījī, when the first time I was lucky to have a meeting with HIM and narrated the incidents during Chāturmāsa in Viṭṭal, that too was an unexpected miracle and I could not even dream about asking for anything better ever!
During my meeting with H.H. Sadyojāt Shaṅkarāshram Swāmījī, I had narrated some things to Him. And later, had also sent CDs of '79 visit and tapes that we had of the programme in those days, with my daughter Anurādhā when she went there and presented them to our H.H. and later the photos were published in many books about H.H. Parijñānāshram Swāmījī's visit to Canada".
Contributed by Smt. Māyā Kulkarṇī
"Parijñānāshram Swāmījī is visiting Toronto" is something nobody thought was ever possible. So, when we heard the news, we were all very excited and elated that Swāmījī had decided to visit North America. Without delay a committee was formed in early February '79 to oversee all the details of this auspicious trip, ensuring a smooth arrival as well as departure of His Holiness Parijñānāshram Swāmījī.
Swāmījī spent little over a month in USA and then came to Canada in July just in time for Gaṇesha Chaturthī, Ananta Chaturdashī and Sīmollaṅghana. After landing at Toronto airport, Swāmījī was driven by Vivek Kulkarṇī mām to Anilā Māskerī pāchī and Kṛis͟hṇānand Māskerī mām's house in Toronto where we all were anxiously waiting for Swāmījī's Darshana.
Swāmījī arrived at our house (where we still live) sometime at the end of August for a week's stay. We had moved into our new house in Mississauga just a few weeks before Swāmījī's rrival so we settled down in a great rush, though without much delay.
After all that hustle and bustle finally the BIG day arrived, Swāmījī was welcomed with the ceremonial protocol. Thereafter, days just flew by. Swāmījī made a few day-long visits to other Chitrāpur Sāraswat homes. A few of them stand out particularly vividly in my memory. One of them was Swāmījī's visit to Dr. Vasanth Basrūr mām and Dr. Pārvathī Basrūr pāchī's house in Guelph (65 kilometres west of Toronto). Pārvathī (lovingly known as Pari) was a veterinarian at University of Guelph and this is where we realized Swāmījī's deep interest and love for farming and farm animals. It was a day of great joy and happiness for Swāmījī, as we were absolutely
amazed to find out Swāmījī's knowledge of farm animals.
Swāmījī's next visit was to Vṛindā Rāo pāchī and Somshekhar Rāo mām in Dundas (45 kilometres from Toronto). As always, we had a great visit and Swāmījī was surrounded by many children, who, without any hesitation, started playing and, needless to say, Swāmījī joyfully joined them. The visit ended with Swāmījī's pravachana in Hindī that evening.
Dundas visit to Mudbidri residence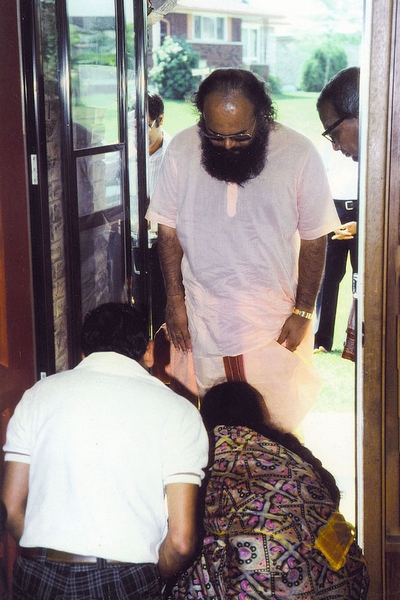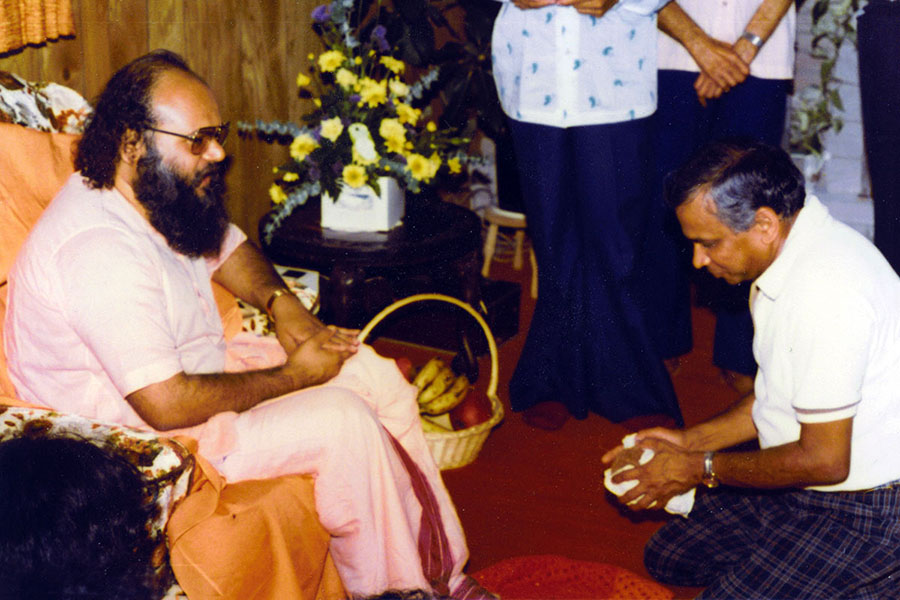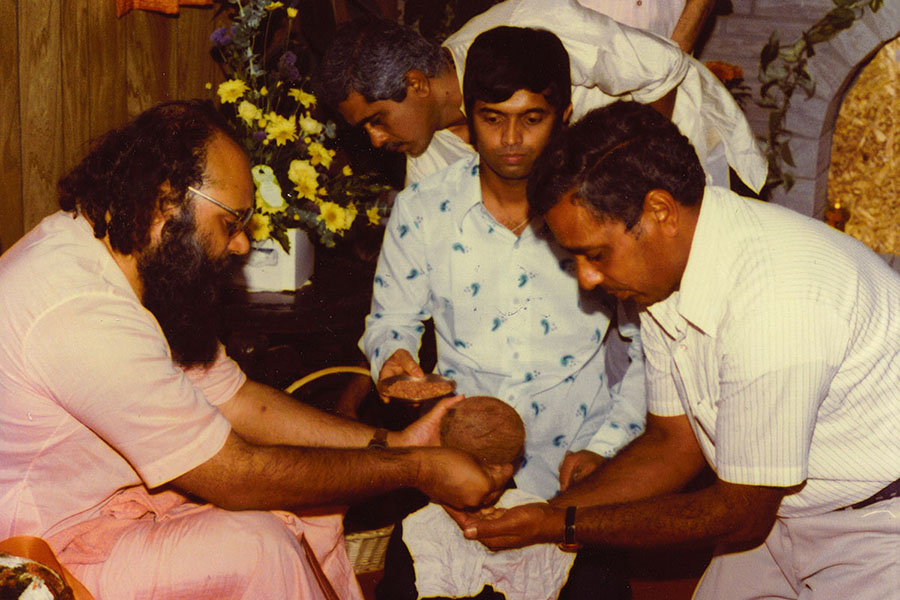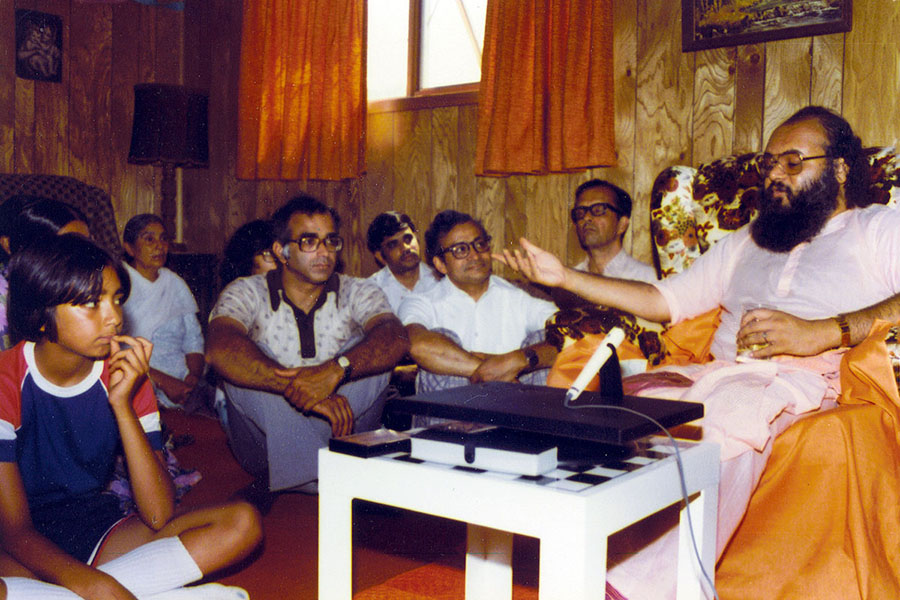 All good things must come to an end. Such was the case with our beloved Swāmījī's visit to our home. We were happy, however, that it ended with a very memorable event: our son Abhay's thread ceremony. The ceremony was well attended that lasted throughout the morning and the day ended with melodious bhajana-s by Vijay Bhaṭ mām in the evening.
Swāmījī presented Abhay with a beautiful digital wristwatch. That memento remains with us to this day. The next day after morning breakfast, Shivānand Baindūr mām wrapped the beautiful idol of Lord Bhavānīshaṅkar with great care along with other luggage. Then, with a very heavy heart we bid goodbye to Swāmījī and his entourage.
At the end of Chāturmāsa, Sīmollaṅghana was carried out at the Credit River, near our house in city of Mississauga. The spot where Swāmījī physically carried out Sīmollaṅghana ceremony has been left untouched by the city although the surrounding area has been developed.
In Toronto, it has become an annual event for us to meet at the Credit River for Sīmollaṅghana for prayers by Chitrāpur Sāraswats of Canada Sabhā.
In the Sevā of Mat͟h, Guru and Guruparamparā
The 1000 Islands and Toronto Island outing