Southern Sojourn with Guru Swami
By Kishore Kulkarni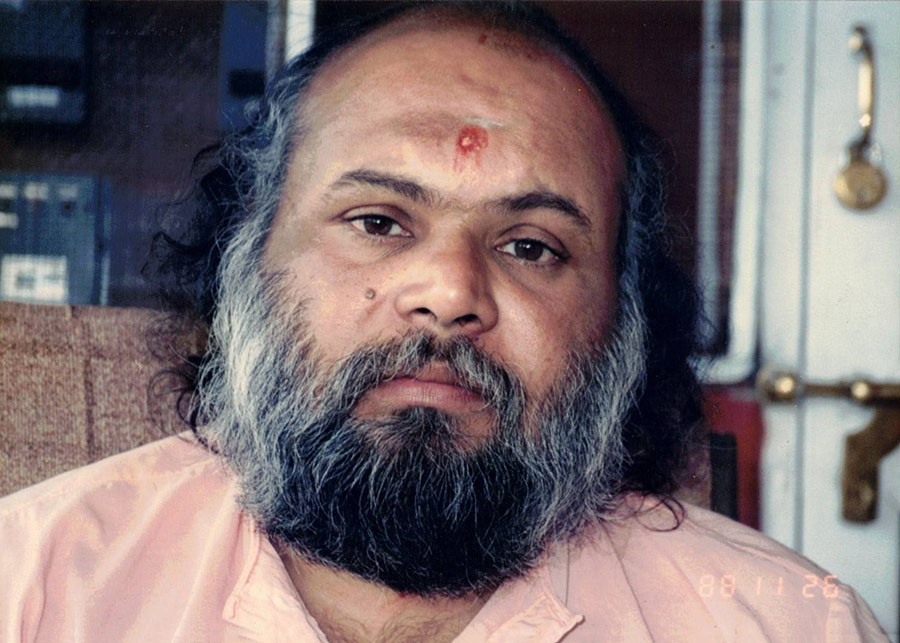 My Shirasās͟hṭāṅga Praṇāma-s at the Lotus Feet of H.H Shrīmat Parijñānāshram Swāmījī III
and H.H Shrīmat Sadyojāt Shaṅkarāshram Swāmījī
In January 1976, I had the saubhāgya of accompanying H.H Parijñānāshram Swāmījī, on the official south India tour which was about 45 – 50 days long. We left from Mumbaī and as I remember the tour circuit was as follows:
Mumbaī-Panvel – Puṇe – Kolhāpur- Bel̄gāum – Dhārwāḍ -Hubl̄ī – Hyderabād – Baṅgalore – Chennaī – and few places in Keral̄a which included the famous Shrī Kurumbā Bhagavatī Temple in a place called Koḍungal̄l̄ūr - and culminated in Shirālī at Shrī Chitrāpur Mat͟h. Accompanying Swāmījī in the car were two Purohita-s and Govinda along with the Lord Bhavānīshaṅkar Vigraha which was normally brought with Swāmījī during official travels. The car was a Ford Country Sedan which was very spacious.
I had beautiful experiences while on this tour after which my life totally changed. One of these experiences I clearly remember was in Keral̄a. During this part of the tour, we had a Mal̄ayāl̄am translator travelling with with us. I was driving the car and Swāmījī was sitting in the passenger seat enjoying the beautiful scenery as we drove through the winding roads of Keral̄a. After a while Swāmījī said "I will caution you after 20-25 minutes to slow down and stop as Parvatī is waiting for us." As I slowed down, He said not now, but after a while. After about 25 minutes He started pointing at a little girl holding a small basket at the waist, standing under a tree about 200 metres away along the countryside highway. Swāmījī asked me to stop the car next to the girl. What happened after that was unexpected and totally out of this world. That girl who was about 8 to 10 years old, and had fresh typical Keral̄a oranges which are popular. She came forward and kept the basket at the feet of Swāmījī as if somebody had told her what to do ahead of time. She prostrated at the Holy feet and stepped back with folded hands. Swāmījī put his hand into the pocket of His orange robe and pulled out the cash that he had, and kept it on her head and said "ghă gŏ" in Koṅkaṇī and blessed her. The Mal̄ayāl̄am translator Mr. Menon who was sitting in the rear seat, leaned forward to translate whatever was said by Swāmījī to the girl in Mal̄ayāl̄am, without realising that it was not necessary. I still remember the happiness on that little girl's face and the smile. After we left the location, within another 100 metres Swāmījī asked me to stop the car and He washed the oranges outside the window with the water which was in the 'Tirgaṇe Chambu' used for the journey. As I resumed driving, I could see from the corner of my eye that Swāmījī peeled the oranges, offered them to Lord Bhavānīshaṅkar and then offered them to the Vaidika-s and Mr. Menon. Swāmījī didn't eat those oranges, but peeled one more and fed me like a Mother with his own hands as both my hands were on the steering wheel!

While at Koḍungal̄l̄ūr, which has a Shrī Bhagavatī Temple which is famous for it's Bharaṇī festival, the main Priest seeing Swāmījī not only offered Sās͟hṭāṅga Praṇāma-s, but also requested Him to perform the Sevā and Ārati to Devī Bhadrakālī, which is a very rare thing. Our interpreter mentioned to us that only the main Priest is allowed to perform the Pūjā and nobody else!
Another memorable experience is, when Swāmījī was in Khār Mat͟h, Mumbaī. Once when I went for darshana and was sitting with Swāmījī, he asked me to stay back. In the course of the conversation that followed, Swāmījī's secretary knocked on the door, and came in to announce that someone had come to meet Swāmījī. Swāmījī asked him to let the Sādhaka in. At that moment, I opted to go out but Swāmījī asked me not to leave. The person visiting was an industrialist who had come for darshana and blessings. He left some Pādakāṇika which was in a big brown envelope and left with a smile – satisfaction on his face and Prasāda in his hand. Swāmījī then placed the envelope in the safe. After that He smiled and told me "I am doing a postman's job". At that time, I did not understand what Swāmījī meant. Swāmījī told me with a serious face, that a person is going to visit after half an hour, who is going through a very tough time, to seek blessings and guidance, for which He had not received any phone call, nor was His secretary aware of it. It was conveyed to the secretary that a person will arrive in half an hour and to let the person in. So, after sometime a person came sobbing and we could hear him. He expressed his wish to meet with Swāmījī as his family was in distress. Swāmījī then asked the secretary to let the person in. The moment the person entered the room, he fell at Swāmījī's feet, sobbing loudly. And after Swāmījī offered him water and made him comfortable, the person wasted no time and explained that his wife was in a serious condition in hospital, and only Swāmījī's blessings would save her life. Swāmījī immediately got up and took out the brown envelope from the cupboard, offered the envelope with Phalamantrāks͟hata - Prasāda and blessed the person saying "Bhavānīshaṅkar Devu bare Kartalŏ, āni āmmi Swāmyalāggi prārthanā kellyā." After the person left, Swāmījī looked at me with a sense of satisfaction on His face and said "now you understand what I said before". After this incident, Swāmījī also told me that the same person will be back in three days to say that his wife is well, has been discharged from hospital, and is back home.

That's why we always address the Guru as "SADGURU MĀULI". My Koṭi Koṭi Praṇāma-s at the Lotus Feet of H.H. Parijñānāshram Swāmījī III and H. H. Sadyojāt Shaṅkarāshram Swāmījī, for giving me this opportunity to share these amazing experiences. I always feel blessed and emotional when I remember the time I spent with Swāmījī.