Benares to Karla - Memorable Reminiscences with Parama Pujya Swamiji III
By Mahesh B. KaĪāwar, Mumbaī
||Oṁ Shrī Bhavānīshaṅkar mama Sharaṇam||
I prostrate before HIM - Our Guru Swāmījī - Parama Pūjya Parijñānāshram Swāmījī III with all humility and devotion.
It was during the year 1971 while pursuing my Engineering at IIT - BHU - Benāres that I came to know that Parama Pūjya Parijñānāshram Swāmījī III and a small retinue were camping in the house of Udyāvar Rāmachandra Rāo mām, who was then the CFO of Benāres Hindu University.
I was elated at this golden opportunity to meet and talk with Him at such close proximity, but also a bit tense; but it did not take long for Swāmījī to put me at ease. By the end of the very first evening, I was talking and laughing with HH Swāmījī!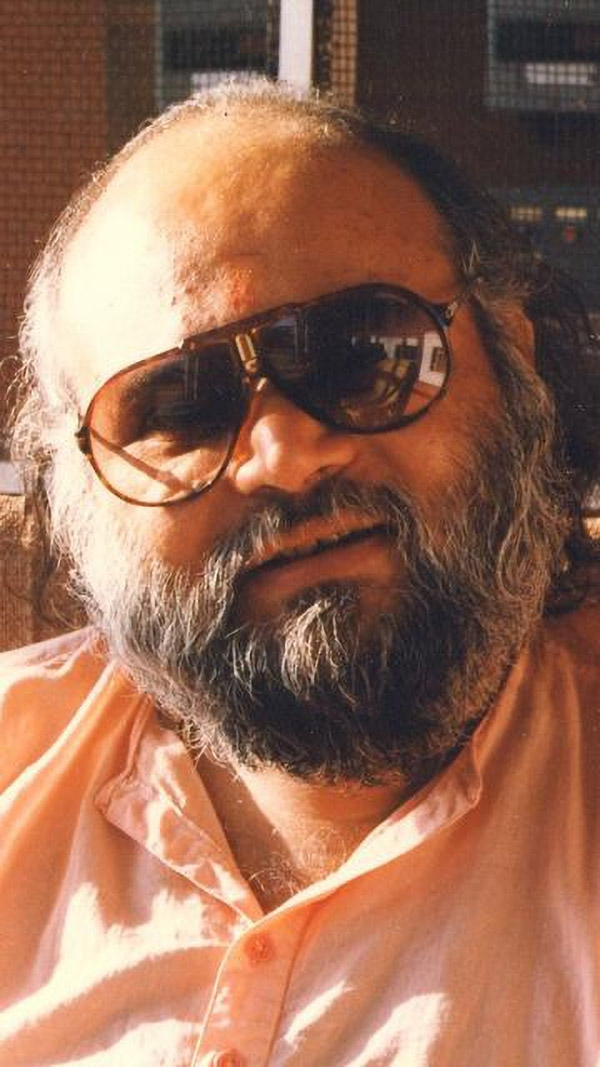 Among the several Blessings our family has received, one such Blessing stands out distinctly in my memory.
I made it a routine every evening after college, to cycle down and visit Swāmījī and be present at the Dīpanamaskāra. After Dīpanamaskāra, H.H. Swāmījī would chat with me on various subjects and the range of topics He could converse on, and His insights, left me spellbound.
Although I was assigned Electrical Engineering while taking admission at BHU, I was keen to graduate in Chemical Engineering. The first two years being common for all Engineering streams, I was anxious about switching to Chemical Engineering before the third year started. It was during this period Swāmījī was sojourning in Benāres.
During one such visit to Swāmījī, I broached the subject and shared my anxiety about the switch to the Chemical stream. H.H. Swāmījī heard me out and said He would pray for the same.
The 2nd year final exams got over and all the students started leaving for their homes for long vacations. I was also preparing to leave for Bombay, but the tension of getting into Chemical Engineering was too much for me to bear. The evening before my departure I went to H.H. Swāmījī to seek His Blessings. That evening after Dīpnamaskāra, Swāmījī insisted I partake phalāhāra. Before leaving, I prostrated before Swāmījī and sought His blessings to get Chemical Engineering. Swāmījī smilingly said "Jātlein"(It'll happen). He also said He would be visiting Mumbaī soon and I should visit Him at Ānandāshram Khār Mat͟h. It was 9pm by the time I reached my hostel.
The Hostel was silent and dark since most of the students had left. The Chowkīdār saw me said in Hindī "Bābujī, notice board jāke pad͟hiye. Ek Bābujī āke kuch notice lagāke gayā hai kuch Samay pehele" (Bābujī please see the notice Board - someone came and put a notice a little while back.)
I was surprised. At that unearthly hour on a Friday evening, who could have come to put up a Notice? (All University offices used to close by 5pm.) I requested the Chowkīdār to switch on the tube light in the portico to read the notice.
And Lo, what a Miracle!!! The Notice mentioned the names of two students who had been transferred from Electrical to Chemical Engineering. My name was first!
I rushed to my bicycle and headed straight back to Swāmījī. It was almost 9:30 pm by now (bedtime for most retinue members.) While I was parking the cycle I heard Swāmījī's voice calling the attendant "KaĪāwar ailo paĪe, bāgil kāḍāti"(KaĪāwar has come, open the door) I got goose bumps wondering how Swāmījī knew that I had come back.
I went straight to Swāmījī and prostrated before Him. With tears flowing, I informed Him of the good news, to which he responded:
"Bhavānīshaṅkar Devā ne kelle distā" (Seems Lord Bhavānīshaṅkar has done this)
This was a Miracle I experienced and shall always cherish. His Blessings and the Guruparamparā's Blessings have sustained us all these years and we pray for Their sustained Āshīrvāda.
Over the years, I took every opportunity to be in the presence of H.H. Parijñānāshram Swāmījī and seek His blessings and guidance for me and my family. The memories of those meetings are a blessing in themselves, but the last meeting with Him is something I will always cherish.

Bangalore, mid-1991
During a business tour to Bangalore, after day-long meetings with clients, I had 2 hours free before catching my flight to Mumbaī at 8:20 pm. I was passing through Malleswaram, and sought to seek Blessings from H.H. Swāmījī, who was then camping in NaimpaĪĪy Bhālchandra mām's house.
At NaimpaĪĪy mām's house I was greeted by a mām whose name I can't recollect now, and introduced myself. He went inside Swāmījī's room and came out with a smile ... You may go inside to see Swāmījī he said.
On entering the room, I was greeted by Parama Pūjya Swāmījī with a broad smile ... And I prostrated before Him with Sās͟hṭāṅga Namaskāra-s.
Swāmījī enquired about me, my family, my job and suddenly asked about how the meetings had gone through the day.... I was taken by surprise, since I had mentioned nothing about them earlier. After spending a good half-hour with H.H. Swāmījī, I sought permission to leave, but Swāmījī said, "Dīpanamaskāra ata jātlo māgiri phalāhāra kornu vachātī." (Dīpanamaskāra will follow soon, leave only after partaking phalāhāra.) It was already 7pm then, but I had no words to tell H.H. Swāmījī that my flight was at 8:20 pm and neither the courage to say No!
Anyhow, Dīpanamaskāra followed and Swāmījī retired to His Room. After partaking phalāhāra, I went to Swāmījī's room to take leave and seek His blessings once again.
Swāmījī quipped, KaĪāwar mām – "Have you got the phone number of this house?" (There were only landline phones in those days) and said "Call back once you reach the Airport." He further added that He would be visiting Khār Ānandāshram (Bombay) the following week and I should make it a point to visit Him there around 7:15 am. I was extremely delighted. With a smile, H.H. Swāmījī also said "There could be someone who may stop you at Khār Mat͟h". I acknowledged, bowed, offered Sas͟hṭāṅga Namaskāra-s and left.
On the way to Bangalore Airport there was heavy traffic, and I was quite sure I would miss my flight.
At the airport, I rushed straight to the check-in counter and to my surprise the lady at the counter said, "Sir, the flight to Mumbaī has been delayed by 2 hours" and handed me the boarding pass. I was very relieved.
I wondered why Swāmījī had asked me to take note of the NaimpaĪĪy's phone number .... I quickly found a phone booth, pulled out the paper on which the number was scribbled, and called. When Swāmījī came on the phone He said – " Pāvlo whe tumhi" - and in an excited state, I told Swāmījī that the flight has been delayed by 2 hours... to which H.H. Swāmījī simply said, "Bhavānīshaṅkar Devāgele kṛpā. Mumbaī meĪyā" (It is Lord Bhavānīshaṅkar's blessings, let's meet in Mumbaī)
The following week, as scheduled, I got ready to meet H.H. Swāmījī at Khār Mat͟h before proceeding to office. I took the Tulasī Hāra which I had picked up enroute, and climbed the stairs leading to H.H Swāmījī's room. As I approached, a mām sitting on the chair outside looked at me and said "Swāmījī is busy now, you will not be able to meet Him." To my surprise, Swāmījī's voice rang out from within His room "KaĪāwar āylo distā ... Taṅkā bhitarī peṭayi." (It seems KaĪāwar has come, send him in.)
I got goose bumps on hearing this… How did He know I am outside?
... And these are the memories of my last meeting with our beloved H.H. Guruswāmī where He showered blessings upon me.
A few weeks later, on 29th August 1991, H.H. Swāmījī attained Mahāsamādhi in BeṅgaĪūru, however HIS Gurushakti and Blessings are always on me and my family members even today.
Oṁ Shrī Bhavānīshaṅkar mama Sharaṇam!