The story behind the Cake-cutting on 15th June
By Latikā Hebl̄e
It was sometime in 1984 a few days before His Holiness Parijñānāshram Swāmījī's birthday and He was camping at Khār Mat͟h. It was around 5:00 PM that I had gone to Khār Mat͟h as usual. There were some devotees present in the room. It so happened that a postman had delivered a big cover. Swāmījī asked a devotee to check the contents of the big cover and remarked jokingly that he hoped the big mail didn't contain court summons… after all it was a turbulent time for the Samāja. But we were all in for a pleasant surprise when it turned out to be a big Birthday Greeting Card sent by a devotee. The greeting card triggered a rather spontaneous jovial request from me. I asked, "Shall we celebrate your birthday?" Pat came a quick-witted response from Swāmījī – "By cutting a cake?"
And then came the momentous day. Young volunteers decorated the room beautifully with balloons and coloured ribbons. All the regular devotees assembled and participated whole-heartedly. An eggless cake was arranged by Bhavānī Kulkarṇī. And refraining from the western custom of blowing candles, Swāmījī lit beautiful lamps and candles to mark the occasion.
Thus began the cake cutting ceremony commemorating 15th June, Swāmījī's birthday.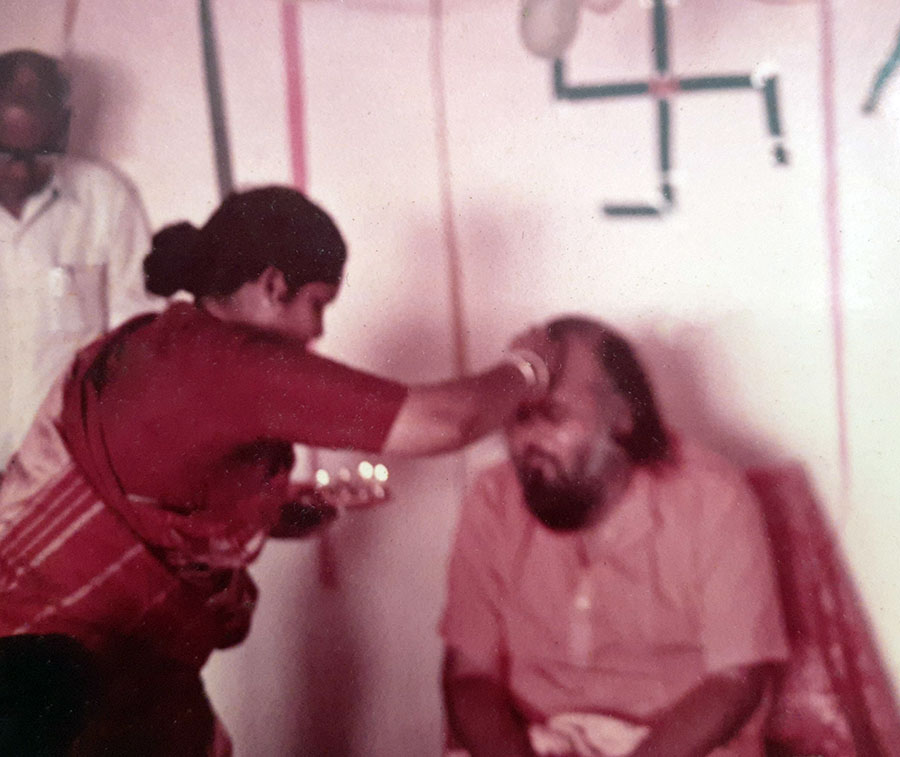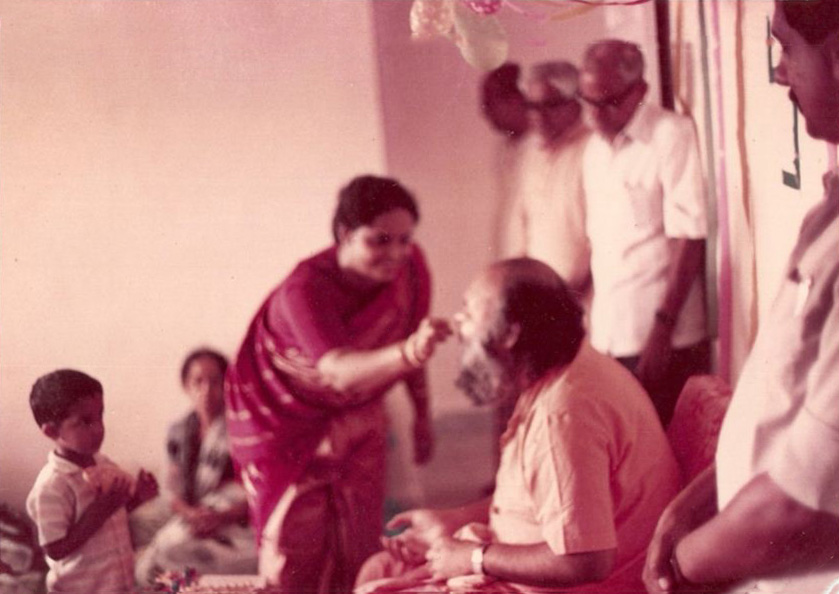 the advent of HH Sadyojāt Shaṅkarāshram Swāmījī at Kārlā in 2006, several programs were being planned to commemorate 15th June celebrations and carry on the legacy. I happened to be in Kārlā during those official meetings. Although I wasn't a part of any committee planning the event, Swāmījī asked me if I had any suggestions.
I expressed my view that along with the Sapta prahara pūjā and Anus͟ht͟hāna-s there must be some activity to befit the occasion. After all these were for marking The Guru's Janmotsava and was meant to be a celebration. So I dared a rather unusual suggestion – Garbā followed by Meditation. The devotees of the Divine Mother celebrate Navarātri with Garbā while carrying out other Sādhanā-s and ceremonial worship. Therefore, The Guru's celebration must be that of equal Grandeur and Grace.
Another reason for the request of adding Meditation to the list of programs was HH Parijñānāshram Swāmījī's wish that He had expressed one evening during the course of a conversation. Discussing his plans for Kārlā, Swāmījī said that spiritual activities like Meditation must be conducted in his 'Dhyāna Mandir' at Kārlā. I asked Swāmījī whether He would personally conduct meditation. Swāmījī replied that not He, but 'Someone in the future' will come and fulfil His wishes.
To my joy, HH Sadyojāt Shaṅkarāshram accepted these suggestions. And thus, carrying out the wishes of His Guru, our beloved Sadyojāt Shaṅkarāshram Swāmījī Himself leads sādhaka-s into dhyāna – Meditation on June 15th, and actively sees the Janmotsava through every year, while the devotees bask and bathe in the glory of Joy, celebration and Divinity.
Some images of the cake cutting in recent years: