Blessings baked!
Dhanashree Mallāpur
Tālmakīwāḍī, Mumbaī
My tryst with baking started back in 2011 when I had just graduated from school. It all started after watching a YouTube video, after which I baked my very first black forest cake from scratch in a microwave and it turned out pretty well (according to my family).
Later that year, we were in Kārlā for the celebration of Parama Pūjya Parijñānāshram Swāmījī's Janmotsava. The midnight of 14th June my father asked me if I could bake a cake for not just the four of us at home but for a larger crowd. I was unsure of my capabilities, but I said "YES!". The next morning, on 15th June my father asked the Mat͟h authorities if I could bake eggless cakes for the celebration as a sevā from next year onwards. And much to our surprise they said yes. And that's how my baking journey began!!
In 2012, my first year of offering sevā, I baked the largest cake of my life in a pizza oven since I didn't have a baking oven as yet! Having no idea about the logistics of travel, I decided to bake the cake at home and travel with it in the train (which obviously wasn't a brilliant idea). I asked Ajay Shirālī mām, (The Manager at Kārlā Math at the time,) if I could use the kitchen space to ice the cake, for which he had willingly agreed. Then the day arrived when we had to transport all the material. We boarded the train from Chattrapati Shivaji Terminus, Mumbai and got off at Loṇāvlā station in all excitement praying that everything would go well. Thankfully with Swāmījī's blessings everything DID go smoothly. That year, I baked a 15 kg pineapple cake and it was appreciated by all. I felt blessed, and that pushed me to do better in the coming years. That's when I decided to take baking as my profession.
It kept getting better each year! From 2013 onwards, I carried the raw materials and the oven to Kārlā and baked the cake there itself. The year that I baked the strawberry cake, my oven gave up halfway while baking and I panicked. The other half of the cake was then steamed in the idli steamer and surprisingly, it turned out just fine and no one could guess it was steamed. It was a surreal experience that I will never forget.
Over the past 8 years that I have baked, I have experimented with different flavours like pineapple, chocolate, butterscotch, black forest, strawberry, mango, chocolate chip and blueberry.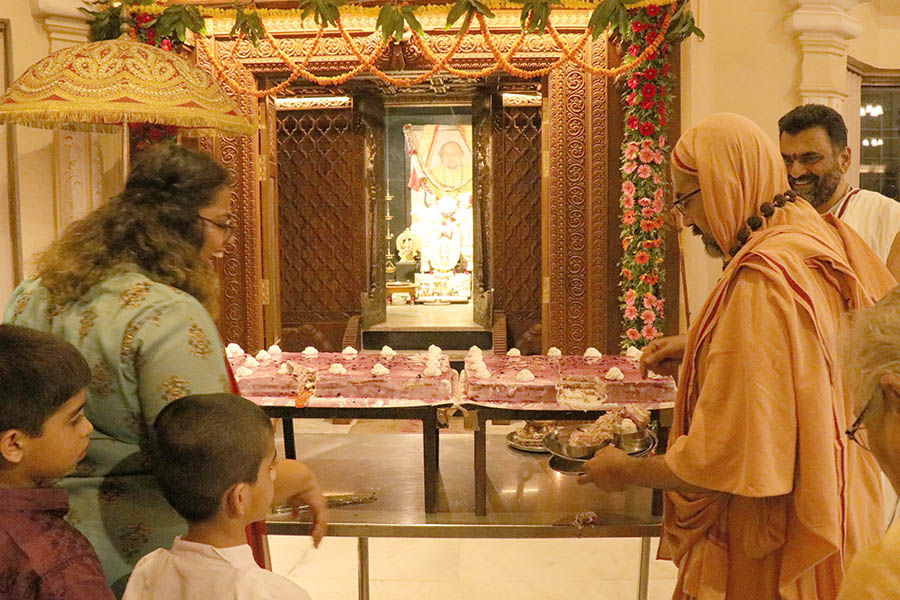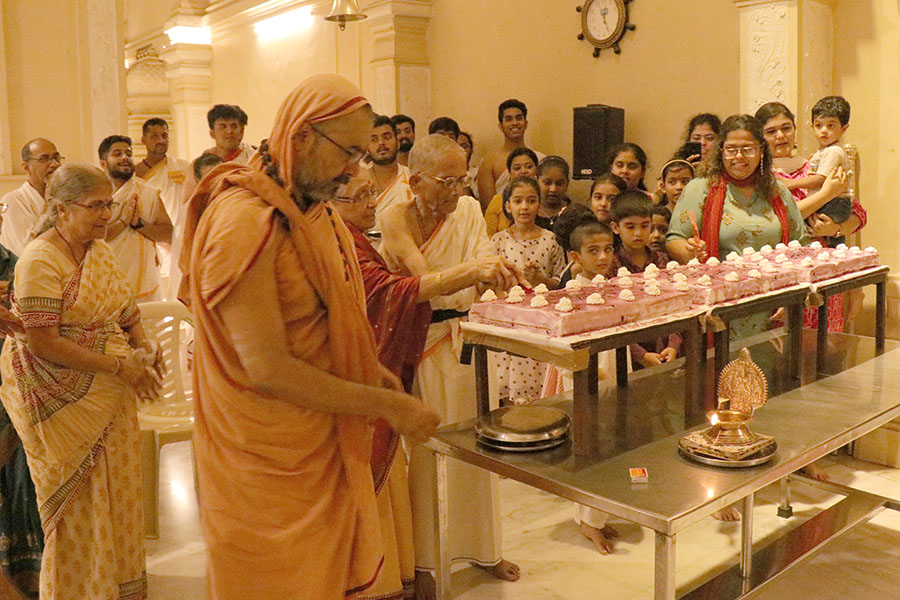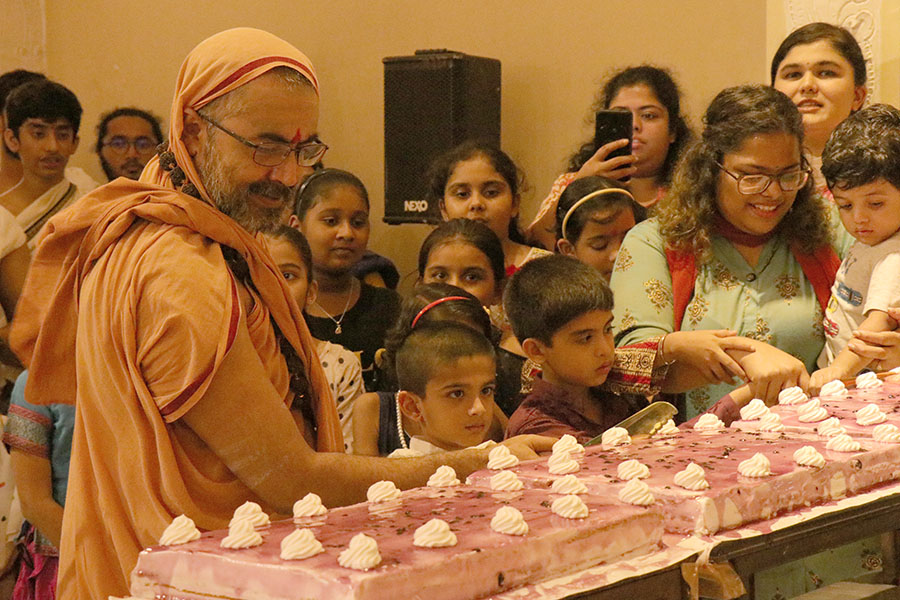 In 2020, when the pandemic hit, everyone began working from home and started to accept the new normal. All of us thought that things would get better by June and we could continue celebrating as usual. As the lockdown kept getting extended, I had to give up on the idea of a normal celebration. To keep my spirits high and to celebrate this occasion, which is so close to my heart, I baked a chocolate coffee cake at home and offered it at the Lotus Ffeet of Swāmījī and prayed for everything to go back to normal.
Even though it's 2021 now and we are still amidst a pandemic, I hope and pray for things to get back to normal so that I can go back to Kārlā and celebrate with the entire community.