Saṁskṛtaṁ Vadāma – Let us speak Sanskrit
Within a month after going online with the Prabodhaḥ courses, Gīrvāṇapratis͟ht͟hā, the Sanskrit wing of Shrī Chitrāpur Mat͟h, announced the launch of Gīrvāṇavaikharī Online Saṁbhās͟haṇa course.
Language is a tool for communication and undoubtedly speaking skills are of great importance for any language learner. Sanskrit is considered to be a difficult language to speak and for years it has been taught using a translation method. There is a need to encourage people to speak in Sanskrit and to promote it as a language of daily conversation so that it does not remain just a language of the scriptures. Undeniably, there is great charm in listening to anyone speak the language of the Gods.
With the Guidance and constant encouragement of Parama Pūjya Swāmījī, Gīrvāṇapratis͟ht͟hā teachers diligently make efforts to speak in Sanskrit and also encourage other sādhaka-s to do so by holding regular Sanskrit conversation sessions during shibir-s and camps. In 2017, on the request of some sādhaka-s living abroad, who could not attend such shibir-s and camps often but were eager to connect to the Mat͟h through such endeavours, Gīrvāṇavaikharī online sessions to teach colloquial Sanskrit usage were conducted on a pilot basis for small groups. Consequently, a short online course was formulated to introduce spoken Sanskrit in a fun-filled, interactive manner where language basics are taught using the 'direct teaching method'. Games, quizzes and group activities were planned to make the sessions engaging so that even students with no prior knowledge of the language would drop their inhibitions and enjoy conversing with all.
After receiving an overwhelming response to the other online courses of Gīrvāṇapratis͟ht͟hā, the Gīrvāṇavaikharī online certificate course was also opened out to all sādhaka-s. Two batches each in January, June and October 2021 with 20 seats in each batch were announced. Within 10 days, confirmed registrations were received for the first two batches of January and seats for the June batches started filling in fast.
With the Blessings of H.H. Shrīmat Sadyojāt Shaṅkarāshram Swāmījī, the inaugural session for the first two Gīrvāṇavaikharī batches was scheduled to be held on 10th of January, 2021. The formal inauguration was planned at the holy ks͟hetra of Shrī Chitrāpur Mat͟h at Shirālī, the seat of Lord Bhavānīshaṅkar and Devī Bhuvaneshwarī, in the hallowed presence of our Guru and Guruparamparā. The Gīrvāṇavaikharī team got busy with frenzied planning for the program which was going to be attended live by - Gīrvāṇapratis͟ht͟hā teachers and students of Shirālī and more than 40 online participants joining from US, Canada, UK, South Africa, Middle East and different cities in India.
On the auspicious day, part of the team which was in Shirālī, carefully arranged the technical setup in the Dhyānamandira with the help of Tanmay Mudūr mām and Yuvā, Chinmay Māvinkurve. Shirālī Local Sabhā volunteers willingly helped with all other arrangements. The other members of the Gīrvāṇavaikharī team joined online from other locations. The program began at 7pm sharp with the Sabhā Prārambha Prārthanā by Saṅgeetā Kalyāṇpur pāchi followed by a melodious rendition of Gīrvāṇa Gītam by Shāmalā Māvinkurve pāchi.
We were blessed by the distinguished presence of Gurumātā, Sudhā pāchi, who graciously lighted the first lamp while everyone chanted 'dīpo jyotiḥ parabrahma ….'. Then Nārāyaṇ Mallāpur mām, Kailāje mām, Aruṇā Baṅkeshwar pāchi and Archanā SavnāĪ pāchi also did the honours of dīpa-prajwālana.
Archanā Kumṭā pāchi welcomed everyone and spoke about the work being done by Gīrvāṇapratis͟ht͟hā, also giving a brief background of how Gīrvāṇavaikharī had evolved over the last four years. She introduced Gīrvāṇapratis͟ht͟hā Adhyaks͟haḥ Dr. Chaitanya Gulvāḍy mām and invited him to address the students. Dr. Chaitanya mām briefed the students about the four aspects of language learning and stressed on the importance of both listening and speaking for being a well-rounded communicator.
After that, Archanā Kumṭā pachi introduced the Gīrvāṇavaikharī teachers - Shilpā Mudūr pāchi and Saṅgeetā Kalyāṇpur pāchi. Shilpā Mudūr pāchi then spoke to the students of both the batches. After telling them about the four stages of vāṇī and explaining the term vaikharī, she briefed the students about the format of the sessions. The teaching approach was demonstrated by narrating a short story Gandhamūlyaṁ Dhana-dhwaniḥ' which was thoroughly enjoyed by all the students.
With Saṅgeetā Kalyāṇpur pāchi deftly handling the spotlighting of each event, both the online as well as live audience enjoyed a seamless experience while watching the entire proceedings. The session ended with a vote of thanks by Archanā Kumṭā pāchi and Sabhā Samāpti Prārthanā by Saṅgeetā Kalyāṇpur pāchi. The inaugural ceremony ended with the students saying that they were eagerly awaiting the lessons to start so they too could start speaking in Sanskrit.
After the Dīpa-prajwālana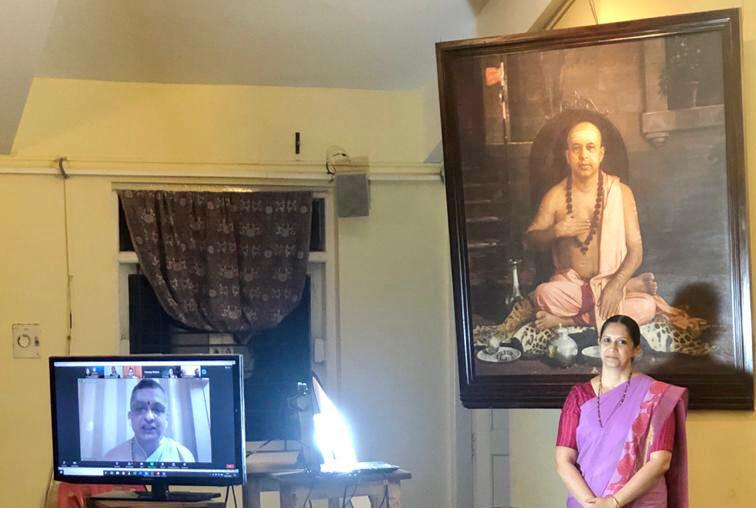 Chaitanya Gulvāḍy mām addressing the Live and online audience during the Gīrvāṇavaikharī Inaugural session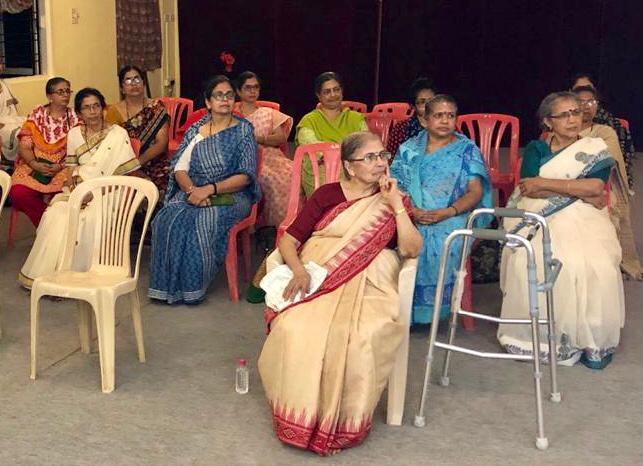 The live audience listening in rapt attention to the story narrated
by Shilpā Mudūr pāchi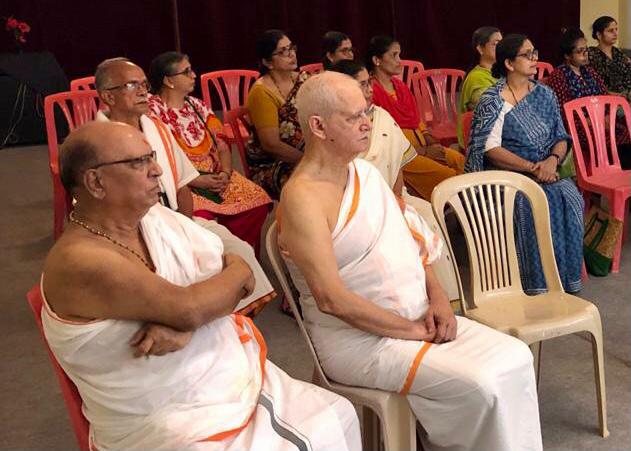 The live audience listening in rapt attention to the story narrated
by Shilpā Mudūr pāchi