Gīrvāṇapratis͟ht͟hā goes online with 'Prabodhaḥ'
Prabodhaḥ – The online Sanskrit Classes by Gīrvāṇapratis͟ht͟hā – came as a lifeline to those yearning to learn the Devabhās͟hā but did not have access to teachers. The vision and saṅkalpa of our beloved Guru, H.H. Shrīmat Sadyojāt Shaṅkarāshram Swāmījī to take Gīrvāṇapratis͟ht͟hā global became the catalyst for meticulous backend planning, preparation, timely completion of registrations, training teachers, sorting out technical problems, and managing communications.
Within 2-3 days of announcing Prabodhaḥ, we received over a 100 enquiries and within a week we had over 60 confirmed registrations. Three groups in US-Canada, three in India and a small group of students from Australia-New Zealand, UK and Malaysia were formed for the first batch of the online course. Then dawned the auspicious day of our Parama Pūjya Vāmanāshram Swāmījī's Samārādhanā (9th December 2020) and with H.H. Shrīmat Sadyojāt Shaṅkarāshram Swāmījī's Blessings, the pilot class of Prabodhaḥ - Ārādhanā teacher Smt. Sheelā KaĪāwar was all set to launch at 6:30pm. By 6.25 pm the 10 enthusiastic students of the class had logged in along with invitees from the Gīrvāṇapratis͟ht͟hā office and the 9 Prabodhaḥ Teachers.
Sabhā Prārambha Prārthanā was followed by Sujātā HaĪdipur pāchi singing the melodious Gīrvāṇa Gītam – Jayati Jayati Gīrvāṇī . Archanā Kumṭā pāchi welcomed all those present and introduced Gīrvāṇapratis͟ht͟hā Adhyaks͟haḥ Dr. Chaitanya Gulvāḍy mām, the Gīrvāṇapratis͟ht͟hā Office team members, and the Prabodhaḥ teachers to the students.
Chaitanya Gulvāḍy mām was invited to light the lamp, (Dīpa Prajwālana) - to formally inaugurate the session with the chanting of Dīpojyoti parabrahma resonating in his baritone. He then briefed the online gathering about the importance and advantages of learning the Devabhās͟hā – how swara-s and vyan᷈jana-s conform to the anatomy of speech and how this language of the Shāstra-s, Shruti-s and Smṛti-s demonstrates its ability to improve grey matter and memory.This divine language features prominently in the logos and taglines of Public Institutions and is used to strengthen our Rājabhās͟hā Hindī. He then introduced the teacher (KaĪāwar Sheelā pāchi) of this pilot class - who went on to conduct the Introductory session. The short but sweet inaugural ceremony ended with best wishes to students and teachers in their journey of Sanskrit abhyāsa.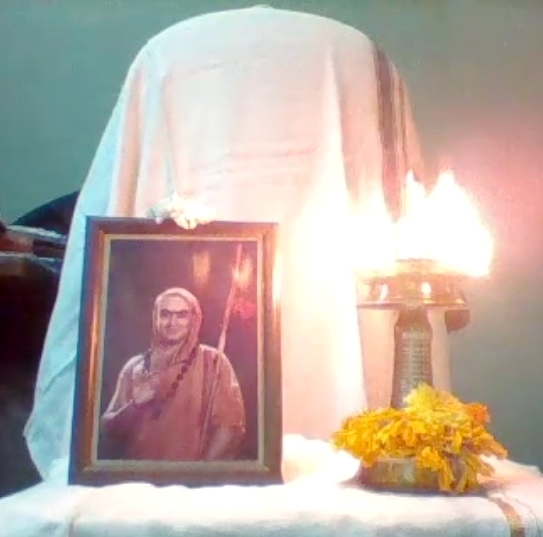 Dīpa Prajwālana by Dr. Chaitanya Gulvāḍy
Photo credit – Sharayu Haldipur