FEEDBACK FROM SADHAKA-S: PARIPRASHNAH - ONCE UPON A HILL . . .
.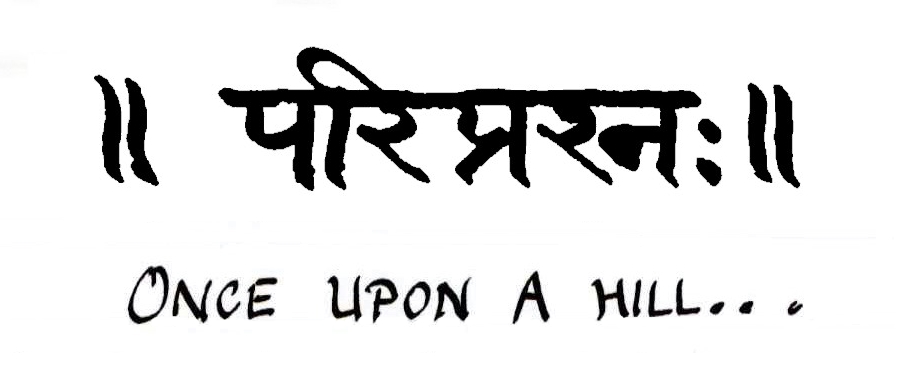 Everyone was pleasantly surprised and extremely happy to see Pujya Swamiji's memoirs, shared by His Holiness in His own impeccable handwriting. But not everyone realized that this was our Beloved Mathadhipati's unique manner of introducing a novel method of sadhana during these troubled times, when celebrating Utsava-s or conducting satsang-s was impossible.
Under those handwritten accounts, hidden in the seemingly simple narratives were ample opportunities for the discerning devotee to dive deeper, introspect, discover what kind of discipline, devotion and dedication are needed before an aspiring sadhaka becomes an ideal shishya.
Seekers who understood this and were able to get over the initial inhibition about commenting on matter written by their Guru, sent valuable feedback sharing what lessons they had imbibed from these precious manuscripts. We present excerpts which provide penetrating insights into many dos and don'ts emerging from these engaging and enlightening documents…

Alka Lajmi,Mumbai
An enlightening glimpse of our Swamiji as an Uttam Shishya, ever alert to serve His Guru and to assimilate the teachings that the Master is giving – in Mauna!
….after reading a few lines I was transported to the hills and wilderness where I could feel the silence, hear the tinkling bells and see the blades of grass swaying in the breeze…
Namrata Heranjal, Mumbai
…such generosity in sharing something so personal!...especially for someone like me who has had limited personal interaction with Him. The emotions behind the words were so palpable. I felt I was right there, and to be honest, a little trepidation…like I might be trespassing. Swamiji often resorts to self-deprecation in an effort to make us understand the fallibility of the human mind. I am happy that Swamiji has balnced that with a glimpse of His spiritual mastery, which is very, very rare.
Dr.Sunayna Padbidri Rao, Honnavar
Giving feedback on a message so profound seems like an impossible task, but this is an attempt to show our gratefulness.
…an exquisite narration, and a beautiful gift on this auspicious Covid-hit Guru-Purnima of 2020.
The alertness with which He responds to every subtle command from His Guru is for us to learn and emulate. The silent echoes described, seem to answer many of the noisy turbulent questions in our mind.
Dr.Gaurish Padukone, Kaikini
At the mundane first level I am excited to know how Sw amiji experiences love and devotion towards a Guru…
A second level draws me to think about the subtle Messages Swamiji is giving me o come to terms with the situation I am in, how to deal with my responsibilities and prepare to face eventualities…
Thirdly, at the spiritual level ( of which I am at the lowest rung of the ladder)…the process of understanding and interpretation of the truth, assimilation of words of wisdom, implementation of aadesh or upadesh…
Jayant Gulwadi, Sydney
It was indeed a privilege to read the Divine Writing of my Beloved Guruvarya. As an old adage goes – brevity is the soul of wit. Our Parama Pujya Swamiji has done exactly that.. In 'Once upon a Hill' He narrates His progression from just following the Guru to actually getting immersed in nature,blocking His mind from the present. He very succinctly describes His initiation into Ashtamurti Upasana at the end…
Priti Panemanglor, Pune
The entire anecdote is filled with Swamiji's experiences- His innocent excitement, His learnings, His trials as a Shishya of 'One so perfect!' When I read it, I see only learnings for me, whether as a sadhaka, or how to aspire to become a Shishya. The second lesson was Ashtamurti Upasana – how to do it and what to look out for. All in all, I am just in bewilderment at the beauty of this writing.
Archana Kumta, Bengaluru
This is so beautifully penned. I am sure that every word HH has written will resonate in each one of us to show us the path, reassure us and bless us in our spiritual journey. Thank You Swamiji for sharing these gems of Your memories with us.
Sadhana Kaikini, Bengaluru
Bade Swamiji remarked about enjoying the sounds of the village from a distance. This remark was understood as an Upadesh in Taathasthya. What do we need to do to understand the hidden Upadesh in our Guru's Vachan? The ability to distance ourselves from any situation, whatever be the emotions associated with it is really difficult. But if we slowly learned to do it, we would have crossed a big barrier. We can remind ourselves that the Guru-shakti has presented this situation to us and find the hidden Upadesh in any trying situation.
Monisha Bharadwaj, London
….to accept that there is noise from the village below, but the physical distance has made it irrelevant in the face of so much stillness and beauty. Being closer may have made it irritating and disturbed the peace of the moment. Can we learn not to focus on the distractions that our senses are constantly stimulated by and train the mind and soul to connect with a Higher Power?
Written in first person, Swamiji graciously allows us to understand His confusion and the wish to please Bade Swamiji in protocol and in service, thus giving us permission to forgive ourselves for our follies, but to try and be better human beings through devotion and service.
The relationship of the Shishya and Guru highlights the feeling of surrender. One has to surrender to the Teacher in order to learn and trust the Teacher to impart the lesson in the most appropriate way and at the most appropriate time.
Preeti Bhatt, Ahmedabad
The simplicity with which Parama Pujya Swamiji has narrated His own inabilities o channel emotions as a Shishya compelled me to introspect on my own condition. Profound silence could speak volumes, if only we learned to listen. Not an easy task with the deafening chaos in your mind. The only way to mind-block was self-discipline.
My takeaway line: Just continue with your practice, undaunted…
Jyothi Divgi, Pune
No words can ever describe the feelings Pariprashnah evokes. It is like seeing a totally new aspect of my Guru – so much tenderness and love flows in every word…
Smita Karnad, Udupi
Swamiji's Pariprashnah is an exquisite and immersive reading experience. It was like taking a continues to linger on in the mind like the scent of a fragrant flower.
Sabita Harite, Goa
From 'Once Upon a Hill' I learnt that trees provide us with nourishment and boulders are powerful storehouses of energy. When Bade Swamiji mentioned that the sounds of the village are pleasant from a distance, but not when we go closer, does it mean that, when we go deeper in our sadhana, our negativities begin to confront us?
Santanu Kamath,Udupi
Stuff here is very inspirational. Well narrated and with apt words. My mom loved it too. I was very happy to see photos of P.P.Swamiji taken during His Ashram days in Mt.Abu.
Mangesh Chickermane, Bengaluru
Felt truly blessed to read Pariprashnah! Thanks for sharing Your Holiness' deepest thoughts. There is so much to learn about true Guru-bhakti, Guru-Seva, Sadhana, Ashtamurti Upasana…so many pitfalls that need to be taken care of in a sadhaka's journey and just one reading does not suffice…we need to read again and again to really understand the full import and benefit from Your Holiness reaching out to us in This Profound Manner.
Anita Thakkar,Mumbai
Every time I read the Pariprashnah, I'm in awe.The depth with which You convey…each time, something opens up more and more. Words Like Anugraha, Anusmaran, Adhikara are so new to me. But still, there is some energy that touches me, moves me…and deep inside I know it is Gurukripa.
Shashank Udyawer, New Jersey
Thank you Beloved Swamiji for sharing these handwritten notes with us.Reading these felt like getting a peep into our loving Guru's mind. So serene. May my sadhana be strong and help me gain Adhikar to become a worthy recipient of Your Divine Blessing. Wold love to read more such notes that come directly from the Source.
Nina Ashok Kallianpur,Pune
The write-ups are really exclusive. In fact, every re-reading gives a deeper understanding and renewed joy.
Sushma Nadkarni,Sydney
I am reading Pariprashnah for the third time now. Pariprashnah feels uniquely different from the audios/videos. It envelopes me in Swamiji's Presence, although I am thousands of miles away. Every read teaches me something new…That I should be grateful, take myself less seriously, laugh at my own follies , learn from them and move on…That sadhana is a process of gradual unfoldment.." Undo all that I have taken to be known and invoke a new sense of knowing"…that …we just have to turn within. No doubt, I will continue to revisit these gems again and again..
Shantish Nayel, Bengaluru
A deeply personal experience expressed in Swamiji's own inimitable, immaculate handwriting….but the real kit-kats hidden at so many levels in the text. The deep reverence reflected in the use of a word like ' permitted' for being allowed to ask questions…nodding one's head versus 'nodding one's head vigorously'..all capture moments that resonate…Every sentence, every word , every gesture, every nuance of HH.Swamiji shaping and polishing the sadhaka in ways one could never imagine…
Deepa Murdeshwar, Pune
Never before has the flow of letters captured my attention, nor has the power of the written word created an impact on me as they did and do as I walk upon the hill again and again. Suddenly seva,anukarana, adesha, upadesha, anushasana, anusmarana all make so much sense. To that seamless compassion and generosity of my Swami that has allowed us a glimpse into His space, through the slightly ajar window of Pariprashnah, my pranama-s.
Raghuvir Kalbag, Cambridge
In a short piece, brief but also revealing, we have had glimpses of how spiritually rewarding your time in Mt. Abu was. You have given us some understanding of your interaction with Pujyashri and His Upanishadic (if I may use that expression) way of teaching. It is not easy for us laity to appreciate the Ashtamurti Upasana. I dare say that anyone who reads Pariprashnah will have a head start…
Kavita Karnad, Mumbai
I don't know where to begin..Applaud HH's mastery over language, flow of words, sensitivity or clarity of thought. The attentive Shishya attending to His Guru and his journey while doing so. The observations, descriptions were so vivid, like an artist capturing them on canvas..The photographs conveyed such a lovely bond between Bade Swami and HH. Thank You Parama Pujya Swamiji for allowing us to be a part of Your priceless memories.
Chaitanya Gulwady, Mumbai
'Once Upon a Hill' was so beautiful, I am at a loss for words..to describe the depth of the Guru's silent communication with Shishya, about the silence inside and outside. I was reminded of Lord Dakshinamurti's silent communication using the Chinmudra with His Shishyas, the Sanatkumaras. Of course the Shishya, by his own sadhana was competent to grasp the knowledge bestowed upon him by the Guru, through this unique message.
Manju Jamalabad, Bengaluru
Thank You Swamiji, for these beautiful reminiscences. Each sentence makes me pause and reflect. Being alert to even the smallest 'sanket' of the Guru and to do every task with precision and care is an invaluable lesson for me. Also Swamiji's delight and excitement to be able to accompany His Guru is something we can all relate to. The importance of the Ashtamurti sadhana is brought out so beautifully. To read that the Profound Silence can be accessed by all of us, even under pressing circumstances, as done by Swamiji when He accepted the Mathadhipatya and moved to Shirali, is very inspiring and reassuring.
Priyanka Gulwadi, Sydney
How can I even begin to give feedback on our Beloved Sadguruvarya's Divine Personal Feelings, expressed so genuinely?
In 'Once Upon a Hill' noted His tremendous excitement to be on that Samvid nature walk, alone with Bade Swamiji- the Father figure.
My humble learning – the qualities to inculcate are: alertness in serving, to be observant, disciplined, to contemplate, the Ashtamurti Upasana. This point brought out the overwhelming sense of love, the experience of mouna in the Anahata chakra in an absolutely divine and apt way!
Archana Savnal, Mumbai
I find myself coming back to Swamiji's 'Once Upon a Hill' time and again. There's something new I discover every time I read it -some part of Swamiji seeps into my life, like a drop of ink that spreads on moist, handmade paper.Swamiji's transparency, His earnestness,His curiosity, His desire to do His best as a Shishya, His alertness, His sense of joy, His learning from every situation…I sense a small measure of it in my life right now and know there is more! There is a path He has walked and He tells us about it. He knows the potholes, the bends, the forks and the goal. I read of how He was and I see him now. I remember how I was and how I continue to change. To be led by such a Guru, can there be anything more wondrous?
Chetana Kadle, Mumbai
The fact that Parama Pujya Swamiji has decided to draw us all into His world is in itself a humbling experience. The alertness, the deep reverence and devotion of a shishya, the attention to the minutest detail – we realize that all these are qualities we can emulate to do better in our sadhana.We get endearing glimpses of our Swamiji in the pockets of honest and candid self-analysis giving a very humane touch and providing the hope that we The sensitivity, depth and love with which the passage has been written only strengthens our nishtha towards our Guru and Guruparampara.
Kathryn Molloy, Vancouver
An interesting juxtaposition of the discipline, the protocol and the lack of success with "conscious attempts" to "let go and drown in" Swamiji drifts beneath the blanket of bliss, and is yet present enough so that only a " slight movement" can jerk him back to his duties.
The power of nature to envelope and transport us to such pleasure while keeping us 'grounded' in reality is unique. Even the lone cry of a child or a raised voice is wrapped in "profound silence" and Pujyashri raises the question that perhaps the sounds in the village would be different if they were not heard from a distance, in the stillness of nature.
How do we find that silence, that stillness in our full and busy lives, loud with demands and expectations? It is easy to let the discipline of hard work and productivity rule, yet complete happiness arrives only when we use these tools of discipline to find stillness in nature, upon a hill, when we let the river flow…
The discipline for me is to walk up the hill, sit on the rock and receive the gifts of silence and contentedness from mother nature.

***********************************************************************************************************************************************************************************
After reading the different perspectives emerging from this global feedback, if you want to add a viewpoint about "Once upon a hill", please send it through the Feedback form created on the PARIPRASHNAH page, by the 20th of October 2020, latest.
We will be uploading the feedback received on Column No.2: FOR A MAHATMA, WITH LOVE... soon. If you would like to share what lessons you have gleaned from this write-up, please send your response through the Feedback form of PARIPRASHNAH by the 25th of October 2020, latest.
Let us together try our best to draw out the lessons that lie hidden in these invaluable pieces of writing by Parama Pujya Swamiji.
We look forward to hearing from you!