A Novel Classroom Called Seva
We hereby begin an occasional series featuring couples sharing varied skills to enrich different activities of our Shri Chitrapur Math, under the Loving Guidance of H.H. Sadyojat Shankarashram Swamiji. In this inaugural article, let KRISHNANAND (Kuttymam) and RUPALI HEBLEKAR tell you about the positive changes and meaningful lessons that emerge from 'A Novel Classroom called Seva' (September 2020)
There comes a time in life when 'something changes'. Parama Pujya Swamiji's visit to Pune in 1998, (although we did not realize it then) was a turning point for us. Volunteering during the 10 days of Navratri and interacting with members of our local sabha was an entirely new experience for us. Participating in the Devi Pujan performed by Pujya Swamiji every evening was very unique indeed! By the end of Pujya Swamiji's visit, both of us were initiated into mantradeeksha by Pujya Swamiji. We had taken our first step in the right direction!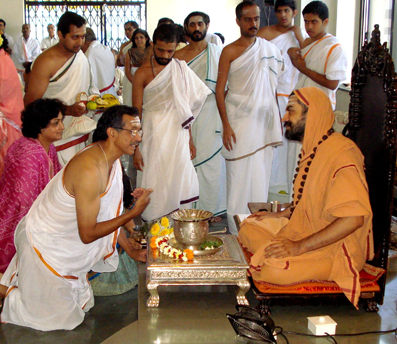 In 1999, both of us went to Shirali for the first time. There were fewer visitors to Shirali then, so we were fortunate to get a lot of time with Pujya Swamiji.
Pujya Swamiji's Chaturmasya Vrata in 2000 was in Pune. This provided us with an opportunity to be part of both planning and organizing the entire camp. The Pune Math had just come into being at the time, and hence, every little thing had to be looked into- starting from infrastructure, power and lighting, food arrangements, utensils for the kitchen and more… The entire volunteer team rose to the task, however and in the process, we learnt a lot. Unknowingly, many changes were taking place in our lives, and we realized, joyfully, that our spiritual journey had begun...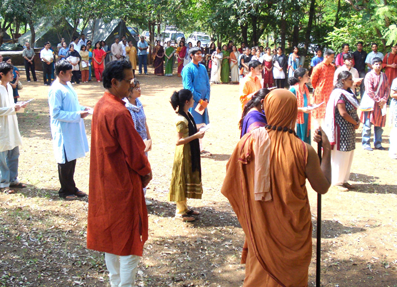 The end of that year brought the Sanskriti Parichay Shibir- held in Dec 2000- Jan 2001. Both of us were fortunate to be Sanchalak-s at the picturesque, outdoor -site at Khanapur, where the participants were accommodated in tents. Interacting with the Sanchalak team, managing young shibirarthi-s, and most importantly, frequent interactions with Pujya Swamiji opened a fresh dimension and gifted new lessons:organisation, team building, human resource management, making use of and making do with available resources - the list is endless. We made lots of mistakes, but at every step, got invaluable Guidance and Correction from Pujya Swamiji.
This led to many more Shibirs, in which both of us participated. These included the Sanskriti Parichay Shibirs, Sanskriti Prachaar Shibirs, Kara Seva Shibirs, Shibirs for NRI members of the society, Shibirs for the Samvit Sadhaka-s, and Saraswat Sadhaka-s from Rajasthan. Pujya Swamiji gave Kutty the opportunity to be Pramukh Sanchalak for Shibir-s from 2000 to date, for which we are extremely grateful.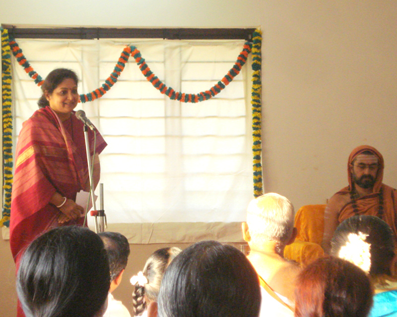 Samvit Sudha-a modest tailoring and embroidery unit to boost woman empowerment, was initially being managed by Yogini Pandit pacchi from Shirali. In 2004, when the Srivali School was set up, it was proposed that uniforms for the students be made at Samvit Sudha. This is when Vasanti Shirurpacchi and Rupali, both from Pune, got involved. Slowly, but steadily, more and more local women came to join this exciting enterprise offering a creative outlet plus financial independence. The number of volunteers from our samaja who were willing to offer seva in this laudable sector also increased. As a result there was a parallel rise in the number of gift-items created and greater quality-control in design and finish of every product keeping the urban buyer in mind. From 2010 till date, a dedicated team of volunteers from many sabha-s with Rupali as the chief coordinator, have been managing operations at Samvit Sudha, purely as seva. Working with the enlarged team, exchanging new ideas and finding solutions to unexpected glitches was, is and promises to be a perpetual source of joy.
Getting involved with the PrarthanaVarga was another opportunity for Rupali, who has been a teacher along with Kalpana Chandavarkar, from 2009.
While Rupali was fortunate enough to be part of the SaraswatiYatra and the Somnath Yatra, both of us were blessed to be a part of the Guru Jyoti Yatra in 2008.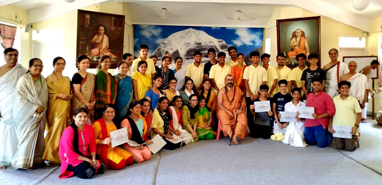 Together, we have been a part of many other Shibir-s and volunteering teams during Chaturmas and other Math functions.
Being in seva has made a difference to both of us in many ways. As a couple, we have developed a new respect towards each other. Interaction with different types of people has taught us to respect the other person's point of view as well. Dealing with different situations has given us hands-on management lessons! We are constantly put in new situations and expected to handle them intelligently and with maturity. This results in a tremendous build-up of confidence.
In seva, everything has to be done with a sense of responsibility, and we have to be prepared to 'own up' to both - the good and not- so- good outcome. Taking failures in our stride, learning from those experiences and using them as stepping stones to higher goals is all a part of seva. We are still learning from our mistakes, and at every step, getting corrected and guided by our Guru. We are also encouraged to explore areas hitherto unknown to us and give of our best. All achievements and success are offered to the Guru.
On the home-front, as a parent one starts perceiving many subtle differences. Children tend to respect both of you more, look towards you for guidance and are more open. A sense of discipline is created and certain limits are not crossed. As a result, we are also more open with them. The connection of the entire family with the Guru, Guruparampara and the Math is strengthened and we realize that we belong to Him and He is there to guide us at every step.
Time and again we realize how fortunate we are to be able to participate in so many activities and in our own small way, give back to society.
Being in seva has given us the confidence to stand up for our convictions. As Chitrapur Saraswats, we should get to know our 'Central Institution', The Shri Chitrapur Math, which gives us our identity and limitless opportunities for doing constructive work.
We think that the initial hesitation in many instances is a mindset that the Math and its activities are only about religious matters. It is only when we get involved do we come to know that so many great things are happening. Involvement makes us realize the greatness of our 312 years old Guruparampara. A sense of belonging and pride takes over and we want to participate more and more!
We strongly urge couples, both young and young-at-heart, to get involved and experience the joy and fulfillment of seva. To begin with,one can start by volunteering at functions and taking responsibility for just one particular task.
Get to know the tremendous work that is being done in youth- activities, social outreach projects, rural woman- empowerment, education, everything, under the gigantic and compassionate umbrella of the Math. You can access a lot of information about this on the Shri Chitrapur Math website: www.chitrapurmath.net.
One can contribute as per one's expertise and strengths. There is lots to be done in IT, communication, management, training, projects…. the list is endless. One just needs to take the first step. The joy of doing things as a couple for a cause is boundless!
So just jump in and get involved!