Swarna Smruti
Adapted from the book 'Swarna Smruti' By Smt. Latika (Gauri) N Heble and translated from the original in Marathi by Shri. Abhishek Heble.
Devi Upasana
Swami Parijnanashram was a worshipper of the Divine Mother. He was adept in the intricate science of Shri Vidya. He would perform the Shri Chakra Puja very beautifully and meticulously. Using all the prescribed articles like fragrant flowers, sandal wood, clarified butter lamp, aarti, etc.; He would worship the Divine Mother and the different shaktis present in the Shri Chakra.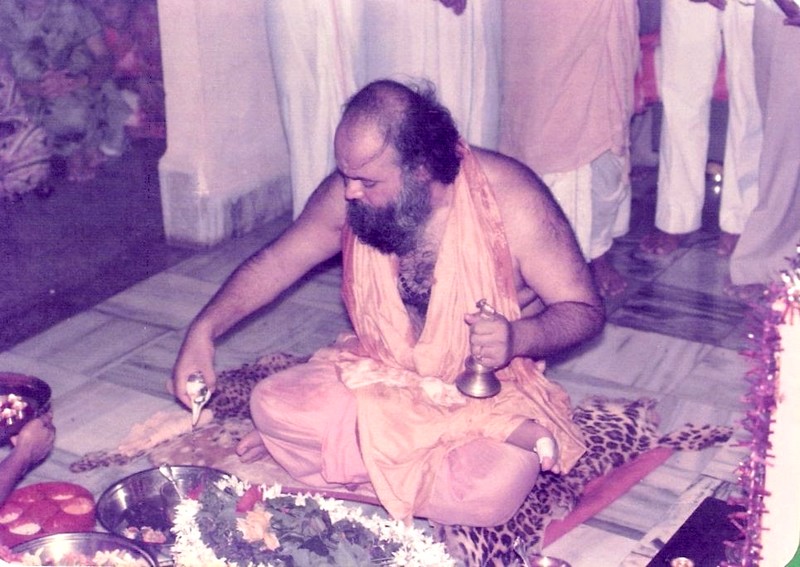 Usually the japa of Shri Vidya comprises Maha Ganapati Mantra followed by Sri Bala Tripurasundari Mantra. Last comes the Panchadashakshari Mantra followed by the Shodashi Mantra. Lakhs of Japa along with Havan offerings and strict discipline propitiates the Mother Divine. A very detailed and long Navavaran puja of the Shri Chakra is also done along with Kumkumarchana. Swamiji would be engrossed in the worship and meditation for hours together. During the Sharadiya Navaratri, Swamiji would perform the special Devi Saptashati Parayana. A period of Mauna or Silence for all the nine days was observed. Diet was strictly liquid consisting of tender coconut water and fruit juices. On the Vijaya Dashami day, Swamiji would end the Upavaas and Mauna Vrata. If His sojourn was in Mumbai, then on the Durga ashtami day, Swamiji would invariably go to the Mahalaxmi temple early morning at 3.30 am.
While performing Devi Upasana, Swamiji offered worship to the Shri Chakra etc. Later, His sadhana also became very subtle — in the highest levels of consciousness. He was experiencing the Divine Mother not only in consciousness but also in nature. The cool breeze, the roaring thunder, heavy rains, the vast oceans, rivers, flowers would all proclaim the presence of the Divine Mother! He worshipped the 6 chakras in the body symbolizing all existence and nature. This was His Ahangraha Upasana.

Mother Rajarajeshvari : Shri Lalita Mahatripurasundari.
One afternoon, after lunch at Khar Math, Swamiji was in a jovial mood. Swamiji spoke to me about his trip to South India. "There exists a temple of the Divine Mother in South India. The approach to the temple is very dangerous. First there is an encounter with wild animals like growling tigers on the pathway. Next there comes slithering hissing snakes. And if a person dares to cross all these obstacles, there comes a divine temple on a hill. It is very divine because of the presence of the Mother!" Time flew in a twinkling of an eye as Swamiji recounted His trip.
The evening tea was served. I said to Swamiji "Is it ok, Swamiji, if I ask You a question?" Swamiji replied "Oh yes, sure!" I continued,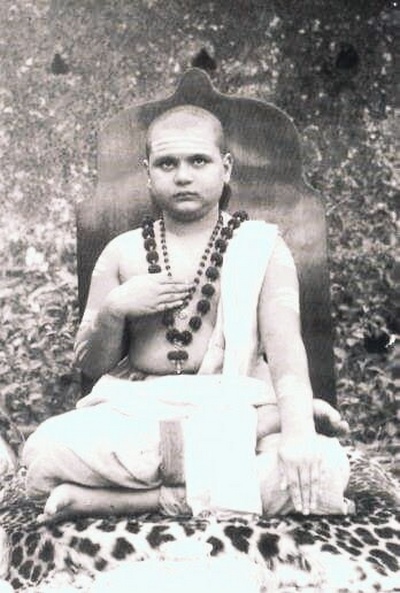 "Swamiji, You know that Ramana Maharshi got realization at the age of 16. When did You get realization?" Swamiji remained quiet, and then to divert the issue said, "Have your tea, that shall help you rid yourself of your sleepiness!"
I said to Swamiji, "I have come here to rid myself of the sleep of ignorance of several births!" Swamiji remained silent for a while and seemed to be in a reflective state of mind. After a few moments, recollecting those days, Swamiji very softly said, "I was in Bangalore Math in 1964. I used to rise early the morning for Anushthan.
Once there was a bright light and there appeared Mother Rajarajeshvari. She blessed me by placing Her hand on my head and disappeared." I asked Swamiji "How did She look?" Swamiji replied "Extremely divine! She appeared to be about 16 years old. I was not fully out from of my samadhi when I decided to recount this experience first to my Guru Pujya Anandashram Swamiji. In that state itself, under the effect of that trance, I went to Him. Haldipur Pandurang Shastri saw me walking in that state and thought that I was feeling dizzy.
Somehow, I managed to reach Anandashram Swamiji and told Him of my experience. Swamiji was very happy to hear about this. Very softly He said to me, "Child, go even further!" I had an ardent wish to receive initiation into the mantra of Devi from Pujya Anandashram Swamiji Himself and I expressed my wish to Him, but Guru Swami said that I would get an opportunity, 'Yoga', in the future. And sure enough, an opportunity did come my way. After the Mahasamadhi of Pujya Anandashram Swamiji, I went to Kashi to study the Shastra-s. Suddenly a very radiant and divine Satpurusha named 'Shambhavipriya' came to me on the banks of the Ganga and asked me whether I wanted a Mantra of the Devi. Upon my consent, standing in midst of the Ganga itself He initiated me into Shri Vidya."
Swamiji was blessed with the Devi's darshana in 1964, much before his initiation in Shri Vidya.
Advaita Tattwa Jnana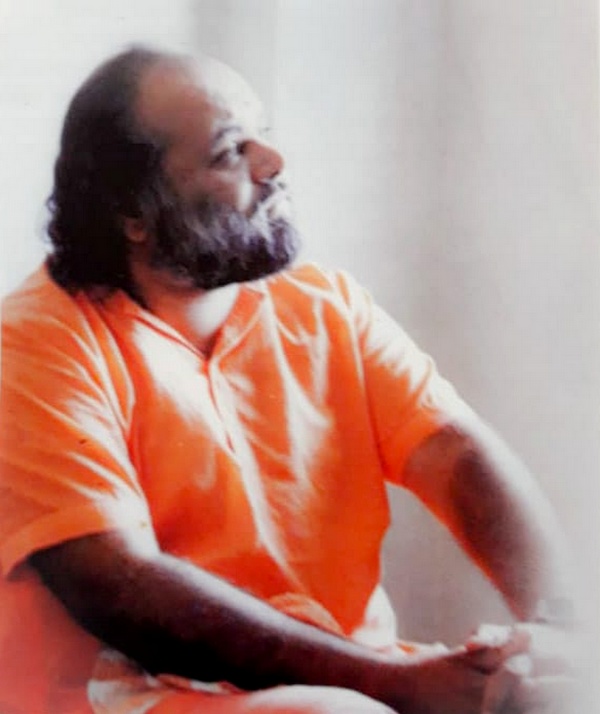 In 1978 HH Parijnanashram Swamiji's sojourn was in Rishikesh. Swamiji sent me material to proofread and give my opinion on a biography He was composing on Adi Shankaracharya.
I wrote a letter to Swamiji with a query that the material seemed to be in an autobiographical form, to which Swamiji replied that in the serene environs of the Himalayas where the divine Ganges was flowing, Swamiji got a divine vision of Adi Shankaracharya and Anandashram Swamiji.
It was in this vision that Anandashram Swamiji had assured Acharya Shankara that 'my Shishya will write your Charitra as he knows to receive. Simply convey what You want said through him!' Then Swamiji was blessed by Adi Shankaracharya who said, "You and I are not different! We are one!" After the vision was over the entire surrounding was filled with a divine and enchanting fragrance.
Swamiji had a Sama drishti. He looked equally upon the rich and the poor, the famous and the ordinary, the old and young, man and woman. Even animals and the inanimate received His love and respect. He saw the One Consciousness in all. There was no discrimination of any kind. I and some other fortunate few have seen this side of Him. His life was like watching a living doctrine of Non-dual or Advaita tattva.