…..73, see you down the log, this is VU2SRE
Smita and Naren Naimpally's

The story of H.H. Shrīmat Parijñānāshram III Swāmījī's avatar as a Ham Radio operator... and the fascinating story of how His Callsign, VU2SRE Lives on
15th June 2020 was celebrated as the 73rd Janmadivasa of H.H. Parijñānāshram Swāmījī III.
Ordained as "Shishya" at a tender age of 11 years, H.H. Parijñānāshram Swāmījī III moved from the bustling city of Bombay to the quiet hamlet of Chitrāpur in Shirālī. Though the initial years at the Math were focused on the Adhyayana and Abhyāsa of various texts, scriptures, and study of Sanskrit, H.H. Swāmījī also harboured a keen interest in Astronomy, Numismatics and Philately.
The handwritten diaries of H.H. Swāmījī contained neatly drawn electronic circuit diagrams of gadgets, devices, and small equipment. These diaries also had tables with the colours, models and ratings of Resistors, Capacitors, and other electronic components. Sādhaka-s recollect admiring the diaries which also included a project on a "Match-box size Radio Receiver" – a mini Pocket Radio Transistor.
During Their stay at Vārāṇasī for higher studies in 1968-69, H.H. Swāmījī pursued a unique hobby in Amateur Radio / Wireless operations – popularly known as HAM Radio. At the age of 21 years, H.H. Swāmījī completed Their Grade 1 exam for HAM Radio communication, which included learning Morse Code communication and, received Their license and Callsign - VU2SRE.
"HAM Radio is the use of radio frequency spectrum for purposes of non-commercial exchange of messages, wireless experimentation, self-training, private recreation, radio-sport, contests, and emergency communication" – says Google search.
Upon Their return to Shirālī, H.H. Swāmījī realised that there were no worthwhile telecommunication facilities in and around Shirālī. The region was predominantly agricultural and was very dependent on reliable weather forecasts for it's economic activity. The uncertain South-West Monsoons brought in happiness and at times misery to the farmers. H.H. Swāmījī took up the task of assisting the farming communities and decided to use HAM Radio for this.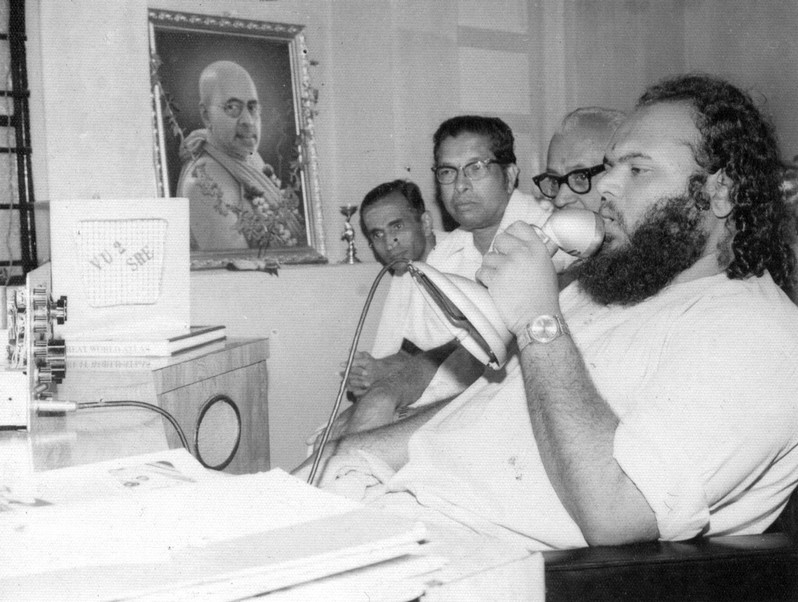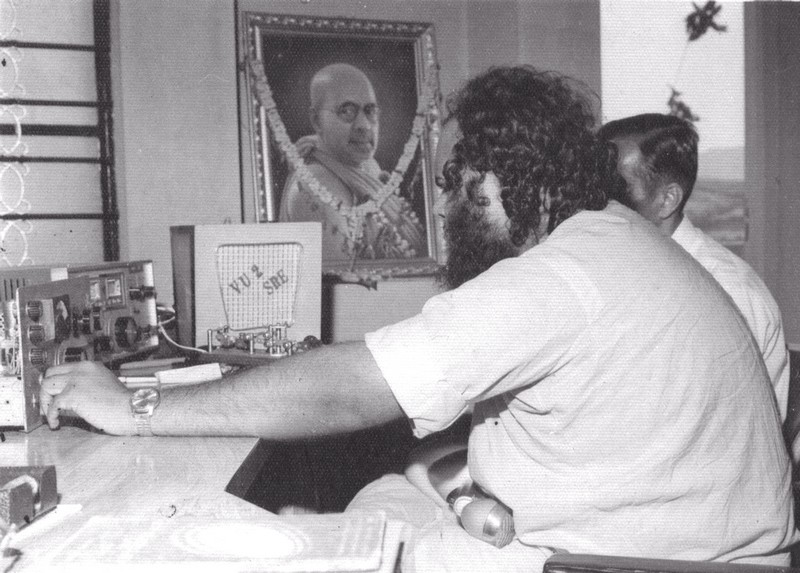 H.H. Swāmījī using the equipment at the HAM Radio Station, Pañchavaṭī
On 26th January 1973, H.H. Swāmījī opened the HAM Radio Station at Pañchavaṭī in Shirālī. The station also housed an Astronomical and Meteorological Observatory and included a vane anemometer, a rain gauge, an Alarm Post, and even a Time Signal station. H.H. Swāmījī communicated with other Radio stations in coastal Karnāṭaka, as well as agencies in Bangalore and shared weather reports from Shirālī. HAM Radio communication was also used to receive advance warnings of turbulent weather affecting the region. This vital information was shared with the various villages in and around Shirālī for the benefit of the farmers.
H.H. Swāmījī with T.P. Sheth, Baḍākere Dutt and Kalliānpur Ramānand
at HAM Radio Station, Pañchavaṭī
A year later - on the first anniversary of the HAM Radio Station (26th January 1974), H.H. Swāmījī conceptualized the volunteer wing "Chitrapur Young Men's Association" (fondly called as CYMA) to assist during the Rathotsava and to provide support to the weak and needy, amongst other humanitarian services.
During Chāturmāsa in 1978 at Bangalore, H.H. Swāmījī encouraged the local CYMA members to learn HAM Radio, of which three members successfully completed their exams and received HAM Radio licenses. These included Mañjeshwar Umānāth mām, Muṇḍkur Kiraṇ mām and NaimpaῙῙy Bhālchandra mām.
Unlike today, when almost every Indian has a personal mobile phone, in the late 1970s and 80s, few people had access to even landline telephone connections. Communicating between different cities was through booking of "Trunk Calls" and waiting for the person on the other end to be available to connect the call. H.H. Swāmījī used to communicate daily in the mornings and evenings with a few HAM Radio operating Sādhaka-s in cities like Bombay, Madrās and Bangalore. Information regarding H.H. Swāmījī's travel and blessings to Sādhaka-s were communicated via HAM Radio. Several others sought H.H. Swāmījī's blessings for their personal endeavors and domestic tidings. H.H. Swāmījī used to send Their blessings and best wishes to students preparing for their academic examinations similarly.
H.H. Swāmījī operating the HAM Radio at NaimpaĪĪy's residence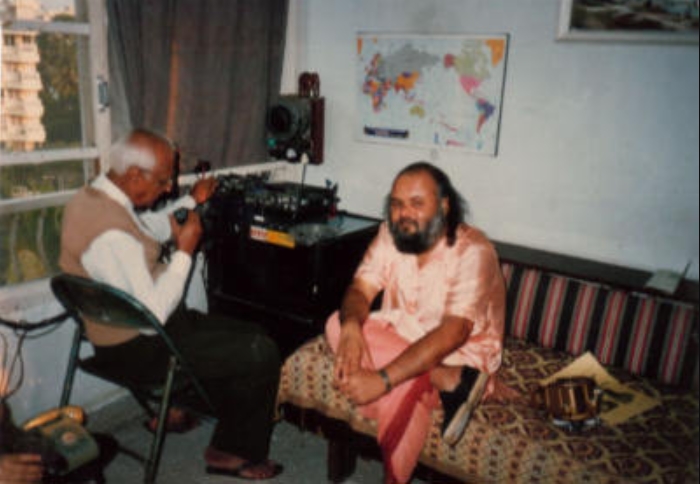 H.H. Swāmījī at T.P. Sheth's HAM Radio station at Bombay
The Sādhaka-s who regularly communicated with H.H. Swāmījī in the 1980s included Baḍākere Dutt mām and T.P. Sheth mām (Gujarāti mām fluent in Kannaḍa) from Bombay, Savoor Raghurām mām from Madrās, Kalliānpur Ramānand mām and Naimpally Bhālchandra mām from Bangalore. Subsequently Agrahār Prasād (Santhosh) mām, Baindoor Chaitanya mām and Rādhikā pāchi were a few of them who communicated regularly with H.H. Parijñānāshram Swāmījī on HAM Radio.
After H.H. Parijñānāshram Swāmījī attained Samādhi in 1991, most HAM Radio Sādhaka-s lost their interest and discontinued the hobby. However, these Sādhaka-s valued H.H. Swāmījī's callsign – VU2SRE and did not want it to lapse or be assigned to someone else. So, in 1994 these Sādhaka-s formed the "Swami Parijnanashram Memorial Radio Club" and requested the WPC (Wireless Planning and Coordination Agency) to assign VU2SRE to the Memorial Radio Club. This way, VU2SRE continues to live on with the "Swami Parijnanashram Memorial Radio Club". In 2015, with H.H. Sadyojāt Shaṅkarāshram Swāmījī's consent the callsign VU2SRE was renewed for a period of twenty years.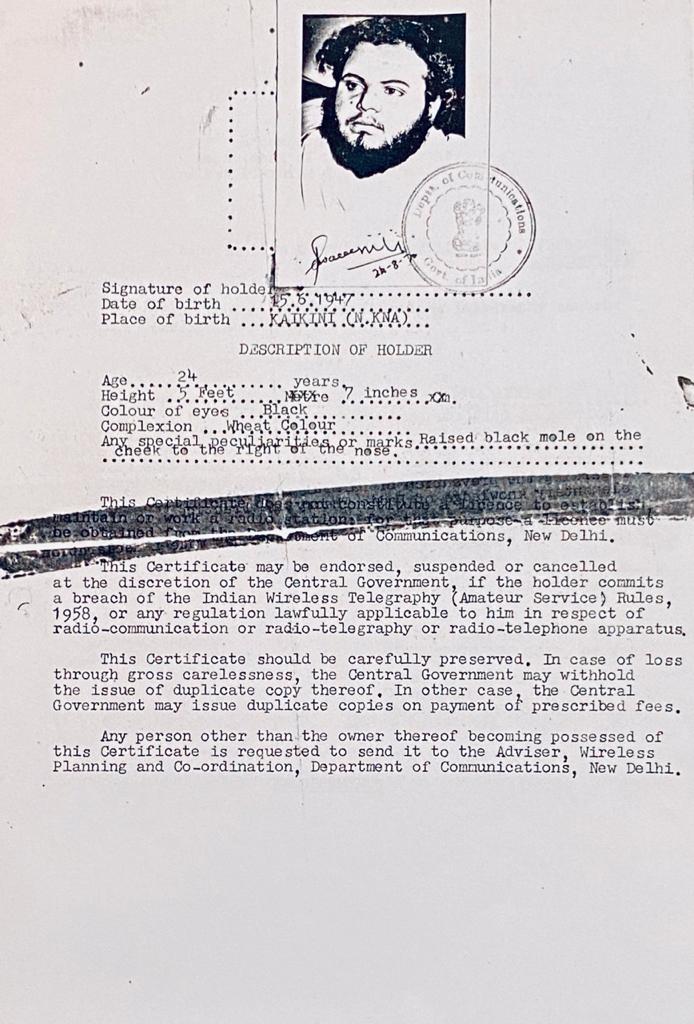 H.H. Parijñānāshram Swāmījī's HAM Radio License renewed in 1970
It is customary to send a post card by one HAM to another after the two make a "contact" and exchange their signal reports verifying the communication. Such post cards are called "QSL" cards. QSL stands for "I acknowledge your transmission". Here's what H.H. Parijñānāshram Swāmījī's QSL Card looked like.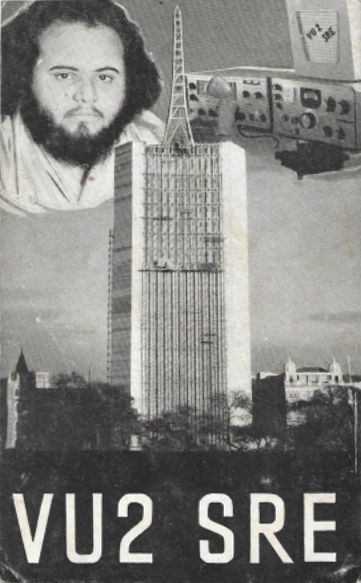 Front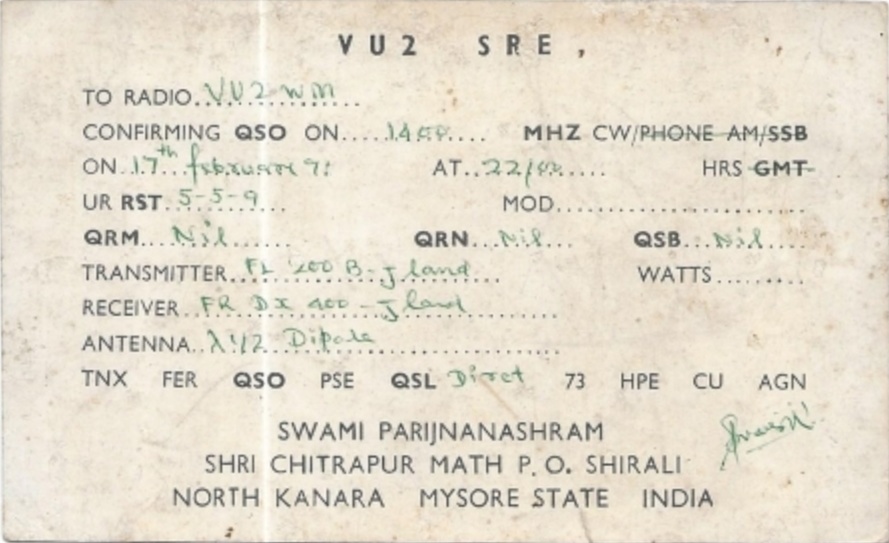 Back
In addition to "QSL" in International Morse Code and Telegraph Abbreviations, "73" stands for Best Wishes. So, on 15th June 2020, the 73rd Janmadiwasa of H.H. Parijñānāshram Swāmījī III, we would like to quote H.H. Swāmījī's closing remarks while operating Their HAM Radio and conveying blessings to everyone….… "73 and see you down the log, this is VU2SRE going QRT".